Beginning in September and running up until November 6th, the first day of the season, College Basketball Talk will be unveiling the 2018-2019 NBCSports.com college hoops preview package.
Every day at Noon ET, we will be releasing an in-depth preview of one member of our Preseason Top 25.
Today we dive into No. 4 Duke.
---
Duke, once again, is going to enter a college basketball season with the best recruiting class in the sport.
The difference this year is that not only will the Blue Devils bring in the best crop of freshmen, they bring in the best freshmen — four of the top 15 prospects in 247 Sports' composite rankings will suit up for Coach K this season, including three of the top five and the No. 1 and 2 players in the nation. There are some outlets that rank R.J. Barrett, Zion Williamson and Cam Reddish as the three best recruits in the class, and there's a chance that those three could end up being the top three picks in the 2019 NBA Draft.
Let's ignore the how for now.
(The FBI's investigation into corruption in college basketball has told us that everyone breaks NCAA rules, but the best players in the country turn down hundreds of thousands of dollars and jobs for family members of the prestige of spending nine months on Duke's campus?)
The issue here has been the product on the court.
Duke has been a disappointment relative to expectation more or less every year since Coach K made the decision to go all-in on one-and-done prospects. The obvious exception was in 2015, when the Blue Devils figured out how to defend in late February and wound up winning the national title. The same happened last season, but Duke was bounced in the Elite 8 when a Grayson Allen floater spent six seconds on the rim before falling off.
It hasn't been a total disaster, but it is clear that Duke is nowhere near as consistently dominant now as they have been in the past. The Blue Devils haven't won an ACC regular season title since 2010. They've won just one ACC tournament title since 2011. They've reached the second weekend of the tournament just three times in the last eight years.
The biggest issue has been on the defensive end of the floor. It got to the point last season where Duke had no choice but to play zone full-time.
I don't think that will be the issue this year. Duke, on paper, looks like a team that should be able to guard.
But this team still has some warts that Coach K is going to have to work out.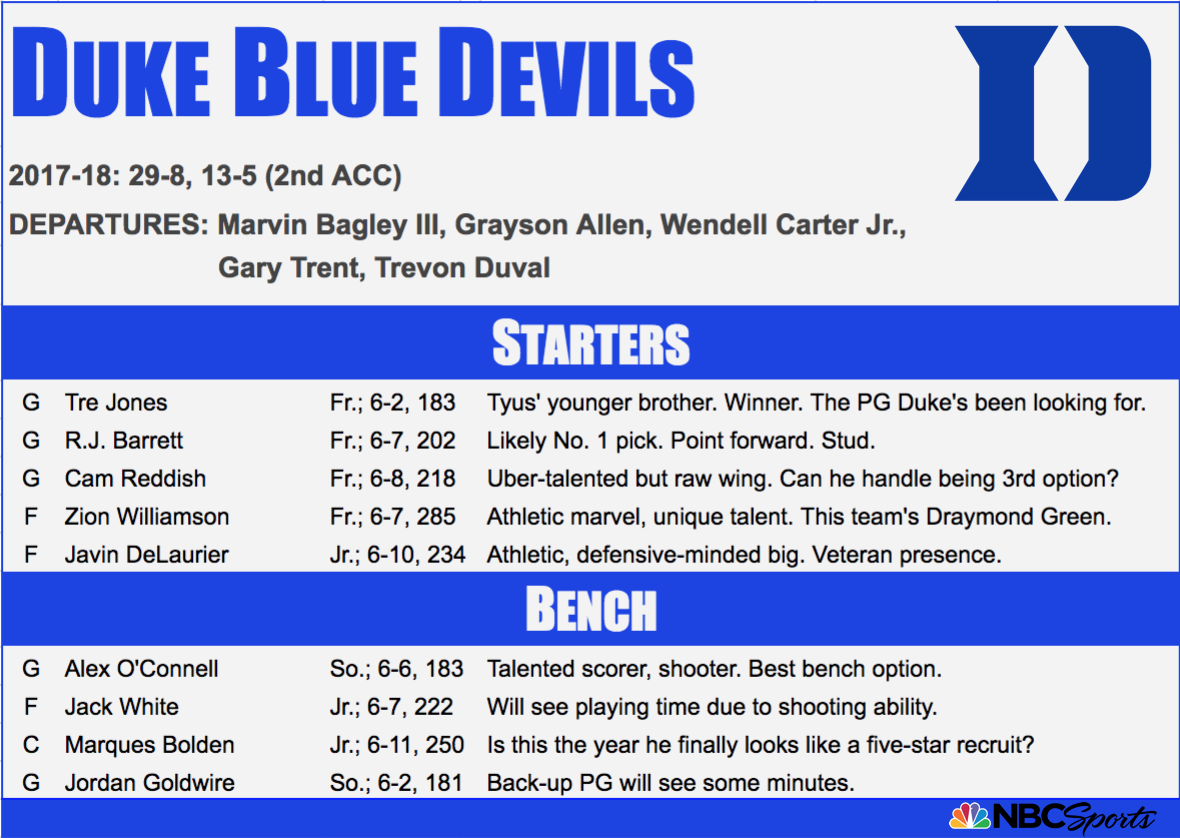 DUKE WILL BE GOOD BECAUSE …
The amount of talent on this roster makes it nearly impossible for the Blue Devils to fail.
Let's start with R.J. Barrett. The 6-foot-7 point forward is the overwhelming favorite at this point in the calendar to be the No. 1 pick in the 2019 NBA Draft, and rightfully so. He needs to continue to develop his jumpshot, but he has everything that you're looking for in an NBA player in the modern NBA. He's athletic, he's big enough to be defensively versatile, he's skilled enough to operate in ball-screens, he can get a bucket, he has impressive court-vision. As far as I'm concerned, all you need to know about Barrett is that, as a 17-year old, he put up 38 points, 13 boards and six assists for Canada in an upset of the United States — who were coached by John Calipari — en route to a gold medal in the U19 World Cup.
I don't think Barrett is quite as good of a prospect as some of the elite prospects in past seasons, but I do think that it is clear he is the best player in this class.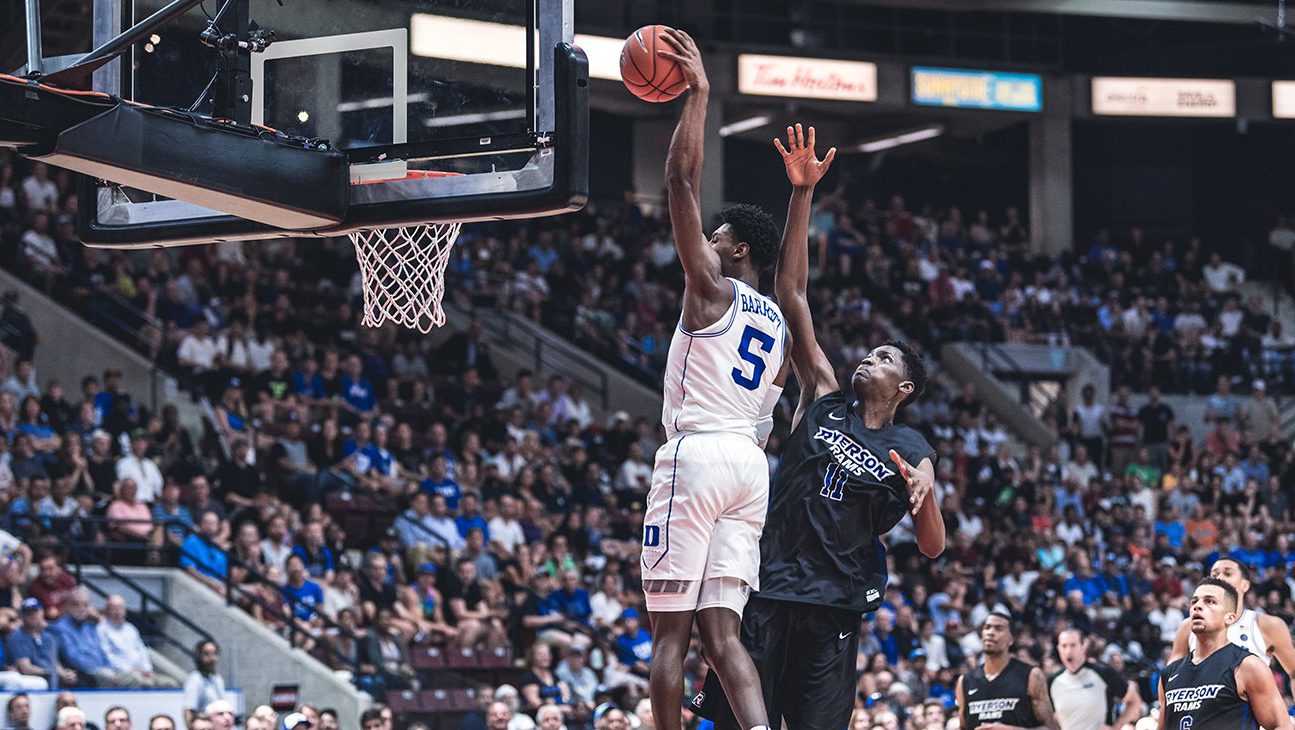 I said 'player' and not 'prospect' because there are some people that believe Reddish, and not Barrett, actually has a higher ceiling. At 6-foot-8, Reddish is more of a scorer at this point in his development, although he has played as a ball-handler at the high school and AAU level. He's probably the best shooter out of Duke's freshmen as well, and has the tools to be a really good defender.
I haven't even gotten to Zion Williamson yet. The most famous player in college basketball in years, Williamson became a social media sensation thanks to his otherworldly athleticism. He is 6-foot-7 and 280 pounds, yet he dunks from the free throw line like a normal human being claps backboard on a layup and he set Duke's school record for vertical leap. He's quick, he's fast, he has impressive footwork and he's skilled enough — he'll be the most dangerous grab-and-go big in the history of college basketball — to be able to handle the ball. He's even a better shooter and a (much) better passer than he gets credit for.
Throw in Tre Jones, the younger brother of Tyus and the first true point guard Duke has had since the elder Jones finished cutting down the net in Indianapolis in 2015, and we don't need to discuss anyone else on the roster to justify ranking the Blue Devils in the top five.
BUT DUKE IS GOING TO STRUGGLE BECAUSE …
While I love all of the pieces in this freshmen class in a vacuum, I think there is reason to be concerned about how they all fit together.
Duke is going to try and play small this season. That's not exactly breaking news here. Not only has Duke done this time and again in the past — Jabari Parker, Justise Winslow, Brandon Ingram and Jayson Tatum all played the for four the Blue Devils — but this group has three guys that can fill that role. In fact, this roster is the best-suited to playing that style. The ideal roster build for any team in this era of pace and space is having a point guard, a mobile five-man and three wings that can defend more than one position. That's precisely what we see here.
It gets even more interesting when we start to think about the possibility of Zion Williamson playing the five a la Draymond Green.
The issue is the ability for the players on Duke to impact a game when they don't have the ball in their hands.
What makes Golden State special in the NBA and what made Villanova so damn good in the college ranks last season is the same thing: The ability to shoot at every spot on the floor. Jalen Brunson was able to post-up and operate in ball-screens and beat a man one-on-one, but he was also a lethal catch-and-shoot guy. The same can be said for all of his teammates that played meaningful minutes, including center Omari Spellman, who scored 17 points and made four threes for the Atlanta Hawks this weekend.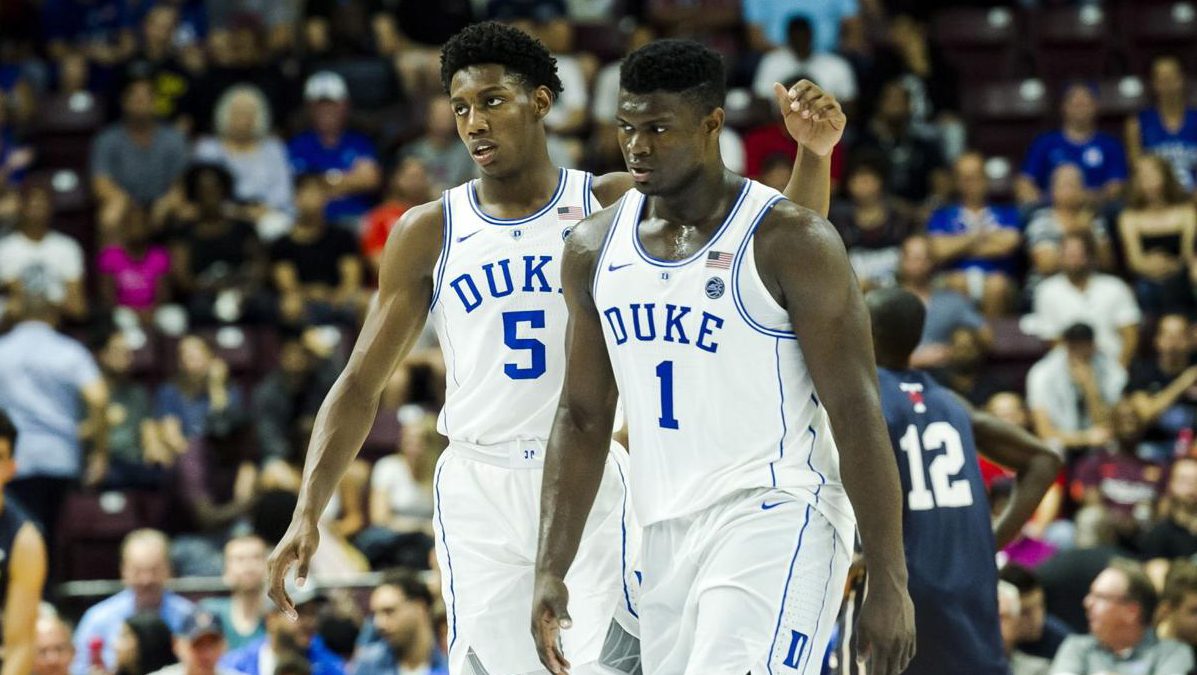 The same thing is true with Golden State. Draymond Green and Andre Iguodala are the glue-guys on that team, but both of them cannot be left open from the three-point line. Kevin Durant and Steph Curry are two of the best isolation players in the NBA, but if you leave them open you will pay. Klay Thompson is one of the best three-point shooters in the history of the game.
Duke?
They have four freshmen that are all super-talented but that need to ball in their hands to be effective. Neither Zion nor Barrett are good enough from beyond the arc to force a defender to close out long on them. Reddish can make threes, but he's known more as a scorer than a shooter at this point in his development than anything else. Jones is fine, but he's more of a driver and playmaker than he is a shooter.
Without guys to space the floor, without someone willing to accept a role, running offense that doesn't devolve into players going one-on-one into a crowded lane is difficult.
THE X-FACTOR
For me, the key here is going to be Reddish.
He has something of a reputation from the high school and AAU ranks as a talented kid that played on teams that lost far more games than they should have lost. He's also going to be the guy that will likely end up having to make the most sacrifices for the good of the team.
Think about it like this: Jones is going to be the natural point guard on this team, and Barrett is going to be the guy that handles secondary ball-handling duties. Zion will be a grab-and-go threat and could lead the country in fast break buckets. In the halfcourt, his role will be pretty clearly defined — he's going to be the guy attacking the glass and the player that gets isolated against slower and/or smaller defenders.
Reddish is the odd man out.
For a player that has spent his entire life as a lead guard, how will he take to being asked to play on a wing as something of a 3-and-D specialist?
2018-19 OUTLOOK
Duke's outlook this season is no different than their outlook for the past four or five years.
They have as much raw talent as anyone in the sport of college basketball. They will enter the season as a consensus top four team that some folks are going to rank No. 1 overall. They are going to be the odds-on favorite to win the ACC regular season title, a favorite to get to the Final Four and one of the few true national title contenders in college basketball.
And there enough question marks about the talent, the youth, how the pieces fit and whether or not the pieces truly fit and how well Coach K is going to handle dealing with this much roster turnover to keep us from going all in on the Blue Devils.
Anything short of the Final Four will be yet another disappointment from this group.
THE REST OF THE TOP 25
No. 5 Villanova
No. 6 Nevada
No. 7 Tennessee
No. 8 Virginia
No. 9 North Carolina
No. 10 Auburn
No. 11 Kansas State
No. 12 Virginia Tech
No. 13 Michigan State
No. 14 Florida State
No. 15 TCU
No. 16 UCLA
No. 17 West Virginia
No. 18 Oregon
No. 19 Syracuse
No. 20 LSU
No. 21 Mississippi State
No. 22 Clemson
No. 23 Michigan
No. 24 N.C. State
No. 25 Marquette