Beginning in September and running up until November 6th, the first day of the season, College Basketball Talk will be unveiling the 2018-2019 NBCSports.com college hoops preview package.
Today, we are unveiling the NBC Sports Preseason All-American teams.
We went with four teams this year, and at the bottom we listed every player that received at least one vote for one team.
Unlike past seasons, there is no shortage of options for Preseason National Player of the Year.
Three different players received at least one vote for us, and I would not be surprised to see two or three others pick up the title from someone on the internet between now and the start of the season.
Without further ado, here are our All-America teams.
---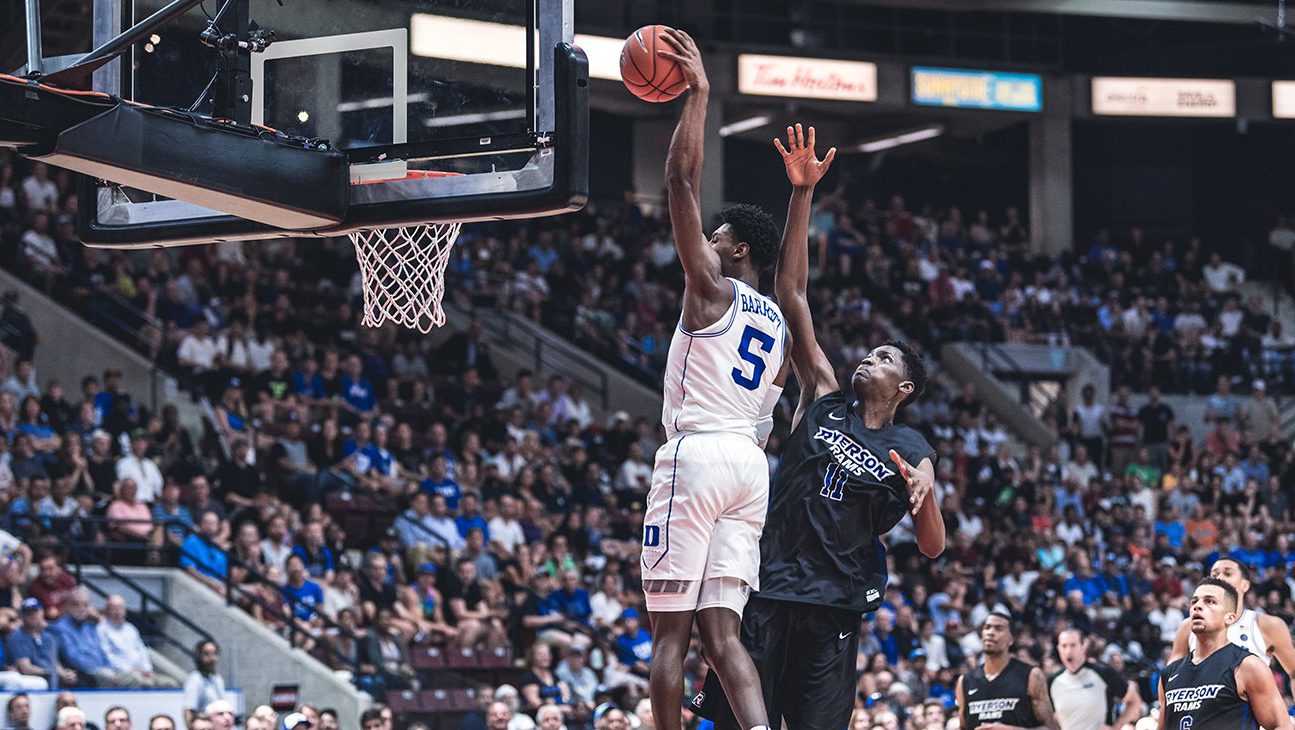 ---
PLAYER OF THE YEAR: R.J. Barrett, Duke
Barrett got the nod as the NBC Sports Preseason National Player of the Year as he seems to be the safest pick this season even if he's not the only potential Player of the Year on his own roster.
He is a bonafide star, a player that has proven the ability to be a game-changer against elite competition despite the fact that he is just a freshman. Remember, two summers ago, Barrett — just three weeks after his 17th birthday — was the star of Canada's U19 national team that won the FIBA U19 World Cup. In a game against Team USA in the semifinals of the event, Barrett had 38 points, 13 boards and six assists. That team featured first round picks Kevin Huerter and Josh Okogie as well as current All-Americans Carsen Edwards and P.J. Washington, among others.
A 6-foot-8 point guard, Barrett — along with Zion Williamson and Cam Reddish — will be the latest face of the small-ball movement at Duke. Williamson is going to get all the hype and be the one to go viral and there are those that believe that Reddish actually has a higher ceiling should he put it all together, but this is going to be Barrett's team in 2018-19. I fully expect him to have the kind of season that will justify being taken as the No. 1 overall pick in the 2019 NBA Draft.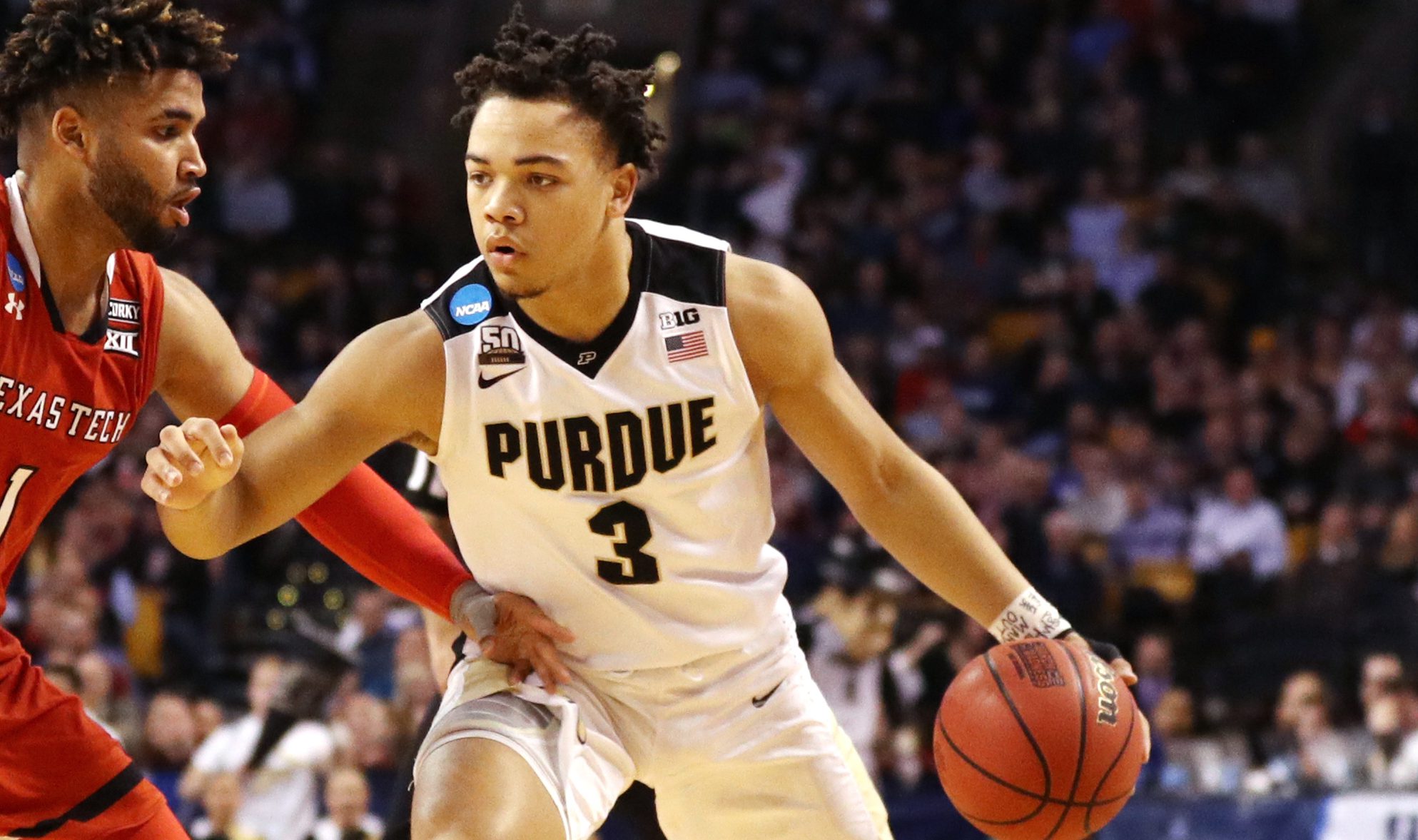 FIRST TEAM ALL-AMERICA
CARSEN EDWARDS, Purdue
Edwards is going to put up massive numbers this season if the Boilermakers are going to be as good as some project them to be. A borderline top 25 team that should make it back to the NCAA tournament, Purdue is losing four senior starters off of last year's roster. Edwards — who averaged a team-high 18.5 points this past season — is going to be thrust into a role where he is asked to carry this group while showcasing more point guard ability than he has in the past. I don't think averaging 24 points is out of the question, although I think he's more likely to put together a junior season that looks something like the year Aaron Holiday had for UCLA in 2017-18 — averaging 20 points and six assists for a team that gets into the tournament as a double-digit seed.
RUI HACHIMURA, Gonzaga
The Japanese forward only recently arrived back on campus after taking part in FIBA World Cup qualifiers with his national team. Hachimura is exactly the kind of big, athletic and versatile forward that dominates basketball in today's day and age. He'll need to be a more consistent perimeter shooter, and there are still times where he seems to get lost defensively, but 6-foot-8 combo-forwards with his physical tools do not come around often. He scored 24 points in an upset win over a very good Australian national team this summer in a World Cup qualifier.
DEDRIC LAWSON, Kansas
The Memphis transfer is in line to be the focal point of a loaded Kansas attack that will enter the year as the No. 1 team in the country in the NBC Sports Top 25. Lawson is precisely the kind of player that Bill Self has thrived with in the past: A face-up four that can make shots on the perimeter but is at his best from 15 feet and in. As a sophomore with Memphis in 2016-17, Lawson averaged 19.2 points, 9.9 boards, 3.3 assists, 2.1 blocks and 1.3 steals. He is not going to put up those numbers at Kansas while playing in the Big 12, but he might not be all that far off.
LUKE MAYE, North Carolina
Maye might just be the best returning player in all of college basketball, which is not something that I ever envisioned myself saying. After hitting the game-winning jumper to send North Carolina past Kentucky and into the Final Four in 2017, the year the Tar Heels won the national title, Maye ended up having an All-American season as a junior, averaging 16.9 points and 10.1 boards while shooting 43.1 percent from three.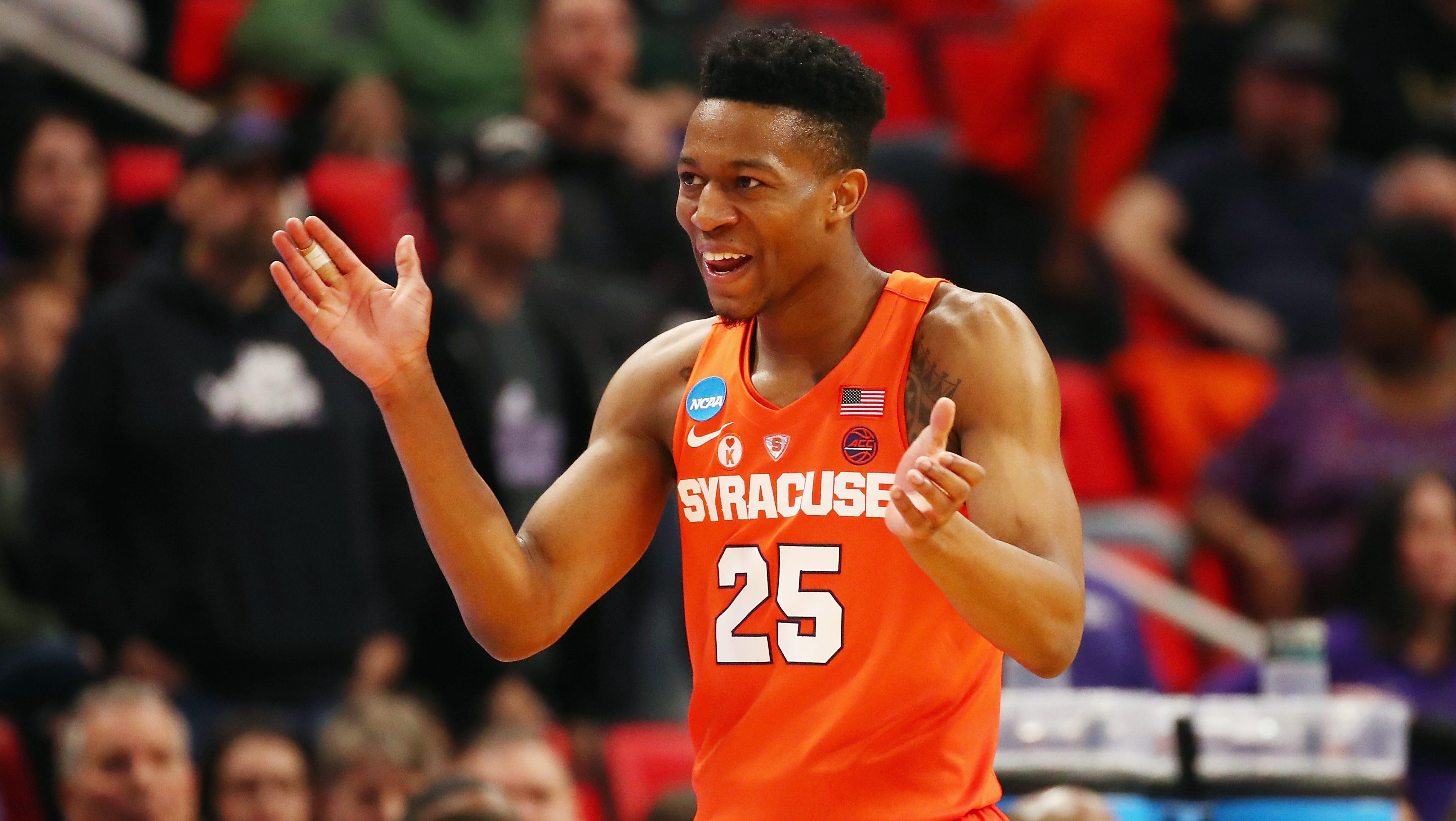 SECOND TEAM ALL-AMERICA
MARKUS HOWARD, Marquette
Quite possibly the best shooter in all of college basketball. As a freshman, he shot 54.7 percent from three on 4.8 attempts per game. As a sophomore, he shot 40.4 percent from three while shooting more than eight threes per game while spending more time on the ball. He's missed 14 free throws in two seasons. And, coming off of a year where he averaged 20.4 points while ceding lead guard duties to Andrew Rowsey, Howard will now be the centerpiece of what Marquette does offensively. He, and Marquette as a team, might just score enough points to overcome the fact that they can't guard a team of out-of-shape dads.
TYUS BATTLE, Syracuse
Battle's efficiency numbers went in the tank as a sophomore thanks to the fact that he played on a team with no floor spacing and even less help for him in halfcourt offensive settings. But the Orange, who finished as one of the nation's top five defenses and add some offensive weapons to a team that returns everyone, including Oshae Brissett, Battle should be more effective this year. He could average 20 points on a top 15 team.
CALEB MARTIN, Nevada
Martin averaged 18.9 points and shot 40.3 percent from three as a junior at Nevada while leading the Wolf Pack to the Sweet 16 despite the fact that he played the second half of the season with a foot injury that was initially thought to be season-ending. He's in line for a massive season on one of the best teams in the country.
GRANT WILLIAMS, Tennessee
Did you know that Tennessee is the reigning SEC regular season champion? Did you know that Williams is the reigning SEC Player of the Year? If you did, then you shouldn't be surprised to see the 6-foot-7 junior listed here. He averaged 15.2 points and 6.0 boards as a sophomore.
ZION WILLIAMSON, Duke
Williamson is an absolute freak of nature athletically. We all already knew that. The reason Williamson is slotted this high on our All-American teams is that he is far more skilled than he gets credit for. While Duke was in Canada playing their exhibition games in August, Williamson was unstoppable. I am much more bullish on him now than I was at the start of the summer.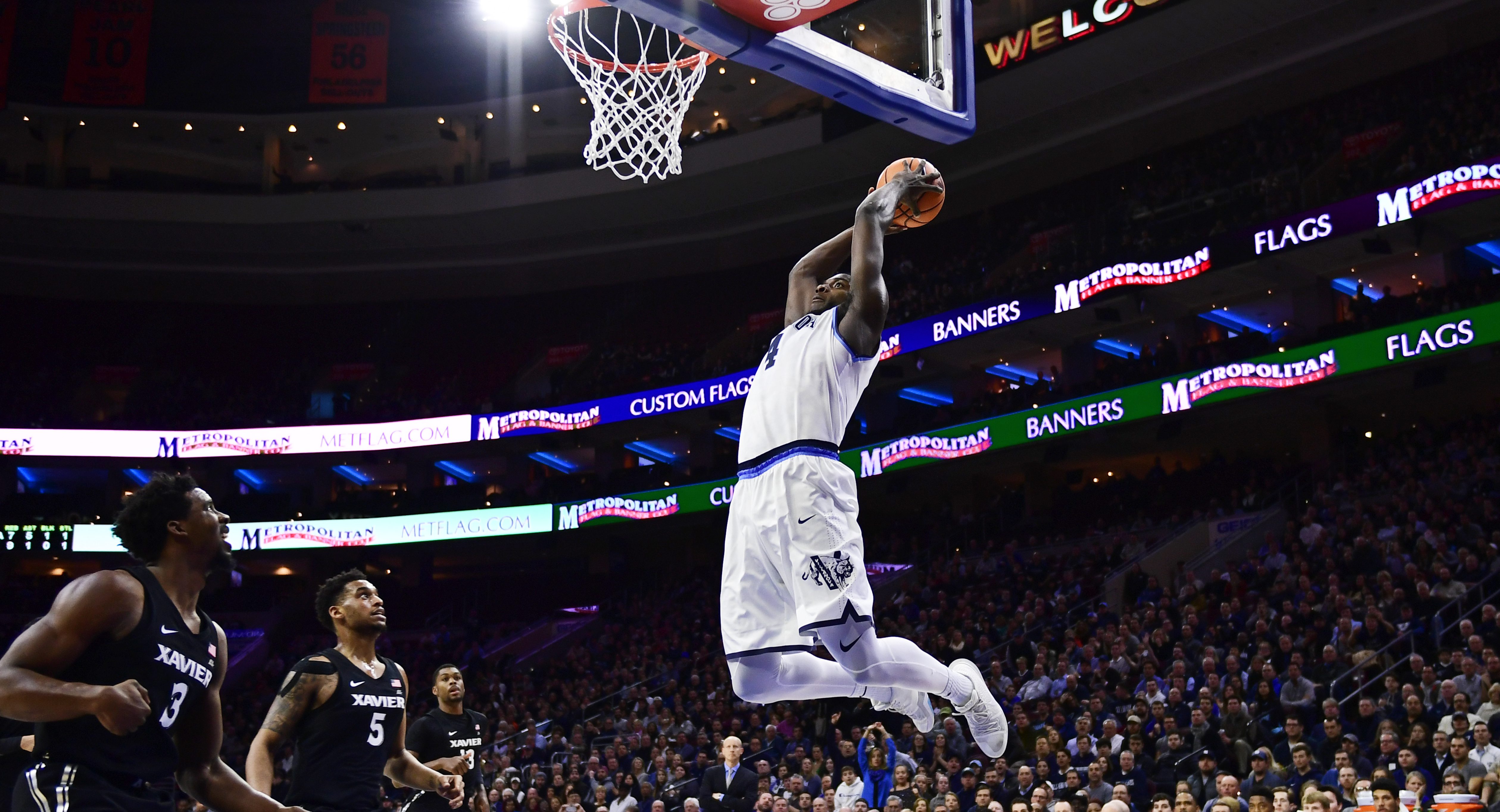 THIRD TEAM ALL-AMERICA
TREMONT WATERS, LSU
Waters is in line to be this year's Trae Young. He averaged 15.9 points and 6.0 assists as a freshman for an LSU team that wasn't overloaded with talent.
SHAMORIE PONDS, St. John's
Ponds had some monstrous performances for the Johnnies in big games last season — including a stretch where he averaged 31.5 points an 5.0 assists during a four-game winning streak against Duke, at Villanova, Marquette and at DePaul. Can the Johnies be better this season than they were last?
ERIC PASCHALL, Villanova
With everything that the Wildcats lost this past offseason, Paschall is going to have a chance to showcase what he can do offensively. People forget he scored a ton of points as a freshman. Paschall is going to be a first round pick.
DE'ANDRE HUNTER, Virginia
For my money, Hunter is Virginia's best and most important player, but I am concerned that his production can get stymied by A) playing in Virginia's system and B) being forced to play out of position. He's at his best if he can be a mismatch four. Depth issues might force Virginia to play him at the three.
ETHAN HAPP, Wisconsin
Happ was an All-American after his sophomore year and a preseason All-American heading into his junior season. And now, as a senior, his Wisconsin team looks primed to have a bounceback year.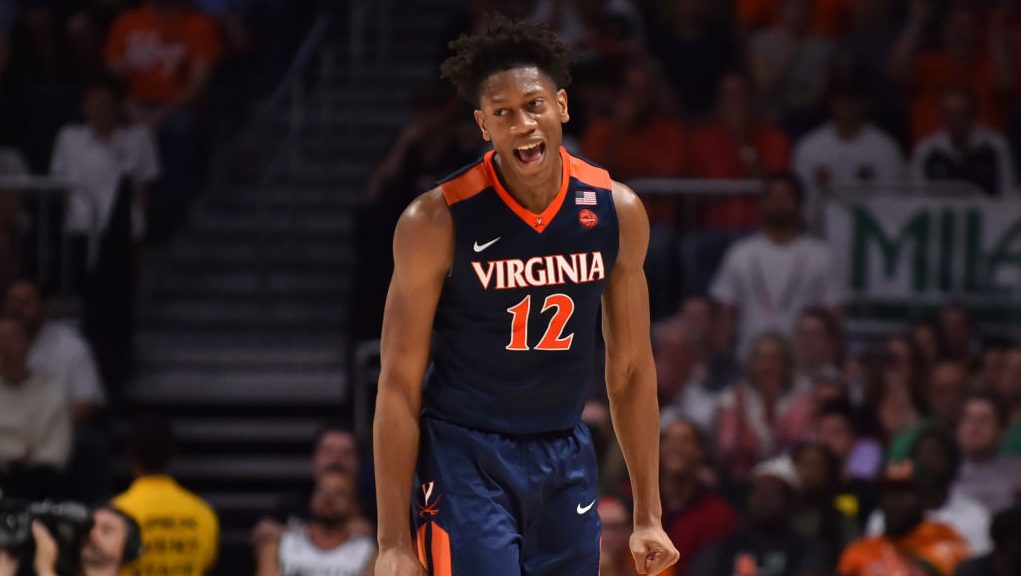 FOURTH TEAM ALL-AMERICA
KYLE GUY, Virginia
Guy will play the role that was populated by Joe Harris and Malcolm Brogdon. He would probably be higher on this list if he was a better defender.
KELLAN GRADY, Davidson
Grady is the next superstar at Davidson, although he ceiling looks closer to that of Jack Gibbs than that of Stephen Curry.
NASSIR LITTLE, North Carolina
Little is a tremendous athlete that is going to give the Tar Heels some lineup flexibility, but he may still actually be a better prospect than player at this point.
P.J. WASHINGTON, Kentucky
Picking a player from Kentucky for this is difficult, as the Wildcats have a handful of options, a ton of depth and no real clarity on what their starting lineup and rotation will be. But after the week he had in the Bahamas, Washington is a pretty good bet to be Kentucky's best player this season.
DEAN WADE, Kansas State
Wade, a 6-foot-10 perimeter forward, was Kansas State's best player last season, and he didn't even play in their NCAA tournament Elite 8 run.
HONORABLE MENTIONS
KY BOWMAN, Boston College
MIKE DAUM, South Dakota State
ASHTON HAGANS, Kentucky
SAGABA KONATE, West Virginia
CHARLES MATTHEWS, Michigan
CAM REDDISH, Duke
KILLIAN TILLIE, Gonzaga
REID TRAVIS, Kentucky
NICK WARD, Michigan State