Beginning in September and running up until November 6th, the first day of the season, College Basketball Talk will be unveiling the 2018-2019 NBCSports.com college hoops preview package.
Every day at Noon ET, we will be releasing an in-depth preview of one member of our Preseason Top 25.
Today we dive into No. 12 Virginia Tech.
---
When Buzz Williams left Marquette to take over for James Johnson as the head coach at Virginia Tech more than four years ago, it was considered by many to be a coup.
Williams had built the Golden Eagles into one of the best programs in the Big East. His last season in Milwaukee was a down year, but prior to that he had reached five straight NCAA tournaments, three straight Sweet 16s and, in 2013, reached the Elite 8. He was quirky, beloved by the media and willing to share his rags-to-riches story with anyone and everyone.
He also had a falling out with his administration at the same time as realignment was turning the Big East into a conference that, financially, would not be able to compete with football's Power 5 leagues in terms of television revenue.
It was a perfect storm, and the perfect time for the Hokies — a historically moribund program — to hire the guy to turn their program around.
Four years in, and the project is undeniably successful. The Hokies have reached back-to-back NCAA tournaments for the first time since 1985 and 1986 and just the third time in program history. They've reached as many NCAA tournaments in the last two years as they did in the 28 years prior to Williams' arrival in Blacksburg.
This is all the context you need: Buzz Williams has not finished better than 22-11 overall or 10-8 in the league in any of the last three years. He has posted three straight seventh-place finishes in the ACC and been knocked out of the NCAA tournament's first round in each of the last two seasons, and this has been the most dominant stretch of Virginia Tech basketball in at least 20 years — they won the NIT in 1995 and following that up by winning the Atlantic 10 in 1996.
Hell, if Williams' team lives up to the hype this season, it will be the best three-year run in the history of the program.
I guess that hire worked out pretty well.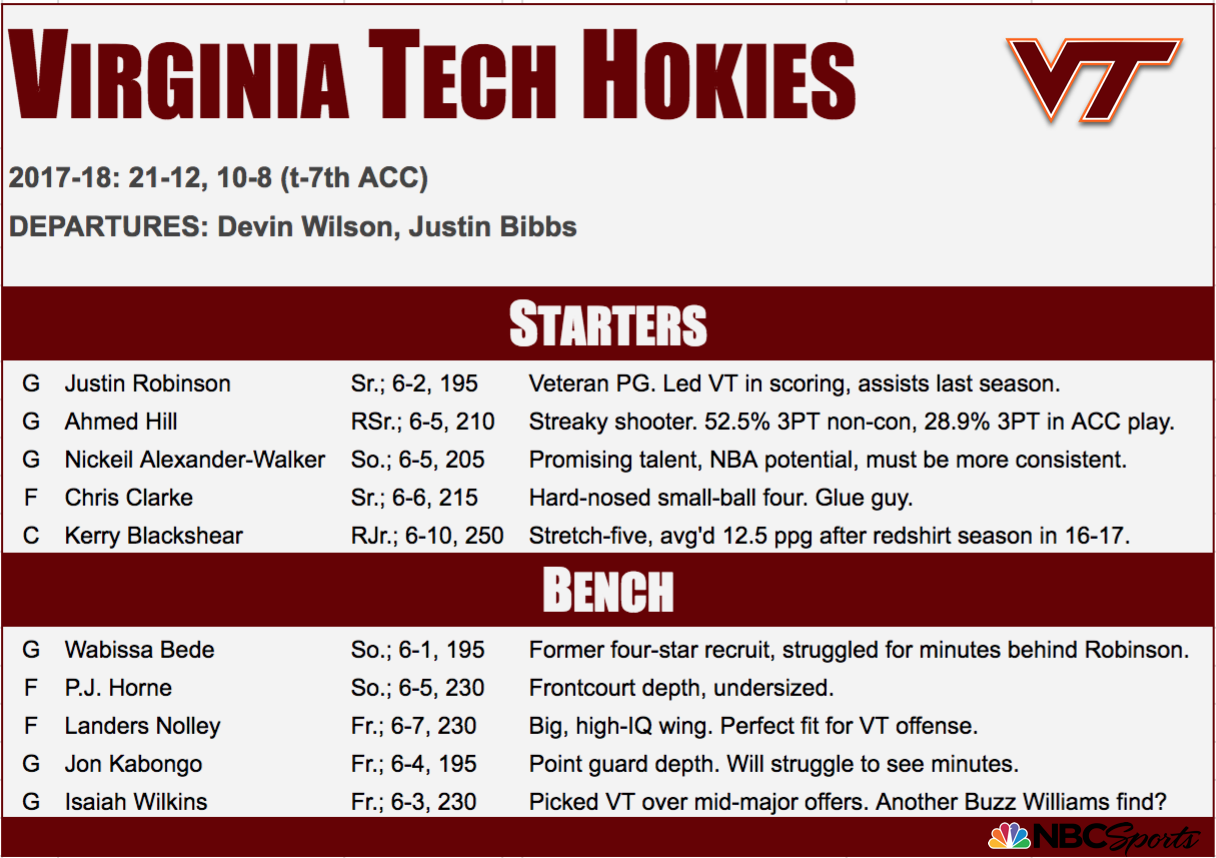 VIRGINIA TECH WILL BE GOOD BECAUSE …
Prior to last season, the Hokies saw their two leading scorers — Zach LeDay and Seth Allen — graduate, but they still managed to find a way to win 20 games, finishing above .500 in the ACC and earn a trip to the NCAA tournament.
This year, the Hokies will return seven of their top eight players from last season, and there's no reason to believe that any of those pieces got worse this summer.
If anything, they got better.
And — this is the key — there is still room for most of them to improve.
Let's start with Chris Clarke, who is the glue that holds this all together. He's the prototype small-ball four, a tenacious 6-foot-6 forward that can do it all. He averaged 8.2 points (down from 11.4), 6.3 boards and 3.0 assists, and he is the kind of athlete that can guard up or down in size. In the past, Buzz's best teams have had a player in this role (Jimmy Butler, Jae Crowder, Wes Matthews, Lazar Hayward) and I fully expect Clarke to live up to that hype this year. He tore his ACL in February of 2017, and while he played in every game last year, he did so coming off the bench. With an offseason that doesn't solely consist of rehab under his belt, this could be a big year for him.
Kerry Blackshear Jr., a 6-foot-11 center, is in something of the same boat, as he missed the entire 2016-17 season before becoming VT's third-leading scorer last year.
Then there is the sophomore class. Both Wabissa Bede and P.J. Horne saw somewhat limited roles as freshmen, and while I don't think this is the year they will fully breakout, the best thing about freshmen is that they become sophomores. The really interesting name to know here is Nickeil Alexander-Walker. A 6-foot-5 wing and the cousin of Clippers lottery pick Shai Gilgeous-Alexander, Alexander-Walker is a guy that had some NBA hype heading into last season. It would be unfair to call his freshman season a disappointment — he was good,  averaging 10.5 points and shot 39.2 percent from three — but it wasn;t enough to make him a one-and-done.
And that is good for VT, because Alexander-Walker looks primed to soak up the shots that were left behind by Justin Bibbs. He's a potential breakout star in the ACC and could end up being an all-ACC player when the season is said and done.
That leaves Ahmed Hill — who we'll discuss at length below — and Justin Robinson, who is an all-ACC point guard that averaged 14.0 points, 5.6 assists and 1.3 steals, all team-highs. He's the anchor, and if everyone around him should be better, it's hard to imagine a scenario where the Hokies aren't better as a result.
BUT VIRGINIA TECH IS GOING TO STRUGGLE BECAUSE …
Virginia Tech really doesn't have much of a frontcourt. Blackshear is 6-foot-10, and while he is a pretty good rebounder, he really isn't known for being a shot-blocking presence.
Beyond that, the rest of the Hokies "frontline" is made up of combo-forwards that are more wing than they are typical big. Clarke is the tallest returnee at 6-foot-6 while Horne (6-foot-5) and freshman Landers Nolley (6-foot-7, but more of a guard than a forward) will see minutes up front. There are going to be times when Clarke is playing the five and Alexander-Walker will play the four.
That's how Virginia Tech ended up as one of the nation's worst rebounding and shot-blocking teams last season.
But, frankly, that's by design. Williams prefers to have shooters, skilled players and switchable defenders all over the court. It lets the Hokies play fast and create mismatches.
Where the bigger concern lies is that the core of this team is more or less the same core that we've seen in the last two seasons, and that's churned out back-to-back seasons with 10-plus losses and first round tournament exits. Sometimes returning everyone from a team that was just pretty good means that next year's team is … just pretty good.
THE X-FACTOR
Ahmed Hill.
Through the first two months of last season, Hill not only looked like the best player on the Virginia Tech roster, he was playing like one of the single-best shooters in all of college basketball. The Hokies played 13 games in their non-conference schedule, and in those 13 games, Hill shot 52.5 percent from three and averaged 16.3 points.
Then he forgot how to shoot.
In the final 20 games of the season, Hill shot 29.5 percent from three. He averaged just 7.0 points during that stretch, falling out of the starting lineup and, essentially, entirely out of the rotation. He played eight minutes in the overtime win at Virginia. He played eight minutes in VT's home win over Duke. He managed just 22 total minutes in the postseason.
The reasons why are not readily obvious. The Hokies played a pretty unimpressive non-conference schedule, so it's possible that Hill was just feasting on lesser competition. Once he got into ACC play, where the defenders were bigger and more athletic and the coaching staffs more prepared to run him off the three-point line, he found himself in a slump. Maybe his confidence was torched, and that certainly wouldn't have been helped by getting benched.
Whatever the case is, the Hokies are much more dangerous when Hill is playing well and making shots, and if he can find something close to the form he had early on last season, Buzz Williams should finally make it out of the first weekend of the tournament with this program.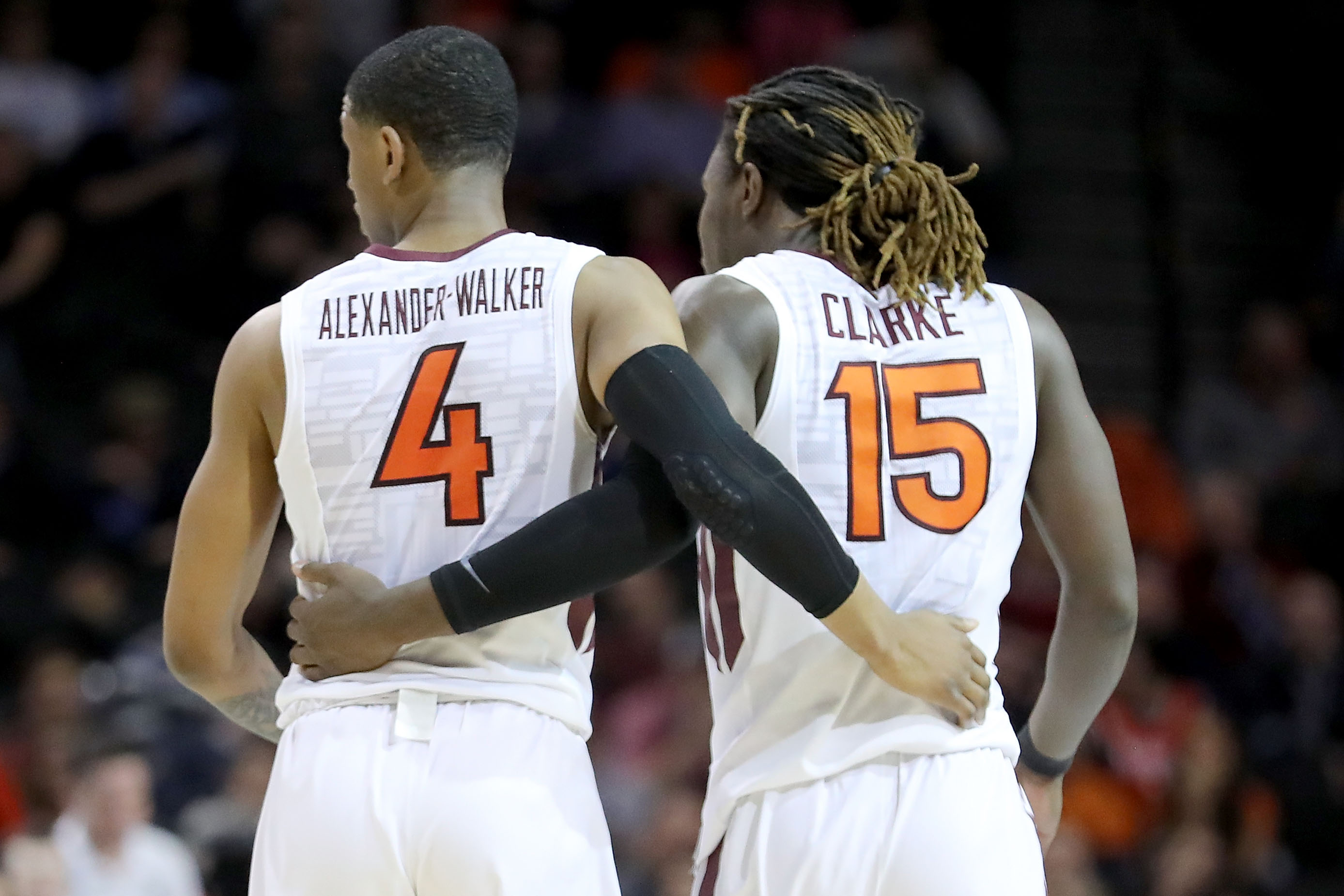 2018-19 OUTLOOK
I am more bullish on Virginia Tech than most people are going to be.
I love the style they play, I think all of their pieces fit together and there is still meat on the bone here; Alexander-Walker, Clarke, Blackshear, Horne and Bede all have room to improve.
Remember, this is a team that beat North Carolina, Duke and Virginia — on the road, no less — last season. They had their ups-and-downs throughout the year, but when they were at their best, they were as good as anyone.
And I expect them to be at their best more often this year.
There is a clear-cut top three in the ACC, but the Hokies appear to be the best of the rest.
THE REST OF THE TOP 25
No. 13 Michigan State
No. 14 Florida State
No. 15 TCU
No. 16 UCLA
No. 17 West Virginia
No. 18 Oregon
No. 19 Syracuse
No. 20 LSU
No. 21 Mississippi State
No. 22 Clemson
No. 23 Michigan
No. 24 N.C. State
No. 25 Marquette