GLENDALE, Ariz. — Frank Martin is not the man you thought he was, and you know that now.
He's a screamer from the Bobby Huggins coaching tree, better known for the intensity of his bone-chilling stares and facially-contorting sideline meltdowns than his ability as a basketball coach.
He's as tough as they come.
On the court.
"The perception of Frank is totally the opposite of what he is as a person," said Matt Figger, who has spent the last 10 years working for Martin and the last 22 years as a friend of his. That's not uncommon for Martin. It's not easy to get let in, but when you become a part of his life, you're a part of his life forever. "He's kind, he's loving. He embraces love and people. His kids, his family, his players. That's who he is. His players are family to him. He treats every one of these guys like they're his sons."
In South Carolina's season-ending, 77-73 loss to Gonzaga in the first semifinal of Saturday's Final Four action, we all got a glimpse of just how crazy he can be. After freshman point guard Rakym Felder took a terrible three in transition in the first half, Martin threw a haymaker at the air, spinning himself 360 degrees before nearly making it to the three-point line to light into Felder.
In the second half, Martin lit into his star guard, Sindarius Thornwell, who had spent the week battling a virus and the rest of the NCAA tournament playing completely out of his mind.
"How bad is Sindarius Thornwell?" Martin screamed at his bench, according to CBS Sports' Matt Norlander, before turning to Thornwell himself and asking, not all that kindly, "How bad are you today?"
Interactions like that happen a half-dozen times a game when Martin is stalking the sidelines, but they work for him. Thornwell had five points on the night when that happened. He finished with 15 points, as South Carolina erased a 14-point second half lead with a 16-0 run, losing by four in a game they had a chance to tie on their final possession.
His guys respond to him because they know who he is and how much he cares for them off the floor.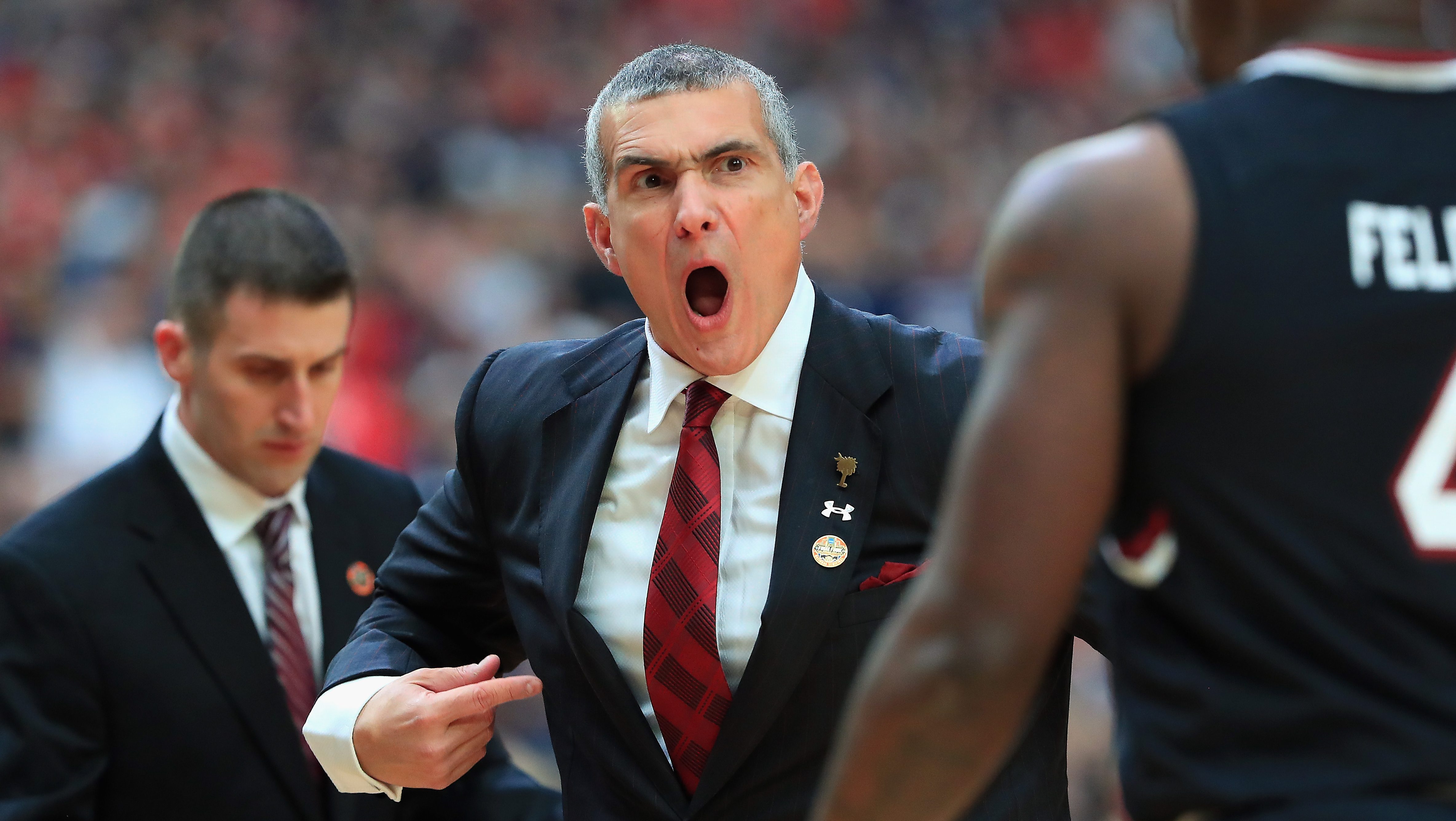 "We learned so much from him every day. Every day he instills that character issue that you're talking about in his players, on and off the court," P.J. Dozier said. "He teaches so many life lessons that you can also reflect back on basketball and use it towards basketball and everyday life."
"That's the great thing about this guy, that he'll help you grow as a basketball player and as a person at the same time, without you even really realizing it. So he's been doing that all year for us. And we're just thankful for it."
That's the man that we've gotten to see over the course of the last two weeks. There was a Sportscenter feature showcasing his mild-mannered home life consisting of helping his kids with their math homework and checking off his honey-do list. There was his powerful press conference thanking his mother after the Gamecocks qualified for the Final Four. There was the tender moment where Martin and his mom both cried amid embrace on the Madison Square Garden floor, minutes before he cut down the nets.
And then there was Martin, his dream season, a Final Four run he may never be able to replicate, finally having come to an end, on the dais in tears as he said goodbye to his senior class.
"There's something powerful when you impact others. And what these kids have done is pretty special," Martin said. "When you get people to travel across the country by the masses because they believe in what you do, it's powerful stuff. And they've impacted our community in an unbelievable way, which is worth so much more than the score of a game."
"It's what it's all about. These kids are great role models. There's a lot of young kids that want to be the next Sindarius Thornwell, Justin McKie, and I don't get to coach them anymore, but they're part of my life forever."
That's the Frank Martin that the country got to know during this run. That's the Frank Martin that went viral over and over again. That's the man that every one of his friends, people that would give him the shirt off their back because they know he would do the same for them, have known is the real Frank Martin.
Regardless of what he looks like on the sideline.