1. Gonzaga is going to be the team that we spend the most time arguing about for the next two weeks: That was probably already going to be the case given that the Zags get no credit for their record as a member of the WCC, but losing at home in a game where they led by 16 points is going to throw that argument into overdrive.
Can Gonzaga win a title? Is this a team you can trust in March? Do the Zags deserve a No. 1 seed? Are they nothing but a bunch of frauds?
I tried to warn you that this was coming six weeks ago.
Guess what: it's here.
2. UCLA beat another elite team with some clutch defending: A little more than two weeks ago, Oregon went into Pauley Pavilion, opened up a 19-point lead and looked like they were ready to cruise to a blowout win over the Bruins, that is until UCLA finally decided to stop defending like a CYO team that just found out their postseason pizza party was canceled.
The same thing happened on Saturday night in Tucson.
Only this time, the Bruins switched to a 3-2 with 15 minutes left in the game, crashed the offensive glass and totally took the air out of the ball and Arizona out of their rhythm. For 25 minutes, the Wildcats got whatever they wanted offensively against UCLA. For the final 15 minutes, they looked like they had never practiced zone offense.
The concern with the Bruins is always going to be how well they defend. As good as they are offensively, they have to be able to get some stops if they're going to be the elite teams across the country. They've down that the last two times they've faced an elite team in conference play and now own wins at Kentucky and at Arizona, and, if it wasn't for Dillon Brooks hitting a buzzer-beating three, they'd have a win at Oregon, too.
The Bruins have their flaws, but man, this team still looks pretty dangerous.
RELATED: Player of the Week | Team of the Week | Takeaways | Top 25
You can subscribe to the podcast on iTunes, Stitcher and Audioboom
3. Is North Carolina the best team in the country?: That's the argument that I made when the Tar Heels picked off Louisville at home on Wednesday. Where is their weakness? Is it Joel Berry II's consistency? Because that's less of a concern with Justin Jackson playing the way that he has been playing.
Is it their health? Theo Pinson and Isaiah Hicks have battled injuries this year and the Tar Heels need both of them on the floor because it's unclear just how good they actually are defensively. Hicks is also always in foul trouble, which is never a good thing in a single-elimination tournament, and neither is a team that doesn't have a multitude of great shooters.
But when compared to the rest of the elites in college hoops, those question marks seem relatively minor. Kentucky is too often a one-man team. Gonzaga's guards might not be good enough. Duke and Kansas have no inside depth. Louisville's scorers can't score. Arizona doesn't have a point guard. Oregon has had some issues with consistency. UCLA doesn't defend.
We can play this game with everyone.
The issues that are brought up with the Tar Heels, however, just seem relatively minor in comparison.
4. Malik Monk is the scariest player in college basketball: It's not like this is breaking news or anything. Monk has been lighting up defenses all season long. He's been single-handedly winning games for Kentucky since the start of the season. He had 47 points in the win over North Carolina. He had 31 points in the second half and overtime to help the Wildcats avoid an upset loss to Georgia. He had 33 points against Ole Miss.
This is just kind of what he does.
But Saturday's performance felt different because before Monk went for 30 second half points to help lead the De'Aaron Fox-less Wildcats to a win over No. 13 Florida, a win that gives them the inside track to an SEC regular season title, he played one of the worst halves of his career. He was 1-for-5 from the floor with three points, five turnovers and two fouls. That came after he had just 11 points in a closer-than-it-should-have-been win at Missouri.
Monk turned it on like that in a game where Florida, a top five defensive team in the country, spent 20 minutes executing the "Stop Malik Monk" game-plan to perfection.
You don't want to see a guy that can do that on your side of the bracket.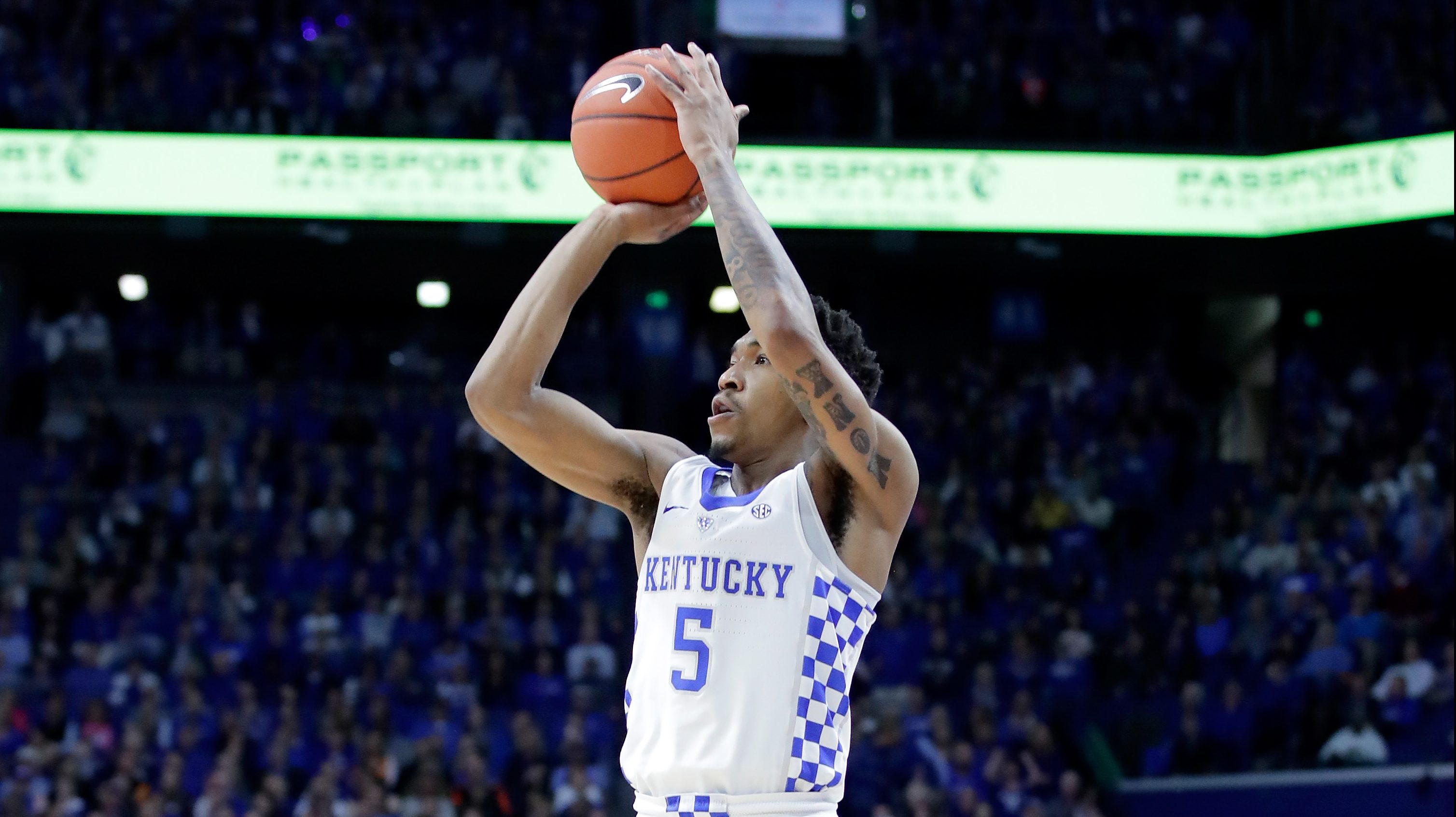 5. Duke is exactly who they were a week ago: I'm done trying to tell people what to think of Duke. You all made up your minds weeks or months ago. If you're like me, you see a roster that includes Jayson Tatum, Luke Kennard and Grayson Allen and you pick them to win most of the games they play in. But if you look at their lack of interior defense, their depth issues, the injuries that won't go away and the point guard question marks and worry about a team like that making a run, you're certainly not wrong.
Duke is beatable.
We saw that this week, when they fell on a banked-in, buzzer-beating 23-footer at Syracuse and lost by five at Miami.
What I will tell you, however, is that if you let those two losses change the way you felt about Duke prior to Wednesday's tip, you're being silly.
Winning on the road in the ACC is hard. There's a reason there are people talking about the conference as maybe the best ever. There's a reason that only one team in the league has less than five league losses with two games left in the regular season. These are two road games to likely tournament teams decided by a total of eight points.
Losses like that are the kind of thing that happen in college basketball.