The Sun Belt has a number of intriguing teams, headlined by Arkansas-Little Rock, which has racked up a 27-4 record this season. One of the more unique aspects of this tournament is the top two seeds, the Trojans and Louisiana-Monroe, get double-byes into the semifinals in New Orleans. Just two wins will put either in the NCAA tournament.
The Bracket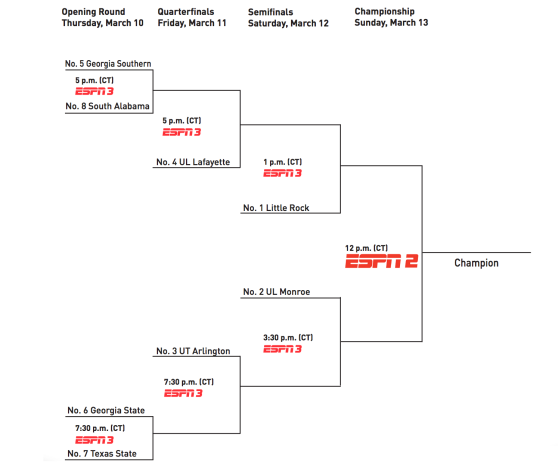 When: March 10-13
Where: Lakefront Arena; New Orleans, La.
Final: Sunday, March 13, 1 p.m. (ESPN2)
Favorite: Arkansas Little Rock
Little Rock might be one of the strongest favorites in any conference tournament this season. The Trojans may have three league losses, but they're far and away the Sun Belt's best team with wins over San Diego St. and Tulsa on the resume. This is a very good team that will likely be a trendy upset pick next week.
And if they lose?: Louisiana Monroe
Analytics don't particularly like the Warhawks, but they've won 13 of their last 14, a run that includes a win over UALR. Louisiana Monroe's chief offensive weapon is their ability to control tempo. Star forward Majok Deng can play.
Other Contenders:
UT Arlington: The Mavericks have wins over Ohio State and Memphis this season, but lost to Little Rock twice. They're not especially efficient offensively, but they are one of the country's fastest-paced teams.
Louisiana Lafayette: The Ragin' Cajuns have a strong offensive attack, but their defense leaves them vulnerable.
Central Michigan:CMU has played Akron well twice, with one win, but they'll have to get past the Zips to even make the title game.
Sun Belt Player of the Year: Shawn Long, UL Lafayette
The 6-foot-9 senior averaged 18.8 points and a career-high 12.9 rebounds per game for the Ragin' Cajuns while shooting 51.4 percent from the floor. He also blocked 1.8 shots per game.
Sun Belt Coach of the Year: Chris Beard, Arkansas-Little Rock
Beard inherited a team that went 13-18 overall last year, and guided them to a 27-4 record and a likely NCAA tournament berth. The 10-0 start was the best in program history, and the Trojans had the league title sewn up weeks ago.
First-Team All-Sun Belt:
Shawn Long, UL Lafayette
Josh Hagins, UA Little Rock
Majok Deng, UL Monroe
Tookie Brown, Georgia Southern
Anthony Livingston, Arkansas State
CBT Prediction: Little Rock over UT Arlington