"Offense sells tickets, but defense wins championships."
Whether or not you agree with the statement made by the late Paul "Bear" Bryant, there's no denying the importance of defense when it comes to winning games. Teams can score as much as they want, but if they can't get stops on the other end they'll be in trouble. Ahead of the start of the 2015-16 season, we've put together our picks for the best defensive players in the country. Some will be shot blockers and others masters of the steal, and there will be a couple strong positional defenders as well.
Who'd we miss? Who should they replace? Feel free to leave your answers below.
G Kris Dunn, Providence
As a redshirt sophomore the 6-foot-4 Dunn averaged 2.7 steals per game, with his length and athleticism allowing the national Player of the Year candidate to make life difficult for opposing point guards. He can be a bit of a gambler at times, but overall he's a very difficult matchup at a position where many point guards hover around the 6-foot mark.
G Ron Baker, Wichita State
If you don't know Baker's résumé by now, that's on you. Baker is one of the nation's top on-ball defenders, keeping his man out of the paint while also challenging scoring opportunities on the perimeter. As a junior Baker led the Shockers in both defensive rebounds (157) and blocked shots (27).
G Gary Payton II, Oregon State
Payton's selection as Pac-12 Defensive Player of the Year was a controversial one, with many believing that Arizona's Rondae Hollis-Jefferson should have been the choice. But neither that nor the fact that Oregon State relied on a matchup zone to mask its lack of depth should not overshadow the impact "The Mitten" had defensively as he led the Beavers in steals (95) and was second in blocks (39).
F Hassan Martin, Rhode Island
The 6-foot-7 Martin became just the second player in URI history to record 100 blocks or more in a season, tallying 103 (3.1 bpg). The Staten Island native is also a good rebounder (7.7 rpg), and his length and athleticism allow Martin to play "bigger" than his height in the paint.
C Amida Brimah, Connecticut
The 7-footer from Ghana led the nation in blocked shots a season ago, recording 121 which was good for an average of 3.46 rejections per game (second nationally). Having a rim protector the caliber of Brimah helps teams be more active on the perimeter, as they have a big man capable of cleaning up mistakes.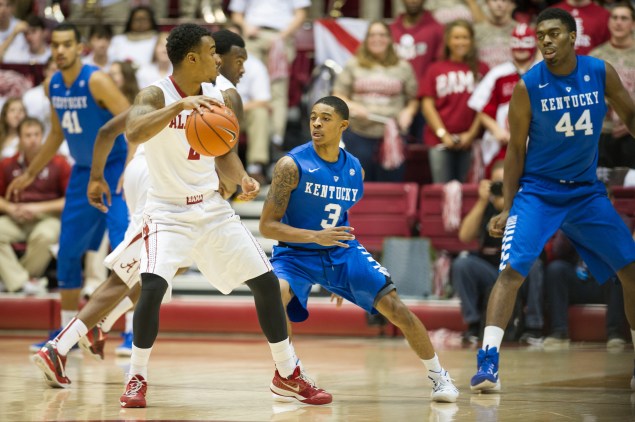 SECOND TEAM ALL-DEFENSE
G Tyler Ulis, Kentucky
The 5-foot-9 Ulis is an absolute pest defensively, thanks to a combination of effort and quickness. Ulis played in a reserve role last season, which somewhat explains the average of just one steal per game. But defending isn't all about impressive stats, and with Kentucky's shot blockers Ulis can afford to be aggressive in defending the ball. We're betting that his reputation grows in this area in 2015-16.
G Malcolm Brogdon, Virginia
Virginia's pack line defense doesn't lend itself to eye-popping individual stats. But that shouldn't be used as a reason to overlook what the fifth-year senior does on the defensive end of the floor. One of the top players in the country, the 6-foot-5 Brogdon was also named to the ACC's All-Defensive Team in 2014-15.
G Rapheal Davis, Purdue
Last season the Boilermakers' team leader was named Big Ten Defensive Player of the Year, winning the honor despite finishing the year with eight blocks and 28 steals. He isn't going to dominate those statistical areas, but that doesn't mask his ability to make life difficult for whoever head coach Matt Painter asks him to guard (usually the opponent's best perimeter player).
F Skylar Spencer, San Diego State
Spencer is the rim protector on one of the nation's best defenses, averaging 2.5 blocks per game as a junior. The 6-foot-10 Spencer finished the year with an individual block percentage of 12.7 per Ken Pomeroy's numbers, a figure that ranked seventh nationally. Teams don't get many chances to penetrate the SDSU defense, and once in the paint Spencer serves as quite the deterrent.
C Vashil Fernandez, Valparaiso
Fernandez receiving his fourth year of eligibility was a big boost to a program expected to make a return trip to the NCAA tournament. Last season the 6-foot-10 center earned Horizon League Defensive Player of the Year honors, as he ranked 11th in the country with an average of 2.9 blocks per game and sixth in block percentage (13.0).
Also considered: Anthony Gill (Virginia), A.J. Hammons (Purdue), Buddy Hield (Oklahoma), Brice Johnson (North Carolina), Jameel McKay (Iowa State), A.J. West (Nevada)