MINNEAPOLIS — Davide Moretti won the 50-50 ball near mid-court and saw daylight as he pushed towards the rim.
With his Red Raiders trailing 75-73 in overtime of the national championship game, the Texas Tech guard gained possession off of a Ty Jerome missed jumper. Moretti's goal was to immediately get to the basket to potentially tie the game with just over a minute left.
"I think we were down so I was trying to attack the rim and try to make it a one-possession game," Moretti said.
In an instant, Virginia's De'Andre Hunter swallowed up Moretti's driving lane.
College basketball's national defensive player of the year swiped the ball away from the dribbling Moretti as Hunter's deflection forced the ball out of bounds. To the naked eye, it appeared Texas Tech would retain possession with a chance to tie, or take the lead, with 1:06 left in overtime.
Slow-motion replay cameras showed a different story.
Officials reviewed the play and saw the ball graze off Moretti's right pinky before it went out of play. The initial call of Texas Tech ball was overturned. Virginia was given possession after the official monitor review.
The momentum-shifting call gave the Cavaliers a chance to gain a two-possession lead. When play resumed, Jerome was fouled and made two free throws to give Virginia a 77-73 lead with 41 seconds left. The Red Raiders never had another possession with a chance to tie, or take the lead, as the Cavaliers closed out their first men's basketball national championship with a memorable 85-77 overtime win.
Some viewers immediately criticized the merit of replay, and overturned calls, after the Moretti out-of-bounds decision was reversed. The referees' new conclusion changed the momentum of a thrilling game — though the ruling was ultimately correct. Others also maintained the spirit of the replay rule was compromised by the switched decision in the midst of an intense back-and-forth contest.
Those critical of the decision also argued that Virginia's Kyle Guy wasn't called for a potential foul for hitting Moretti right before Hunter knocked the ball away from him. Fouls are not reviewable.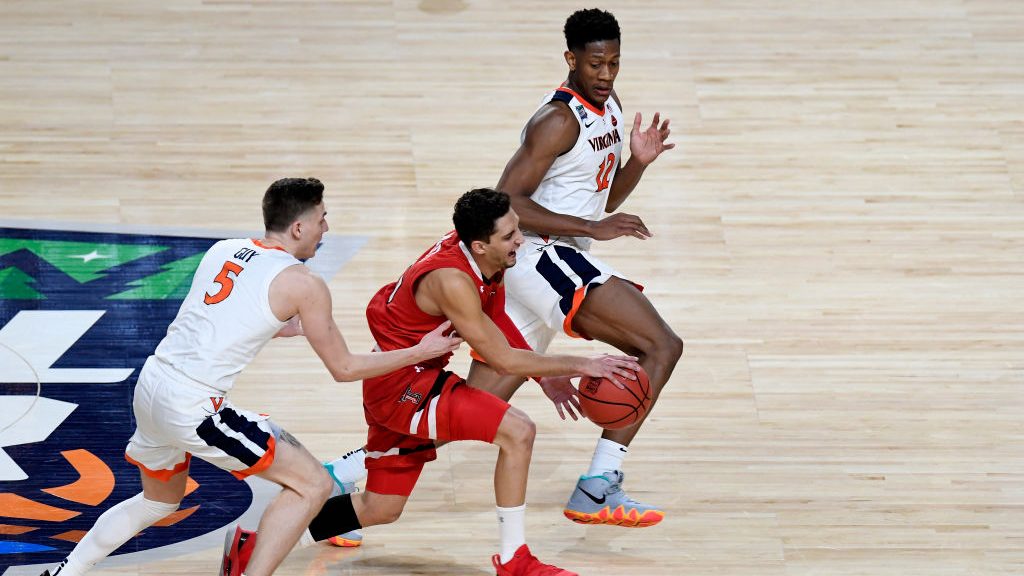 It also didn't help that officials tagged Moretti with a foul call a few possessions earlier. Guy appeared to trip over teammate Mamadi Diakite's foot instead of a Texas Tech defender as Moretti shouldered the blame. Another missed call, with the foul given to Moretti, gave Guy two free throws to cut the Texas Tech lead to 73-72 with 2:45 left. Official review also isn't allowed to check on a play like that.
The animosity of multiple perceived blown calls down the stretch resonated with those who wanted a classic title game to stay tight until the very end.
"I think they called a foul on me when Kyle Guy tripped over his teammate. And they overturned a call that they made on the inbound. I think that was two big-time moments that helped decide the game," Moretti said.
The replay not going Texas Tech's way hurt enough. The overturned out-of-bounds call also made it difficult for the Red Raiders' coaching staff to properly prepare for what was next in the team's huddle. In the midst of a tense one-possession game, with the season on the line, head coach Chris Beard tried his best to get the Red Raiders ready for an either/or scenario during the official review. Being behind is tough enough. Trailing during an uncertain situation is that much more difficult. It was impossible to predict what was coming in the midst of the chaos and confusion.
"We prepared both ways. If we get the ball, do this. If we don't get the ball, do that," Beard said. "One of the differences between winning and losing [comes that close]."
Even though the national championship game was a thriller — the first overtime title game since 2008 — some fans believed the replay situation, and missed calls, marred the outcome. It's also tough to take those claims seriously when some of those same viewers would complain if a ruling occurred if slow-motion replay wasn't allowed.
The human element of officiating — with referees who are some of the finest in a sport filled with rapid decisions — has always been a part of basketball — and most sports in general. Replay, and overturned calls, have also been demanded by many fans during a modern era where we demand accountability for every single call in a game's final minutes.
We can't have it both ways. Although Moretti is correct in his assessment that those plays shifted the momentum of the outcome, he also dribbled straight into one of the sport's best defensive players when teammate Jarrett Culver was trailing for a potential layup. Texas Tech could have just as easily called a timeout when Moretti dribbled into the double team. Moretti's mishap is being glossed over by some even though the slow-motion replay, and changed decision, ended up being correct.
"It was a 50-50 ball, and after I grabbed it, [Hunter] touched it so I couldn't make a move," Moretti said. "I was thinking about making a move but he was quicker than I thought he was going to be."
Replay isn't going away. Referees sometimes miss calls in key spots. Adjustments to the rule book might even prevent some of the aforementioned scenarios. But to claim that Texas Tech lost because of an overturned call is silly. Although the Red Raiders were undoubtedly hurt by some officials' decisions, they still held themselves accountable for a difficult loss that will sting for a long time.
"We're a no-excuse program so I think we lost the game in other respects," Moretti said.