MINNEAPOLIS — Zach Hollywood saved Trey Moses' life.
That's at least how Trey's mother, Shelly, looks at it.
Trey has battled depression for half his life. The first time he remembers contemplating suicide came when he was in seventh grade. He told a friend that he wanted to die. He had a great family. He had great friends. He liked school. All of those things are still true. But there was a sadness within him that he just couldn't shake. Still can't.
Trey tried to end his own life in May of 2017, at the end of his sophomore year. It was yet another night that he spent crying, uncontrollably, when he took a bunch of pills. He immediately regretted it, calling a friend to take him to the hospital where he spent the next few days recovering. He had been hospitalized before, when he did not feel safe being by himself, but this was the first time that he went beyond self-harm.
Three months later Trey found Zach's body, dead from a self-inflicted gunshot wound. A devastating tragedy for Zach, his family, his friends, his teammates. An unimaginable burden for a 20-year old already struggling with his own mental wellness to carry.
Shelly was terrified, and still is, that Trey would be next. But she also now knows that Trey has seen the pain that Zach's suicide caused everyone around him. "He never wants anybody to go through what he went through," Shelly said.
She knows — she hopes — that will be enough to keep her only son here with her.
---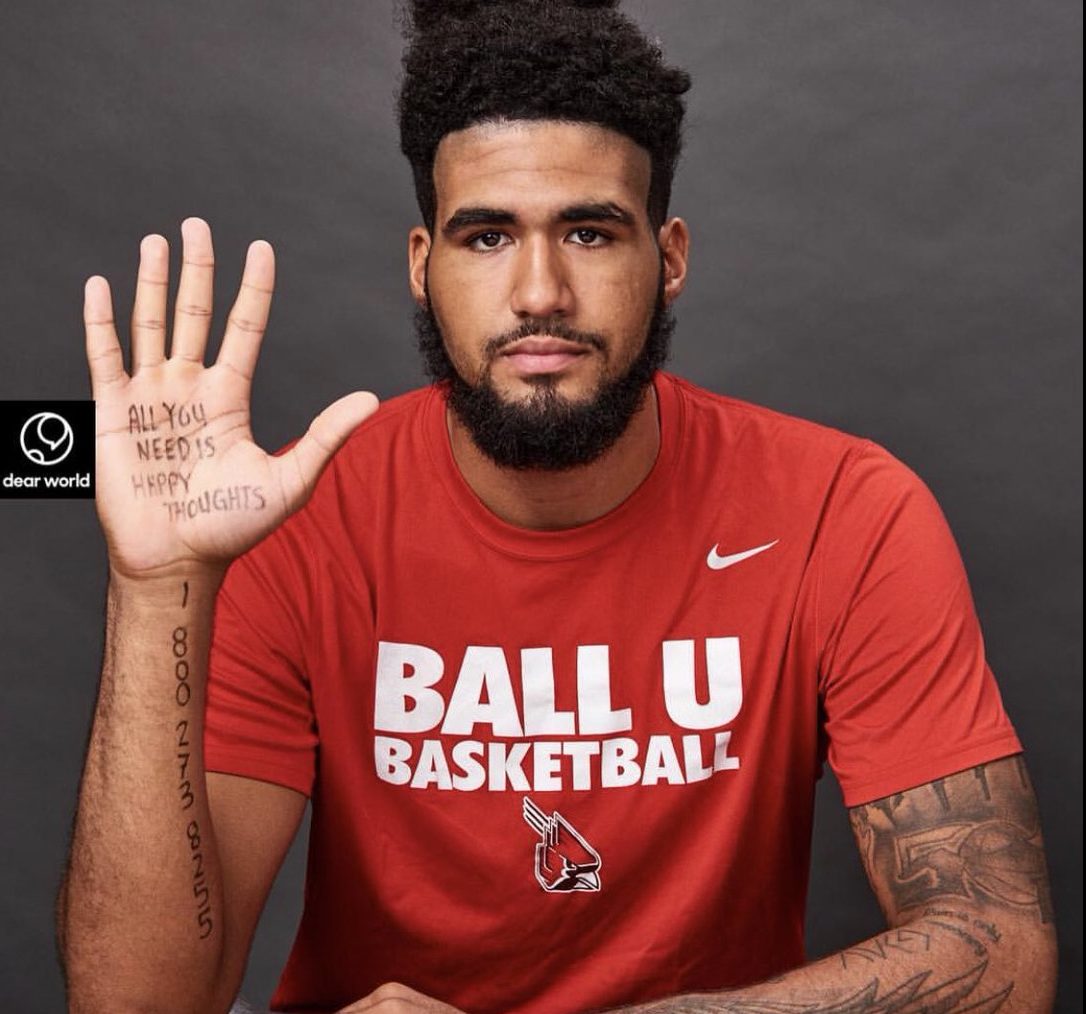 ---
Trey is speaking about this publicly for the first time because he knows he can help.
He knows what it is like to appear to be a pillar of strength, all 6-foot-10 of him. He was an all-MAC power forward for Ball State. He has tattoos covering his body and a beard that would make James Harden jealous. He's popular. He's handsome. He is not yet 22 years old, and he's getting ready for a fourth summer of running basketball clinics for people with Down Syndrome. He's just a few weeks from getting his college degree.
He's everything you hope your son will be.
He also knows that there are things he's dealing with that people cannot see, and that he is far from the only person fighting this fight every day.
And he has a message.
It's OK to not be OK.
This is why, 24 hours before Virginia and Texas Tech tip off in the 2019 national title game, he was sitting on a stage in the L100 F-G meeting room at the Minneapolis Convention Center baring his soul to a couple hundreds college coaches he had never met. He wants to help them help their players. He told his story to NBC Sports in the hopes that he can reach anyone and everyone that is going through the same things that he was, and very much still is, going through.
It's OK to not be OK.
And if it helps just a single person better their life, it was worth it.
"I'm only telling my story because it will help other people," he said. "It doesn't benefit me."
Trey knows there's a stigma associated with people fighting for their mental wellness, and he knows all-too-well the shame that those with depression feel. He understands the vicious circle this creates. Speaking up, especially as an athlete in a world where toughness means fighting through pain — both physical and psychological — without complaint, gets you branded as soft. So you internalize it. You isolate yourself because it's easier than explaining why an otherwise healthy human is struggling to hold it all together. That, in turn, only reinforces the belief that you are alone, that there is no one that cares, no one that loves you enough to say those six seemingly obvious words — "I want you to be alive" — because they can't see through the facade that you've spent your life perfecting.
That's why his message to those coaches wasn't simply to list the warning signs. The complexities of depression manifests differently in everyone, and just recognizing the symptoms of a person in crisis won't help them if they're struggling.
"You don't need to see the signs," Trey told them. "You need to let your players know you care. Eventually they are going to open up. They chose you [to coach them] for a reason. But they need to know their coach does care about [them] more than just basketball. He's going to be able to come to you, or your assistant, because you care."
Ball State had a network surrounding Trey even before Zach's death, once he opened up about his struggles with depression. They called it his Care Team, a group of professionals on campus there to work with the athletes while educating the basketball staff on the steps they needed to take and the resources they needed to provide. They coached the coaches on ways to be there for Trey once they fully understood his disease.
"It was above my pay grade," James Whitford, Ball State's head coach, said in a recorded speech presented at the NABC conference on Sunday. "I needed help."
Coach Whit would have weekly, one-on-one meetings with every player on his roster just to catchup. He would also meet regularly with everyone that had any contact with the kids on his roster — from coaches to tutors to the guy helping the trainers wrap ice after practice. The goal was to ensure that Coach Whit knew what was happening with his team, and that his team knew his office door was always open.
"Are there things going on with our players that I'm not catching?" Whitford explained. "They bottle it up in practice, but it might show up in the academic center, or the health center, or other areas on campus."
Trey recalled one particularly bad day that he had his junior year. It was two days before a game, less than a year removed from his own suicide attempt and only months after Zach died. The sadness was more than he could bear. He was crying in the training room, the place where he felt safest on campus. It was in that room two years earlier that Trey had told trainer Troy Hershman for the first time everything that he was dealing with. Coach Whit sent him home.
"Go back to your dorm," Trey remembers being told. "Call your group. Make sure you're good."
He's never questioned whether or not Coach Whit, or anyone on the Ball State staff, has cared for him. He trusts them completely, and it's a reason that he's still here today to share his story.
"My purpose is more than myself," Trey said. "I feel like continuously putting this out there for people will help them. It's OK to not be OK.
"Because it's better than not being here."
---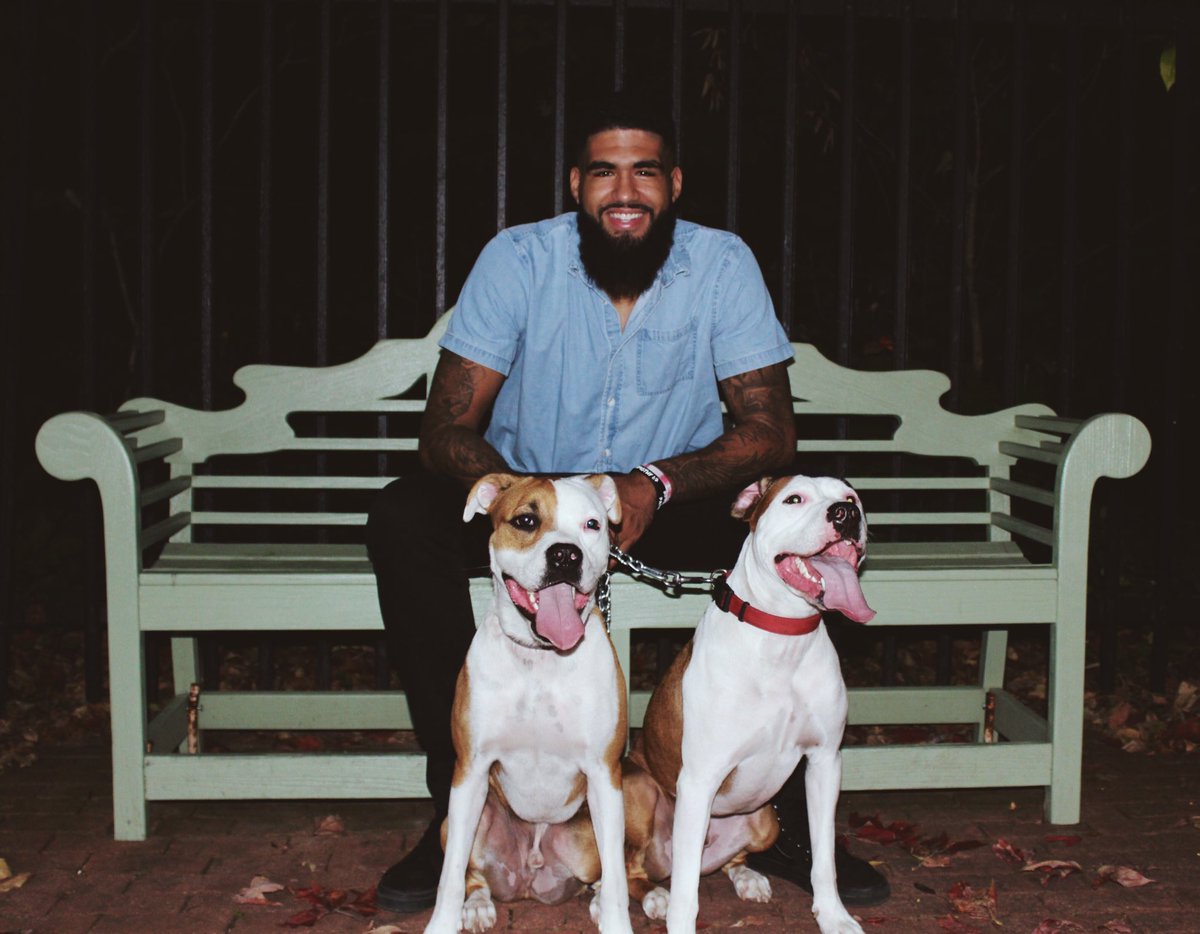 ---
It was the morning after his 20th birthday party.
August 22nd, 2017.
Trey had woken up without time to spare. It was just the second day of classes, and he had a 9 a.m. to get to. He didn't want to be that jock showing up late, at least not on the second day, and they had been up too late the night before.
He checked his phone.
Zach had called him. Four times.
4:10 a.m.
4:12 a.m.
4:16 a.m.
4:20 a.m.
Left two voicemails, too.
It was strange. Zach had left Trey's house at 1:30 a.m. that morning. They were best friends, bonding over everything that they shared — a love for basketball, a passion for working with people with disabilities, a constant fight for mental wellness. They were inseparable from the moment that Zach arrived on campus, a "long, lanky white kid" from Bourbonnais, Ill., and a "big, tattooed African-American" from Louisville. They were nothing alike and exactly the same. Zach was Trey's guy, the person he could turn to for anything, and Trey was Zach's.
Zach was hurt after Trey's suicide attempt. He couldn't understand why his best friend didn't come to him when he needed someone, why he didn't trust him enough to be able to pick up the phone instead of picking up those pills. That weighed on Trey's mind throughout the morning of August 22nd.
Is that why Zach was calling?
Why isn't he picking up the phone?
But the worst case scenario didn't make sense.
Zach was as happy as Trey had ever seen him at that birthday party. Maybe this was the moment, Trey remembers thinking. Maybe this is when he makes the turn. Maybe he already has. Zach's mom had died a year earlier, losing her 20-year battle with ulcerative colitis on August 1st, 2016. Zach was in the Chicago hospital room when Susan took her final breath. He was a mama's boy, and his mama was gone. Trey knew how much it weighed on him, but maybe he had finally turned a corner.
He's happier, Trey thought that night. He's getting better.
"I love you," Zach said as he walked out the door.
That's what was playing in Trey's head as he called Zach's phone that Tuesday morning. There was no answer. He called again. And again, more nervous with every ring.
"I didn't want to think too much about it," he said. "I'd be in touch later, we had a team meeting at 1 p.m."
Trey happened to run into Zach's roommate right around lunch time and convinced him to open up the door to Zach's off-campus apartment. Just a hello. Checking in.
At 12:15 p.m., Trey found Zach's body.
Trey called 911.
He checked Zach for a pulse.
He was gone.
---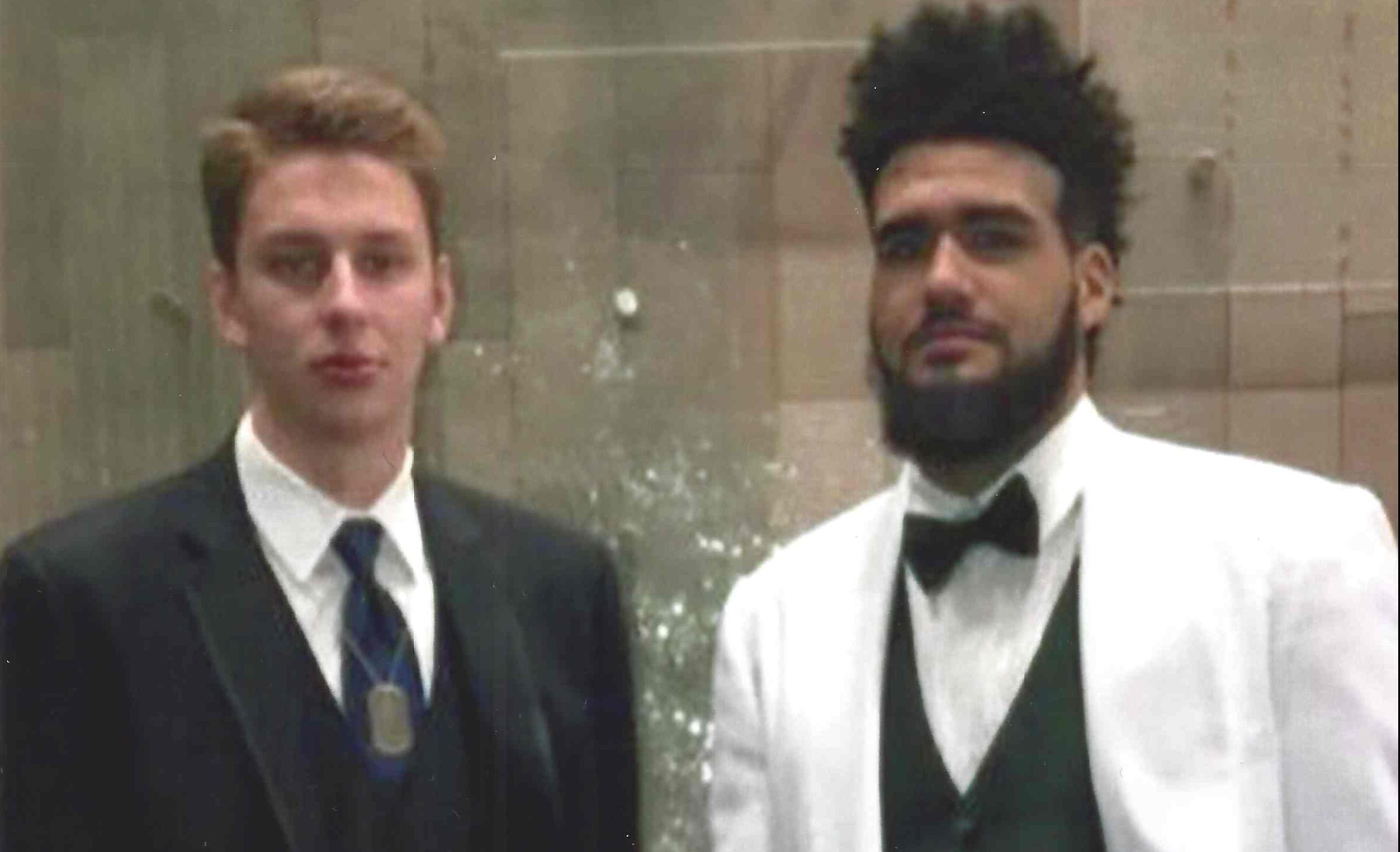 ---
Trey is in a good place now, all things considered, but it wasn't an easy road to get there.
After finding Zach's body, Trey called Shelly and told here what happened. He texted an assistant coach that he and Zach would not be at their 1 p.m. meeting. "Don't ask questions," he wrote, "just let us be." Eventually, the lead detective on the scene called Coach Whit from Trey's phone. He was taken to the police station for a few hours before he was allowed to go home. After an emotional meeting with the rest of the team, one that consisted of little more than tears and hugs, he went straight to Coach Whit's house.
"Just a chance to chill out," Trey said.
He still had not listened to Zach's voicemails. He doesn't know why it took him so long to listen. In his heart of hearts, he figured something had happened. He wasn't ready for it, not yet.
That night, he gathered all of his best friends and listened.
"It was just him saying how much he loved me, how much of a change I can make, how good at basketball I can be," Trey said. "'Go get it, go get everything we planned together. Give it your all, I'm always going to watch over you.' I could hear how much pain he was in.
"And I was mad at him."
That anger eventually resided only to be replaced by regret, by guilt.
"For so long I lived with, 'Man, what if I just woke up?'" he said. "'I wish I would have been there.' All these wishes. But I realized that won't bring him back. That's only going to bring me more down. So I attack the positive side.
"One of the things Coach Whit always says is we would have walked barefoot to Alaska and back to save him. I know how much I cared about him, how much he meant to me, how much I loved him. I can't live with regret. If he had called and I had said, 'You're good bro, just go to bed,' I would be living with regret.
"I didn't hear it. I was asleep. If I would have woken up, I would have been there."
To hear Trey tell it, what has saved him, what has allowed him to reach this point in his life, is that he will talk about his feelings now. Immediately after Zach died, Ball State brought in a sports psychologist to speak with the team. They gave him a list of every single thing that he would go through in the coming days, months, years. He sent that list to everyone he knew, everyone he loved.
This is what I'm going to be dealing with. This is what you can expect. Thank you for helping me on this journey.
"I missed it when Trey was growing up. I had no idea that he dealt with depression like he did," Shelly said. "People always tell me, 'you're a great mom,' but I look now, and I wasn't. Because he didn't think that he could talk to me."
That's changed.
Trey reaches out now, and Shelly goes out of her way to make herself available. She'll check in on him at 1 a.m. if he makes a sad post on Twitter or Instagram. Now that she knows what to look for she can tell instantly when he's struggling with something. His smile isn't there. His attitude changes. He's not as focused. But those moments are gradually getting less common.
"He wants to do stuff now," Shelly said. "He used to come home and just sit around."
It's been a long road getting to this point. Going into the locker room they used to share every day never got easier. Learning that different people cope in different ways was tough, too. It was hard for Trey to initially understand how his teammates could keep playing basketball after Zach was gone, but he gets it now. People grieve in different ways. It was hard for him to play this season, when so many new faces on the Ball State roster didn't know Zach, but just because their season wasn't dedicated to him didn't mean that Trey couldn't play for his best friend.
And there were always reminders of the good times. Trey changed his number from 41 to Zach's 24. He and Shelly then went and got matching 241 — 24 to 41 — tattoos.
241 is the exit off the highway that Shelly takes to get to Ball State
But the symbolism is deeper than that.
Two for one.
---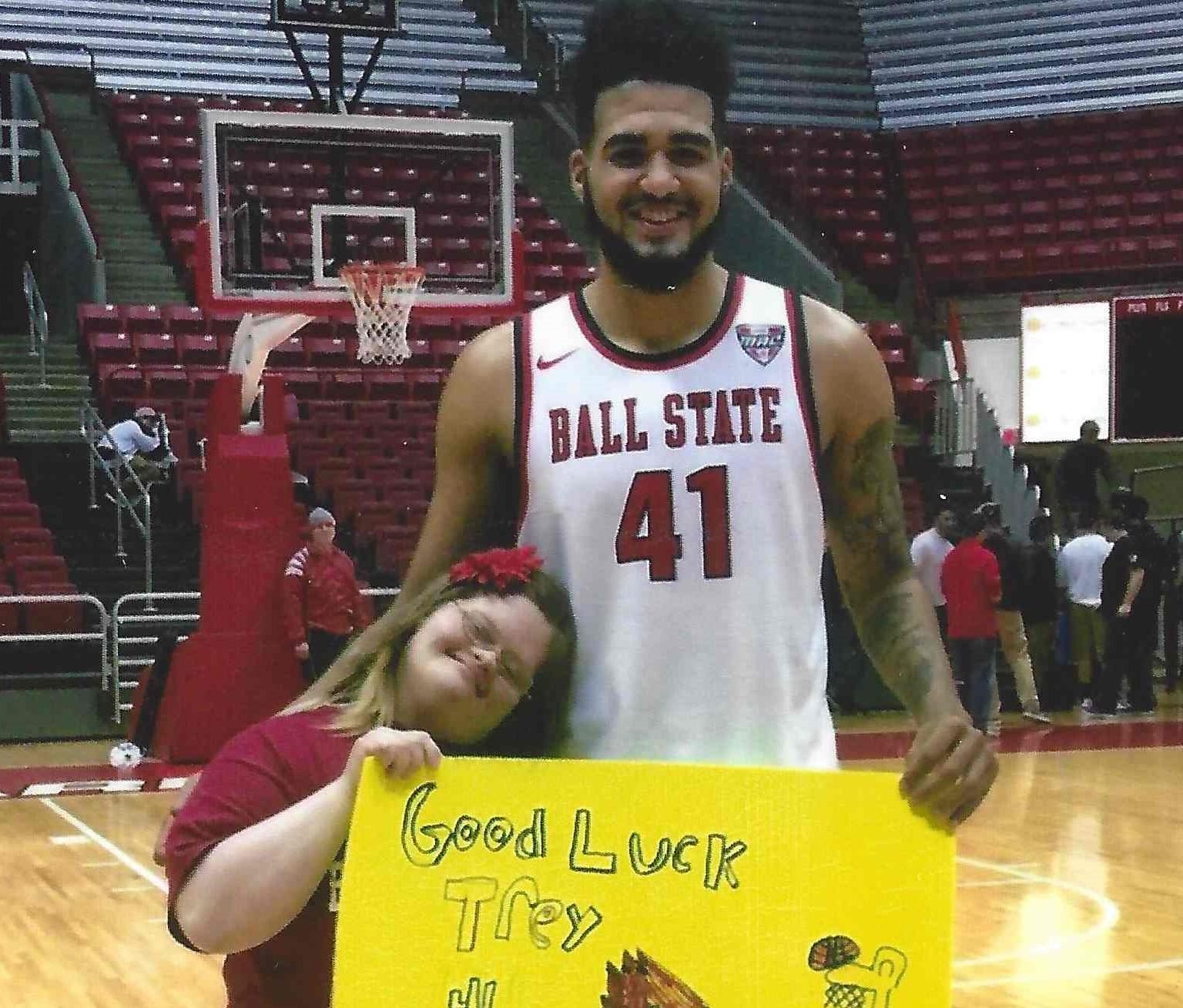 ---
There isn't a day that goes by that Shelly doesn't worry about her son, but it's getting easier.
Trey doesn't want to put the people he loves through what he went through losing Zach.
But there's more to it than that.
He can't leave his Best Buddies behind.
Trey's passion is not basketball. He wants to play professionally — he recently signed with an agent and expects to be in Europe next year — and he'll do that for as long as he can, but he believes the reason he's on this Earth is to help people with developmental disabilities.
He's run basketball camps in Louisville, Indiana and Canada for people with Downs Syndrome. As a high school senior, he went viral when he asked his friend, Ellie, with Downs Syndrome to be his date to the prom. (She said yes.) He had two friends that have become family, Luke and Mickey, walk out for his Senior Night at Ball State with him and his parents. That's what he will be doing for the rest of his life. Basketball is what gave him the platform.
"It's rewarding. It gives me a purpose," Trey said. "These kids are counting on me to be there for them. I don't want to go into their lives and then suddenly not be there anymore. I just know that my impact on them was more than, 'Oh that's a basketball player.'"
They're family.
Like Zach.
Trey wanted the story to end with this: Zach's smile was radiant. He lit up a room. The moment that personified that, in Trey's mind, came the summer before Zach died. That long, lanky white kid from Bourbonnais, Ill., had spent the summer trying to put on muscle. One day after a weights session, Zach told Trey he felt big.
"Come on, bro. Let's take a pic."
That picture, that memory, is everlasting.
RIP Hollywood.