MINNEAPOLIS — There wasn't a lot of hype when Jared Harper committed to Auburn in the spring of 2015.
An undersized, three-star prospect from the Atlanta area, Harper led the Nike EYBL in made three-pointers during the spring of 2014. A great sophomore high school season saw Harper lead Pebblebrook to the Georgia state title game as he averaged 21 points and seven assists per game. None of that mattered to high-major programs who were skittish to offer a 5-foot-9 guard with questionable strength.
"I was recruited by some schools and some schools didn't wanna offer at that time, just because of my size. They didn't know if I could play at the high Division I level," Harper said.
Harper's lack of size didn't stop Auburn's coaching staff from going all-in on him early. Assistant coach Tony Jones was the first to see Harper play. Over the next several months, Bruce Pearl's entire staff began to fall in love with the skills, IQ and confidence Harper brought to the table.
A night after Auburn completed a surprising SEC Tournament run to end the 2014-15 season, Harper pledged to the Tigers. His only other offers at the time were from Kansas State, Ole Miss, UAB and South Alabama.
"BP believed in me from day one," Harper said. "I just feel like when I stepped on Auburn's campus for the first time that I could see myself there. It's a great environment, it's close to home and my family could come and see all of my games. And being able to play as a freshman was big for me."
Harper's commitment, the first Auburn pledge for the Class of 2016, ushered in a new era of Tigers basketball. By committing early, Auburn's staff could focus on finding pieces to complement their new lead guard while Harper could ignore recruiting and focus on getting better.
By the end of summer 2015, Auburn's early evaluation was already paying off. Harper elevated into a top-75 national prospect by helping a loaded Georgia Stars team win the Nike EYBL title at Peach Jam. Harper was named co-MVP of the event with Wendell Carter as his blistering shooting was the talk of North Augusta. Even though the Stars featured a loaded roster that had Carter (Duke), Udoka Azubuike (Kansas), Brandon Robinson (North Carolina) and Trent Forrest (Florida State), Harper often looked like the best player on the floor.
"There's [a couple things] about Jared that made him who he is. He has an incredible belief in himself. A lot of guys doubted him because he's so little. The confidence is never an issue with him," former Auburn assistant coach Todd Golden, who helped recruit Harper, said. "And he sees the game like a coach does. He's been that way since he was young. His father, Pat, put a ball in his hands when he was young. Jared has played a ton of basketball, so when it comes to handling certain situations, he's already been through it."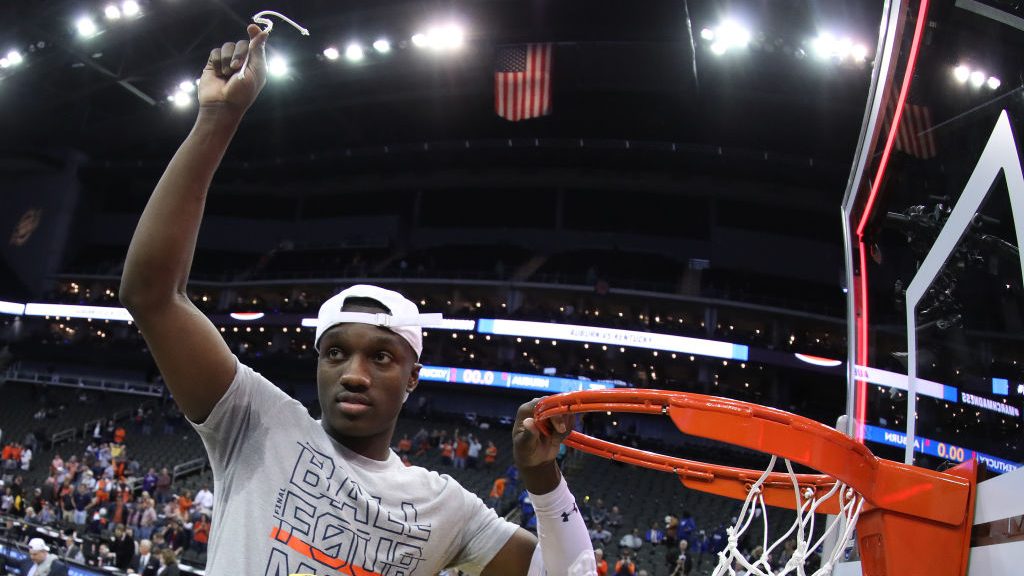 Other players also noticed Harper's abilities as he turned into a recruiter — helping Auburn land two five-star prospects (Mustapha Heron and Austin Wiley) and a quality role player (Anfernee McLemore). Once Harper finally landed on campus, his gym-rat mentality was immediately noticed around the Auburn program. Harper and fellow starting guard Bryce Brown made a habit of living in the gym. Other players followed suit. Harper and Brown's fathers were also constantly present around the Auburn program, shooting with their sons and talking ball with the coaching staff. A unique father-son dynamic around the Tigers fostered a family-oriented team that never listened to doubters.
"They started that culture of guys being in the gym late at night. They started that culture of guys coming in early in the morning. And now it's a competition on who can spend the most time in the gym," Auburn assistant Steven Pearl said. "It's almost to a fault. We have to tell our guys, 'get your ass out of the gym, you're going to be exhausted!' The guys challenge each other and come in together and it's just become a great environment with Auburn basketball. We have some of the hardest-working kids in the country."
Harper's underdog mentality has fit in naturally with a team making its first-ever Final Four appearance this weekend. A double-figure scorer in all three seasons with the Tigers, Harper is a perfect catalyst for the Tigers with his ability to score and distribute. Auburn will be an underdog when they face No. 1 seed Virginia on Saturday, but they've already mowed through blue bloods like Kansas, North Carolina and Kentucky the past three rounds. Facing another title hopeful won't bother a team that has relished the underdog role the past few seasons.
"I feel like we've been in the underdog role a lot, I've been in the underdog role my entire life," Harper said. "We're taking it as it comes, we know what we can do. We know that at the end of the day, it matters what we believe in and what we feel like we can do."