Thursday night had all the makings of yet another crushing March collapse.
Virginia has been arguably the best regular season program in college basketball over the course of the last six seasons. They've won four ACC regular season titles. They've been a No. 1 seed four times and a No. 2 seed in a different year. But that has not translated to March success.
In Virginia's four previous trips to the NCAA tournament where they were a top two seed, they lost to No. 4 seed Michigan State in the 2014 Sweet 16, No. 7 seed Michigan State in the 2015 second round, No. 10 seed Syracuse in the 2018 Elite 8 and, of course, UMBC.
On Thursday night, the Wahoos were facing off with yet another opponents that they should, on paper, be able to dispatch fairly easily. Oregon, the No. 12-seed in the South, needed to win the Pac-12's automatic bid just to get to the NCAA tournament in the first place, and early in the second half, with Virginia seemingly in control, the wheels started to fall off and the PTSD started to kick in.
There's 5:30 left in the game. Virginia had just blown an eight point lead, letting the Ducks go on an 18-5 run that turned a 35-27 deficit into a 45-42. All of those struggles that Virginia's had in tournament's past, it makes moments like this that much tougher to deal with. The players on this team are human. They, like us, get the 'oh no, it's happening again' thoughts creeping into their minds. Virginia had the game in their control. They let it slip through their fingers. Momentum is firmly on the side of Oregon and all the while, Kyle Guy and De'Andre Hunter are playing like they forgot how to shoot a basketball.
And when they needed it, it was the smallest guy on the court that showed up for Virginia in the biggest moment.
Not 30 seconds after freshman Louis King buried the three to give Oregon their biggest lead of the second half, Kihei Clark — a 5-foot-7 freshman point guard from California — stepped up and buried a three to stem the tide. Two possessions later, it was Clark that found junior Ty Jerome for another three, this one giving Virginia a 48-45 lead that they would never relinquish.
The final score was 53-49. Virginia sent the Pac-12 tournament champions back to Eugene as they advanced to their second Elite 8 under head coach Tony Bennett.
---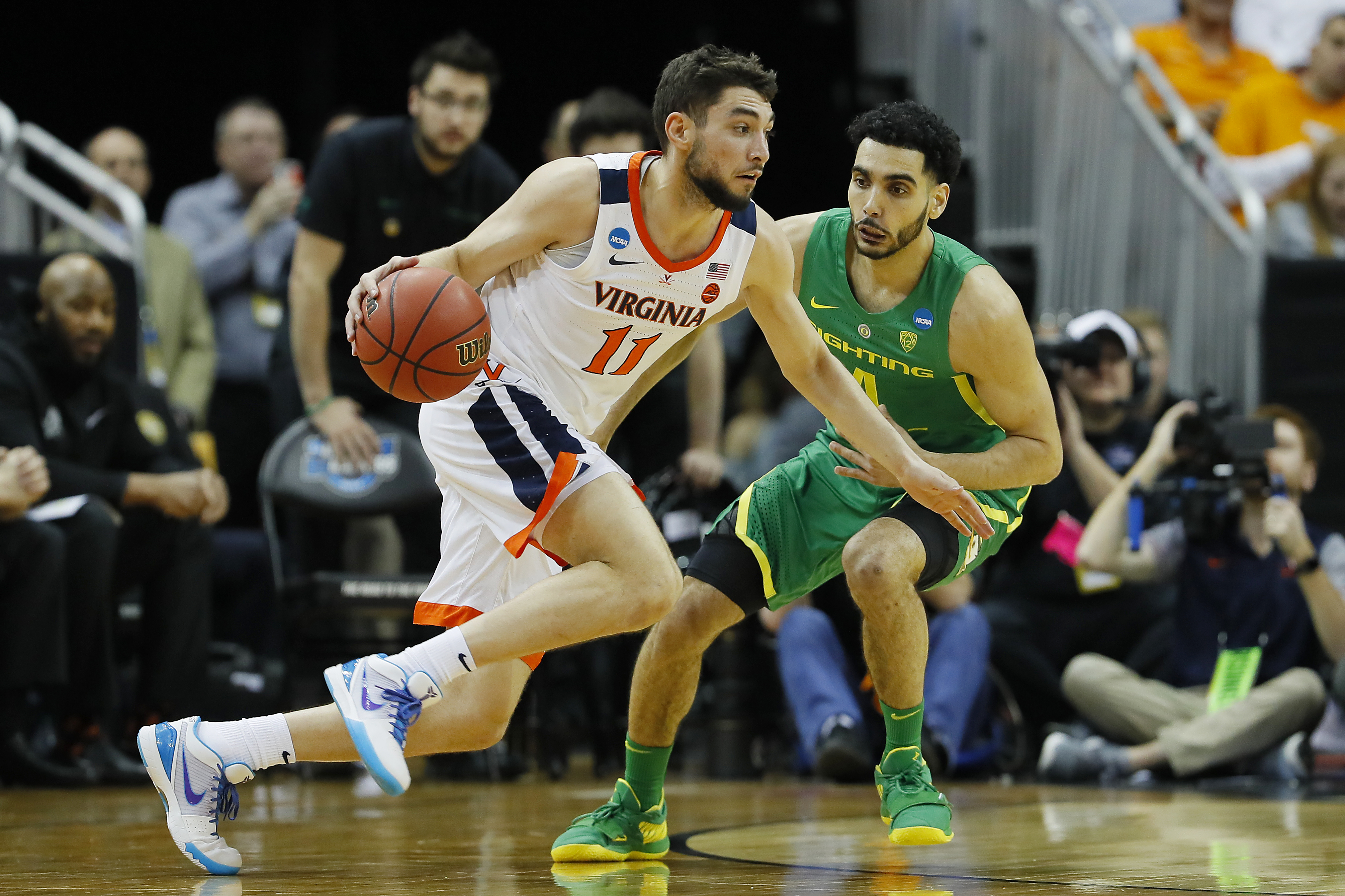 ---
This is the best team that Bennett has ever had at Virginia, and I don't think there's much of an argument against it.
Hunter is unquestionably the most talented player Bennett has ever coached in Charlottesville. Ty Jerome is a killer that is going to spend 10 years playing in the NBA. Guy is one of the very best shooters in America. This frontline has the talent and the versatility to play big, to space the floor, to play small and to be uber-switchable, all based on which of the other four frontcourt pieces are playing.
If Bennett is going to finally end his Final Four-less run, this is the year that it would be the most likely to happen.
But to get over that final hurdle, there was always going to be a night where Virginia had to survive a game they could have, or should have, lost.
Like Duke with UCF, this was probably that night.
Guy finally ended his streak of missing 16 straight threes, but that doesn't been that he was good on Thursday night. He wasn't. He shot 4-for-15 from the floor and 2-for-11 from three, missing a handful of wide-open looks and throwing a couple of makeable shots off the backboard. Hunter wasn't much better. He was 4-for-13 from the floor and 1-for-6 from three, tossing up a couple of the worst misses that you'll ever see from a 45 percent three-point shooter.
Virginia's bench was unusable, Louis King was on fire and this looked like the end when Clark made the plays he made. He finished with 12 points and six assists, a massive boost for a team that doesn't expect to get much of anything out of Clark.
The truth is this: Clark is certainly not a zero — he is a pest defensively, he doesn't turn the ball over and he has made some threes this year — but I think that it is fair to say that the most valuable thing he does for this team right now is that he allows Jerome to play off the ball, where he's his most effective. There are no other playable guards in the Virginia rotation. There's Jerome, there's Guy and there's Clark.
Put another way, Tony Bennett was heading into a Sweet 16 matchup thinking about how Clark was going to get his program back to the Elite 8 for the first time since they blew a 15 point lead to Syracuse in the final eight minutes.
But that's where we are right now.
And if this is the season that finally gets the Final Four monkey off of Virginia's back, then everyone on that campus is going to have Clark to thank.