DES MOINES, Iowa — Starved for something to cheer for, the thousands of Minnesotans who made the trek a couple hundred miles south down Interstate 35 finally came to life. The Gophers they were there to cheer for, the program which was looking to return to the Sweet 16 for the first time in two decades, trimmed a 20-point lead against the Big Ten co-champs, the team that had destroyed them by 24 a month earlier, to nine points.
Seemingly everything other than the scoreboard seemed in Minnesota's favor, and that looked suddenly in play.
"It got loud," Winston said.
That's when Tom Izzo told Winston to go to work.
"I told him he's got to take over," the Hall of Famer said, "and like a true All-American did."
Instead of a superhero in a cape, the Spartans have a diminutive guard in a headband, though the results are largely the same.
Winston scored seven-straight points while recording two steals and a rebound in just over a minute to resecure the game for Michigan State and send the Spartans into the Sweet 16 for the first time since 2015's Final Four run with 70-50 win Saturday against Minnesota at Wells Fargo Arena.
"You've got to make big plays. I've got to be who I am for this team. That's my role for this team," Winston said. "That's what I've been doing all year. I don't try to do too much. I don't try to put the world on my shoulders, but I try to make plays to the best of my ability."
The world may not have been on Winston's shoulders, but the Spartans were on his back during that remarkable 82-second stretch that few players in the country could replicate.
An 8-0 run by Minnesota trimmed what had once been a 20-point Michigan State advantage to single digits, 40-31, with under 14 minutes to play in the game. After a Michigan State turnover, the Gophers had the opportunity to cut even further into their deficit, but Dupree Macbrayer's jumper was off the mark, and Winston collected the rebound. On the ensuing possession as the shot clock dipped down, Winston connected on a step-back jumper.
He then picked off a pass from Gabe Kalscheuer, and hit another jumper on the other end. Next it was a deflection that lead to a fast break, where Winston pulled up in transition and buried a 3-pointer. Seven points in 57 seconds. A ballgame decided and a Sweet 16 trip to Washington, D.C. locked up in under a minute.
"That really killed us," Gopher forward Amir Coffey said. "We had it going a little bit, and Cassius just came through for Michigan State and hit some clutch shots."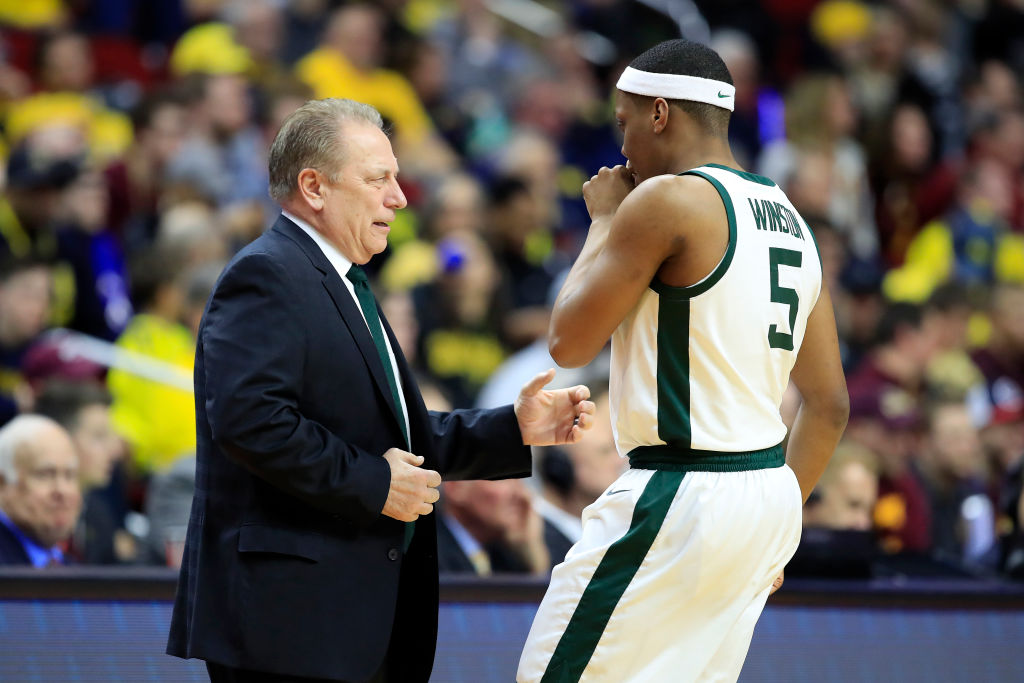 It's what Winston has been doing for Michigan State all year. Whether it was a season-ending injury to Josh Langford or the  ailments that have sidelined Nick Ward or Kyle Aherns. Michigan State has time and again looked as though it faced a situation where its season could go sideways only to have Winston there to set the Spartans straight. The Big Ten player of the year has been tremendous, averaging 19.1 points and 7.5 assists per game while shooting 47.2 percent from the floor and 40.4 percent from distance.
"That's just typical Cassius. That's just what he does," sophomore Xavier Tillman said. "Whenever we need him to score, whenever we need him to distribute, whenever we need him to just lead vocally he does whatever we need him to do, and that was just another day in the park."
That scoring outburst was exactly what Michigan State needed to shutdown the Gophers, and it was about all Winston could give the Spartans. The Big Ten tournament champions have played five games in eight days, and Winston has looked worse for the wear. Those seven points were more than half of what he scored for the game, finishing with 13 points on 5 of 11 shooting (1 of 4 from 3) along with nine assists and four turnovers.
When Minnesota had its chance to truly threaten the Spartans, Winston found the strength, will, fortitude or maybe just a second wind enough to put a halt to it.
"He was hurting. He just was worn out. I said, 'Well, here is the way it is, my man,'" Izzo said. "'If you're worn out you'll get a lot of rest. If you're not worn out you got another week or so and you'll get a lot of rest any way. So how about we get after it and try to prolong this.'
"I just love the fact that he responded. He wouldn't have responded like that two years ago if you ask me. He responded and I know how he felt. Yet I also know what he did. It was pretty impressive."
It also put an end to the recent run of calamities for the Spartans in the NCAA tournament. There was Middle Tennessee State in 2016 followed by a nine-seed season that No. 1 Kansas put an end to in the Round of 32. Last year it was 11-seed Syracuse that sent Michigan State home that first weekend.
For a program that has prided itself on consistent Final Fours, a run like that is grating.
"Amazing, to finally get over the hump," Winston said, "get to that second weekend."
Nearly as amazing as how Winston took a few dozen seconds to win a game and keep the Spartans on track to perhaps in a week retrace the path all those dejected Gopher fans were making Saturday night, north to Minneapolis.