There wasn't a ton of action across the country of major significance Thursday – that's what happens when the Pac-12 becomes an afterthought – but there was some notable moments that you need to know. Get caught up: 
TACKO FALL'S MOTHER SEES HER SON PLAY FOR THE FIRST TIME
A lot of good things happened Thursday for UCF. The Knights took a big step forward in solidifying their NCAA tournament resume as they earned a second top-25 win of the season – a program first – by beating No. 19 Cincinnati, 58-55, on senior night.
The best thing, though, was the reunion between UCF senior star Tacko Fall and his mother after the pair had been separated for seven years.
"She never saw me play before," Tacko told reporters. "We haven't been together in so long.
"It felt like a dream."
Tacko hadn't seen his mother, Marianne, since he left his native Senegal to pursue basketball.
"I left my home in Senegal seven years ago to learn to play basketball, to get an education and to make a better life for me, my mom and my family," Tacko said, per the Orlando Sentinel. "I'm just so glad she's able to see me play at UCF, so she will know now that it's all been worth it."
On the heals of last week's win over No. 8 Houston, it's hard to imagine a better few days for UCF and its 7-foot-6 senior, who came to the United States to escape poverty.
"There were times when I went to school hungry and other times when the electricity got cut off," he said, "but my mom worked all different jobs to keep us going. I owe her so much for all the sacrifices she made for us. The final sacrifice was letting me come to America."
Now Fall will likely finish his career with an NCAA tournament appearance, with his mother having seen him live out his dream after a seven-year separation.
"It was like the day he was born when I held him in my arms," Marianne said. "I can't describe the joy of seeing my son play for the first time."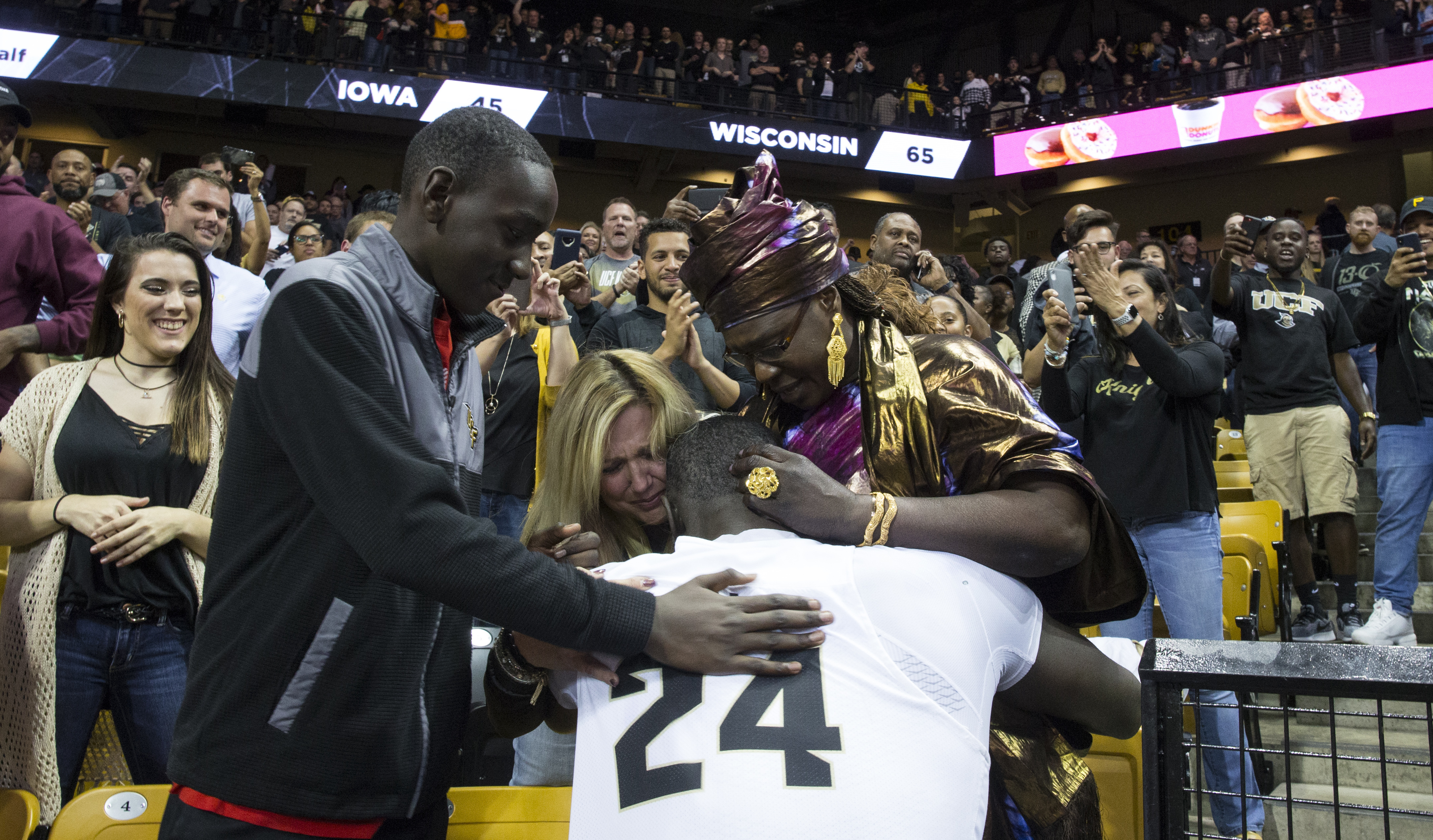 CHRIS CLEMONS PASSES DOUG MCDERMOTT ON SCORING LIST
Playing at Campbell doesn't provide a major platform or spot light from Chris Clemons, so his numbers will have to do the talking.
The senior star moved up to fourth place on the NCAA's all-time scoring list after scoring 34 points in a win over Hampton, edging past Doug McDermott and Alphonso Ford with 3,170 points.
He's now just behind Lionel Simmons (3,217), Freeman Williams (3,249) and Pete Maravich (3,667).
Not bad for a guy who shoots free throws like this.
FIRST CONFERENCE TITLE MATCHUP SET
We're a few days away from conference tournament ramping up to high gear, but we've already got our first championship matchup set.
Liberty and Lipscomb will meet Sunday to determine the ASun title after Liberty topped North Florida (63-71) and Lipscomb throttled NJIT (78-55) in the semis Thursday.
The ASun has the first title matchup, but won't be the first conference to get a team an autobid as the OVC finals will be played Saturday night.