IOWA CITY, Iowa — The Big Ten's new 20-game league schedule has moved up the timeline on everything. Conference games come sooner, which means teams are tested earlier. You can't hide in a weak non-conference schedule when you've got a pair of B1G opponents the first week in December.
For a moment, it looked like No. 18 Iowa's schedule of events had changed because of it as well. Rather than waiting until February to see a promising season hit the skids, as it repeatedly has under coach Fran McCaffery, the Hawkeyes looked in danger of dashing hopes before Christmas this season after a so-so performance against Pitt, a home loss to Wisconsin and an absolute dismantling by No. 10 Michigan State at the Breslin Center.
It's just the first week in December, but the Hawkeyes looked rattled. As much as a season can split in two directions before the calendar flips to the new year, Iowa looked in peril of finding itself in a slide that would be difficult to reverse with rival Iowa State, a burgeoning national darling thanks to a 7-1 start without a number of its best players, coming to Carver-Hawkeye Arena.
As Iowa walked off the floor Thursday a 98-84 winner over the Cyclones that featured all the nastiness that makes rivalries so contentious and entertaining, it looked as though Hawkeyes weren't about to surrender to such a fate just yet.
It was the type of response that was sorely needed for an Iowa team that fell behind by as many as 33 to the Spartans just days earlier.
"Exactly," McCaffery said Thursday. "You know, we really deviated from the game plan on Monday night."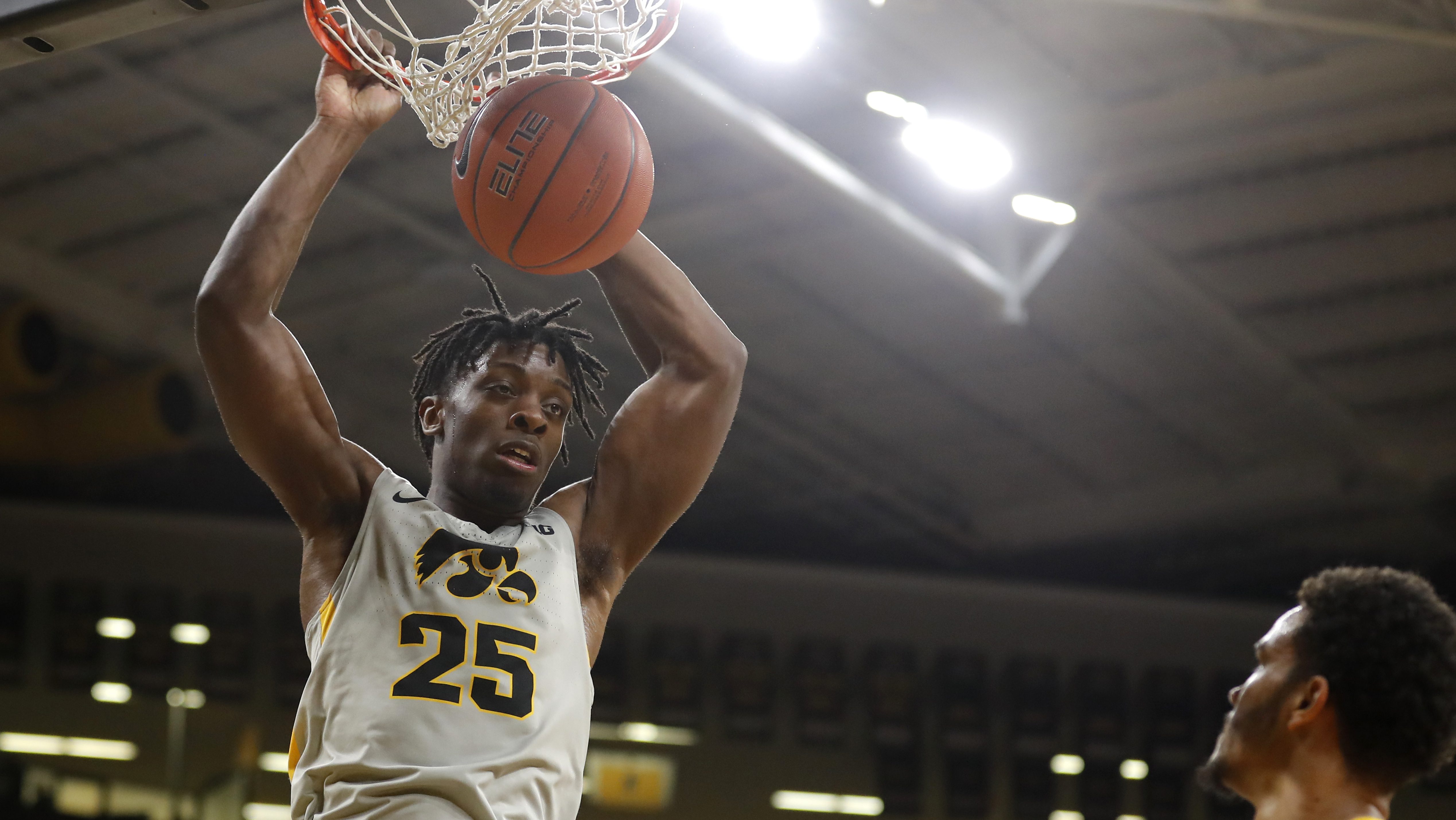 There didn't seem to be any deviations Thursday, other than from the course Iowa looked like it may have been charting after back-to-back disappointing showings.
Iowa's offense was humming. The Hawkeyes shot 57.4 percent from the floor and were 9 of 18 from 3-point range. They nabbed 17 offensive rebounds and scored 23 second-chance points. Tyler Cook looked like the All-American Iowa believes he can be in scoring 26 points and grabbing 11 rebounds. The Hawks got production off the bench, a necessity McCaffery teams that often lean on a large rotation, and while they gave up 1.2 points per possession, played good enough defense in stretches to keep the Cyclones off-kilter.
Perhaps most notably, Iowa was a team determined to exert its will on the game. Against the Spartans, the Hawkeyes limped to the final buzzer without much objection. They brought the fight – literally – to Iowa State.
There were two scuffles Thursday, the first coming before halftime when Iowa State's Michael Jacobson and Iowa's Connor McCaffery getting into it some and then Iowa's Cordell Pemsl rushing in to start a shoving match. Then as the game wound down the Cyclones' Marial Shayok and Jacobson poked at the ball in McCaffery's hands as the game's final seconds ticked off, drew McCaffery's offense and then started yet another fracas.
In a state where apologizing when someone bumps into you is the norm, two shoving matches counts for high drama.
While it's debatable how much toughness it takes to get into a couple of relatively petty squabbles on the basketball court, Iowa at least showed it wasn't ready to go quietly into that good NIT.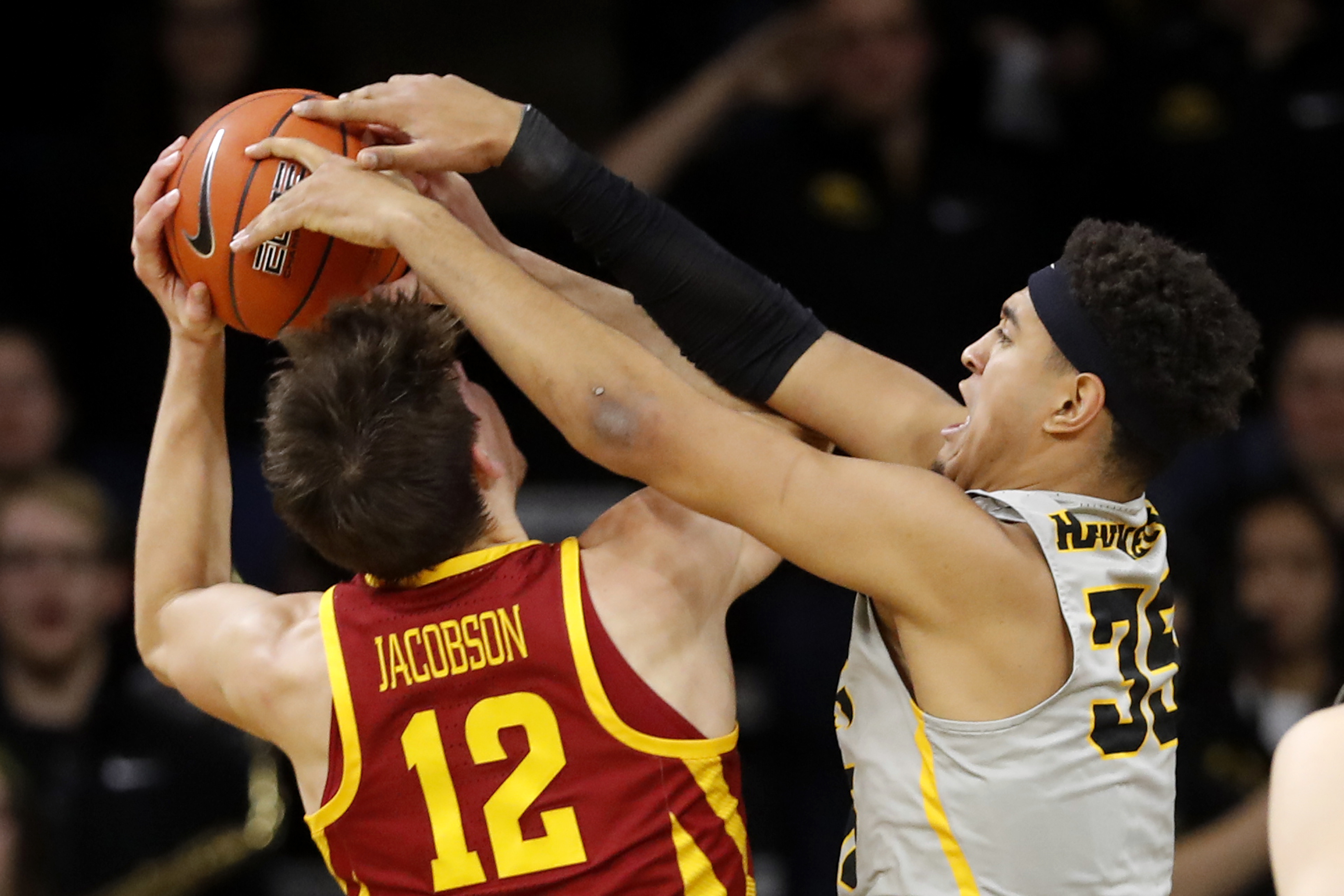 Pemsl wasn't even supposed to be playing. He'd been ruled out for the season with a knee injury. Pemsl often seems to find himself in the center of tensions on the court, so it's probably no surprise his return coincided with Iowa showing some edge.
His decision to get back on the court might also underscore the stakes Iowa was looking at. This is a program that has played its way into big expectations only to disappoint before. In 2014, the Hawkeyes were 19-6 and 8-4 in the B1G before they lost five of six to end the regular season, dropped its first conference tournament game and then bowed out in the First Four. In 2016, they were ranked as high as third in the AP poll before losing five of their last seven to finish the regular season, dropped their first B1G tournament game and got destroyed by eventual national champ Villanova in the second round of the NCAA tournament. A three-game skid in February and another one-and-done conference tournament in 2017 spelled NIT.
Then there was last season when Iowa went 14-19 and it was revealed that Iowa signed McCaffery to a new contract with a massive new buyout number. They also didn't tell anyone about it, and it took an open records request by media to bring it public that the cost of firing him ballooned from $4.6 million to $10.2 million last year and $9 million this year. It's hard to imagine Iowa was doing anything other than negotiating against itself there for a coach who ended last year with a 68-76 B1G record.
So things weren't all touchy feely in Iowa City – I haven't even mentioned the bizarre public feud involving the radio play-by-play guy that erupted last month – and a three-game losing streak would have only exacerbated tensions and made the wins against Oregon and UConn in November that raised expectations quickly forgotten.
Instead, it's easy to see the Hawkeyes reignited after last night. Not only did they beat Iowa State, they played well in doing so and showed an attitude that will prove useful in a Big Ten that looks formidable. Cook being a monster would go a long way, too. The defense needs to improve, but if the offense can operate the level it did against the Cyclones, it doesn't have to be great for Iowa to rack up wins this winter.
Thursday's win against a rival didn't solve all Iowa's issues, but, at minimum, it showed that they're willing to fight to fix them.