PLAYER OF THE WEEK: Markus Howard, Marquette
In a game that Marquette badly needed to win, Markus Howard put on one of the better performances of his career in an 83-71 win over No. 12 Kansas State.
45 points. 11-for-17 shooting. 21 free throws attempted.
It wasn't quite as impressive as the 52 point outburst that he had at Providence last year, and he has a habit of doing things like this from time-to-time — I steadfastly refuse to bet on Marquette on a game-to-game basis strictly because Howard can do something like this at literally any moment during a season.
This is a massive win for the Golden Eagles. It is not exactly a secret, but the Big East is in a bit of a down year. There is only one team in the league that is currently in the top 25, and that is a Villanova team that is not as good as Villanova of the last five years. Put another way, there are not going to be many marquee wins available once conference play starts, so getting this one on the board now was critical.
I also think that it is important to note how this explosion came about. Kansas State has one of the best on-ball defenders in the country on their roster in Barry Brown. With 9:00 left in the first half, Howard had just six points and was struggling to find a rhythm offensively. At the 8:31 mark, Brown picked up his second foul and was then given a technical foul for his reaction to the call. He went to the bench for the rest of the half, and while he was sitting, Howard scored 18 points in a 27-13 Marquette surge to close the half with a 44-33 lead.
One of the takes that I've seen floating around twitter is that Howard only got going because Brown was sent to the bench because of his third personal (the tech), and that he would have continued to be stymied had Brown remained on the floor. But that ignores the simple fact that one of the reasons Howard is so good and so dangerous is that he draws a ton of fouls. He averaged 6.5 fouls drawn per 40 minutes. Against Kansas State, I counted 13 fouls drawn. He went to the free throw line 21 times.
Put another way, drawing fouls and getting an opponent's best defender off of him is part of why he is so good.
Because when the door is left cracked open, he'll push his way through with a 40-burger.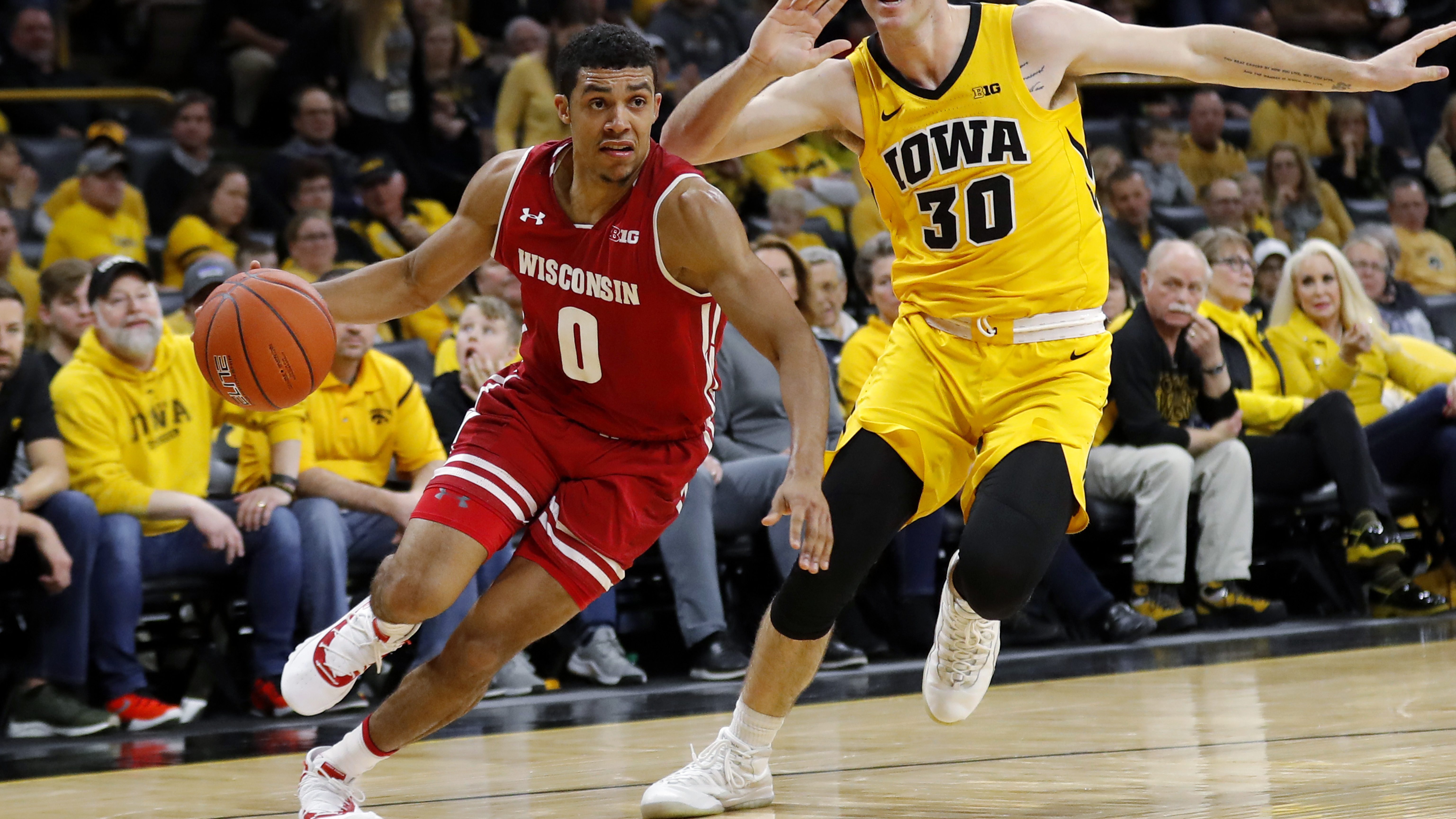 TEAM OF THE WEEK: Wisconsin Badgers
The Badgers bounced back from a loss to Virginia in the title game of the Battle 4 Atlantis with a pair of quality wins over NCAA tournament teams.
It started with a come-from-behind win over N.C. State — who is currently ranked 18th in the NBC Sports top 25 — in the ACC-Big Ten Challenge, and then on Friday night, the Badgers went into Iowa City and landed a solid win over the Hawkeyes.
Ethan Happ is the man that has been getting all the praise, and deservedly so. He's playing at an all-american level, and he has been the anchor for this group on both sides of the ball. I can't say enough about what he's been able to do this year.
But it's time that we start fawning over the improvement that D'Mitrik Trice has made this offseason. Trice is actually Wisconsin's co-leading scorer this season, and he is far and away their best perimeter shooter. He's shooting 58.3 percent from three. He's made 28 threes on the year. No one else on Wisconsin has made more than 10 or attempted more than 30.
The Badgers finished last season ranked in the 250s nationally in three-point shooting. This year they are 15th, and that is almost solely due to the improvement of Trice. I'm not sure there is a better 1-2 punch in the Big Ten right now than the two Badger stars.
MONDAY OVERREACTIONS
1. MICHIGAN MIGHT BE THE BEST TEAM IN THE COUNTRY
No, I'm not kidding.
By now, even my dog knows how good Michigan is on the defensive end of the floor. They still haven't allowed better than 1.0 points-per-possession in a game this season, and that came against North Carolina, who was a top five team in offensive efficiency entering that game.
We expected that.
Maybe not quite to this level — I, for one, did not think that Jon Teske was going to develop into one of the best defensive big men in college basketball — but any team with Zavier Simpson, Charles Matthews and Ignas Brazdeikis was always going to be tough as nails and a nightmare to score on.
Where Michigan is changing the narrative here is on the offensive side of the ball, which sounds weird since this is a team that is coached by John Beilein but is 100 percent accurate. The concern for this group was whether or not they would be able to score enough. Even during their run to the national title game last season, the Wolverines went through long stretches where they were completely unable to get an easy shot, and that was with Mo Wagner, Duncan Robinson and Muhammad-Ali Abdur-Rahkman on the roster.
This year, despite losing the three-best offensive weapons from a team that finished 35th in KenPom's adjusted offensive efficiency metric last season, the Wolverines are better on that end of the floor.
Part of it has been Brazdeikis, who is the team's leading scorer and has provided the program with a set of tools they haven't had in prior years. He's shooting 42.9 percent from three, he's terrific at putting the ball on the floor and getting to the rim, he's dangerous in transition and he can do all of those things while being able to guard fours at the college level.
Part of it has been Poole's recent emergence. He's made 12-of-16 threes in the last three games after starting the season 1-for-10 from deep. He'll run hot and cold all year long, but the threat of him popping off for five or six threes will be enough to force defenses to defend him. You cannot let him get going.
Part of it is Simpson's growth operating in ball-screens, and Teske's development in every aspect of the game.
Put it all together, and Michigan is top 20 nationally in adjusted offensive efficiency — which still factors in data from last season, so they are probably better in reality — and in the top 80 in three-point shooting. If that holds up all season, there is no reason the Wolverines can't play with and beat anyone in college hoops.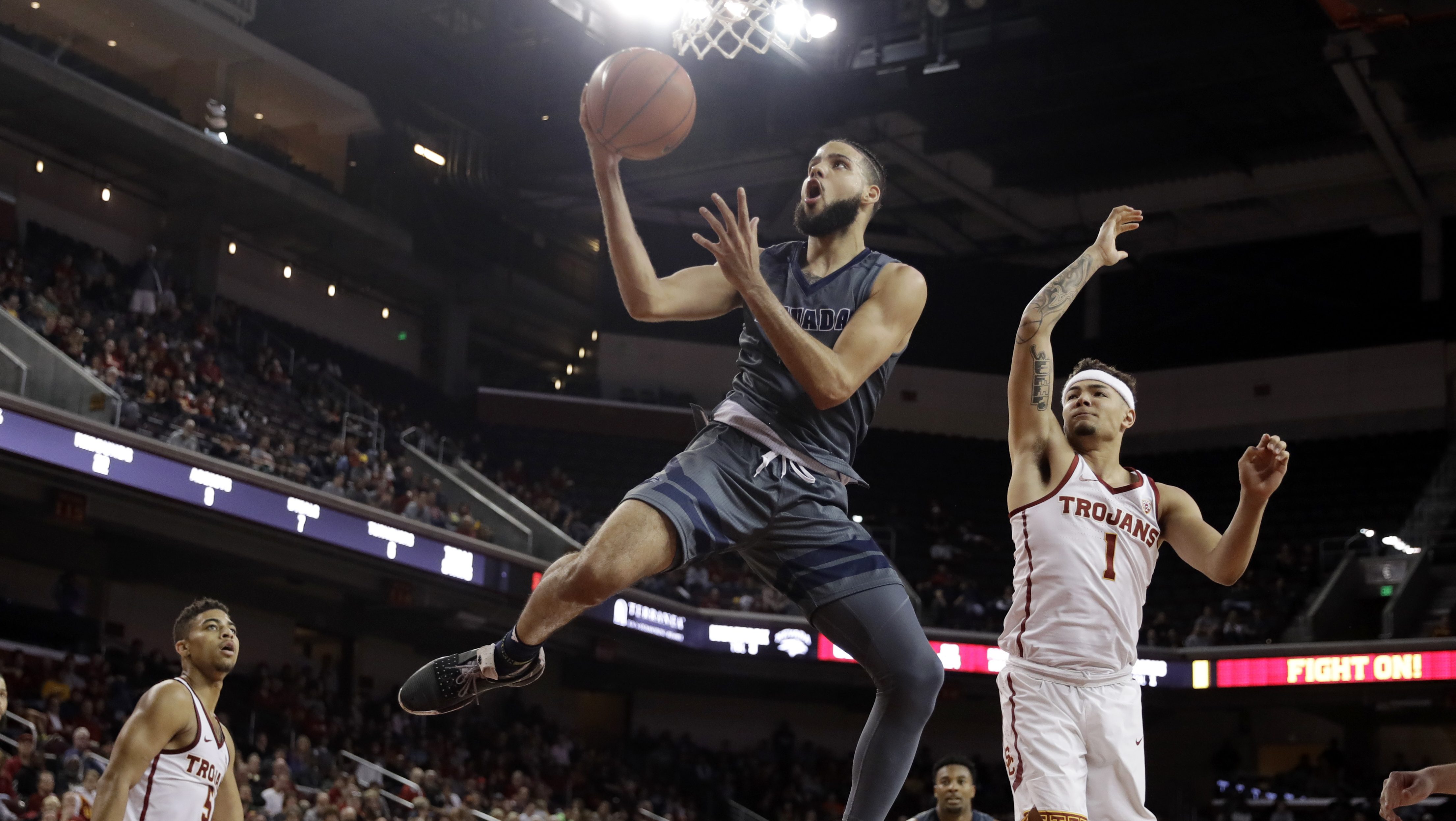 2. NEVADA, RIGHT NOW, IS MORE LIKELY TO GO UNDEFEATED THAT DUKE EVER WAS
Nevada passed two of their toughest tests of the non-conference this week, as they went into Chicago and knocked off Loyola in the MVC-MWC Challenge before heading to LA to take out USC.
On Friday, the Wolf Pack will face their toughest test of the non-conference, playing Arizona State on a neutral floor. If Eric Musselman can get his team back to Reno with a win, then all of a sudden we are looking at a situation like the one teams like Gonzaga and Wichita State have faced in recent seasons: There is a very real chance that they'll get to March with an unblemished record.
After ASU, Nevada will play Grand Canyon, South Dakota State, Akron and Utah before starting Mountain West play. There isn't another team in the league that currently ranks in the top 50 on KenPom, and as things stand today, he is projected Nevada as a heavy favorite in every game they play the rest of the season. As of today, there is a 9.4 percent chance the Wolf Pack end the regular season undefeated.
At some point, Nevada is probably going to get picked off. Maybe they lose to the Sun Devils. Maybe they get picked off on a road trip to Utah State or San Diego State, both of whom are good and have really tough home-court environments. Hell, maybe they overlook their trip to Utah.
But this is something to be cognizant of because it will very likely be a storyline.
And if Gonzaga can get through Tennessee and a trip to North Carolina with wins, they'll be right there with Nevada.
3. LAGERALD VICK IS THIS YEAR'S EARLY MVP
Vick is not the best player on Kansas. He is not the guy that Kansas runs their offense through. He is not the guy NBA teams are interested in seeing when they come to Lawrence. He's not even someone you can call an x-factor for this team moving forward.
But he has been Kansas' MVP through the first month of the season, and he might be the single most valuable player in all of college basketball to date.
That's because he has repeatedly rescued this Kansas team this year. He had 32 points and his all eight of his threes when Kansas struggled to beat Vermont, trailing in the second half. He had 33 points and his seven threes in a win over Louisiana where the Jayhawks trailed by 12. He scored eight straight second half points to give Kansas their first lead against Tennessee. And on Saturday, he hit a three to force overtime and then scored the first eight points of overtime — 27 in total — to help KU avoid an upset at the hands of Stanford.
Put another way, if Vick isn't playing the way that he's been playing, Kansas might have three or four losses to their name.
Sounds like an MVP to me.
4. LOUISVILLE WILL BE A TOP 25 TEAM THIS SEASON
Credit where credit is due: Louisville has put together one of the more unexpected early season runs. This past week, they won at Seton Hall and knocked off Michigan State in overtime at home. That came on the heels of a trip to NYC for the Preseason NIT where the Cards lost in overtime to Marquette and hung with Tennessee for 38 minutes before losing by 11.
Chris Mack is starting to figure this group out. He's not quite there yet — Jordan Nwora is shooting 27 percent from three, Steve Enoch is not yet dominating the paint like he should be, V.J. King has no confidence — but you can see the Cards getting better every time they play.
5. THE PAC-12 WILL MAX OUT AT THREE NCAA TOURNAMENT BIDS
It's hard to overstate just how bad the conference has been this season.
Throughout the first month of the season, the conference has registered five wins that will register as quality wins come Selection Sunday. They are, in order:
Oregon over Syracuse in MSG when Syracuse was missing Franklin Howard.
Arizona at UConn.
Arizona over Iowa State in Maui when Iowa State was missing four players, including two starters.
Arizona State over Mississippi State in Las Vegas.
Arizona State over Utah State in Las Vegas.
Their sixth-best win is … UCLA beating Loyola Marymount in Westwood?
That doesn't include the bad losses that they're taken. Oregon may have that win over the Orange, but they lost at home to Texas Southern and just took an L at Houston. Oregon State lost to Missouri. Washington State lost to Seattle and New Mexico State. Colorado fell at San Diego. Utah lost to Hawaii and took a 22-point beating against Northwestern. Cal is 2-4 on the season. Stanford is 4-4. USC and UCLA have a combined five losses, and while none of them are bad losses — Vandy's win at USC will look worse than it was as the Commodores play out their season without Darius Garland — they are 0-5 against relevant competition.
All told, the conference is 6-19 against the top seven leagues, and I didn't even factor in include games against Nevada, Utah State and Saint Mary's.
No matter how you slice it, the conference has arguably been worse than expected this year.
And that's saying something.