PLAYER OF THE WEEK: Joshua Langford, Michigan State
It took a couple of years for us to get here, but we all finally saw what made Joshua Langford a five-star prospect coming out of high school.
The 6-foot-4 off-guard has developed a reputation for being underwhelming in East Lansing. He hasn't taken over games since he arrived on campus even though the only played ranked higher than him in the loaded Class of 2016 that is still in college is Marques Bolden. He's not quite athletic enough to get all the way to the rim. He settles for too many long twos, playing as a pull-up jump-shooter when he hasn't been all that great at jump-shooting. He's fine, I guess, which is how many view this Michigan State team as a whole.
The Spartans are considered by some to be overrated as a borderline top ten team. Who, they'll ask you, are the good players on the Spartans? Who scares you if you're an opposing coach? This is precisely the conversation I had with one scout in the press room at Barclays on Friday prior to the start of the Kansas-Tennessee game.
At that point, the score was Texas 25, Michigan State 6, and I don't think it is too much of an overreaction to say that this was something of a crossroads in Michigan State's season. They were getting run out of the gym by a middle-of-the-pack Big 12 team, which is not a good sign when in-state rival Michigan is mowing down any and everyone in their path while the Big Ten continues to dominate during the non-conference.
And to their credit, Michigan State turned that thing around, and Langford played a pivotal role. He scored all 29 of his points in the final 29:35 of a 78-68 Michigan State win. He scored 22 of those 29 points in the second half, including 11 points in a 14-2 run to open the period. He buried a three to give Michigan State their first lead of the game at 50-49. He hit another jumper with 13 minutes left to push the lead to 55-51, and the Longhorns never again got within a single possession.
Langford is now Michigan State's leading scorer and best three-point shooter on the season.
This is who we thought Langford was when he arrived on campus, and if this is who he continues to be, the ceiling for Michigan State's preseason expectations are in reach.
TEAM OF THE WEEK: Gonzaga Bulldogs
Is there really another option?
Playing without Killian Tillie, Gonzaga headed to the Maui Invitational and showed the nation why they have been considered to be a peer of Duke and Kansas at the top of the polls since the preseason. The Zags survived a challenge from Illinois and Trent Frazier before outscoring Arizona by 30 points in the second half, which led them to the Maui title game where the Zags put to rest all of that premature talk about Duke's 40-0 season.
Rui Hachimura was dominant. Brandon Clarke Was a defensive menace. Zach Norvell Jr. continued to show why he may have the biggest stones of any shooter in college basketball. Corey Kispert got the attention of everyone as one of college basketball's best role players. And Josh Perkins, the guy we were all worried about heading into the season, settled some of those concerns. I'm not yet convinced he is the answer Gonzaga needs at the point, but it is quite evident that he is not going to torpedo this season.
There is a reason that the Zags are the new No. 1 in the NBC Sports top 25, and — Are you ready for this scorching hot take? — now have a better chance to go 40-0 this season than Duke ever did. The Bulldogs should cruise through league play, where the WCC is easier than the ACC, which means that if they can get past Creighton, Washington, No. 5 Tennessee and No. 7 North Carolina, they could enter the NCAA tournament without a loss fairly easily.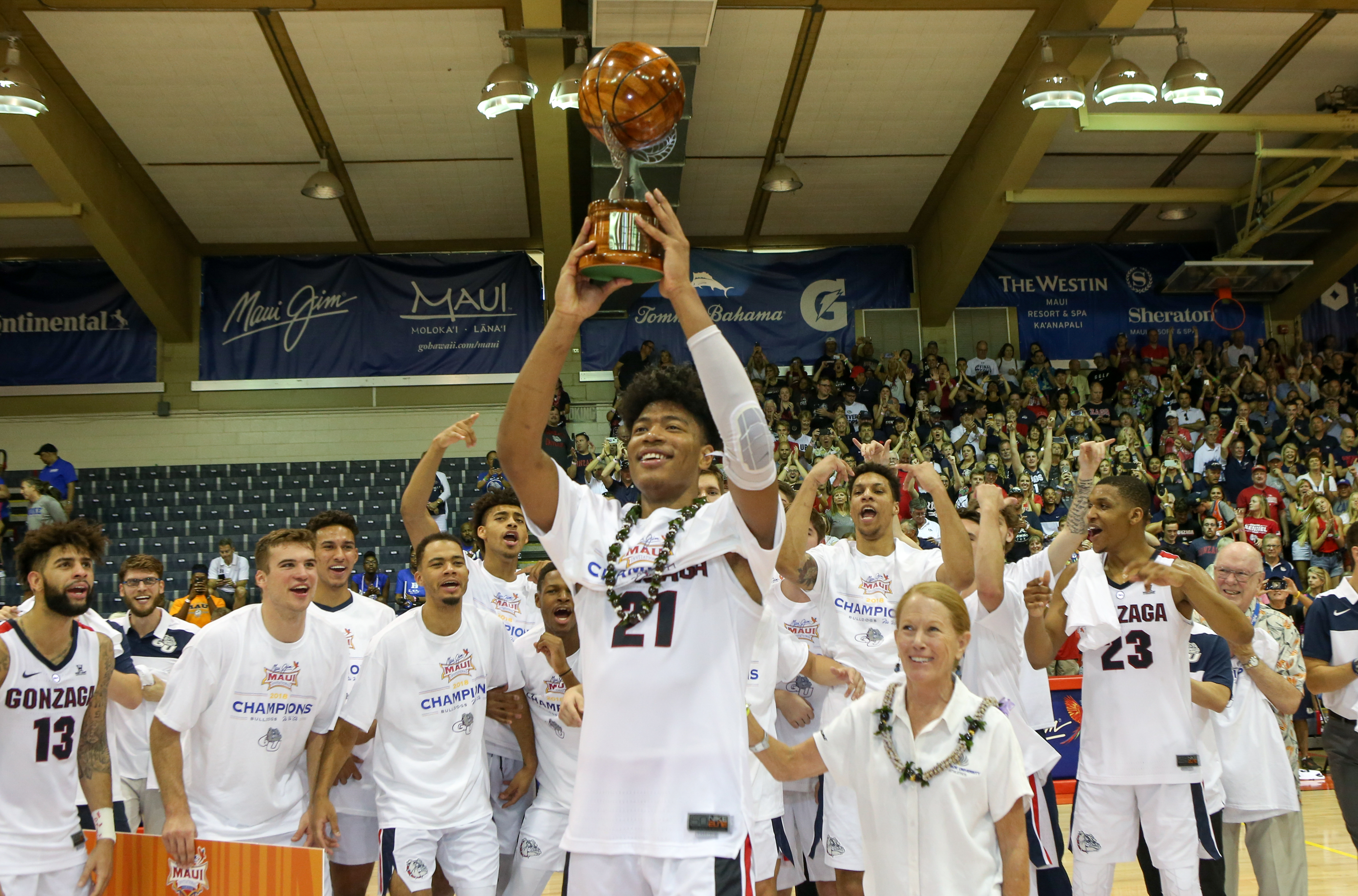 MONDAY OVERREACTIONS
1. VIRGINIA BELONGS IN THE CONVERSATION WITH DUKE, KANSAS AND GONZAGA FOR BEST TEAM IN THE COUNTRY
Remember when we all thought that Virginia was going to be in for a down year?
LOL.
The Wahoos have been as good as ever through the first two weeks of the season. Ty Jerome was playing at an all-american level before he came back down to earn in wins over Dayton and No. 25 Wisconsin. De'Andre Hunter, on the other hand, has looked every bit the part of a top ten pick, as he's averaging 16.8 points while shooting 46.7 percent from three. Kihei Clark has proven to be an effective piece that gives Virginia backcourt depth and some lineup versatility; he's a role player, but he is really effective in his role, pestering ball-handlers and operating as a point guard to give Ty Jerome some possessions off the ball.
All of this is happening as Kyle Guy is still working his way into a rhythm this season and Braxton Key is trying to find his role within this offense.
"The teams [with Malcolm Brogdon] were better overall defensively," said a coach that has scouted Virginia in recent seasons, noting that the trade-off is that this group is harder to guard. "They've small-balled it more with Key and Hunter. They're more versatile. Still tough and talented [defensively]."
I said it before the season and I'll say it again now: Virginia is Villanova before the titles. If you remember back then, the narrative was that the Wildcats weren't talented enough to do more than run through the new Big East, that a team that relies on the three-ball cannot win the national title.
Well, the narrative with Virginia is that they are not talented enough to win it all, and that a team that relies on their defense cannot win a national title.
This may be the year they finally buck that narrative.
2. TEXAS TECH IS THE SECOND-BEST TEAM IN THE BIG 12
Chris Beard is a freakin' wizard.
Here we are just eight months removed from the Red Raiders losing their top two players and their most versatile defender from what seemed like a once-in-a-generation team for the Red Raiders, and they already appear to be back in the mix for a run at the top of the Big 12.
Jarrett Culver made the leap. Through six games, he is averaging 18.8 points, 5.2 boards and 4.3 assists — which includes the 44 points, 15 boards and seven assists he had in come-from-behind wins over USC and Nebraska last week — all while shooting 50 percent from three. He's turned into a go-to scorer that is a threat from beyond the arc and can put it on the floor and create.
Throw in South Dakota transfer Matt Mooney and St. John's transfer Tariq Owens, and Beard has once again managed to fit a bunch of pieces together and make them into a force to be reckoned with.
Here's to hoping he stays in Lubbock for a long, long time.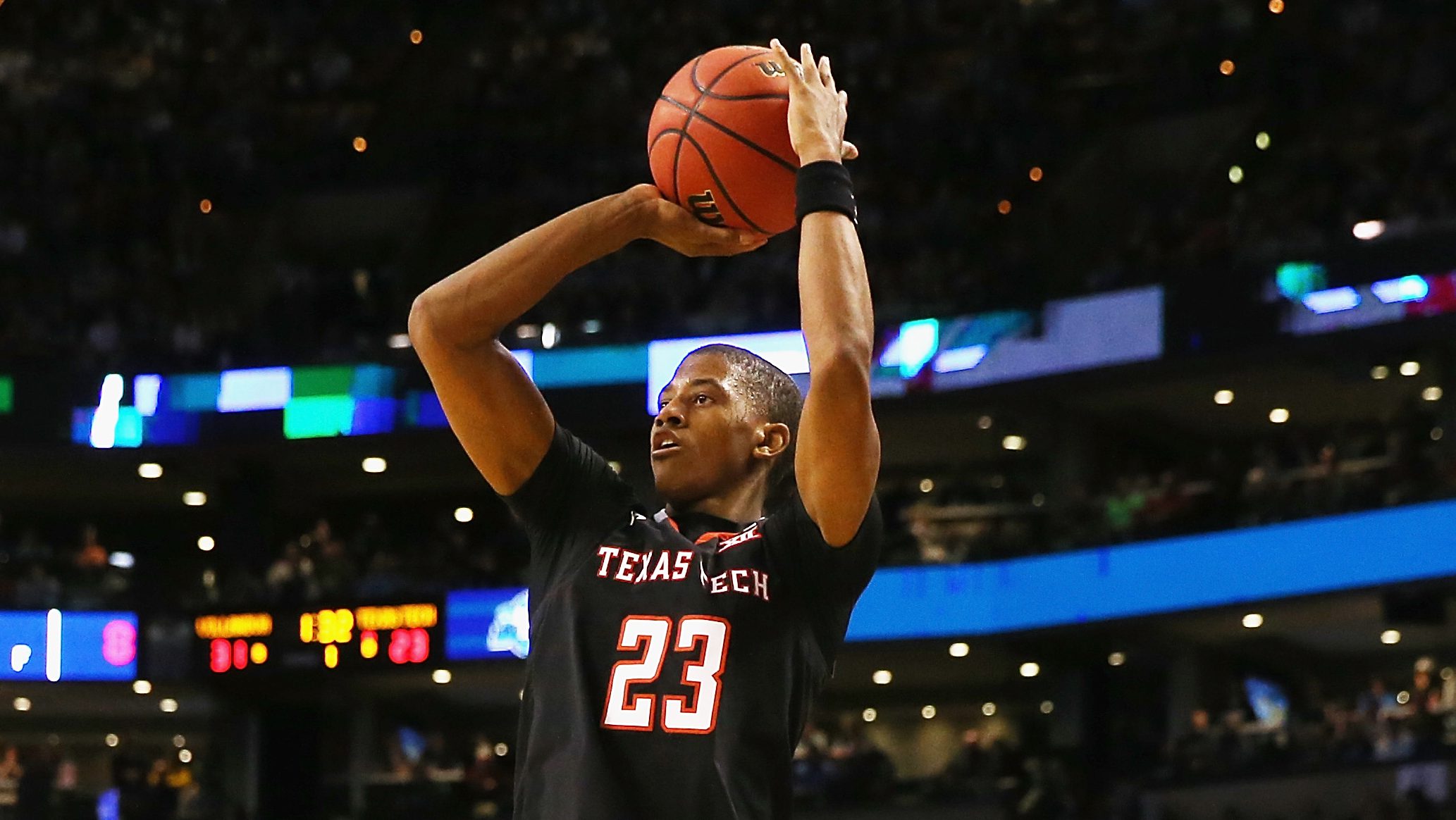 3. THE BIG 12 WILL LOOK REALLY GOOD ONCE THEY GET OVER THE INJURY BUG
The Big 12 once again looks like it is going to be a gauntlet.
We know about Kansas and Kansas State at this point, and while West Virginia hasn't looked like the team we all thought they would be entering the season, they are really the only program in the conference that is underperforming right now. Texas Tech, as we mentioned, looks like they are back in the mix at the top of the league. Oklahoma just went 2-1 in the Battle 4 Atlantis, beating Florida and losing to No. 25 Wisconsin. Oklahoma State blew out Memphis and then beat No. 19 LSU by 13 points on Sunday; if it wasn't for one of the worst calls in the history of college basketball, the Cowboys would have just a single loss on the season — to Villanova. Texas just beat No. 7 North Carolina in the Las Vegas Invitational, and this looks like it could be the best team that Shaka Smart has had in Austin.
And then there is Iowa State, who is currently sitting at 5-1 on the season with blowout wins over Missouri, Illinois and San Diego State despite the fact that they are playing without four key rotation pieces, including their most talented guard (Lindell Wigginton) and their best big man (Cameron Lard). Talen Horton-Tucker and Nick Weiler-Babb have proven that you can have a hyphen in your name and still dominate.
When the Cyclones get healthy, they are going to be a force to be reckoned with, especially if they continue to defend at this level. Even TCU, who has been the most disappointing team in the league, has reasons for their struggles: They are still waiting for a pair of starters — Jaylen Fisher and Kouat Noi — to get fully healthy.
Should I mention that Kansas is currently sitting at 5-0 with wins over Tennessee, Michigan State and Marquette, and they still don't look like they are close to hitting their stride?
This league is going to get wild.
4. I GUESS VILLANOVA ISN'T DEAD YET
The Wildcats suffered back-to-back losses and dropped from No. 4 to outside the top 25 before proceeding to head down to Orlando for the AdvoCare Invitational where they ripped the heads off of Canisius, Oklahoma State and No. 14 Florida State.
Villanova is going to go through some growing pains, but they should probably come out of this just fine.  The main reason I say that is that on Sunday, they managed to beat a good Florida State team while shooting just 3-for-14 from three. They won a game based on their ability to be tough defensively and the fact that they decided to put the ball on the floor and get to the rim when their shots weren't dropping. Collin Gillespie played very well, as did Dhamir Cosby-Rountree.
We'll see how long this lasts, but this was a message to the rest of the Big East: "The league is still ours."
5. THREE TEAMS TO KEEP AN EYE ON
There are a trio of teams that I did not expect all that much from this season that have proven to be better than expected: Minnesota, Maryland and Arizona State.
Just how good are they?
I'm not quite sure.
Arizona State knocked off No. 15 Mississippi State in impressive fashion in the opener of the Las Vegas Invitational last week before trucking Utah State in the title game. Luguentz Dort was terrific — as he has been all season long — while Kimani Lawrence has provided a scoring boost as well. I'm going to hold off having a strong take until I see them against Nevada.
Minnesota is another team that had some buzz entering the season, and they've gone 5-0 to start the year, including wins over Utah, Texas &M and Washington. They'll start Big Ten play next week with a trip to Ohio State and a home date with Nebraska. We'll know then.
Maryland is 6-0. They play Virginia in College Park on Wednesday. Buena suerte.