So much for all that undefeated talk.
Maybe now we can put that on Gonzaga?
(They're not going undefeated, either. So please don't.)
Rui Hachimura let the world know who he is while Brandon Clarke showed off what makes him such a valuable piece for Gonzaga as the Bulldogs put on a clinic in the first half before hanging on to beat Duke with their defense down the stretch.
It really was a phenomenal basketball game. Here are the four things we can take away from No. 3 Gonzaga's thrilling, 89-87 win over No. 1 Duke:
1. GONZAGA WON THIS GAME WITH THEIR DEFENSE
It sounds weird that I am saying this after Gonzaga gave up 87 points on 72 possessions, but it's true.
The Bulldogs literally did every thing they possibly could to give this game away. Their offense totally collapsed down the stretch. They missed four free throws in the final 30 seconds, a handful of layups in the final two minutes and allowed Duke's ball pressure to create turnovers and bad shots that led to layups at the other end of the floor.
And Duke still couldn't find a way to win.
A large part of this was due to some of their decision making in the final minute (we'll get to that, believe me), but the credit must be given where the credit it due: Playing the most difficult team in the country to match up with, the Zags did about as well as you can hope for. Brandon Clarke battled through foul trouble to go be the switchable rim-protector we all knew he could be. Corey Kispert and Zach Norvell Jr. did a terrific job taking Cam Reddish out of this game. Gonzaga, as a team, spent 35 minutes playing really good, really fundamental gapping man-to-man, forcing Duke to settle for jumpers or drive headlong into traffic.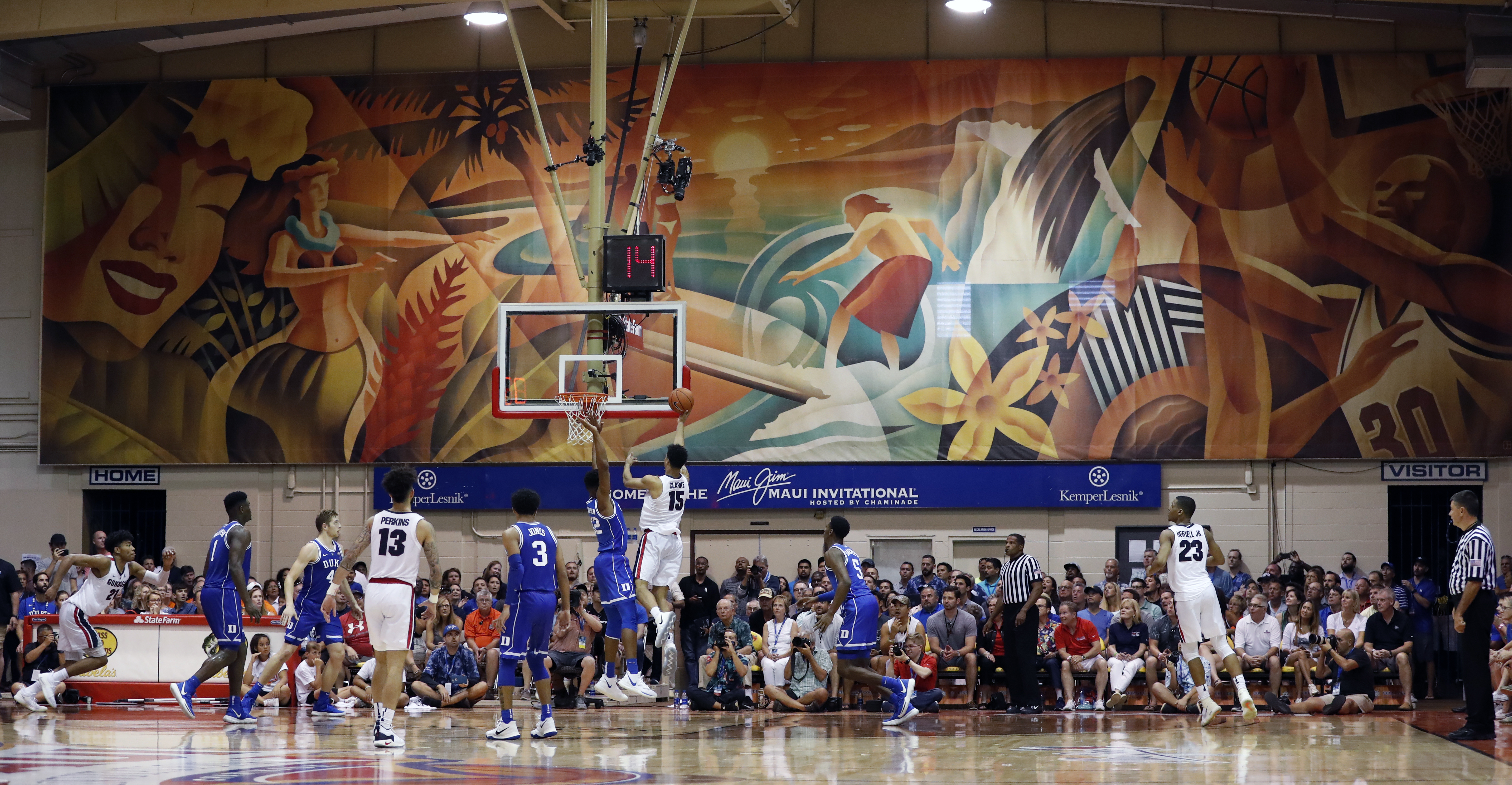 The Zags are not a great defensive team, not yet anyway. Rui Hachimura has a long way to go as an on-ball defender despite his incredible athleticism. Josh Perkins and Norvell are tough and smart positionally even if they aren't great individual defenders.
But the key here, for me, is that the Zags got the stops they needed to get, despite the foul trouble and despite some of the questionable individual defense.
Gonzaga's ball-screen offense is a pleasure to watch. It is the reason that they were up by as many as 16 points on the Blue Devils on Wednesday nigh, and it will be the reason they have a lead like that on a lot of different teams this season.
It sure is comforting for Few, however, to know that he has a team that can gut out critical defensive possessions. They did it five times in a row in the final 90 seconds tonight.
2. RUI HACHIMURA IS WORTH ALL THE HYPE
Man, did he make some big plays on Wednesday.
The blocks in the final minutes. The bucket in the paint with the game tied at 87. The assist to Clarke when Duke cut the lead to 83-81. He finished with 20 points, six boards, five assists and three blocks, but I feel like his impact on this game was so much bigger than what the box score says. He was the one that made the plays that Gonzaga needed the most.
For a kid that is almost too nice, for a player that Gonzaga has repeatedly said does not realize just how good he actually is and can be, it was a big deal that, in the biggest and most high-profile game that he will play this side of March, Hachimura stepped up and took over when his team needed him to.
He needs to work on that jumper and he needs to master the particulars of being a good one-on-one defender, but he showed the kind of (ahem) intestinal fortitude that the best have on Wednesday.
That's a helluva coming out party.
3. MARQUES BOLDEN CANNOT BE ON THE FLOOR AGAINST TEAMS THAT RUN BALL-SCREEN OFFENSE
Less than 24 hours after reminding everyone that he was, at one point in time, a top 15 prospect, Marques Bolden proceeded to remind us why we all had forgotten that he was once considered a one-and-done difference maker.
Simply put: He cannot be on the floor when Duke is playing a team that is a good ball-screen team. We saw it against Army, and we saw it tonight, as Josh Perkins — who has his flaws but is a terrific operator in ball-screen actions — tore Duke's defense to shreds in the first 23 minutes of the game. It's not much of a coincidence, then, that Bolden did not play in the final 17 minutes of this one.
The way that Duke wants to defend ball-screens is fairly straight forward given their personnel: They want to switch everything 1-through-4, but when the five is involved in the action, they want to ice it or drop it, and the five's role in both of those coverages is the same. His job is to zone up between the dribbler and the screener, making sure the dribbler cannot turn the corner and get a head of steam to the rim while giving the guard defender time to get over the screen and back to his man.
It should look something like this:
That's Javin DeLaurier at the five, and that's not often what happens when Bolden is on the floor.
Here is a terrific example from the first half. Bolden ends up too far out on the perimeter and stays with Josh Perkins for far too long, so that when Perkins goes to reverse the ball and Zion Williamson — the help-man, or "tagger" — runs to Brandon Clarke, Filip Petrusev is left unguarded. Perkins finds him with a slick no-look pass as Bolden stands in no man's land, defending no one:
There is a time and a place for Bolden to be effective. When he's asked to be a rim-protector and a rebounder that brings energy, he can do that well. We saw it against Auburn.
If he's going to be asked to defend ball-screen after ball-screen after ball-screen, Duke is not going to be able to play him if they want to get stops.
4. DUKE IS GOING TO RIDE-OR-DIE WITH R.J. BARRETT AS THEIR GO-TO GUY
Four times in the final minute of this game, Duke had possession with a chance to run something to get a shot to tie or take the lead.
Every time, Duke ran an iso for R.J. Barrett, looking to capitalize on a mismatch and get their star player going downhill.
Gonzaga knew this as well, and they made sure to clog the lane with helpers and have their best athlete — Brandon Clarke, who finished with six blocks even though it felt like he had six blocks in the last minute of the game — meet him at the rim.
They are going to ride or die with their star, and on Wednesday, they died with him.
Part of that is simple strategy: Duke's halfcourt offense is based on finding mismatches and creating isolation situations. It's not exactly a bad idea, either. How many people are staying in front of Barrett, or Zion, or Tre Jones? But part of it is also betting on your player to make the right play, and this is where the breakdown happened.
Simply put, Barrett did not make the right read. He did not give the ball up when he drew the defense. This is one example. I could have done this for all four of those final possessions:
Barrett wanted, and has probably earned, the chance to be the hero for Duke. With that comes the responsibility to not play hero-ball, and the right to be criticized when a selfish play is made.
If Barrett wants to be a point guard in the NBA, he has to be able to see that pass and make that pass. A DeLaurier dunk forces overtime. Instead, Duke is heading home.
(BONUS TAKEAWAY!) 5. THESE ARE THE NATION'S TWO BEST TEAMS
With all due respect to Virginia, and North Carolina, and Kansas, and whoever else thinks they have a shot at the title, these are the two teams that you are going to have to beat to do it.
Gonzaga should be the No. 1 team in the country on Monday morning. Frankly, I would probably still bet on Duke to win the title today, even with the eventual return of Killian Tillie.
Either way, I would love to see a rematch between these two teams in Minneapolis in April.