LAHAINA, Hawaii — Bruce Pearl spent the early part of the week telling everyone how he was concerned that his team wouldn't belong in the field of the Maui Invitational when Auburn was announced back in 2016.
The Tigers have certainly proven those fears unwarranted, but they also just helped Duke make the case that no one may belong on the same court as them this winter.
Duke was undeniably brilliant again, this time in perhaps its most difficult test yet against the talented and experienced Tigers, who proved to be no match in the Blue Devils' 78-72 win in the semifinals of the Maui Invitational.
It wasn't a perfect performance by Duke, but that makes it even clearer how far ahead they are the rest of the country. It doesn't take the Blue Devils' best to clearly be better than a top-10 team full of veterans on a neutral court.
The final score didn't indicate the space between Duke and Auburn. The Tigers made big shots and came up with huge plays. The Blue Devils shrugged every single one of them off, and countered with something even stronger.
"We threatened them," Pearl said, "but they were never scared.
The Tigers – who 22 points from Jared Harper, 17 from Austin Wiley and 16 from Bryce Brown – didn't shake Duke, but they showed yet again how far they've come in Pearl's five seasons.
"When I talked to (tournament director) Dave Odom several years ago about trying to get Auburn in the field," Pearl said Sunday, "he was honest with me. He said, 'Coach, the program just isn't up to snuff. I don't know that you're going to travel and be competitive.'
"I was so glad that we were able to travel and we are competitive, able to represent Auburn here and the SEC."
It was evident when Duke blasted Kentucky that their ceiling was special, but what they did to Auburn in the Lahaina Civic Center was something different. The Blue Devils didn't just blow out a talented but inexperienced team like John Calipari's. They handled the defending SEC champs, a team with pros and vets, without really even hitting on all cylinders for 40 minutes.
We saw it for a bit at the outset, when the Blue Devils overwhelmed Auburn to get out to a 17-point lead.
"Duke got whatever they wanted early," Pearl said. "Duke's start says something about the fact that those four freshmen are a lot more mature than (most freshmen)."
But then Auburn did what good, seasoned teams do. They fought back. They threw everything they had at Duke, which never found that same level of play where they lived early the rest of the game.
Still, it didn't matter because R.J Barrett, Cam Reddish, Zion Williamson and Tre Jones are not only a wildly talented assortment of freshmen but a mature one. A group that doesn't rattle. A quartet that is, as Krzyzewski said Monday, is "over themselves. It's not about them. They're very secure, and they have been parented well, they have been coached well, and so they understand being part of something bigger than them, but still being really good."
Duke is going to go as far as those four take them, and they look equipped for the long haul.
"Those four guys are really good now," Pearl said. "It's a special group."
It also helps when the forgotten fifth guy is a junior who himself is a former five-star recruit capable of flirting with a triple-double on a stage like this. Marques Bolden – remember him? – put up 11 points, nine rebounds and seven blocks.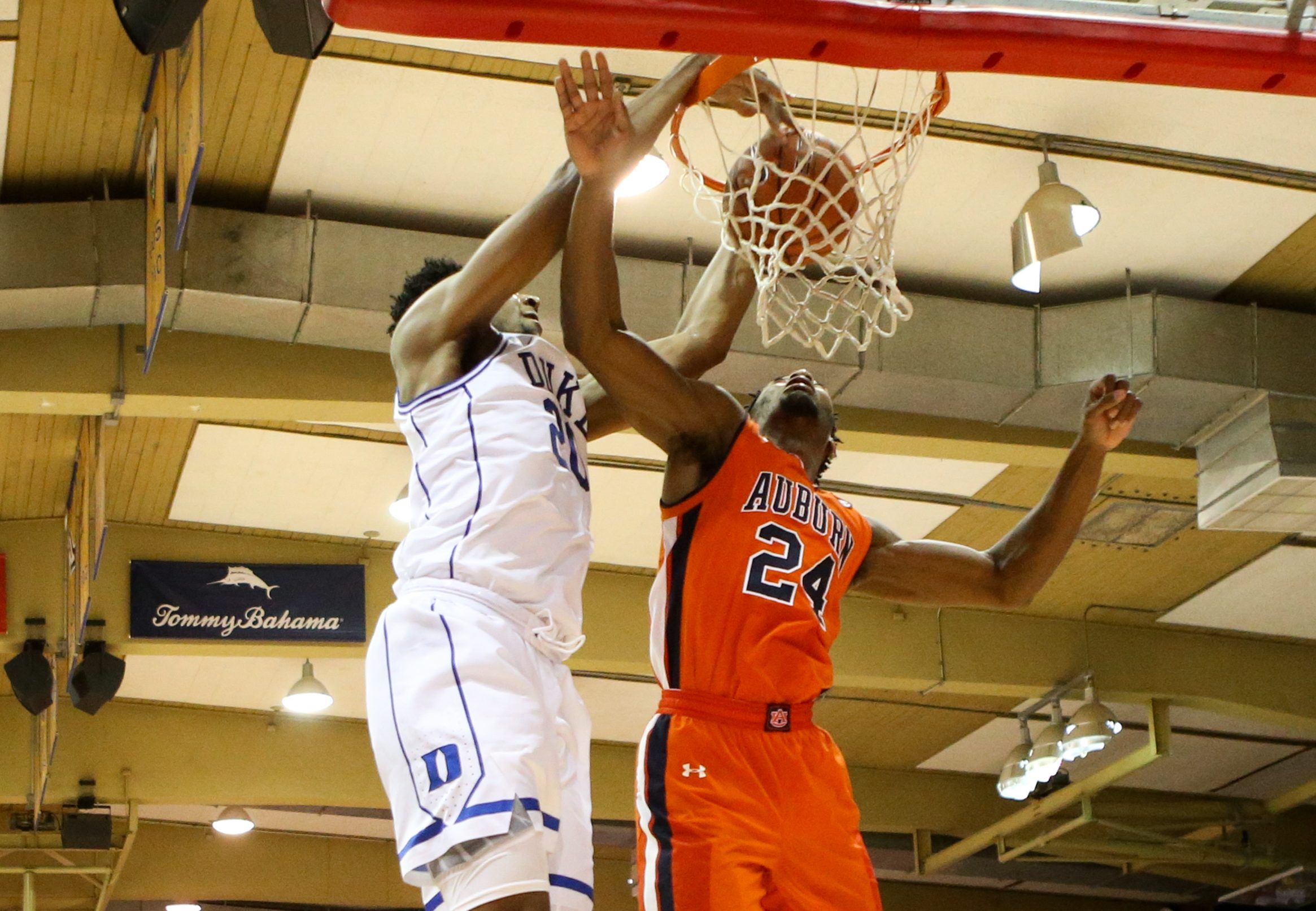 "This is the first year he's been healthy the whole time," Krzyzewski said. "So he has continuity of preparation, shape, and it's a big thing. It's a big thing. He's made the most of it. He's really gotten in great shape and he's taken great care of himself and as a result he's good."
So where does this Duke team go? There is so much season left, and they've already exhibited a level of hoops we rarely see from any team in any season, let alone a freshmen-led team in November.
"It's got to be fun for them," Krzyzewski said. "I'll do everything I can not to let them think that everything is won in November or December. But what we need to do is just use the season to get better and don't worry about, no one gives a trophy for who is No. 1 in November, December, January or February. Even March. And don't play for things that the outside wants you to play for. Play for what you want to play for and that's fun, getting better."
Things may change over the course of the next month. There could be injuries or whatever else that derails seasons. The biggest threat to Duke, though, seems to be complacency. Not because they're freshmen or because they'll settle on a sense of entitlement, but because they're really, really good and the season is long. Complacency is just natural.
The bar to clear for Duke is a national championship. That's probably true every year given the legacy and the continuous talent in Durham, but with this group it's hard to see even a Final Four or runner-up finish as something to celebrate given just how damn good they look.
So maybe they should go for something more.
Kentucky's 2014-15 team showed a team with a special core of freshmen and a supporting cast of veterans can get to at least the precipice of a perfect season. How is this group, with potentially the top three picks in June's NBA draft, another first-rounder at point guard and plenty of experience around them, any different? Why shouldn't this be the team that matches that 1976 Indiana team helmed by Coach K's one-time boss, Bob Knight?
That would keep things fun.
"You look at our league, we're going to be in a lot of games," Krzyzewski said. "We're going to get beat."
Maybe they won't, though.
Maybe this season will be as special as those freshmen.
Maybe this season will somehow add something Coach K is missing from his legacy.