Danny Hurley knew that he had work to do to get this UConn basketball program back to where it was when the Big East was the best conference in college hoops.
He knew that he was taking over a program that was coming off their second-straight losing season. He knew that three four-star prospects — Vance Jackson, Juwan Durham and Connecticut native Steve Enoch — had transferred out of the program. He knew, going in, that the UConn fanbase wasn't in the mood for nonsense, that they didn't want to hear about rebuilds or patience or any of the excuses that new head coaches have at-the-ready.
The son of the most famous high school basketball coach in New Jersey, the younger brother of an All-American and two-time national champion point guard at Duke, he was ready for, even craved, expectation.
"I want to be in a place where greatness is expected," Hurley said. "If I'm not in a place like that I don't want to be there."
He was ready to deal with whatever the fishbowl of UConn basketball had to throw at him.
What he couldn't deal with was the hangdog faces.
"That's an old cartoon," Hurley said last month, elaborating after lamenting how The Horde, as UConn's pack of beat writers is known, "knows everything." The story goes like this: Early on, back before he really knew his players and his players really knew him, Hurley sent the team's group-text a picture of that cartoon — a weathered, sad-looking old hound dog — and told the team that this is what he could not tolerate.
"I don't want hangdog looks," he said. "I want guys that are smiling, happy to be on the court. If you're a real baller, when you get on the practice floor, that should be the best part of your day. You're doing the thing you love the most."
As Hurley told this story, Jalen Adams, UConn's star point guard, yelled, with a smile stretching from ear-to-ear, "No hangdogs!"
Hurley, in the lobby of the Philadelphia Airport Marriott, surrounded by cameras and reporters with recorders shoved in his face, flashed a dimpled smile of his own; I'm not entirely sure he could actually see Adams.
"Yessir!"
---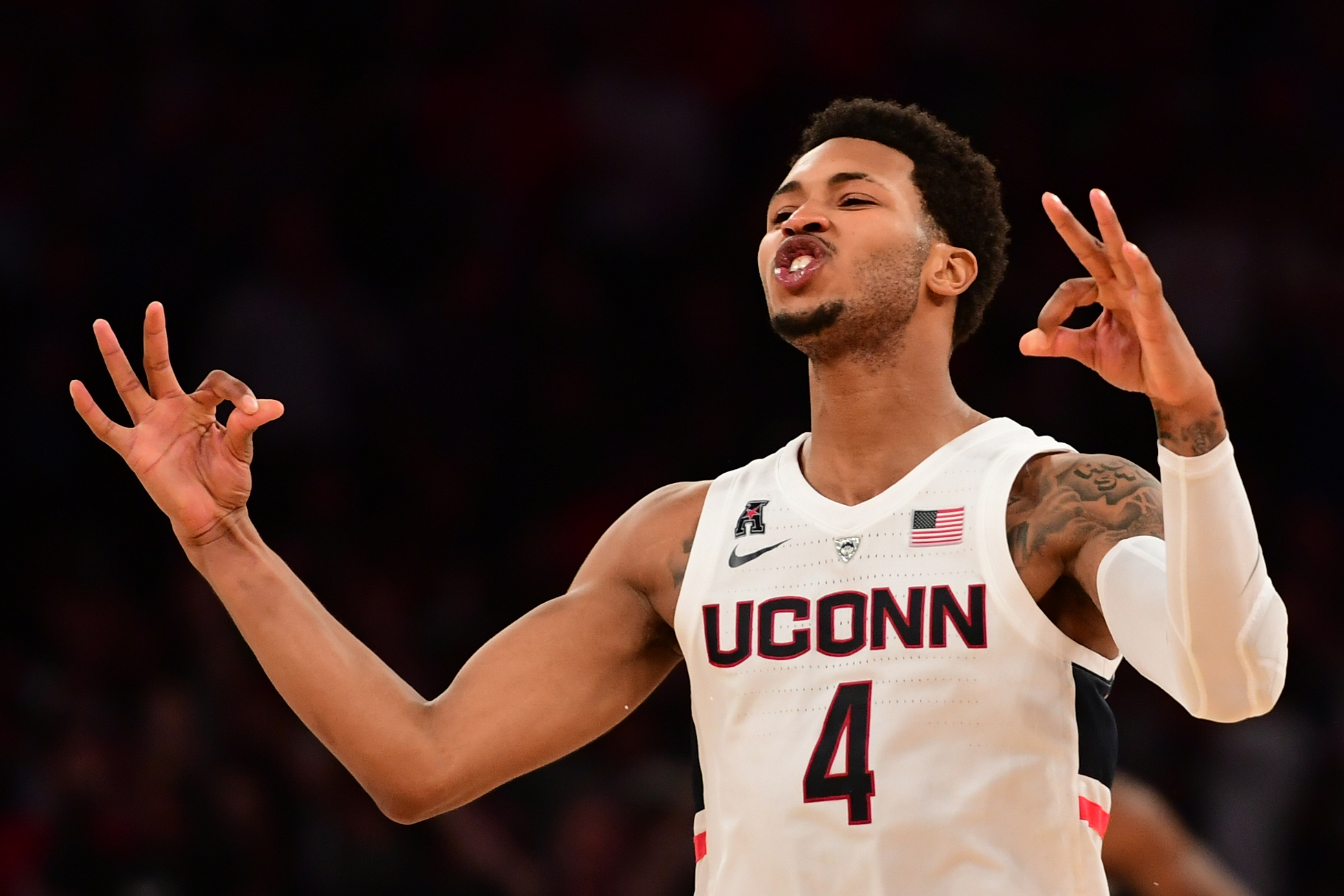 ---
A month later, and UConn is unrecognizable to anyone that watched the program play in the final years of Ollie's tenure.
The energy and the effort level matched every drop of intensity that Hurley had on the sideline. Alterique Gilbert, finally healthy after two seasons lost to shoulder surgeries, is hawking Syracuse ball-handlers for 94-feet. So is Adams. So is Christian Vital, and Tarin Smith, and Brendan Adams. Eric Cobb, who was 40 pounds overweight and all-but off the team by the end of last season, was posting the first double-double of his career while Tyler Polley was banging home big threes.
The Huskies, playing for the right to call Madison Square Garden their own, handed No. 15 Syracuse their first loss of the season, 83-76.
They were dogs, not a hangdog in sight.
Getting this program from where it was when Hurley took over to this point was not an easy task. He was demanding. He did not look past any mistake that was made in practice, no matter how small. He created a practice environment that was chaotic, hectic and uncomfortable. He wanted intensity. He wanted stress. He wanted his guys to get used being tired, to working themselves past the point of what they thought was exhaustion. He wanted them to think game-night was the easiest night of the week.
But to do that, he also had to reinvigorate that passion.
Losing in an insidious force within a locker room. Your confidence disappears. Your enthusiasm for the game withers. Basketball stops being enjoyable. The longer the losing lasts, the most desperate and hopeless the situation seems. The comparison that Hurley made was to a pet that has lived in a shelter. All it takes to turn them back into the loving, carefree pet they were is a stable, loving home, an environment they can thrive.
That started with going back to the basics.
Hurley made everything a competition.
Win in a drill, whether it was spot-shooting or shell or 4-on-4-on-4, you get a point. Lose, and you're on the baseline, but if you win the sprint, you get that point back. Keep a leaderboard throughout a practice, then throughout a week, then throughout the preseason. Making winning matter again.
Once that happened, the next step was turning Adams, his senior star, into the best player he could be. Becoming a more consistent shooter was key, but the priority was Adams' leadership. He was as guilty of the hangdog mentality as anyone on the roster, a problem because of his role as the star. When things are going bad during a game, Adams needs to be the guy to lift their spirits.
He wasn't.
"He can't get deflated when the other team goes on a run," Hurley said, and this is where those stressful, uncomfortable practices come into play. If his team is down in practice, fight back and find a way to win the drill. If he's tired, stay on the floor and gut through it. If you lose, get on guys to be better. Demand more of himself so that he can demand more of the players around him.
"He's put me in situations in practice where I'm just like, 'Yo, I can't do this anymore,'" Adams said. "In practice, it's so intense. Everyone is tired. Sometimes we'll sub off for one rep, and that's one of the things that he challenged me on. And don't just be out there, be out there and be active. Go hard the whole time."
"Guys will follow his lead," Hurley said. "If he's more determined and grittier this year on game night, especially when teams are on runs or late in games, he'll change the narrative of his career."
This was not something that made Adams comfortable. As he put it, "I don't want to be 'that guy.'" He didn't want to be the player that teammates thought was annoying, or the guy everyone thinks is showing off for the coach. There's a fine line between 'my teammate cares about me, and the team, and winning' and 'yo, this dude cares too much.' That was the balancing act Adams had to master, and it's something that is still a work in progress.
But he did have 16 points and four assists against the Orange on Thursday night.
And he did make critical plays throughout the second half to stem the tide of an Orange run. There was the loose ball he grabbed, which ignited a fast break and ended with Adams finding Smith for a layup to push UConn's lead back to seven points. There was the pass he made to Gilbert, using his eyes and a ball-fake to move the Cuse zone, for a three-pointer that pushed the lead to ten. There were the seven defensive rebounds he grabbed playing, at times, as the third-biggest guy on the floor.
Most importantly, there was the three he hit with 1:24 left on the clock, a dagger that put the Huskies up 76-66 and sent all of the Orange in the building scurrying for the exits.
As the final seconds ticked off the clock, Adams made a bee line for his head coach.
Two chest-bumps, a slap to the face and some very loud, very-inappropriate-for-this-setting words later, it was clear that these Huskies, at least on this night, were not hangdogs.