VILLANOVA, Pa. — It was the toughest ticket in town.
$3,000 to sit courtside. A month or two worth of cable and phone bills just to get in the door. A student section that didn't look safe to inhabit.
It's about what you'd expect for a team that's coming off their second national title in three years and unveiling the $25 million renovation to their on-campus facility while playing a rematch of their most recent national title game in a building that typically plays host to Villanova's buy games and the dregs of the Big East.
Finneran Pavilion was electric.
And No. 8 Villanova never led.
They were tied for a grand total of 13 seconds. Jordan Poole got free on a backcut, laid the ball in with 19:47 left in the first half and the Wolverines never looked back. They led 10-2 at the first media timeout. It was 26-10 by the time the under eight timeout rolled around. When halftime mercifully arrived, Michigan held a 44-17 lead — the biggest halftime deficit that Villanova had faced since playing St. Joseph's at the Palestra on Feb. 3rd, 2003, the infamous 40-9 Holy War beatdown. The only intrigue the second half held was whether or not Zavier Simpson would leave the Philly suburbs with Colin Gillespie's soul or just his pride.
No. 18 Michigan's 73-46 win won't change the fact that Villanova has a third national title banner hanging in the arena the Wolverines now own, but humiliating the Wildcats on a night meant for celebration is not a bad consolation prize.
We knew Villanova was young, and we knew Michigan was and is one of the toughest defensive teams in the country, but no one saw this coming.
And it begs the question: Just what the hell happened on Wednesday night?
---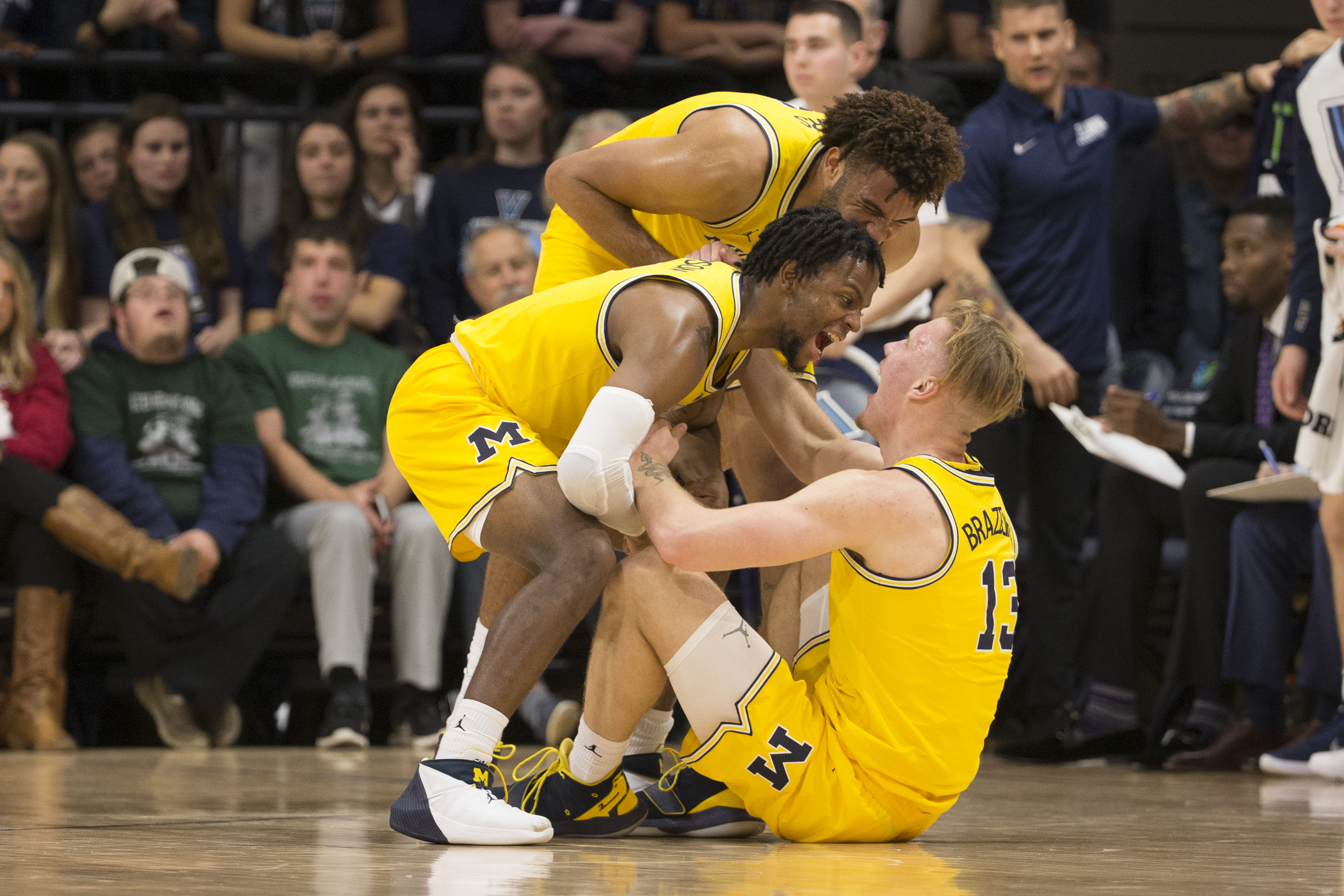 ---
Jay Wright knew.
He knew that his youngest team in years wasn't ready, regardless of what the AP Poll says. He knew that his freshmen, getting thrown into a game like this against a team like that, were not going to handle it well. He was subdued at shootaround, far too aware of the fact that his young guys didn't know what they don't know.
"I can't say I'm shocked this happened," Wright said after the game. "I thought we could be down. I didn't think it would be this."
The crux of the issue, Wright explained, was the youth on his roster. As of today, Nov. 14th, this is not a Villanova basketball team. It's a bunch of tall guys in Villanova jerseys. What I mean by that is there is a beauty in the way that Villanova plays basketball. This is not a program is relies on calling out set plays. They only have a handful of plays that they run. They are a read-and-react offense, one predicated on the simplicity that comes as a result of understanding complicated concepts. Their success, as much as anything, comes as a result of the ability of Wright and his coaching staff to teach the guys in his program how to be basketball players, not simply run a basketball play.
That takes time.
And as any coach at any level of college basketball will tell you, freshmen don't usually arrive at college knowing how to play. There's a reason why Wright tries to get old and stay old. There's a reason that he redshirts players as much as any power program in college basketball. There's a reason that the most successful program in the sport over the last half-decade has shied away from chasing one-and-done talent.
The problem is that the Villanova Way worked too quickly.
As much as anyone in college basketball, Wright intentionally tries to stagger his recruiting classes to minimize how much he loses each offseason. He'll actively leave scholarships open to avoid years where he brings in four or five or six players. The goal is to avoid what happened this past season — watching his top four players bolt for the NBA.
Villanova expected Jalen Brunson and Mikal Bridges to leave.
What they didn't expect was for Omari Spellman and Donte DiVincenzo to develop into first round picks in their own right. Those were the two guys, along with Phil Booth and Eric Paschall, that were supposed to shepherd Villanova through this season. Jermaine Samuels, Dhamir Cosby-Rountree and Colin Gillespie would be afforded another season of seasoning. Villanova's talented four-man recruiting class would get a year of experience under their belt.
What Wright didn't expect was to walk into this season as reigning champions with a team that, frankly, doesn't know what they're doing just yet.
"We didn't have that cohesiveness that you need to have," Wright said. That showed up offensively, as Gillespie and Jahvon Quinerly tried without little success to get Villanova into a semblance of an offense. It showed up defensively as well. One of the staples of Villanova on the defensive end is that they switch everything. They'll deal with bad matchups if it forces the team they're playing out of their offense. A player getting beaten one-on-one is not an uncommon sight; it's the risk Wright takes.
What is uncommon is a total defensive breakdown, a miscommunication that results in someone being left unguarded for a three or a layup. That happened on the first play of the game. It happened at least three more times that I noticed in the first half. All told, Michigan had 16 layups on Wednesday night. They had 44 points in the paint, 26 of which came in the first half.
"We've got too many pieces," Wright said, "running guys in and out. We're not as organized as we walk to be. We were trying to find a lineup here early … throwing guys in there against an experienced team."
"When you get in that mode against good teams," he added, "with young guys going in and out, rarely does that work."
While it's easy to pin blame on Villanova's youth, the credit for exploiting that mismatch has to be given to Michigan, who has turned into an absolute defensive juggernaut.
Simpson is a monster on that end of the floor. He's owned better point guards than Gillespie in the past. He'll own better point guards than him in the future. And he's just one half of a backcourt that thrives on a defensive mentality that we've never seen out of a John Beilein-coached team before, maybe ever.
"Charles Matthews is relentless when given a matchup like this," Beilein said. "These two guys, this is what they love to do. They have a defensive mindset. They want to know that they're guarding Phil Booth out there. They want to know that they're guarding Gillespie out there. That's what makes them go."
We knew that.
What we learned today was just how dangerous and matchup proof Michigan can be.
Some of that is because of the improvement of Isaiah Livers, a 6-foot-8, 230 pound athletic monster that can play the five in Michigan's offense. The Wolverines made their big first half run when Livers was at the five on Wednesday — it was a 27-9 surge over about a 10 minute stretch, and Livers buried two threes in the middle of that surge — but the difference-maker might actually be the freshman that we've been hearing about for months.
Iggy Brazdeikis.
At 6-foot-7, Brazdeikis is skilled enough that he can play the two in Michigan's offense. He's athletic enough that the first of his 18 points on Wednesday came via a powerful tip-dunk in the first two minutes of the game. And he's tough enough that he's already earned the respect of Michigan's defensive stalwarts.
"The thing about Iggy," Matthews said, a wry smile peeking out, "is he has a lot of pride. Defensively, that's half the battle. He's ready to compete on the big stage."
"He's a mini-pitbull," Simpson said of his much larger teammate. "He's not scared of anything. He took the challenge against Paschall."
That right there is where the difference for this team is made.
Beilein went out of his way to praise the defensive work of Jon Teske on Wednesday night, and while I'm not one to quibble with a man that is on his way to the Basketball Hall of Fame, it's hard not to get excited about what Michigan can do when they put Brazdeikis and Livers on the floor together. Suddenly, you have two players big and strong enough to hang with the biggest players in the Big Ten, yet athletic and mobile enough to guard a future first round pick in Paschall.
Livers is the guy that can space the floor.
Brazdeikis is the animal on the glass.
And both of them, thrown out there with Simpson and Matthews, are going to give opposing offenses nightmares.
---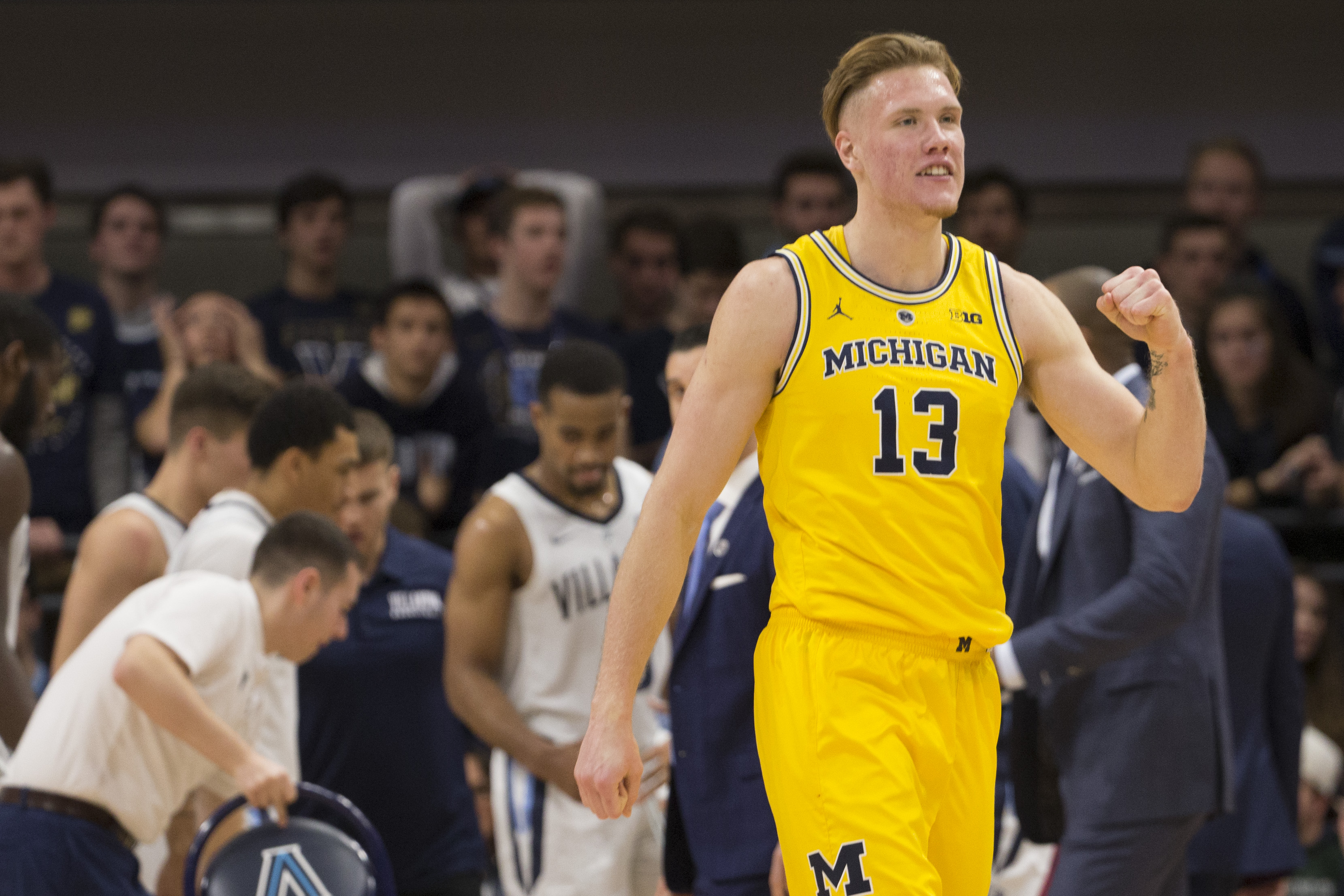 ---
So where do these two teams go from here?
Michigan appears destined for a fight to the top of a Big Ten that suddenly looks far more formidable than any of us imagined. With Indiana blowing out No. 24 Marquette and Nebraska pounding Seton Hall on Wednesday, we're nine days into the season and the only losses anyone in the league has suffered came when Illinois was beaten by Georgetown and Michigan State lost to Kansas.
A team with an elite defense, coming off of a trip to the national title game, that is coached by a Hall of Famer whose track record suggests his teams play their best in March, not November, just beat a top ten team by 27 points on their home floor.
I'd say the future is pretty bright.
It's a bit different for Villanova.
"Getting beat by 30 is a wake-up call," Wright said, "but you try not to do that."
He knew his team did not play great in their wins over Morgan State and Quinnipiac, but when you're winning by 30, those youngsters don't always hear what their coach is saying. Talent allows team to get away with more against overmatched competition.
Against Michigan?
Not a chance.
"Theres a lot of things you talk about when you win by 30, and you try and get them to listen," Wright said. "Hopefully, this is a great learning experience."
When your team has everything left to learn, every moment becomes a teachable moment.