PLAYER OF THE WEEK: C.J. Massinburg, Buffalo
I'm sure that, at some point this season, we are going to see an individual performance better than the one that C.J. Massinburg posted late on Friday night in Morgantown, W.V., but it's not going to be easy to do. In a 99-94 overtime win over then-No. 13 West Virginia, Massinburg put up a career-high 43 points to go along with 14 boards and three assists all while shooting 9-for-15 from three.
But the box score itself doesn't really do his performance justice. He had nine points in an 11-3 run in the final three minutes of regulation that capped off a flurry late in the second half as Buffalo erased a double-digit lead. He hit a three with 14 seconds left that forced the extra frame. He scored nine of Buffalo's 15 points in overtime.
It was incredible, and it came on the road against a tournament team that plays one of the most aggressive brands of basketball in the country. This is the kind of win that will help get Buffalo on the right side of the bubble should disaster strike during their conference tournament.
TEAM OF THE WEEK: Duke Blue Devils
The irony is almost too much to bear.
After repeatedly getting burned by overhyping the one-and-done bluebloods and overstating the impact that one recruiting class, regardless of how good it is, can have on a basketball, the one time that the discussions surrounding a loaded freshman class is somewhat muted, that class ends up looking like it will be as dominant as any that we have ever seen.
Duke brought in three of the nation's top five freshmen and may have the top three picks in the 2019 NBA Draft on their roster, and it sure did look like it in Tuesday's season-opener, as the Blue Devils absolutely man-handled Kentucky, beating the then-No. 2 Blue Devils, 118-84.
The win was so dominating and so overwhelming that Duke is going to unseat Kansas from the No. 1 spot in the polls despite the fact that Kentucky is 1-0 with a win over a top 15 team. That's impressive.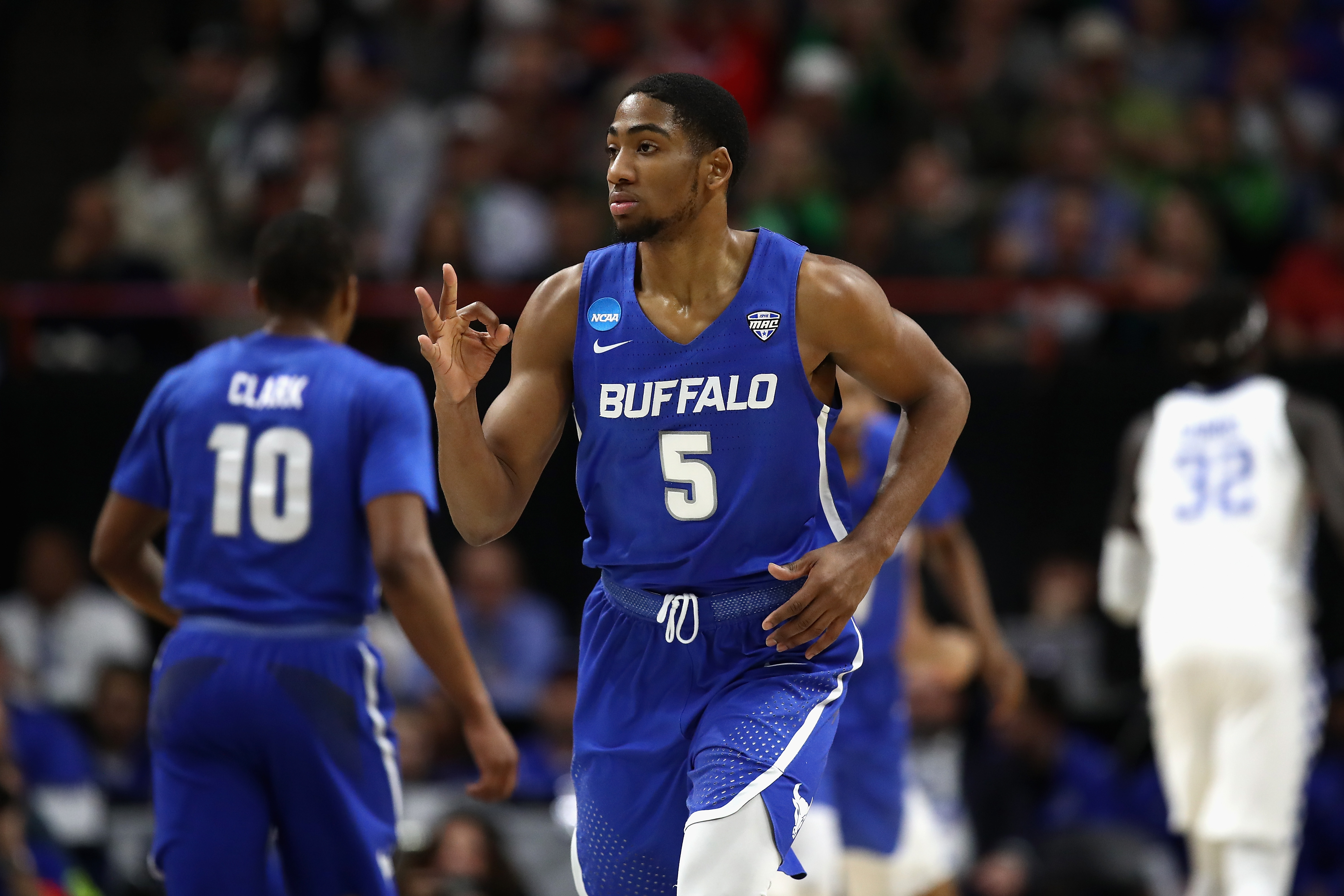 MONDAY'S OVERREACTIONS
DUKE IS GOING TO GO UNDEFEATED
How do you stop Duke's Big Three?
That is the question that is going to force opposing coaching staffs to lose sleep for the next five months, and I'm not sure there actually is an answer. If we've learned anything from the first two games that Duke has played, it is that it is going to take a herculean effort to slow down either R.J. Barrett (28.0 ppg, 5.0 rpg, 4.0 apg) or Zion Williamson (27.5 ppg, 11.5 rpg, 3.5 bpg, 3.0 apg). Given their size and their athleticism, there are few teams at the college level that will have one — let alone — two elite wing defenders to put on them.
And then there is Cam Reddish (23.5 ppg, 3.0 apg, 10-for-21 from three). He's another big, athletic wing and a potential top three pick in the 2019 draft, and he'll be checked night-in and night-out by what can only be described as the worst wing defender opposing teams have on the floor.
Let me put this another way: Duke has three players on their roster that college teams are not going to be able to defend. That's a good problem for Coach K to have.
Normally these overreactions are meant to be somewhere between semi-serious, moderately-outlandish and a good old fashioned hot-take, but I'm not kidding in the least when I ask this question: Can Duke be beaten?
AUBURN IS THE BEST TEAM IN THE SEC
Entering the season, I thought that Kentucky would be the best team in the SEC this season as most did. I also thought that Tennessee, given what they brought back from the reigning SEC title team, would end up being the second-best team in the league. I thought Auburn would end up being third, partially by default but mostly because I didn't think that their success last season would be as replicable as Tennessee's.
It is still early, but boy, does that look like a dumb take.
Auburn smoked South Alabama in their opener before putting a 22-point win on Washington in their second game of the season. Jared Harper looks terrific, Bryce Brown's shooting shoulder seems to be healthy and the addition of Samir Doughty is already paying dividends.
But the real difference in this group is the return of Anfernee McLemore and the emergence of Chuma Okeke. That's Auburn's starting frontcourt. Both are athletic, 6-foot-8 forwards with legitimate three-point range. Okeke has five blocks through two games. McLemore led the nation in block percentage last season, and looking back, it's not hard to figure out that the reason Auburn trailed off towards the end of last season was the loss of McLemore.
Auburn's system works when they have a switchable, floor-spacing, rim-protecting big.
And Bruce Pearl now has two.
Can we please get Duke-Auburn in the Maui Invitational?
PRESS VIRGINIA WILL NEVER BE THE SAME WITHOUT JEVON CARTER
We talk about unicorns in college basketball all the time, and while there is nothing about Carter's physical tools that make him unique in college basketball, there is no questioning just how good he was as a defensive presence last year. He could single-handily take a player out of a game, and on Friday night, West Virginia desperately needed someone to do that to C.J. Massinburg.
They didn't have that player.
And while Beetle Bolden, Brandon Knapper, Chase Harler and Jordan McCabe are all fine players that will win games for the Mountaineers, the fact that they cannot put anyone on Jevon Island this season is going to hurt.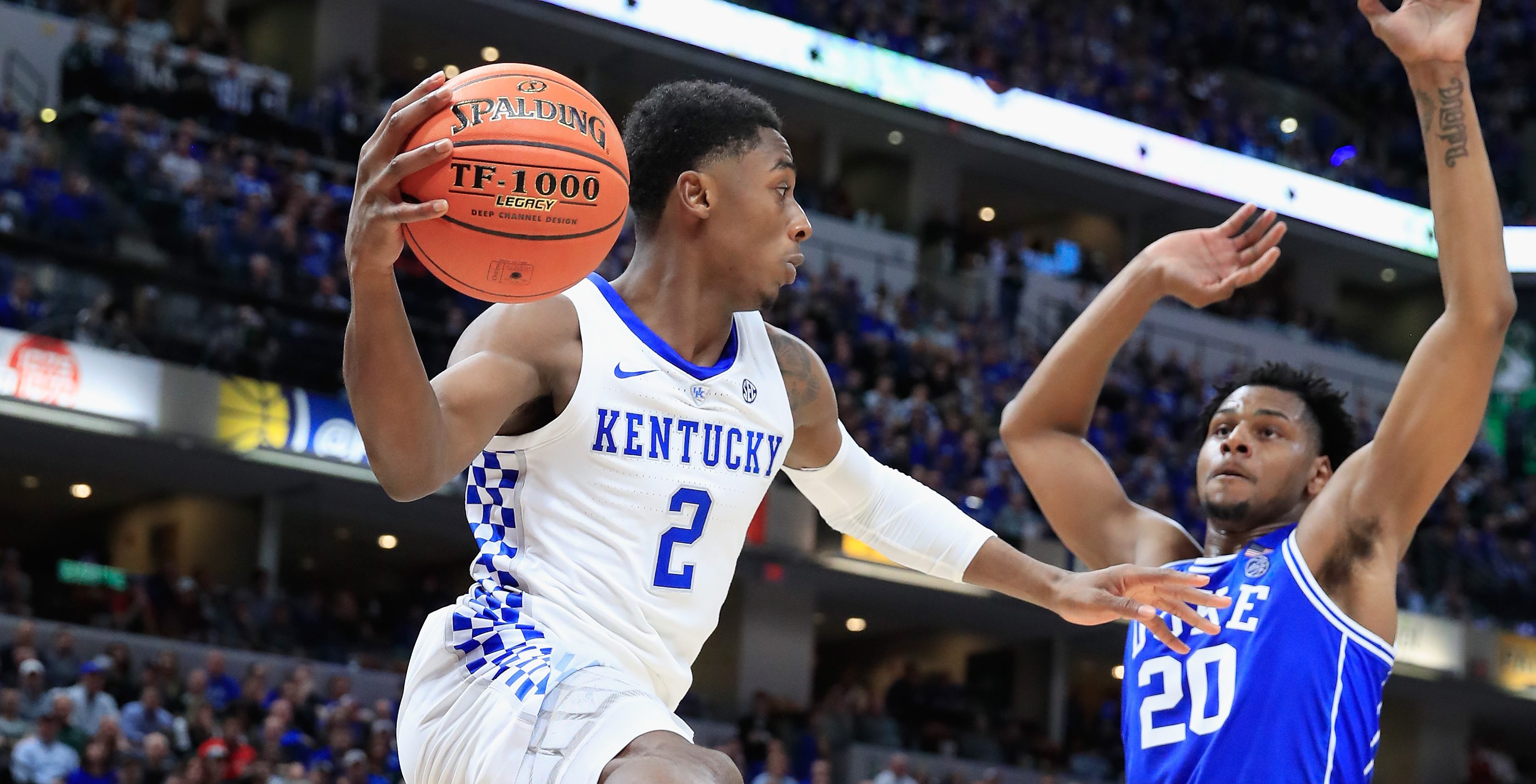 KENTUCKY HAS THREE FIVE-STAR POINT GUARDS AND A MAJOR POINT GUARD PROBLEM
There are all kinds of issues currently plaguing this Kentucky program, but I don't think any of them are as big as the point guard conundrum that John Calipari is currently facing. There are three point guards on their roster that were five-star prospects in high school, and none of them are good enough to take over that point guard role.
Ashton Hagans is a complete mess at this point. It's still early in the year and Hagans is a guy that reclassified to enroll early, so it's being too harsh on him probably isn't fair, but suffice to say that he cannot play major minutes in close games at this point. Immanuel Quickly is probably the best scorer of their trio of ball-handlers, but he has just one assist in 50 minutes thus far this season and did not make a shot from the field against Duke. Quade Green is the guy with the experience, but truth-be-told, he's better playing off the ball as a secondary ball-handler due to some of his physical limitations.
Rationing minutes between Tyler Herro and Keldon Johnson is going to become an issue — especially if Herro keeps making it clear Johnson should be on the floor — as will P.J. Washington's disastrous start to the season — is Kentucky's best front-line really Nick Richards and E.J. Montgomery?
But none of those things will matter if Calipari doesn't fix what's ailing his point guards.
THE ATLANTIC 10 AND AMERICAN WILL END UP ONE-BID LEAGUES
The start to this season as been absolutely disastrous for the Atlantic 10.
George Mason got first-place votes in the A-10 preseason poll. They're 0-2 with home losses to American and Penn. George Washington is 0-3 with home losses to Stony Brook (after leading 22-0) and Siena. Michigan is next.  La Salle started 0-2 with a loss at home to Lafayette. Richmond lost at home to Longwood, St. Bonaventure lost at home to Bucknell and Fordham lost at home to Houston Baptist.
Things haven't been much better in the American. League-favorite UCF lost at home to Florida Atlantic. SMU lost at home to Southern Miss. Wichita State did look impressive in a neutral site game against Providence, but they had to win that after losing their opener at home to Louisiana Tech. Cincinnati got dropped by Ohio State at home. East Carolina lost to James Madison. Tulane took a home loss as well, but at least that came to No. 17 Florida State, who absolutely pounded Florida in their opener.
Non-league performance is critical for conferences like this. The dreck at the bottom of the leagues already hurts the computer numbers for everyone in the conference, and taking this many ugly losses early in the year only gives those computer numbers a lower floor.
I'm not sure anyone will be that shocked if the Atlantic 10 ends up only sending their automatic bid winner to the NCAA tournament.
But it will be quite the wake-up call for the AAC if they do the same.