The date was Nov. 19th, 2014.
In Bankers Life Fieldhouse, in the fourth-iteration of the Champions Classic and the first one that was held in Indianapolis, then-No. 1 Kentucky announced to the world their cruel intentions. Spurred on by a roster that included a trio of future lottery picks in Karl-Anthony Towns, Devin Booker and Willie Cauley-Stein, the Wildcats absolutely smothered a Kansas that was in the top five of every poll in the country.
The final score was 72-40, but the game was never really in doubt. Kansas shot under 20 percent from the field and scored 12 second half points.
It was a total and complete annihilation, the likes that we rarely see when two top five teams take the floor, and in that same building on Tuesday night, it was hard not to think of that Kentucky win as the Wildcats found the shoe on the other foot.
Spurred on by a combined 83 points from their Big Three of R.J. Barrett, Zion Williamson and Cam Reddish, No. 4 Duke jumped out to a 34-13 lead en route to a 118-84 drubbing of No. 2 Kentucky. By the second TV timeout, it was clear that these two teams were in totally different weight classes, and by the time the final buzzer sounded, John Calipari walked off the floor having been tagged with the worst loss of his career.
And the feeling I have seeing this Duke team turn Kentucky into early season mid-major fodder is no different then the feeling I had after watching that Kentucky team turn that Kansas team into a group of middle schoolers running offense for the first time: How in the hell is anyone going to beat Duke?
Every single game that the Blue Devils play this season, they are going to have the two-best players on the floor, if not the three-best.
We knew that would be the case with Barrett. The 6-foot-7 freshman that plays some combination of point guard, small-ball four and bucket-getting slasher finished with 33 points — the record for a Duke freshman on his debut — on 13-for-26 shooting to go along six assists and four boards. He was a terror in transition, he was unstoppable when he turned the corner and he oh-by-the-way hit 3-of-7 threes.
I don't know how you come away from that game thinking anything other than, "Dang, how do you guard him?"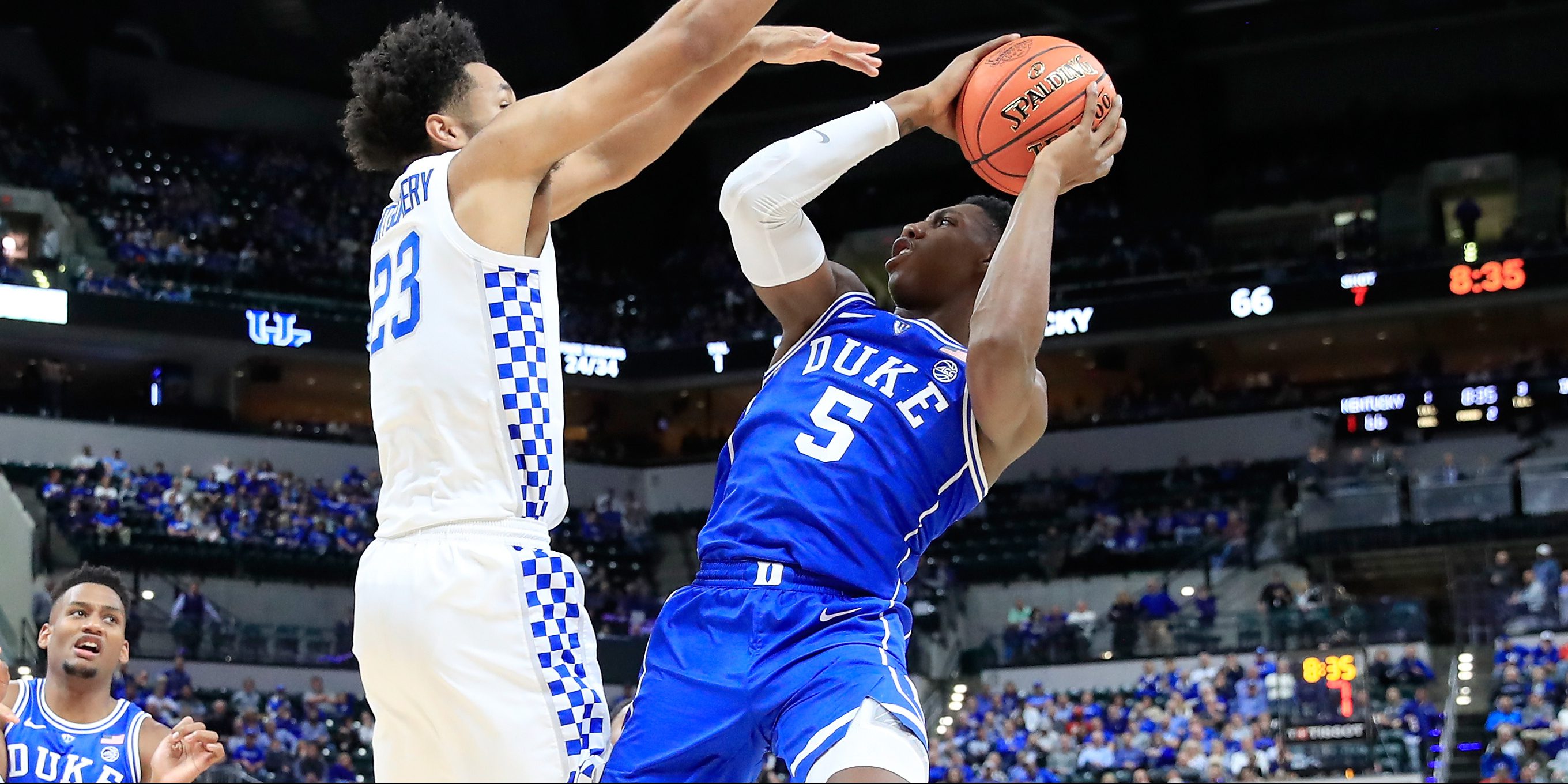 The same can be said about Williamson, although that wasn't necessarily a given entering the season. Williamson is the most famous college basketball player maybe ever, and we know all about the athleticism and the highlight reels dunks. But there were legitimate questions about how well that would translate to the college level, where player are closer to his size, and his strength, and his athleticism.
And yes, it is true that college basketball players are closer in size, and strength, and athleticism to Williamson, it doesn't mean that they are actually close.
There were multiple possessions on Tuesday night where it took one dribble for Zion to go from the three-point line, past Reid Travis — Kentucky's 6-foot-8, 260 pound forward that was athletic enough to be recruited to play football at the BCS level — and all the way to the rim. Travis didn't stand a chance, which is a problem because anyone that actually had a prayer of keeping Zion in front bounced off the mini-coopers that he calls shoulders like my three-year old bounces off a trampoline.
You can't guard him, either, as evidenced by the 28 points he posted on 11-for-13 shooting.
That put Kentucky in a nightmare scenario. They needed their two-best defenders on Barrett and Williamson, and their point guard needed to guard Tre Jones — we'll get to him in a second — which left Tyler Herro to try and slow down Reddish. That did not go well. Reddish finished with the quietest 22 points in the history of college basketball, a night that would have been considered an explosion for the third-best player on this Duke team. Reddish entered college with a reputation for being a less-than-stellar teammate, but it didn't show Tuesday, as he looked like a future top five pick while embracing the floor-spacing, mismatch-exploiting role he was tasked with playing.
(It's actually something of a ideal scenario for Reddish and his NBA future. He may not be the one that gets all of the headlines, but there is not a single team in the country that features three players that are big enough, athletic enough and good enough defensively to handle Duke's Big Three. Reddish is going to put together quite the highlight reel torching the worst wing defender on every team in college hoops.)
That brings me to Jones.
A top 15 recruit in his own right, Jones could not be a more perfect point guard for this Duke team. He's a tough on-ball defender that can score when called upon but is more than happy playing as a facilitator; when the guy running the show cares more about winning than his own stats, that's a good thing. When a top 15 recruit is satisfied with doing a job alongside a trio of superstars, that's a great example being set for the likes of Marques Bolden (who finished with seven boards and four boards in 26 solid minutes), Jack White (nine points, 11 boards and three assists) and Alex O'Connell (who hit three threes).
What is this Duke team missing?
And what can anyone do to beat them?
I don't know.
Just like I didn't know how Kentucky's 2014-15 team would get beaten.
That team went 38-0, and if it wasn't for an absolutely loaded Wisconsin team picking them off in the Final Four, they would have played for a national title with an undefeated, 40-0 season on the line.
We could see that coming then.
Can you see it coming now?