The Duke Blue Devils are apparently better than everyone thought they were going to be.
That's the biggest takeaway from their 118-84 win over No. 2 Kentucky in Indianapolis on Tuesday night.
Here are four more things that we learned:
1. THAT WHOLE 'DUKE CAN'T SHOOT NARRATIVE'? MIGHT'VE BEEN OVERBLOWN
The biggest question mark that I — and many others — had about Duke was just how much the concerns about their shooting would affect what they were able to do in the halfcourt. If a defense doesn't have to run any of their perimeter guys off of the three-point line, will there be enough space for the ridiculous amount of talent on the roster to create off the dribble?
As it turns out, Duke might have enough shooting to keep defenses honest. On Tuesday night, they shot 12-for-26 from beyond the arc. Zion Williamson made the only three that he attempted, although he also hit another deep jumper. Cam Reddish was 3-for-8 from three. R.J. Barrett shot 3-for-7 from deep. Tre Jones hit the only three he attempted. That's more than enough shooting to punish defenders for helping too much.
But Duke probably doesn't even need to worry about playing in the halfcourt.
Their transition attack is absolutely lethal. They have four stars that can grab a defense rebound and lead the break without needing to make an outlet pass. Williamson is the best grab-and-go big that I have ever seen, and Barrett is right there with him.
Who needs halfcourt offense when you can just get dunks in transition?
2. I HAVE NO IDEA WHO IS GOING TO BE ABLE TO BEAT DUKE THIS SEASON
I went longer on this subject here, but suffice to say that I simply have no idea how anyone in college basketball is going to be able to beat this team.
I'm sure it will happen at some point. There are going to be nights where Duke shoots 2-for-26 from three instead of 12-for-26, and if that happens against, say, Syracuse or Virginia on a night where Duke lets their opponent hit a dozen triples, they can get picked off.
But I just don't know how you go into a game against them with anything other than a hope and a prayer that happens. Duke has the two-best players in the sport and, more often than not, will have the three-best players on the court. They have the ideal point guard, they have the pieces to defend the way that Coach K has always wanted to defend and their role players are all capable of and willing to do their jobs.
Seriously.
How do you beat them?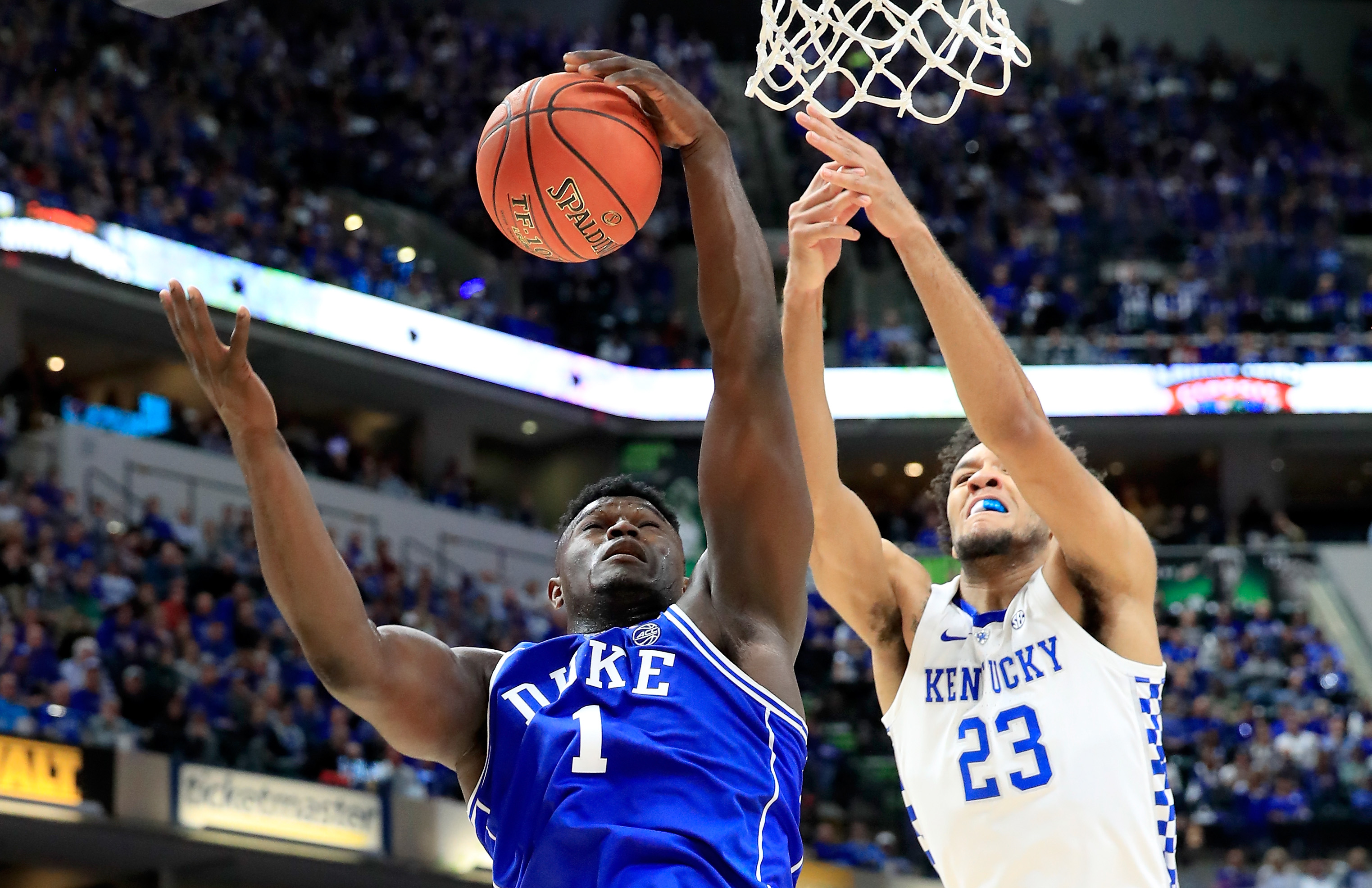 3. DUKE'S ROLE PLAYERS DID A JOB
I want to come back to this point because it matters.
Javin DeLaurier was more or less a no-show on Tuesday, but that didn't matter because Marques Bolden was, dare I say, effective? He scored seven points and he grabbed four boards and he changed a few shots at the rim while being functional defending ball-screens. He did his job well. Jack White? He had nine points, 11 boards, three assists, one impressive hustle play that led to a steal and Williamson dunk and knocked down a three for good measure. Alex O'Connell made three threes.
Hell, even Tre Jones fell in line and let the Big Three show out while he racked up six assists, gave Kentucky's point guards headaches and played the brand of winning basketball we associate with his family tree.
Duke has better depth than I've been giving them credit for.
4. THIS RESULT HAD AS MUCH TO DO WITH KENTUCKY AS IT DID DUKE
I wish I had beaten this drum more during the preseason so I could sit here and gloat about how correct my take was.
Kentucky has a problem. They don't have a star. Keldon Johnson was good tonight, Reid Travis put up numbers in a blowout loss (he did that a lot at Stanford) and Tyler Herro was as impressive as we expected him to be.
But do any of those guys scare you?
After watching the tape of this game, if you're an opposing coach, are you up burning the midnight oil trying to figure out how in the world you are going to slow them down?
No.
What Kentucky has is a roster with nine players that are all good enough to start on a top five team but who are all at their best as the third- or fourth-best starter on that team. This is a roster full of role players, guys that would thrive playing in a complimentary role. Even Johnson has a lot of Miles Bridges to his game, and while that means he (rightly) projects as a terrific college players and a really good pro, it's important to note that all last season, we criticized Bridges for the fact that he wasn't a 'take-the-game-over' kind of guy.
The other issue?
They only really have one two-way player (Johnson). Kentucky's best defensive backcourt features Immanuel Quickly and Ashton Hagans. Their best offensive backcourt has Quade Green and Herro. The same can be said about their bigs, where E.J. Montgomery and Travis are their offensive weapons while Washington and Nick Richards are better defensively.
Minimal overlap between a team's best offensive five and best defensive five is not ideal.
There are more red flags with this team than anyone was willing to acknowledge.