Basketball is back!
It's been 218 days since we had a college basketball game that counted, and while Wisconsin Lutheran vs. Green Bay isn't quite Michigan vs. Villanova for the national title, it is the first Division I college basketball game of the season. 
The best part of college basketball being back is that betting on college basketball games is back. 
So let's dive head-first into Tuesday night's lines.
---
---
No. 2 KENTUCKY vs. No. 4 DUKE, 9:30 p.m. (ESPN)
Line: Kentucky (-2)
O/U: 157
Vegas Implied Score: Kentucky 79.5, Duke 77.5
KenPom Projection: Duke 78, Kentucky 77
This game actually opened at Kentucky (-1) and has moved to (-2) since, and that makes sense. In early season games like this, it makes sense to bet on the team that has more experience, and while calling a team that has just one scholarship player on the roster that's not a freshmen or sophomore "experienced" seems silly, this is the one-and-done world we live in. Duke will, after all, start four freshmen.
That said, I think this matchup favors Duke. I fully expect the Blue Devils to come out playing the kind of pressuring, switching, halfcourt man-to-man defense that Mike Krzyzewski has been forced to go away from in recent years. In theory, the pieces on their roster are perfect for this — Tre Jones is a much better athlete and defender than his older brother, Tyus, was, and the three freshmen wings (R.J. Barrett, Zion Williamson and Cam Reddish) all have the tools to play this way. Given some of the concerns about Duke's offensive effectiveness playing in the halfcourt, seeing them become a team that thrives on defense and playing in transition would make sense. This is how Duke played in their two exhibition games and during their tour of Canada.
When a team plays this way defensively, overplaying passing lanes and extending out 40-feet in the halfcourt, it forces an offense out of what they are trying to run and puts the onus on the ball-handlers to try and make a play on their own. The two best point guards on this Kentucky roster are both freshmen — Quade Green is at his best playing as a secondary ball-handler — which will put quite a bit of pressure on Immanuel Quickley and Ashton Hagans in their first college game.
Now, this all assumes that the Blue Devils are going to A) play this way, and B) be effective playing this way. Blindly accepting that Duke will be elite defensively early in the season would be to ignore everything that has happened with this program in recent years. Throw in the concerns I have with Kentucky — Who is their best five? Can they put a team on the floor that is both elite offensively and defensively? — and I think Duke wins this game.
PICKS: I think Duke (+1.5) is the bet in this game. I also like the under in this game. While both teams are going to want to play fast, I think this is the kind of game that is going to be ragged, inefficient and feature a whole lot of scoring inside the arc. The line has already climbed from 156 to 157, so I'd suggest waiting until closer to tip-off to see if you can get another point or two in your favor.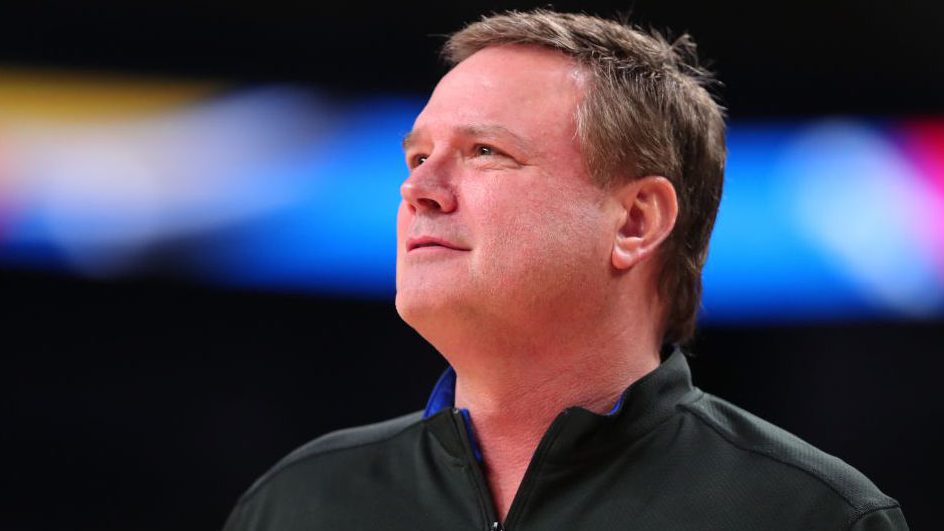 No. 1 KANSAS vs. No. 10 MICHIGAN STATE, 7:00 p.m. (ESPN)
Line: Kansas (-5.5)
O/U: 155.5
Vegas Implied Score: Kansas 80.5, Michigan State 75
KenPom Projection: Kansas 79, Michigan State 72
While Duke-Kentucky is the game that will get all of the hype, there is some intrigue with the undercard as well.
The line for the opener of the Champions Classic opened at Kansas (-5) and has moved to (-5.5) since, and I expect the line to continue to move towards Kansas. I think the Jayhawks are going to overwhelm Michigan State tonight.
For starters, I have trouble seeing how the Spartans are going to matchup with Dedric Lawson, who has a chance to be the single-most productive player in college basketball this season. As a sophomore at Memphis, he averaged 19.2 points, 9.9 boards, 3.3 assists, 2.1 steals and 1.3 blocks. In two exhibition games, he showed off a newly-minted jumper, burying 6-of-8 from beyond the arc. Bill Self has raved about Lawson's passing ability, and Lawson fits perfectly at the four in a program that has thrived with players that do what he does — the Morris twins, Perry Ellis, Wayne Simien.
Lawson is a fourth-year junior. He's going to be guarded by … who, exactly? Slow-footed bigs Nick Ward or Xavier Tillman? Former walk-on Kenny Goins? One of Michigan State's (admittedly underrated) freshmen?
That matchup favors Kansas, as does the matchup in the backcourt. The big concern for me with Kansas is that they are going to be starting two freshmen in the backcourt in Devon Dotson and Quentin Grimes, but I just cannot see Michigan State providing the kind of ball-pressure defensively that they need to slow them down. Neither Cassius Winston nor Josh Langford are known for their athleticism or their defensive prowess, and as a team, Michigan State was among the worst in the nation last season at forcing turnovers. Should I mention they lost their two-best defensive playmakers?
I'm very in on Michigan State as being better than people realize this year.
I'm very out on Michigan State covering 5.5 points on Tuesday night.
PICKS: To me, Kansas (-5.5) is a pretty easy bet, and I would lock that in before the line gets any higher. I also like the under in this game, as I think that this game will be played at a slower pace than it being projected. The Vegas over/under is currently 155.5, while KenPom is projecting the total at 151.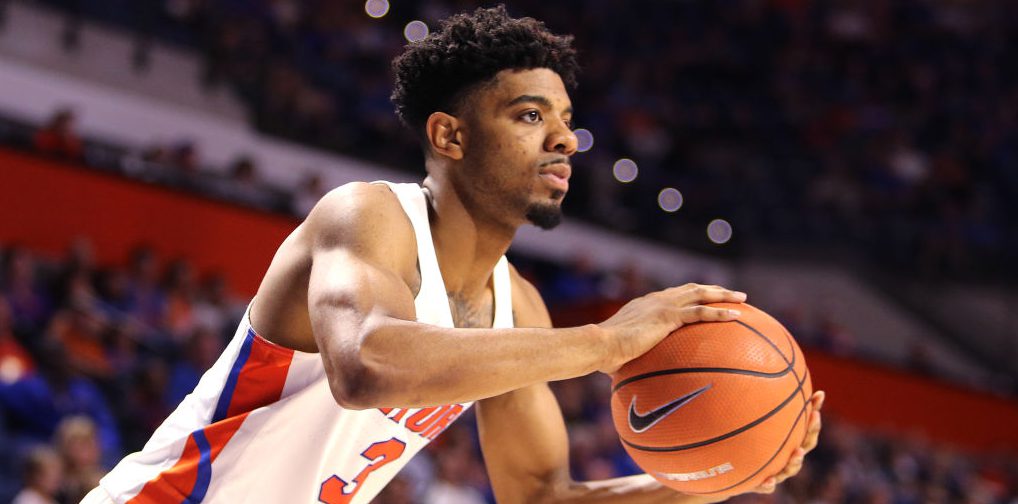 FLORIDA at No. 17 FLORIDA STATE, 9:00 p.m. (ESPN2)
Line: Florida State (-4)
O/U: 149.5
Vegas Implied Score: Florida State 76.75, Florida 72.75
KenPom Projection: Florida State 79, Florida 74
I actually think that Florida is going to sneak up on some people this season. They might have lost Chris Chiozza and Egor Koulechov, but they bring back Jalen Hudson — who is going to have a monster season — and we should see the best out of the ever-streaky KeVaughn Allen. Getting him more consistent shots should result in more consistent play out of the talented scorer.
I also really like Florida's freshman point guard, Andrew Nembhard. He's mature beyond his years and he's already played at a really high level with the Canadian senior national team. Throw in the fact that Florida State will be playing without Phil Cofer, and I can see why people would be on the Gators in this game.
But I would be remiss if I didn't mention the obvious — Florida State will be playing at home. I would also be remiss if I didn't mention that the Seminoles not only returned essentially everyone from last year's Elite 8 team, the departure of Braian Angola and the injury to Cofer opens the door for their two sophomores that everyone is expecting to make a jump this season —  M.J. Walker and Mfiondu Kabengele.
PICKS: I actually think this is a really good line. If forced to pick, I'd probably lean Florida State (-4), but that's not the bet I like in this game. I think the over/under is far too low. Florida State had finished top 50 in adjusted tempo in each of the last three seasons, according to KenPom, and I don't see that changing this year. Last season was the first time in Mike White's head coaching career that one of his team's finished outside the top 120 in adjusted tempo. I expect an up-and-down affair, and unlike Duke-Kentucky, I think a game between two teams loaded with good veterans will be far more efficient. The line is 149.5, which has already dropped a point, while KenPom is projecting a total of 153. I'll be on the over in this one.
No. 8 NORTH CAROLINA at WOFFORD, 7:00 p.m. (ESPN2)
Line: North Carolina (-10)
O/U: 154.5
Vegas Implied Score: North Carolina 82.25, Wofford 72.25
KenPom Projection: North Carolina 84, Wofford 72
Wofford won this game last season when it was played in Chapel Hill. The Terriers return essentially everyone from that team, including one of the nation's best shooters in Fletcher Magee. The Tar Heels, on the other hand, lose both their point guard in name (Joel Berry II) and the man that ran their offense in the halfcourt (Theo Pinson), replacing them both with freshmen — Nassir Little and Coby White. Wofford's strength defensively is on the glass, which helps mitigate UNC's ability to get second-chance points. UNC didn't force turnovers last season, which makes them less likely to take advantage of Wofford's ball-control issues.
The dots connect here.
I just cannot pull the trigger.
PICKS: To be clear, I don't think that North Carolina (-10) is a "good bet". I'll stay away from this game personally, but that's because I cannot unwrap the narrative here. North Carolina lost at home to Wofford last season in their last game that was played before Christmas. This year, on national television on the opening night of the season, they get a shot at a rematch against a team that went 11-7 in the SoCon and lost 13 games in total. I don't care that it's on the road. I think UNC makes a statement here, even if picking on freshman point guards in road games is something that's relatively easy to do.
WESTERN KENTUCKY at No. 25 WASHINGTON, 10:30 p.m. (ESPNU)
Line: Washington (-7.5)
O/U: 152.5
Vegas Implied Score: Washington 80, Western Kentucky 72.5
KenPom Projection: Washington 80, Western Kentucky 73
Western Kentucky is a talented team — arguably more talented that Washington — but one that is dealing with some personnel issues. Auburn grad transfer Desean Murray will not travel for this game due to a suspension. Josh Anderson was suspended for their most recent exhibition, while Taveion Hollingsworth missed the first WKU exhibition through suspension. Lamonte Bearden is ineligible for the first semester.
Murray and Bearden are probably starters for this team. Hollingsworth started 38 games as a freshman last season. Anderson started three of 23 games after getting eligible in January. Those losses hurt, but the news isn't all bad — top ten recruit and potential lottery pick Charles Bassey will be playing.
PICKS: I think Washington (-7.5) is the easy money here. The Huskies are arguably the best team in the Pac-12, and they return everyone from a team that nearly made the NCAA tournament in their first season playing under Mike Hopkins. Combining the pieces that WKU will be missing with just how good Washington has a chance to be (remember, they smoked No. 7 Nevada in a scrimmage) makes me wonder why this line is just (-7.5)
BYU at No. 7 NEVADA, 11:00 p.m. (CBSSN)
Line: Nevada (-14)
O/U: 156
Vegas Implied Score: Nevada 85, BYU 71
KenPom Projection: Nevada 85, BYU 72
This might be the toughest test that Nevada will face at home this season, and while I do think BYU is flying a bit under-the-radar with the return of Yoeli Childs and Nick Emery back with the program, I have a feeling this will be something of a statement game for the Wolf Pack.
Eric Musselman is known as one of the toughest and most demanding coaches in the country. His team, which is legitimately ranked in the top ten in the preseason and returns their top three players from last year's Sweet 16 team, will not have enjoyed practice since Washington ran them out of the gym. If there is a concern for Nevada, it's that they may not actually have a point guard, as Lindsay Drew is not yet back to 100% after tearing his achilles. As good as Cody Martin is, I'm not sure he's a pure point guard.
But I'm also not sure BYU is the team that can exploit that defensively.
PICKS: 14 points is a lot of points, and I think BYU does deserve some respect. I would probably stay away from that line, although I do think that this game hits the over. I won't have any money on this game.
ALSO KEEP AN EYE ON
Florida-Gulf Coast at Illinois State, 7:00 p.m.
Fort Wayne at No. 21 UCLA, 9:00 p.m.