A new basketball season is upon us, and with that in mind, it is time for us to start making predictions that we are going to regret.
Below, you will find 12 bold predictions that are all guaranteed to happen.
Try and tell us where we're wrong? You can't.
---
---
VIRGINIA WILL MAKE THE FINAL FOUR
Virginia is Villanova circa November of 2015. The Wildcats at that point in time were a powerhouse in the Big East, having coasted to back-to-back Big East titles before getting dumped in the NCAA tournament during the first weekend. No one thought Villanova was good enough to be a national title team, not with the way that they relied on developing four-year players in the era of one-and-done superstars. Then lo-and-behold, it turns out that those four-year stars actually were NBA players and that it was the randomness of a lose-and-go-home tournament combined with an ill-timed off-night that was the cause of Villanova's postseason struggles.
Does that sound like the Wahoos to you?
Virginia is coming off of their third ACC regular season title in the last five years. They've consistently churned out NBA role players and have two or three more on their roster this season, including a potential lottery pick in De'Andre Hunter. Their tournament losses have been fluky … ish; UMBC whooped their behinds. This is the year UVA gets it done. (Rob Dauster)
GONZAGA WILL WIN THE NATIONAL CHAMPIONSHIP
Sure, it's probably not all that bold to declare that a consensus top-five team will win the national title, but Gonzaga seems to be the team that so many people love to not believe in, even after their title game appearance in 2017. The Bulldogs have been knocking on the door for years now, and they've got a talented and experienced roster that, to my mind, is built to win at the absolute highest level. Unless they get through their non-conference schedule undefeated, we probably won't talk that much about them in January and February, but Gonzaga is the best team in the country. They're cutting nets in Minneapolis. (Travis Hines)
BOL BOL BECOMES THE NATION'S MUST-SEE FRESHMAN
Watching freshman stars has become an annual tradition in college basketball. Since the sport is often dominated by newcomers, who double as the best NBA prospects, it creates a natural curiosity for both hardcore college hoops fans, and casual sports watchers.
Duke's freshman class is going to draw the majority of the freshmen headlines this season with its star-studded group composed of R.J. Barrett, Zion Williamson, Cam Reddish and Tre Jones. It's one of the most talented recruiting classes of all-time — and I've argued the most famous of any incoming recruiting class.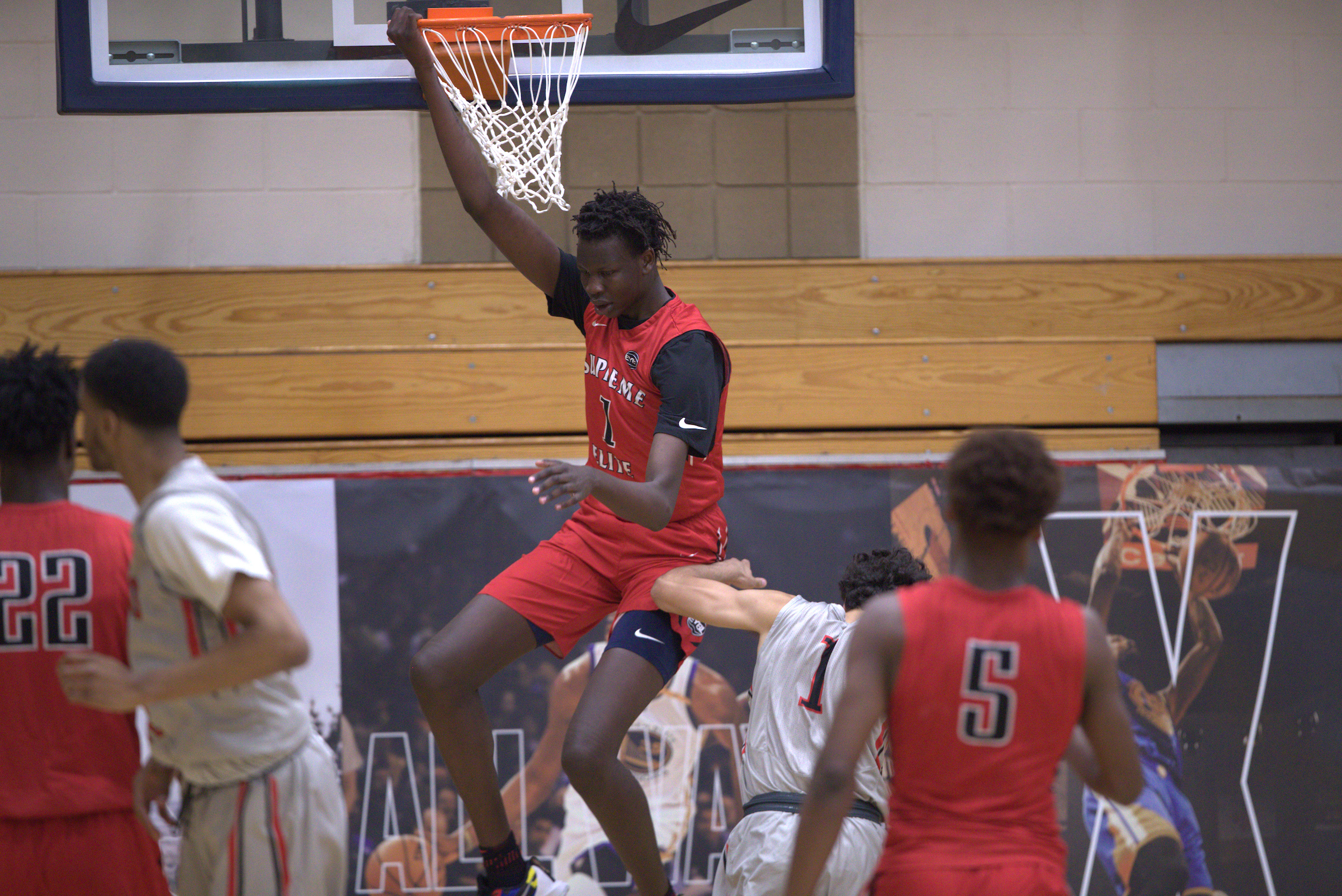 But Oregon center Bol Bol is going to be the freshman that draws the most interest from fans outside of the Duke group. Bol checks two key boxes when it comes to sensationalized national interest: he's the son of a former NBA player and he possesses a freakish skill level (especially for someone his size). The son of Manute Bol — the tallest player in NBA history — the younger Bol checks in at only 7-foot-3. But Bol has a beautiful perimeter jumper that helps him stretch the floor out to NBA range. In fact, he could be one of the best three-point shooters in the country this season. Bol was 26-for-59 (44 percent) from three-point range in 19 Nike EYBL games his final grassroots season.
Between the blocked shots at the rim, and the ridiculous perimeter shots Bol can make with a defender on him, he's going to be a ton of fun to watch this season in an otherwise underwhelming Pac-12.
FLORIDA IS THE TEAM RANKED OUTSIDE THE TOP 25 THAT GOES TO THE FINAL FOUR
There are some good possibilities from which to choose, with Marquette, Indiana and last season's darlings Loyola-Chicago just missing out. But here's a team to keep an eye on: Florida. The Gators did lose Chris Chiozza and Egor Koulechov from last year's squad, but KeVaughn Allen and Jalen Hudson both return as do front court contributors Kevarrius Hayes and Keith Stone. Also there's that talented freshman class, led by point guard Andrew Nembhard and off-guard Keyontae Johnson. The Gators may endure some growing pains as Nembhard adjusts to the college level, especially in an SEC that should be really good. But this could very well be a team that, once it gets out of league play and into the NCAA tournament, winds up going on a deep run. (Raphielle Johnson)
TYLER HERRO WILL BE KENTUCKY'S LEADING SCORER
I've made this point over and over again during the offseason: Kentucky has a lot of really good basketball players and prospects on their roster, but if there is something they are lacking it is a go-to guy. I'm not convinced P.J. Washington is ready for that role. It's hard to run offense through a barrel-chested low-post scorer like Reid Travis. Quade Green isn't the guy, and I'm not ready to say Ashton Hagans or Immanuel Quickley is, either. Keldon Johnson is at his best in a complimentary role.
Enter Herro, a four-star recruit from Wisconsin that is definitively the best shooter on the team. He led the program in scoring during their trip to the Bahamas, and he did so while playing the role in Kentucky's offense that was played by Jamal Murray, Malik Monk and Kevin Knox before him. It's not a coincidence his last name is pronounced 'hero'. (Rob Dauster)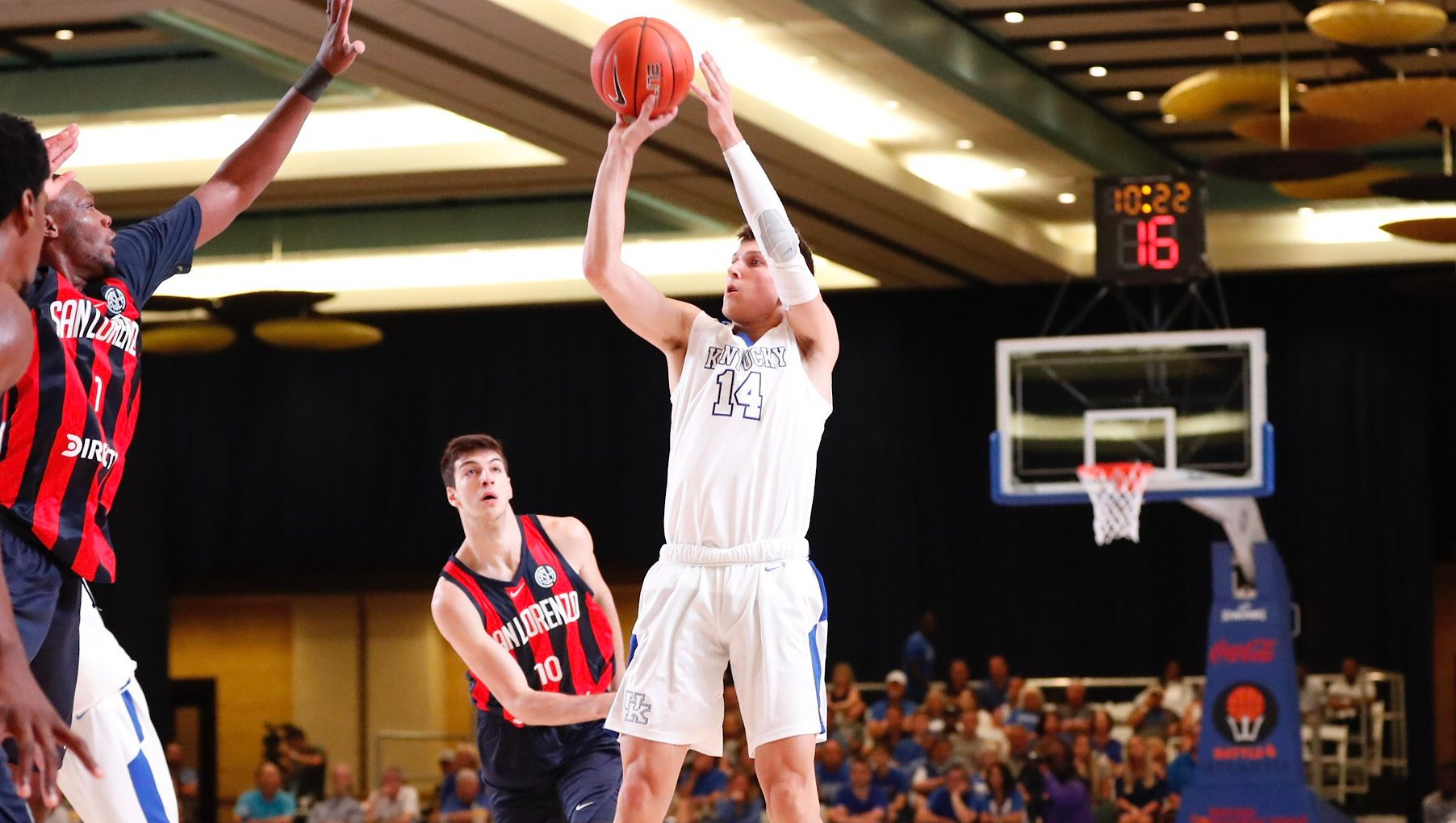 NEVADA WILL BE A STAPLE OF HOOPS AFTER DARK AND A #CBBTWITTER DARLING
I'm really high on Eric Musselman's team. The Wolf Pack's offense is going to be awesome — they've got the preseason top spot in KenPom's adjusted offensive efficiency rankings — with a group of mostly transfers with something to prove after last season's run. There are nine scholarship players in their 4th or 5th season in college. Eight of those nine averaged double-figure points the last season they played, either at Nevada or at their previous school. The one who didn't started at PG last season. And then there's Jordan Brown, their McDonald's All-American center.
Plus, it's west coast hoops, which mean those of us east of the Rockies are going to have super entertaining basketball to watch late at night, which ups the cool factor significantly, in my opinion. I'm all-in on watching Nevada roll all season long. (Travis Hines)
SEC BASKETBALL RETURNS TO BRAZEN MEDIOCRITY
Last year was memorable for SEC basketball. While the league has been inconsistent outside of Kentucky and Florida over the past decade, the rest of the conference stepped up in a major way last season. A record eight SEC teams made the NCAA tournament as the league was one of the toughest top-to-bottom basketball conferences in the country. Instead of another dominant John Calipari-led Kentucky team, the Wildcats faltered enough where Auburn and Tennessee tied atop the regular-season standings.
That likely won't be the case again this season.
Kentucky has a loaded roster that once again makes them the favorites. Auburn and Tennessee bring back a lot of last season's rosters — but they'll also be the hunted now instead of the surprising upstarts. And the rest of the league has been gutted with big losses and injuries. Collin Sexton is gone from Alabama. Missouri has to continue without Michael (NBA) or Jontay Porter (injury). Arkansas and Texas A&M suffered significant roster turnover. The SEC still has a chance to have a significant presence in the NCAA tournament once again. But everything would have to go right with young teams like Vanderbilt and LSU stepping up. I just don't see eight NCAA tournament bids happening again.
BY FEBRUARY, PROVIDENCE'S ALPHA DIALLO WILL BE LEADING THE BIG EAST PLAYER OF THE YEAR RACE
There are some really good preseason candidates, with St. John's guard Shamorie Ponds being the preseason pick and players such as Villanova's Eric Paschall and Marquette's Markus Howard meriting serious discussion as well. But here's a name that may not be discussed enough: Alpha Diallo, a 6-foot-7 guard who last season was one of the Big East's most improved players. After averaging 5.7 points and 3.2 rebounds in just over 21 minutes per game as a freshman, Diallo averaged 13.2 points, 6.6 rebounds and 2.3 assists in just over 30 minutes per game last season. Look for him to take a significant step forward in 2018-19, with the addition of some talented freshmen and the return of Emmitt Holt helping Diallo lead a team that's expected to contend in the Big East. (Raphielle Johnson)
MARQUETTE FINISHES NO WORSE THAT SECOND IN THE BIG EAST AND MAKES THE FINAL FOUR
Anyone that reads this space knows how I feel about Marquette this season. They are a team with unlimited potential on the offensive end of the floor — if Markus Howard isn't the best shooter in the Big East, Sam Hauser is — that couldn't defend the men's league team that I play on last season. Well, it just so happens that Steve Wojciechowski brought in two transfers that should help solve some of their defensive problems in Joseph Chartouny and Ed Morrow. Chartouny provides the added bonus of being precisely the kind of point guard that will be able to get Markus Howard off the ball, where he is more effective.
Marquette is one of my favorite picks to win the national title. I may or may not already have some money invested in their eventual march in March. This isn't even a bold take for me. It's lukewarm. (Rob Dauster)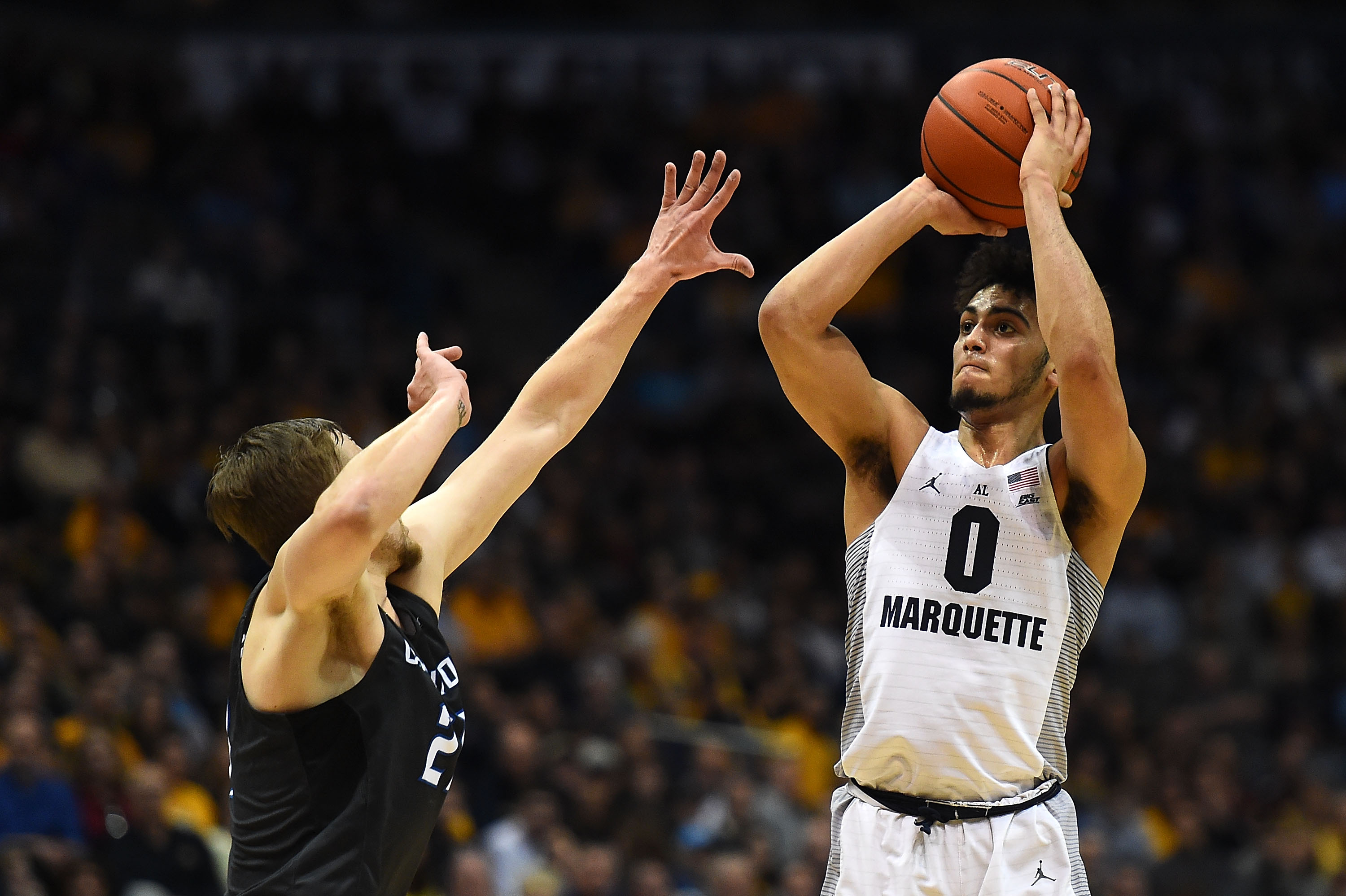 WE'RE NOT EVEN CLOSE TO THE END OF THE DRAMA FROM THE FBI INVESTIGATION
The three guilty verdicts last month in the federal government's case of college basketball corruption didn't resonate too much, but I just can't help but feel like there is more here. Whether it's cooperation or more evidence — i.e. wiretaps, or the fallout from another trial — that come to light, I think we're going to see something significant that will make the sport rumble. (Travis Hines)
BUFFALO TURNS INTO THE MID-MAJOR DARLING OF THIS SEASON
Everyone is searching for the new Loyola. After the Ramblers made a shocking run to the Final Four out of the Missouri Valley Conference last season, everyone seems to believe that another mid-major will rise and compete with the big boys once again.
A Final Four run for a mid-major isn't a likely feat. But if I were to bet on one mid-major team having a chance, it would be Buffalo out of the MAC.
Making a national statement with a blowout win over Arizona in the first round of the NCAA tournament last season, the Bulls return most of their core group. The senior trio of guard CJ Massinburg, wing Jeremy Harris and big man Nick Perkins is back. All three could be all-league players.
Replacing point guard Wes Clark will be the major question mark for the Bulls. Thankfully for Buffalo, the roster is restocked with a recruiting class that rivals many high-major programs. Shooting guard JeeNathan Williams is a legitimate consensus four-star prospect while point guard Ronald Segu received plenty of national praise. And Buffalo has a lot of chances to pick off the big boys with its stacked non-conference schedule. Don't be surprised if Buffalo earns some big early-season wins and vaults itself into the bubble conversation.
SAINT JOSEPH'S WILL WIN AT LEAST ONE NCAA TOURNAMENT GAME
Given the fact that Saint Joseph's lost its top two scorers from a season ago in Shavar Newkirk and James Demery, this certainly qualifies as a bold prediction. While those are two key personnel losses for the Hawks, both Lamarr "Fresh" Kimble and Charlie Brown Jr. are back after missing all of last season due to injury. In 2016-17 Kimble and Brown combined to average 28.3 points and 9.0 rebounds per game, with Kimble also dishing out 4.5 assists per game. Add those two to three returning starters, and Phil Martelli's team is considered to be a contender in the Atlantic 10 for good reason. Among the other returnees is sophomore forward Taylor Funk, who was one of the A-10's best newcomers last season. So I'm going "all in" on Saint Joseph's…and with just two seniors on the roster the Hawks could be even better in 2019-20. (Raphielle Johnson)