Beginning in September and running up until November 6th, the first day of the season, College Basketball Talk will be unveiling the 2018-2019 NBCSports.com college hoops preview package.
Every day at Noon ET, we will be releasing an in-depth preview of one member of our Preseason Top 25.
Today we dive into No. 1 Kansas.
---
Generally speaking, there are three ways for a college basketball program to be built.
One of them is the old school way: Recruit players that you know will be on campus for three or four years, develop them over time and, if the basketball gods are looking out for you, by the time they are upperclassmen they'll be all-league players if not all-americans.
Another way is through the transfer market. One man's trash is another man's treasure, and there have been plenty of programs that have found gold with the castaways from another program, if not outright recruiting players from other rosters.
And then there is the one-and-done model, which is only really an option for the elite but has led to a pair of national titles in the last seven NCAA tournaments — Kentucky in 2012 and Duke in 2015.
What's rare, however, is when one program utilizes all three methods at once.
That's precisely what this Kansas program has done. Their best player is probably Dedric Lawson, a transfer from Memphis that spent last season sitting out along with his brother, K.J., as well as former Cal point guard Charlie Moore. If Dedric isn't the best player, then it will most likely end up being Quentin Grimes, a potential top ten pick that is a surefire one-and-done and looks to be joined in the starting lineup by another five-star freshman in Devon Dotson.
And while those guys are good and all, the leading returning scorer for Kansas is Udoka Azubuike, a center that averaged 13.0 points and 7.0 boards. He declared for the drafted but opted to return to school, as did senior LaGerald Vick, who will likely start at the three and looks to be the best shooter in the program.
Put all that together and what you have is the best team in college basketball.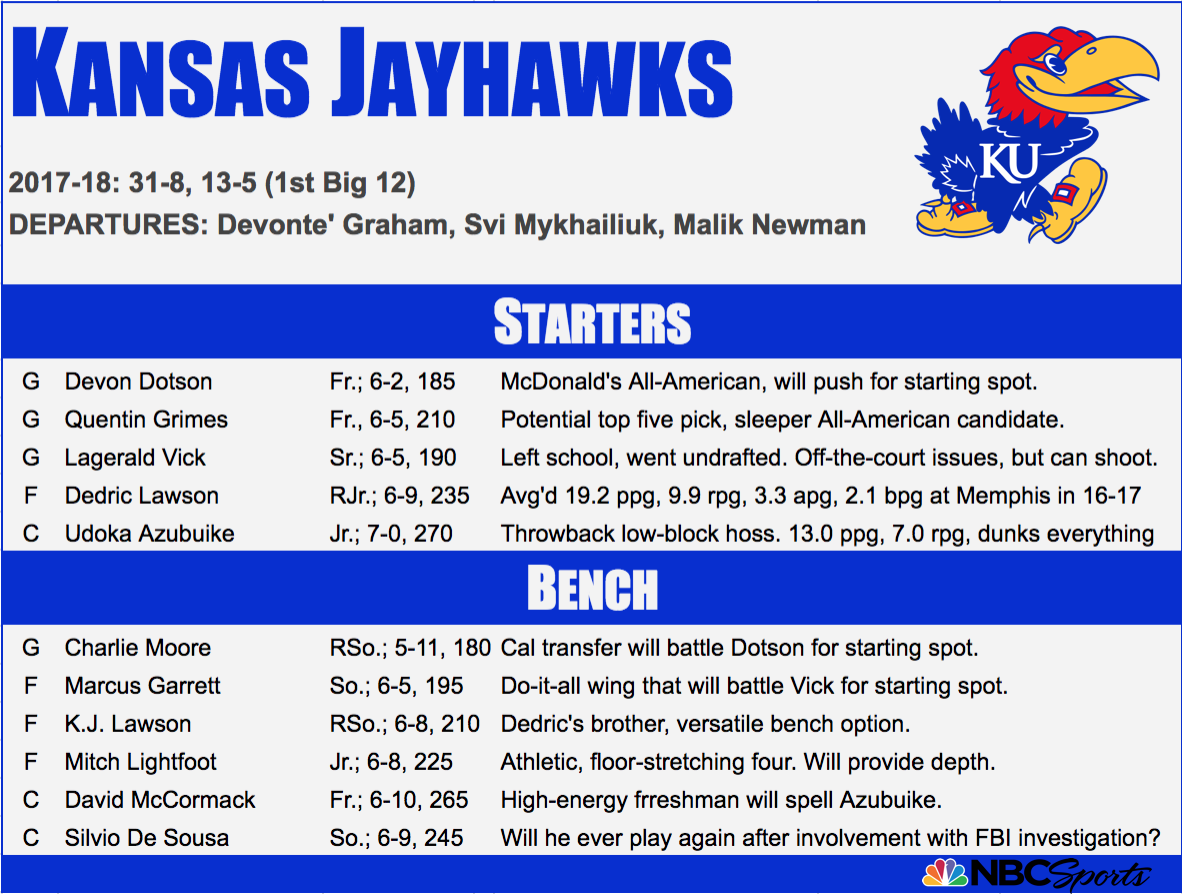 KANSAS WILL BE GOOD BECAUSE …
For the first time in three years, the Jayhawks have a roster that is actually suited to playing the way that Bill Self has always wanted to play.
Self is something of a throwback in this day and age of pace and space, three-pointers and small-ball. He likes having two big men on the floor. He likes getting the ball into the post. It wasn't until recently that he really came around on the idea that shooting threes might actually be better than shooting twos.
That wasn't necessarily by design, either.
In each of the last two seasons, Self's roster has lacked the kind of frontcourt depth and talent that he would need to play the way that he wanted to play. In 2016-17 — the first season they played in the post-Perry Ellis era — it was Carlton Bragg that was supposed to slot into the role of the four-man, but between the legal issues that he dealt with and the fact that, you know, he wasn't good enough, Self was forced to play small. Josh Jackson started at the four as Kansas played four guards, and it worked pretty well. Jackson was tough and physical enough to guard-up, and his skill-set on the offensive end gave Kansas another playmaker and created all kinds of mismatches. The Jayhawks won the Big 12 and reached the Elite 8, where Oregon picked them off.
Last season was much of the same. Jackson wasn't there, but since Billy Preston was never able to get cleared and neither Mitch Lightfoot nor Silvio De Sousa were ready for that role, Self played even smaller. LaGerald Vick and Svi Mykhailiuk combined to play the two forward spots, and again, it worked. Kansas won the Big 12. They made it all the way to the Final Four, where it was the slow-footedness of Udoka Azubuike going up against the buzzsaw that was last year's Villanova team that cost Kansas a shot at a national title.
This year's roster looks much more like the best teams that Self has had in the past. Dedric Lawson, who averaged 19.2 points, 9.9 boards, 3.3 assists, 2.1 steals and 1.3 blocks in his final season with Memphis, might as well be Ellis. Or a Morris Twin. He can fill that role at the four perfectly. Azubuike is probably the best at-the-rim big in the country. David McCormack and Mitch Lightfoot provide more than enough depth, while K.J. Lawson is there as well.
Then there is the KU backcourt. Self legitimately has five different players that deserve to start. Quentin Grimes is probably locked into a starting spot as the off-guard, while Devon Dotson and Charlie Moore will battle it out for point guard minutes and LaGerald Vick and Marcus Garrett will fight over playing time at the three.
This is a very good and very deep basketball team that is built precisely the way that Bill Self's best teams have been built in the past.
It's impossible not to like what's on the table here.
BUT KANSAS IS GOING TO STRUGGLE BECAUSE …
The amount of noise surrounding this program right now is not going to be easy to deal with.
Outside of Louisville, who has already purged essentially everyone decision-maker involved with the basketball program, no one made more headlines with their involvement in the first college basketball corruption trial than Kansas. There were allegations that Adidas executives were funneling money to the family of two Jayhawk recruits, Billy Preston and Silvio De Sousa. There were text messages that seemed to imply — but did not conclusively prove — that the Jayhawk coaching staff (Self and assistant Kurtis Townsend) were aware of and approved those payments.
De Sousa is already being held out of competition pending an eligibility review. There are serious doubts about whether or not last year's Big 12 title and Final Four banner will still be in existence by the time this process plays out. Kansas has not yet signed their new contract with Adidas. Self and Townsend are going to face repeated calls that they be fired throughout this season.
Distractions such as those are not ideal, and neither are the questions players currently on the Kansas roster are going to ask if they didn't get what Preston and De Sousa got.
I don't think it necessarily hurts this particular team, but I do firmly believe that it is going to be a constant headache for Self and his coaching staff.
How effective are you at your job when you constantly have a headache or distractions in your personal life?
THE X-FACTOR
The Jayhawks are almost too good to fail this season, and while I do wonder whether the change in scenery from the American to the Big 12 will have an impact on how good Dedric Lawson is, the x-factor for me here is going to be Grimes.
Grimes is probably the most talented player in the program. He is definitely the best NBA prospect on the Kansas roster. He is also a combo-guard that, at this point, is not a great shooter and is not a great point guard playing as one half of an all-freshman backcourt.
[youtube=https://www.youtube.com/watch?v=e2VLXWWVsSA&w=560&h=315]
I believe that Self is going to run his offense through Lawson this season, but that's simply what makes the most sense for him to do. Lawson is probably the best player on the roster, and he's certainly the most-proven scorer they have. But the Jayhawks will need a secondary scorer, and they are going to need someone that can provide some firepower out of the backcourt.
Grimes is the best bet to be that guy.
But until we actually see what he is going to be capable of doing as a freshman, it's hard to know exactly what to expect.
2018-19 OUTLOOK
Kansas is not going to lose the Big 12 this year.
I think we all just need to accept that as fact and move on.
They are a consensus top two team in the country. They have one potential first-team all-american on the roster, another potential top ten pick in the 2019 NBA Draft and enough depth, experience and talent to allow Bill Self to focus all his stress on what's going to happen as a result of the FBI investigation, the looming trials and any potential NCAA ramifications that may come with it.
Kansas, believe it or not, is my favorite bet to win the national title. Of the clearcut top four teams in the sport this season, they are actually the team getting the best odds at the moment.
All that said, I do think this will be the final year that the streak of consecutive Big 12 titles will remain intact.
Because De Sousa played last season, the Jayhawks are going to eventually be forced to vacate wins; I'd be shocked if they weren't. And when they do, the 2018 Big 12 title is going to be erased and the 2018 Final Four banner is going to come down.
There's no time like now to start up that new streak.
THE REST OF THE TOP 25
No. 2 Kentucky
No. 3 Gonzaga
No. 4 Duke
No. 5 Villanova
No. 6 Nevada
No. 7 Tennessee
No. 8 Virginia
No. 9 North Carolina
No. 10 Auburn
No. 11 Kansas State
No. 12 Virginia Tech
No. 13 Michigan State
No. 14 Florida State
No. 15 TCU
No. 16 UCLA
No. 17 West Virginia
No. 18 Oregon
No. 19 Syracuse
No. 20 LSU
No. 21 Mississippi State
No. 22 Clemson
No. 23 Michigan
No. 24 N.C. State
No. 25 Marquette