Beginning in September and running up until November 6th, the first day of the season, College Basketball Talk will be unveiling the 2018-2019 NBCSports.com college hoops preview package.
Every day at Noon ET, we will be releasing an in-depth preview of one member of our Preseason Top 25.
Today we dive into No. 3 Gonzaga.
---
You would think that, being just 18 months removed from playing in the national title game as a No. 1 seed with a 37-1 record entering the final night of the 2016-17 season, Gonzaga would no longer have to justify where they are ranked in the preseason.
Because that was always the knock on Mark Few's program, right?
They made that one run to the Elite 8 in 1999. Great. But in the first 17 seasons after Few took over for Dan Monson, he only managed to get the Zags passed the Sweet 16 once, and that was in 2015 when they only needed to dispatch No. 11-seed UCLA to get to the Elite 8. Before Nigel Williams-Goss, Przemek Karnowski and Zach Collins helped carry the Zags to within six points of a national title, every single year that Gonzaga popped up ranked high in the preseason top 25, the hate would come out.
"The Zags are always overrated."
"The media loves Gonzaga, but they're always overrated because they beat up on bad WCC teams."
"You're an idiot if you actually think Gonzaga is better than [insert random high-major program ranked below them]."
I thought that line of thinking was done and dusted after everyone saw the Zags, who most experts believed was the best team in the country entering the 2017 NCAA tournament, played for a chance to cut down the nets in Glendale, but alas, that's not true.
There are still plenty of people that believe Gonzaga being ranked in the top five is a disgrace to rankings, the sports of college basketball and life in general, which is why it gives me great pleasure to make this statement: Gonzaga is not only a consensus preseason top five once again, but they have the best frontcourt in all of college basketball and may just be the best team in the country.
Again.
Is this the year Mark Few can finally shut everyone up for good?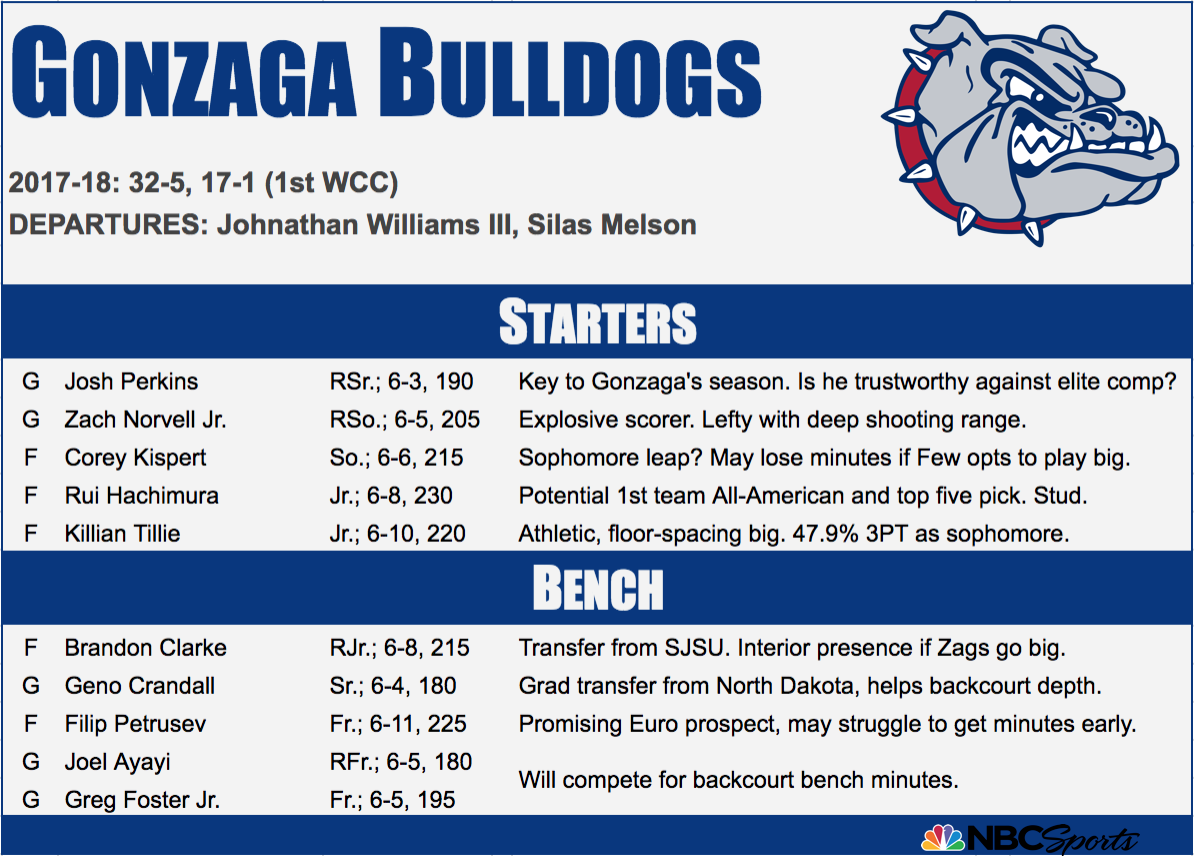 GONZAGA WILL BE GOOD BECAUSE …
It is impossible to look at the frontline of the Zags and not come away impressed.
The name that you need to know is Rui Hachimura. A Japanese international of Beninese decent, Hachimura has been one of the best young players in FIBA World Cup qualifying after a season where he averaged just 11.2 points but really came on strong down the stretch. At 6-foot-8 and checking in at 230 pounds, Rui is a terrific athlete with the kind of length and body control that makes him an excellent finisher around the basket. His perimeter game is where the development is going to have to occur, but he shot 79.5 percent from the charity stripe on 132 attempts as a sophomore. The range will come.
He'll be flanked by Killian Tillie, a French international that grew up with a background in volleyball. A terrific athlete that shot 47.9 percent from three, Tillie had one stretch late in the year where he made 22 of 26 threes over seven-game stretch, including 13 straight threes during the WCC tournament.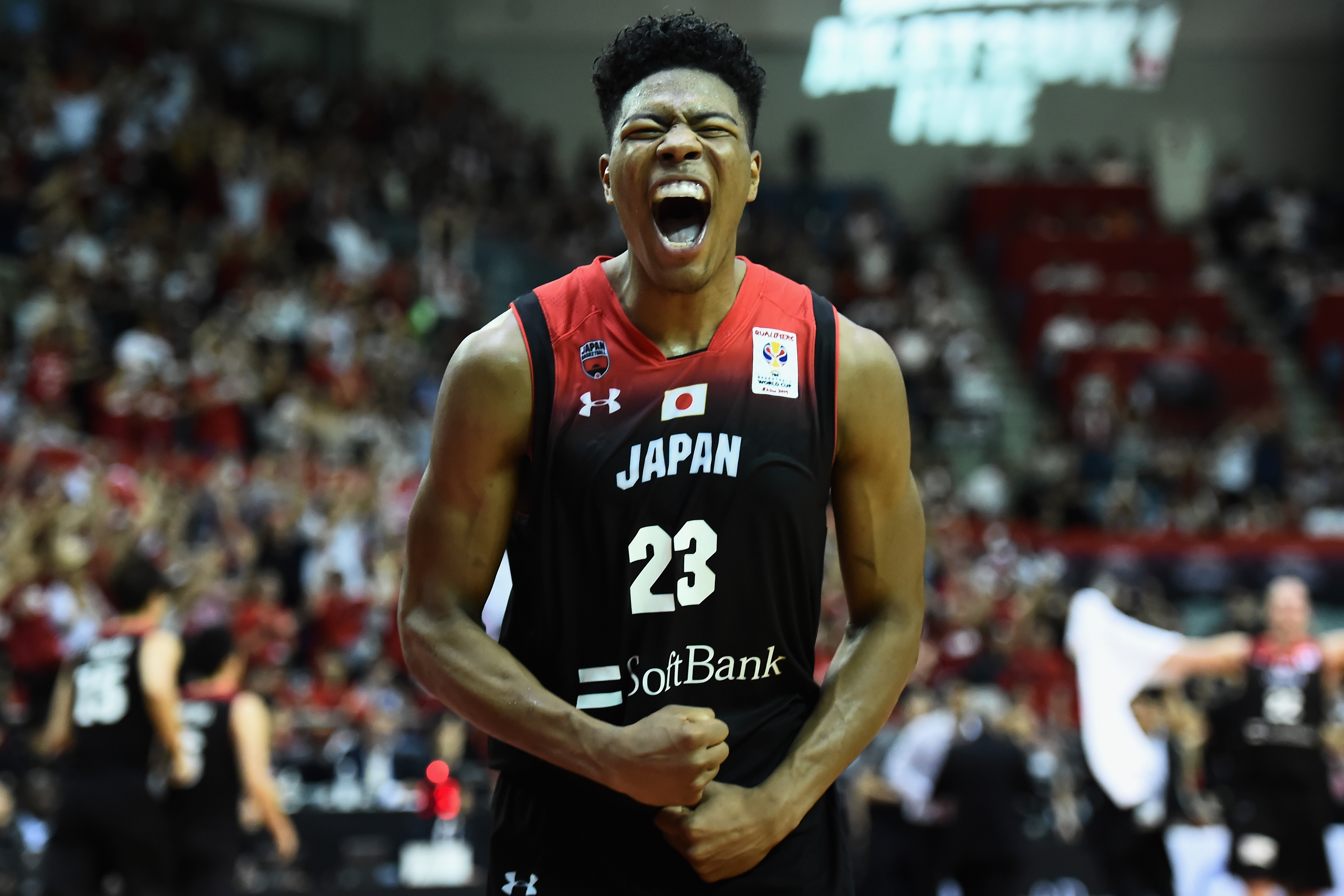 That duo is the ideal pairing in a frontcourt, and the athleticism — and coaching — is there to help make up for the fact that the Zags are losing their best defender in Johnathan Williams III.
Most college basketball fans will know those names, however.
The name they won't know is Brandon Clarke, a redshirt junior that spent last season sitting out after transferring into Gonzaga from San Jose State. At 6-foot-8 and 210 pounds, he profiles as the best defensive presence on this team and, given the athletic ability of Rui and Tillie, should allow the Zags to play the three forwards together.
Mark Few does not necessarily have a reputation for being an elite defensive coach, but the staff does a terrific job of teaching their big men how to defend — particularly developing their ability to stay vertical when challenging shots around the rim — and whileI don't think that this year will be a repeat of 2017, when they were the nation's No. 1 defense according to KenPom's adjusted defensive efficiency metric, I do expect Gonzaga to be very, very good on that end of the floor.
BUT GONZAGA IS GOING TO STRUGGLE BECAUSE …
Their backcourt is still somewhat unproven, as is their depth.
Zach Norvell Jr. put together some big games as a redshirt freshman last season, not the least of which was a 28-point outburst against Ohio State in the second round of the NCAA tournament. There was one stretch early in the season where he scored at least 17 points in six out of seven games, including a three-game stretch where he cracked 20 points against Creighton, Villanova and Washington back-to-back-to-back.
He was streaky at times, but he was also a freshman. I expect big things out of him this year.
The rest of their backcourt has more question marks.
Let's start with Corey Kispert, a sophomore that will be looking to takeover the minutes vacated by Silas Melson. The 6-foot-6 wing started last season as a starter, logging a ton of minutes in games against Florida and Texas in the PK-80, but a sprained ankle seemed to hamper him all season long. Assuming he is healthy — and that the crux of his midseason struggles was the ankle and not, you know, his ability — he should fit in fine as a glue-guy at the three for this group. He defends, he can make threes and he is athletic enough to throw down a tip-dunk in traffic.
Then there is Geno Crandall, a grad transfer from North Dakota that was brought into the program to be a backup point guard to Josh Perkins but that profiles more as a scorer off the bench than anything else. The concern with Crandall is that he did not actually complete his undergraduate degree from North Dakota until mid-October, meaning that he is behind by a few weeks learning Gonzaga's system, terminology, defensive assignments and how to play with the players on the roster.
That's an issue because, reading the tea leaves, it's pretty easy to determine that Crandall was brought in since Joel Ayayi and Greg Foster still need another season or two to be ready to contribute major minutes off the bench.
All that said, the biggest concern, at least for me, is Josh Perkins.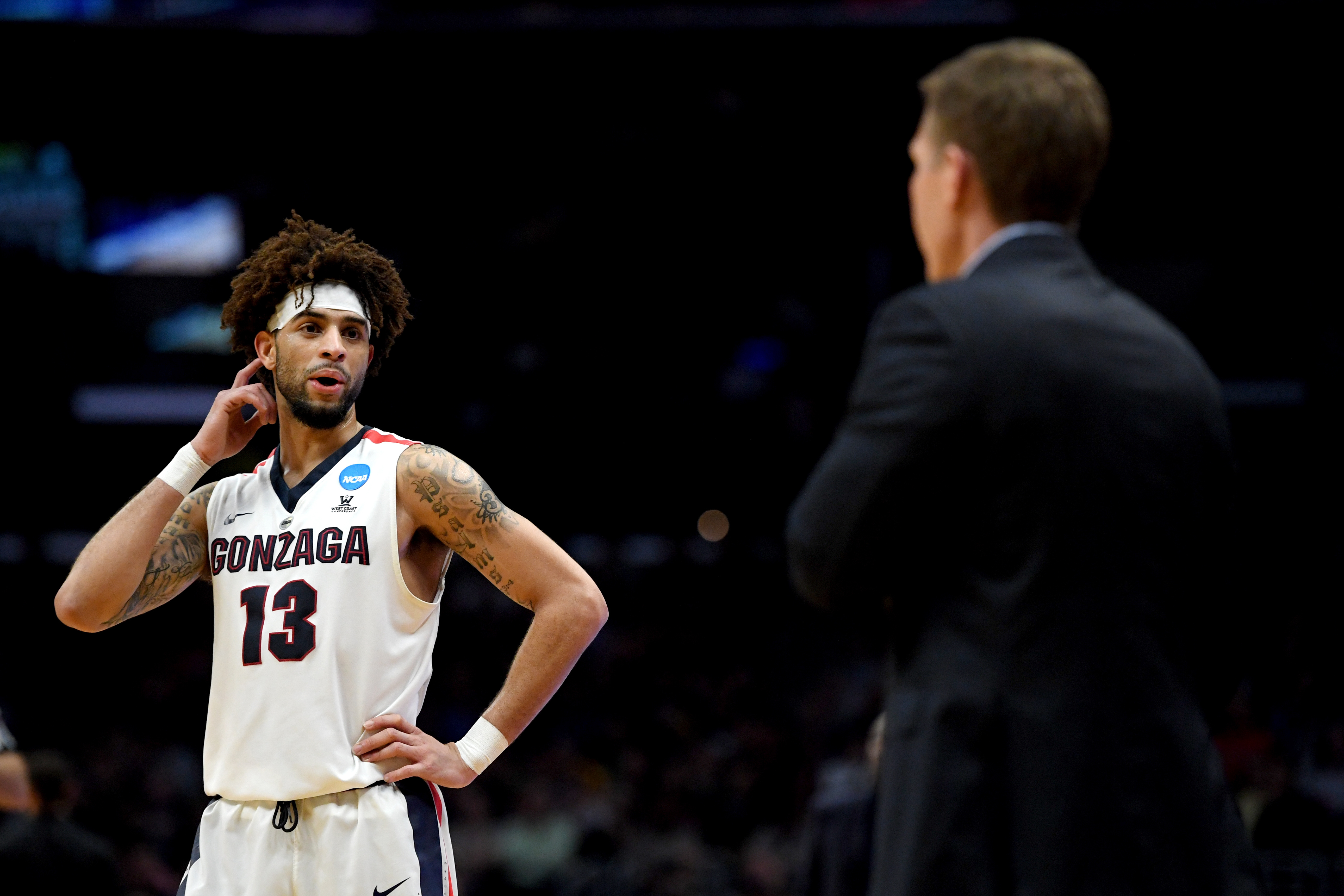 THE X-FACTOR
In a vacuum, Perkins is fine.
He'll lead Gonzaga to a WCC title. They'll end up as a high seed in the NCAA tournament. They'll win 25 or 30 games. He's good enough, and the pieces around him will be great enough, that it won't have that much of an impact.
But at this point, is that enough for the Zags? They've been to a national title game. They've been a No. 1 seed. Anything short of a Final Four this year will probably be looked at as a disappointment, and to get to a Final Four, Gonzaga is going to have to beat the best teams in the country.
And my issue is whether or not Perkins, who averaged 12.3 points and 5.1 assists as a redshirt junior, can be as effective as he needs to be against the best teams in the country. Can he create against the best point guards in the sport? Is he improved as a decision-maker? Is he the leader on the floor that, say, Nigel Williams-Goss was?
If he is, then the Zags are a good bet to get back to the national title game.
But based on what I've seen out of him over the course of the last four seasons, I am not convinced that he is.
And if there is a reason to wonder whether or not Gonzaga can live up to the lofty goals they enter the season with, that is it.
2018-19 OUTLOOK
The criticism that Gonzaga is going to face come Selection Sunday is always going to center around the WCC schedule they have to play as a member of the league.
By the time that the nation at-large starts paying attention to college basketball, Gonzaga is more or less done playing games that actually matter. It is what it is. There's a reason that Gonzaga made a push to try and get into the Mountain West this offseason, and there's a reason that Mark Few is working to get the WCC league schedule reduced from 18 to 16 games.
But understand this: While you are not paying attention, the Zags are going to play a non-conference schedule that will be as tough as anyone's. They play Texas A&M, a game that looked much tougher when it was scheduled than it does as of today. They play in the Maui Invitational, where they will get either Arizona or Iowa State in the second round and, basketball gods willing, Duke in the tournament's title game. They play at Creighton. They play Washington, who might be the best team in the Pac-12 this season. They play Tennessee in Phoenix. They play at North Carolina.
We are going to know everything we need to know about the Zags by Dec. 15th, and while a Final Four run is never a given — that's the beauty of March Madness — I would be shocked if Gonzaga doesn't enter WCC play leaving no doubt as to whether or not they are one of the top four teams in college basketball.
THE REST OF THE TOP 25
No. 4 Duke
No. 5 Villanova
No. 6 Nevada
No. 7 Tennessee
No. 8 Virginia
No. 9 North Carolina
No. 10 Auburn
No. 11 Kansas State
No. 12 Virginia Tech
No. 13 Michigan State
No. 14 Florida State
No. 15 TCU
No. 16 UCLA
No. 17 West Virginia
No. 18 Oregon
No. 19 Syracuse
No. 20 LSU
No. 21 Mississippi State
No. 22 Clemson
No. 23 Michigan
No. 24 N.C. State
No. 25 Marquette