The college basketball season will finally be here in two weeks, meaning that the time for previewing the year is just about over. 
But we're not there yet.
So before things officially kick off, let's take a closer look at the 12 things will could end up deciding how the season plays out.
League titles.
Final Four trips.
Even the national title.
You can call them story lines, you can call them positional battles, you can call them whatever you like.
Here are the x-factors to monitor as we enter the 2018-19 college basketball season. 
---
---
ARE WE READY TO TRUST JOSH PERKINS?
I love everything about Gonzaga's frontcourt.
I'm all-in on the Rui Hachimura bandwagon. I think it's only a matter of time before he is a college basketball star, and he already is the biggest name in basketball in his native Japan. Killian Tillie proved his merit during the WCC tournament last March, and Brandon Clarke is the guy that no one is talking about enough. Those three together are as good as any frontcourt trio in college hoops this season.
I also have little doubt that Zach Norvell Jr. and Corey Kispert will take a step forward this season. Norvell is one of the most dangerous shooters in the sport, while Kispert is a former four-star recruit that is going to see a bump in minutes this season. Throw in Geno Crandall's arrival from North Dakota, and there should be an issue with scoring on the perimeter.
The question mark, for me, is Perkins.
In a vacuum, he's fine. He'll lead Gonzaga to a WCC title. They'll end up as a high seed in the NCAA tournament. They'll win 25 or 30 games. But at this point, is that enough for the Zags? They've been to a national title game. They've been a No. 1 seed. Anything short of a Final Four this year will probably be looked at as a disappointment, and to get to a Final Four, Gonzaga is going to have to beat the best teams in the country.
And my issue is whether or not Perkins, who averaged 12.3 points and 5.1 assists as a redshirt junior, can be as effective as he needs to be against the best teams in the country. Can he create against the best point guards in the sport? Is he improved as a decision-maker? Is he the leader on the floor that, say, Nigel Williams-Goss was?
If he is, then the Zags are a good bet to get back to the national title game.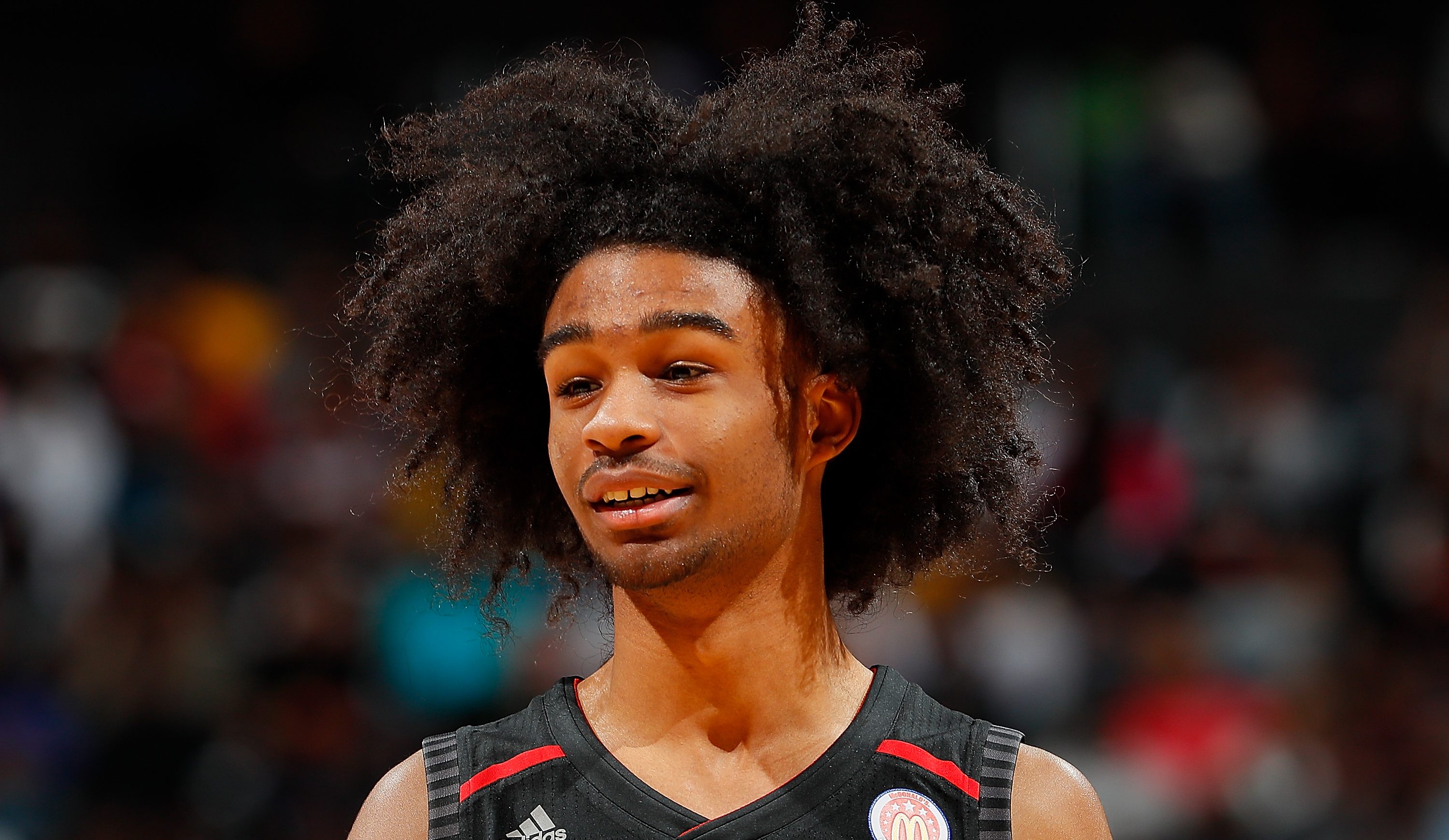 IS COBY WHITE THE POINT GUARD THAT NORTH CAROLINA NEEDS?
The thing that we always talk about with North Carolina is that Roy Williams is one of the few coaches in the country that would still prefer to play with two physically-imposing big men at the same time. His coaching philosophy centers around dominating the glass — the more rebounds he gets, the more shots his team takes and the fewer shots his opponents take.
This year's North Carolina team will look nothing like that. They are going full small-ball, with a lineup that could feature Nassir Little, Cam Johnson and Luke Maye as their starting frontcourt. That is already going to place a priority on being more efficient offensively, and that's before we consider the fact that UNC lost the guy that was their point guard by title — Joel Berry II — and the guy that was actually their point guard — Theo Pinson.
This is a concern for two reasons:
Roy Williams' best teams have always had an elite point guard. Raymond Felton, Ty Lawson, Kendall Marshall, Marcus Paige and Berry.
UNC's point guard this season will likely be Coby White, a low-end five-star prospect that is known as one of the best scorers in the class.
There is going to be a lot of responsibility put onto his plate this season. Can he handle what is going to be asked of him?
Gonzaga and North Carolina aren't the only schools with point guard concerns:
KANSAS: The Jayhawks may have the most interesting point guard battle this season. Charlie Moore is the redshirt freshman that transferred in from Cal and spent last season learning the system and Bill Self's offense. Devon Dotson, a top 20 recruit, is the best pure point guard on the roster, but he's also a freshman. So is Quentin Grimes, a combo-guard that might end up being a top ten pick. I'm sure someone from that group is going to turn out to be really good for the Jayhawks, I'm just not quite sure who it is going to be or how long it is going to take for that position to get settled.
FLORIDA STATE: The Seminoles saw their starting point guard transfer out of the program this offseason, meaning that the preseason top 15 team is going to have two guys battling it out for the job: Junior Trent Forrest, who is more of a combo than a pure point guard, and David Nichols, a grad transfer that spent the last three seasons at Albany.
UCLA: With Aaron Holiday off to the NBA, Jaylen Hands looks like he is going to be taking over the point guard duties. As a former five-star prospect, Hands is, on paper, someone that should thrive in this role. But there are plenty of red flags. He's not a good defender, he can be selfish at times and there are real concerns about whether or not he's a point guard or a scorer that likes to dribble the ball up the floor. Combine that with Tyger Campbell, a steadying presence on the ball, tearing his ACL, and Steve Alford is going to have is work cut out for him.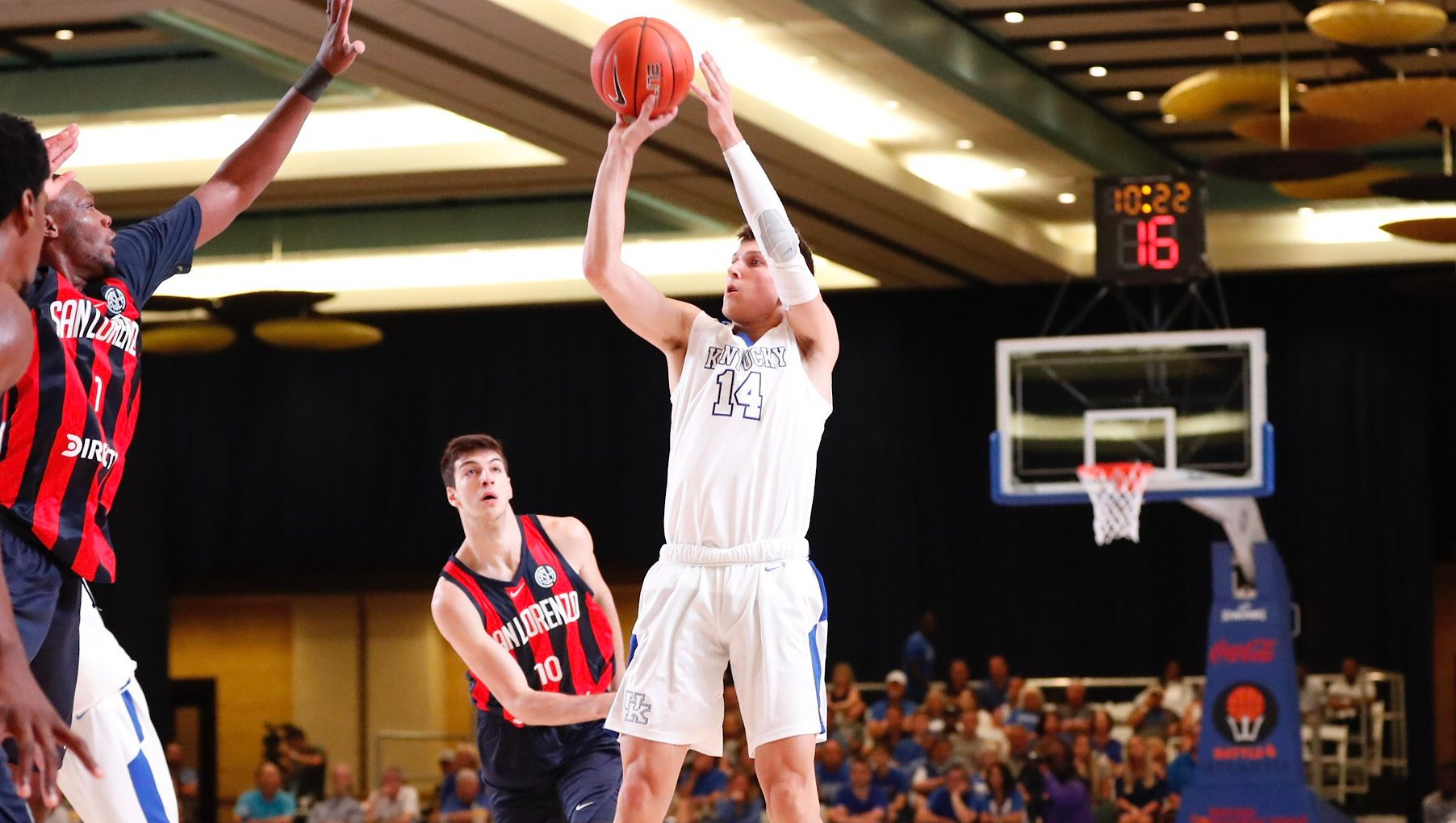 WHO IS KENTUCKY'S GO-TO GUY?
The biggest concern I have with this Kentucky team isn't really a concern, it's more of a question: Do they actually have a star?
We know that they have enough good basketball players to absolutely steam-roll some pretty good competition during their trip to the Bahamas, and anyone with the ability to google "college basketball recruiting rankings" will know that the talent on this team isn't lacking. There are multiple NBA players on this team, and they go two-deep at just about every position on the floor.
I wonder about how their rotation is going to pan out, but I'm not really all that concerned about it. John Calipari has proven over and over again that he is as good as anyone in college basketball at getting his guys to buy into playing the role he needs them to play. I also wonder about whether or not Kentucky will actually be able to find a lineup that can be elite offensively and defensively — they need shooting on the floor, but their best defenders can't shoot and their best shooters can't defend — but Cal has enough pieces that he should be able to mix-and-match based on opponent and matchup.
Those aren't red flags as much as they are a natural progression for a team.
The red flag for me is that I'm not sure there is a go-to guy on this roster. Who is getting the rock at the end of a clock? Who is Cal calling plays for in crunch time? I'm not sure it's Reid Travis; he can be double-teamed too easily on a team that doesn't have great shooting. I don't know if P.J. Washington or Quade Green is ready to handle that load. Kentucky's freshmen point guards are both talented and will play in the NBA, but neither, at this point, is necessarily known for what they can do with the ball in their hands. The same can be said about Keldon Johnson.
Frankly, Tyler Herro is the guy that would make the most sense. He led the team is scoring in the four games in the Bahamas and he thrives running off screens the same way that Jamal Murray and Malik Monk did before him, but he also might be the fifth-best perimeter player Kentucky has.
There are going to be some big games that are decided by whether or not Kentucky can score on critical possessions, and finding a guy Cal can trust will be so important.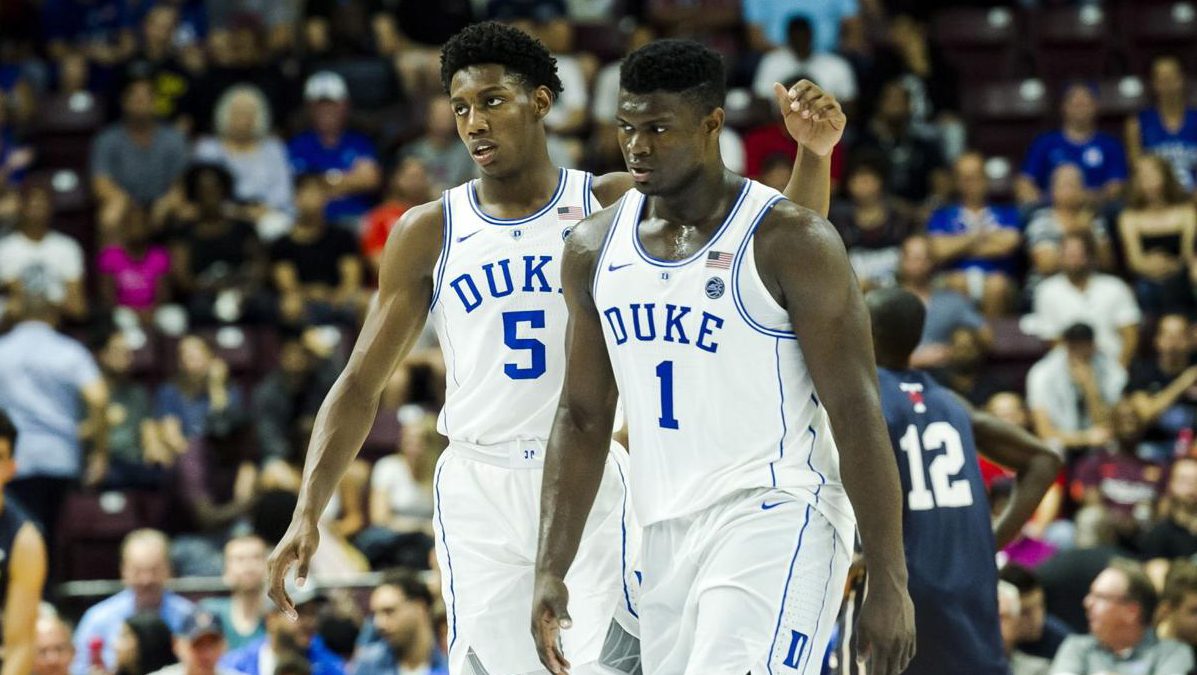 CAN DUKE SHOOT WELL ENOUGH TO GO FULL SMALL-BALL?
Duke is going to spend this season trying to run out their version of the death lineup.
Tre Jones, R.J. Barrett, Cam Reddish and Zion Williamson are all going to start. I'd assume one of Javin DeLaurier and Marques Bolden will join them, and I fully expect those four to spend a lot of time on the floor together with Alex O'Connell, which would be a thrilling way to get Zion some minutes at the five.
That would look an awful lot like the lineup Golden State has made so popular, the one with Draymond Green at the five.
But what makes that Warriors five — what made last year's Villanova starting five — so dangerous was that everyone on the floor was a good-to-great three-point shooter. No one could be left open lest you want to give a 40+ percent three-point shooter an open, rhythm jumper.
This Duke team, as talented as they are, just does not have the guys that can shoot it like that. In fact, each of the four freshmen on this team are at their best when they have the ball in their hands; it's a roster that, in a way, is made up of a point guard, two point forwards and Zion, who has made a name for himself by being a grab-and-go big. Individually, I love the pieces on this roster, but I do have questions about how well this roster actually fits together.
IS 'THE VILLANOVA WAY' STRONG ENOUGH TO OVERCOME THE LOSS OF FOUR NBA PLAYERS?
Villanova had four players get picked in the top 33 picks of the 2018 NBA Draft. That is an unbelievable amount of talent for ay program to try and replace, particularly one like the Wildcats, which isn't exactly known for churning out one-and-done five-star talent on an annual basis.
What Villanova is known for is their ability to develop players and ensure that their 'next-man-up' is always ready for the role he is going to be asked to play.
Well, they are going to have a team full of guys being asked to do just that. Eric Paschall and Phil Booth should be up for the challenge. They are both redshirt seniors that have been with this program through two national title runs. They'll be fine. It's the sophomore class — Collin Gillispie, Jermaine Samuels, Dhamir Cosby-Rountree — and the incoming freshmen — specifically Cole Swider and Jahvon Quinerly — that are going to be rushed along.
If Jay Wright can fast-track them to being able to handle a major role right away, the Wildcats should once again be a national title favorite come March.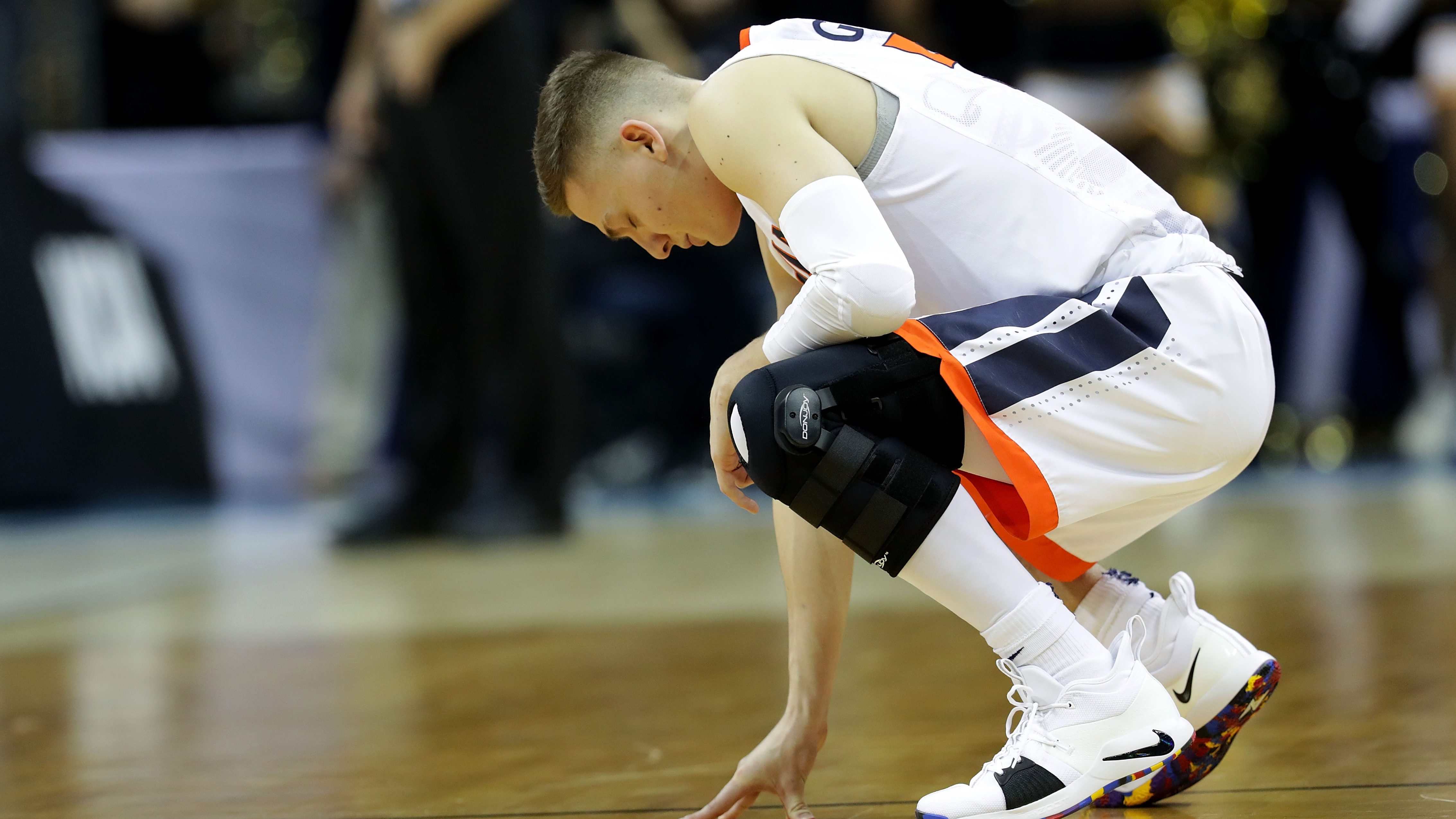 HOW DOES VIRGINIA HANDLE WHAT MAY BE THE WORST LOSS IN COLLEGE BASKETBALL HISTORY?
This one is really, really simple: Virginia entered the 2017-18 season as a team with a reputation for choking in March.
Fair or not, the truth is that Virginia had been a No. 1 seed twice and a No. 2 seed once in the four years before the start of last season, and those tournament trips resulted in a loss in the Sweet 16, a loss in the second round and, in 2015-16, a loss in the Elite 8 where the Wahoos blew a 15-point lead in the final ten minutes to No. 10-seed Syracuse.
That's the kind of thing that can get in the head of a player, and I don't think I'm being presumptive when I say that it probably played a role in Virginia suffering what might be the most embarrassing loss in the history of college basketball. UVA not only became the first No. 1-seed to ever lose to a No. 16-seed, they were run out of the gym, losing 74-54.
There are myriad Hall of Fame coaches that could never win the big one until they won the big one — Jim Calhoun, Bill Self, Lute Olson, even Jay Wright was thought to be a choke artist before winning two out of three NCAA tournaments — but they never had to deal with the weight of trying to get their team to forget something that history will never, ever forget.
IS BOL BOL AWESOME? OR IS HE OVERRATED?
This will be the question that determines who wins the Pac-12 this season. Bol Bol is unique. He is a 7-foot-3 center that can be as dominant of a shot-blocker as his father, Manute, was. He also shot 46 percent from three on more than four attempts per game on the EYBL circuit in 2017.
The issue with Bol Bol is that his motor runs far too hot and cold. When he wants to be, he is absolutely dominant in the paint, something of a forcefield around the rim. But he has yet to prove that he wants to be great every time he steps on the floor.
Then there is the Kenny Wooten factor. A few years back, Chris Boucher became something of a sensation for the Ducks, as he was a shot-blocking, three-point shooting center. But as it turns out, Oregon was actually a better basketball team when Jordan Bell took over at center full-time, as evidenced by their run to the Final Four in 2017 after Boucher tore his ACL.
Wooten, like Bell, is active and switchable at the five. Bol Bol is not. Will this saga play out like that one?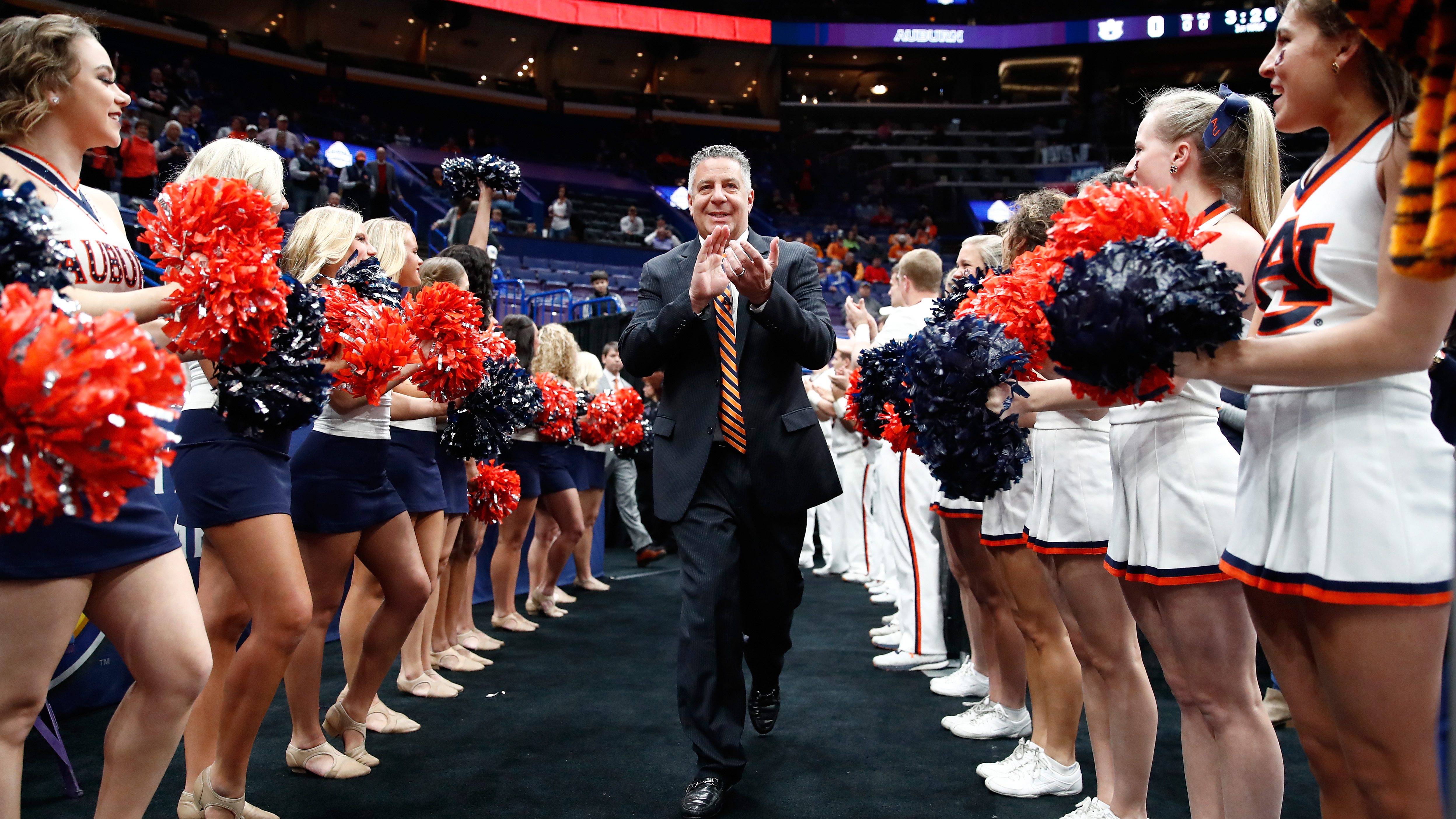 DOES AUBURN'S TEAM-BUILDING GET BROKEN DOWN BY THE RETURN OF AUSTIN WILEY AND DANJEL PURIFOY?
Auburn is coming off of a season where they won a share of the SEC regular season title despite losing two starters and an assistant coach prior to the first game as fallout from the FBI's investigation.
That surprise run to a league title happened because everything that Auburn did worked in concert. They were able to play small and play fast, they had guys that bought into the system and the style of play, Bruce Pearl was able to get his kids playing with a chip the size of Alabama on their shoulder.
This year, the Tigers will be getting back Austin Wiley and Danjel Purifoy, the two players that were suspended for last season, and it's worth questioning whether their addition is going to help or hurt matters. Will team chemistry still be there? Can Wiley — a lumbering, 6-foot-11 center — play at the pace Auburn wants to play at? Can Purifoy accept where he fits into the team's rotation?
The collective was better than the sum of the parts for Auburn last season, and that's a delicate balance to maintain.
IS THIS THE YEAR MICHIGAN STATE'S JUNIORS BECOME STARS?
Michigan State enters this season as the No. 10 team in the preseason AP Poll.
If they are going to live up to that hype, they are going to need their trio of juniors — Cassius Winston, Nick Ward and Joshua Langford — to live up to the hype they had entering their freshmen year.
Winston should be ready. He was already one of the best point guards in the country last season, a slick passer and uber-efficient playmaker that shoots the cover off the ball. Ward and Langford, however, are bigger question marks. Ward has yet to find a way to stay on the floor for extended minutes while playing for Izzo, while Langford has turned into something of a mid-range jump-shooter, which is the antithesis of efficiency.
CAN MICHIGAN OR SYRACUSE SCORE?
Again, this one is really simple.
Syracuse returns everyone from a team that reached the Sweet 16 and finished as the nation's fifth-best defensive team, according to KenPom's adjusted defensive efficiency metric. They also finished 135th in adjusted offensive efficiency. That's not good.
Michigan reached the national title game last season as a top three defense nationally, but they struggled to score for long stretches last season and lost their top three offensive weapons — Mo Wagner, Muhammad-Ali Abdur-Rahkman and Duncan Robinson.
Both teams will enter the season in the top 25, but they may not stay there for long if they can't figure out a way to score.
CAN PURDUE SCORE IF CARSEN EDWARDS ISN'T THE ONE SHOOTING?
Purdue lost four starters off of last year's team, and while they return Carsen Edwards — a preseason all-american that might just end up leading the nation in scoring — that's really the only guy they bring back that is a proven threat to score.
Ryan Cline, Nojel Eastern, Matt Haarms. Will any of these guys be able to take some of the weight off of Edwards' shoulders?
CAN WEST VIRGINIA BE PRESS VIRGINIA WITHOUT JEVON CARTER AND DAXTER MILES?
I don't think that it is a coincidence that Press Virginia became a thing when Jevon Carter and Daxter Miles were freshmen, or that Bob Huggins was able to have success with it over the course of the last four years with those two playing heavy backcourt minutes.
They were perfectly designed to play basketball that way.
So what happens to West Virginia and this style when they are gone? Can Beetle Bolden and Brandon Knapper continue to apply pressure the way that their backcourt predecessors did?