Beginning in September and running up until November 6th, the first day of the season, College Basketball Talk will be unveiling the 2018-2019 NBCSports.com college hoops preview package.
Today, we are previewing the Mountain West.
---
The Mountain West had a Sweet 16 team and a second NCAA tournament bid last season as the league tries to regain its former basketball glory.
While finding multiple bids is much tougher than it used to be, the Mountain West brings a legitimate Final Four contender to the forefront this season while a few mid-level teams have NBA prospects and former McDonald's All-Americans.
New coaches with Mountain West roots have entered at three programs and the league is trying to find balance after looking like a one-bid conference during some recent seasons. With a national contender, and some big-name players, the Mountain West will be a league to stay up late for this season.
Because of one team that will be awesome.
And at least one player that might hear his name called very early in next June's draft.
FIVE THINGS YOU NEED TO KNOW
1. Nevada is a legitimate Final Four contender.
Expectations are huge for Nevada this season. After a Sweet 16 run last season, the Wolf Pack have nearly everybody back, as head coach Eric Musselman also added quality depth through transfers and recruiting.
The return of the Martin twins and Jordan Caroline for their senior seasons is huge, as that trio are all All-Conference players. Point guard Lindsey Drew should also return from an injury while Portland transfer Jazz Johnson offers more insurance at guard. Other notable transfers include Nisre Zouzoua (Bryant), Tre'Shawn Thomas (Omaha), Trey Porter (Old Dominion) and Corey Henson (Wagner). A McDonald's All-American big man in Jordan Brown also joins the mix.
With a legitimate center and credible depth, Nevada won't have to ride five or six players to heavy minutes at the end of the season like last season. The Martin twins are game changers, especially since Cody's late-season move to point guard. Caleb Martin remains the league's best overall player while Caroline isn't far behind.
Nevada won't be tested as much as other Final Four contenders thanks to a light Mountain West (more on that in a moment) but they still have the talent and experience to make a deep run in March. Now that they are the hunted, it'll be fascinating to see how Nevada handles the immense pressure of being a national contender.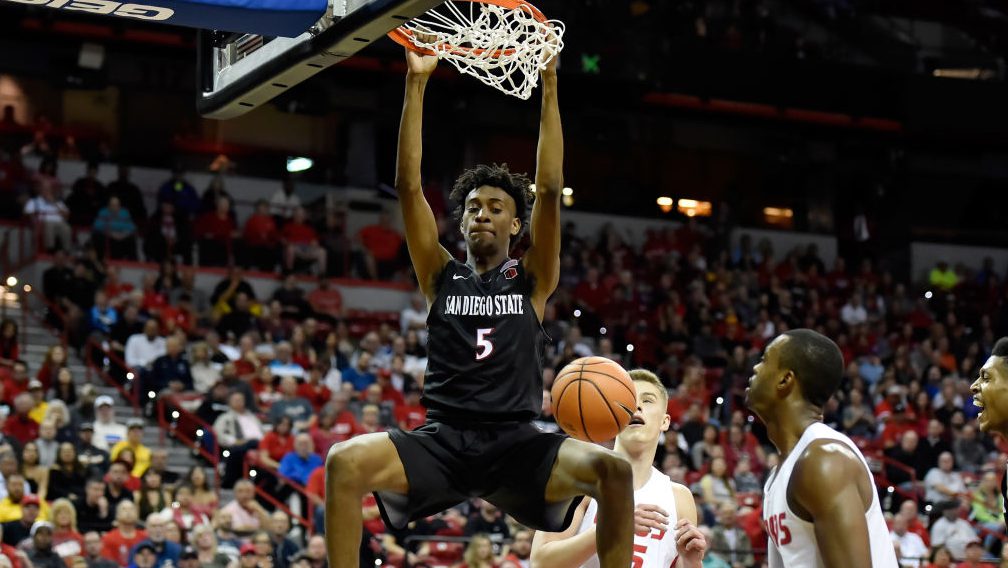 2. San Diego State has a chance to return to the NCAA tournament
After stealing an NCAA tournament bid last season by winning the conference tournament, San Diego State returns most of the core from that group. Replacing Trey Kell and Malik Pope won't be easy, but the Aztecs will hope that some enticing young players develop into consistent go-to players.
It starts with sophomore Jalen McDaniels. The 6-foot-10 forward transitioned into a starter late last season as he started putting up double-doubles and showing scary potential at the end of the season. He's firmly on the NBA radar — a potential first-round pick. McDaniels also has never scored more than 19 points in a college game. At the end of last season, McDaniels didn't produce in some big games.
Other key players returning for San Diego State include senior guards Devin Watson and Jeremy Hemsley while sophomore forward Matt Mitchell was also an effective freshman as a double-figure scorer. If the young frontcourt develops while the senior backcourt stays consistent, then San Diego State might not need to win a tournament to get a bid. They've already knocked off Nevada twice last season and won't be scared to face them. If the Aztecs earn some quality win like that, they might be good enough to be the league's second tournament team.
3. New Mexico has some intriguing transfers as they hope for NCAA tournament return
The Lobos are the wild card in the Mountain West this season thanks to some talented transfers. It's unfortunate that guard JaQuan Lyle will miss the season with injury. But New Mexico still has the frontcourt of Vance Jackson (UConn) and Carlton Bragg (Kansas/Arizona State) to work with.
Although New Mexico loses four of its top five leading scorers from last season, Bragg and Jackson have a chance to make an immediate impact. Jackson provides some stretch ability while Bragg had the talent to once be a McDonald's All-American.
Underrated senior guard Anthony Mathis is also back along with sophomore Makuach Maluach. Both Mathis and Maluach shot better than 46 percent from three-point range last season. Senior Dane Kuiper is a returning starter who should provide some experience on the wing. With knockdown shooters, and capable interior play, New Mexico could surprise this season, as they have some talented players to work with.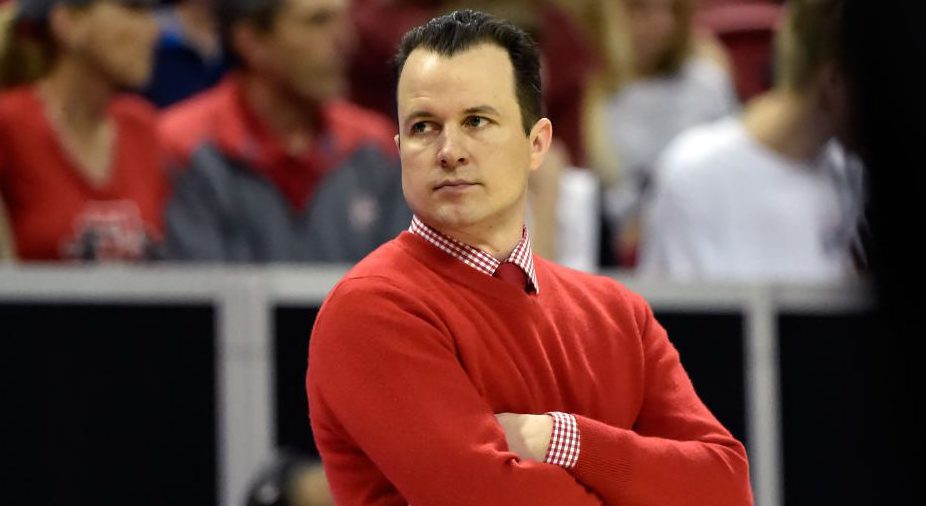 4. The Mountain West has three new head coaches
Some fresh blood enters the Mountain West this season in the form of three new head coaches. The main hire to keep an eye on will be Niko Medved at Colorado State. Returning to the Rams after spending time as an assistant coach there from 2007 through 2013, Medved comes to Colorado State as one of the rising stars in the coaching ranks.
Making three straight CIT appearances with Furman, and then Drake, Medved has done a quality job of getting some quick results at schools that aren't easy to win at. With a solid program that he's familiar with in Colorado State, Medved could end up being a quality hire for a program that hasn't made the NCAA tournament since Medved was last with them in 2013.
Justin Hutson takes over at Fresno State after being an assistant in the Mountain West at San Diego State and UNLV since 2006. Knowing the ins and the outs of everything with the league should be hugely beneficial for Hutson. It also helps that Hutson is inheriting a program that is in decent shape since Rodney Terry left for UTEP. The Bulldogs have front-court question marks for this season, but they do have plenty of backcourt talent that is intriguing.
At Utah State, Craig Smith gets a chance the regain the Aggies' former glory as he replaces the fired Tim Duryea. Much like Medved, Smith has spent time as an assistant at Colorado State under Tim Miles as he is familiar with the league. Expectations will be high at Utah State, but Smith did an excellent job of turning South Dakota into a 20-win team in back-to-back seasons.
5. The league will seek its second two-bid season since 2015
The second half of this decade, the Mountain West has struggled to consistently put multiple teams in the NCAA tournament. Last season, it only happened once San Diego State got hot and unexpectedly won the Mountain West Conference Tournament.
Although Nevada has the chance for a great season, the rest of the league is very uncertain when it comes to making the NCAA tournament. While the Mountain West would regularly get four and five teams in contention for bids in the early part of the decade, the league has looked more like a one-bid league in recent seasons.
Will the Mountain West get anyone into the field besides Nevada? It the Wolf Pack end up running most of the conference, then there won't be many quality wins to go around and another unexpected conference tournament champion will be needed.
PRESEASON MOUNTAIN WEST PLAYER OF THE YEAR: CALEB MARTIN, Nevada
Returning to college at the final hour of the NBA Draft deadline, Martin returns after a monster junior season with the Wolf Pack. Putting up 18.9 points, 5.4 rebounds and 2.6 assists per game while shooting 46 percent from the floor and 40 percent from three-point range, Martin is one of the most consistent producers in college basketball. With a season of his brother, Cody, running the point, Nevada's highly-efficient offense should be ready to roll once again.
THE REST OF THE MOUNTAIN WEST FIRST TEAM
CODY MARTIN, Nevada: Transitioning to point at the end of last season, the 6-foot-7 Martin thrived as a jumbo playmaker in Nevada's potent offense.
JALEN MCDANIELS, San Diego State: The 6-foot-10 sophomore could explode into a big-time NBA prospect. But he has to be more consistent and show that he's a go-to player in his second year.
JORDAN CAROLINE, Nevada: Playing his natural spot at the four this season, the two-time All-Mountain West performer should have a monster final season with Nevada.
JUSTIN JAMES, Wyoming: One of the nation's most underrated players, James put up 18.9 points, 6.0 rebounds and 3.1 assists per game last season despite battling an early-season ankle injury.
FIVE MORE NAMES TO KNOW
SAM MERRILL, Utah State
DESHON TAYLOR, Fresno State
SHAKUR JUISTON, UNLV
NICO CARVACHO, Colorado State
ANTHONY MATHIS, New Mexico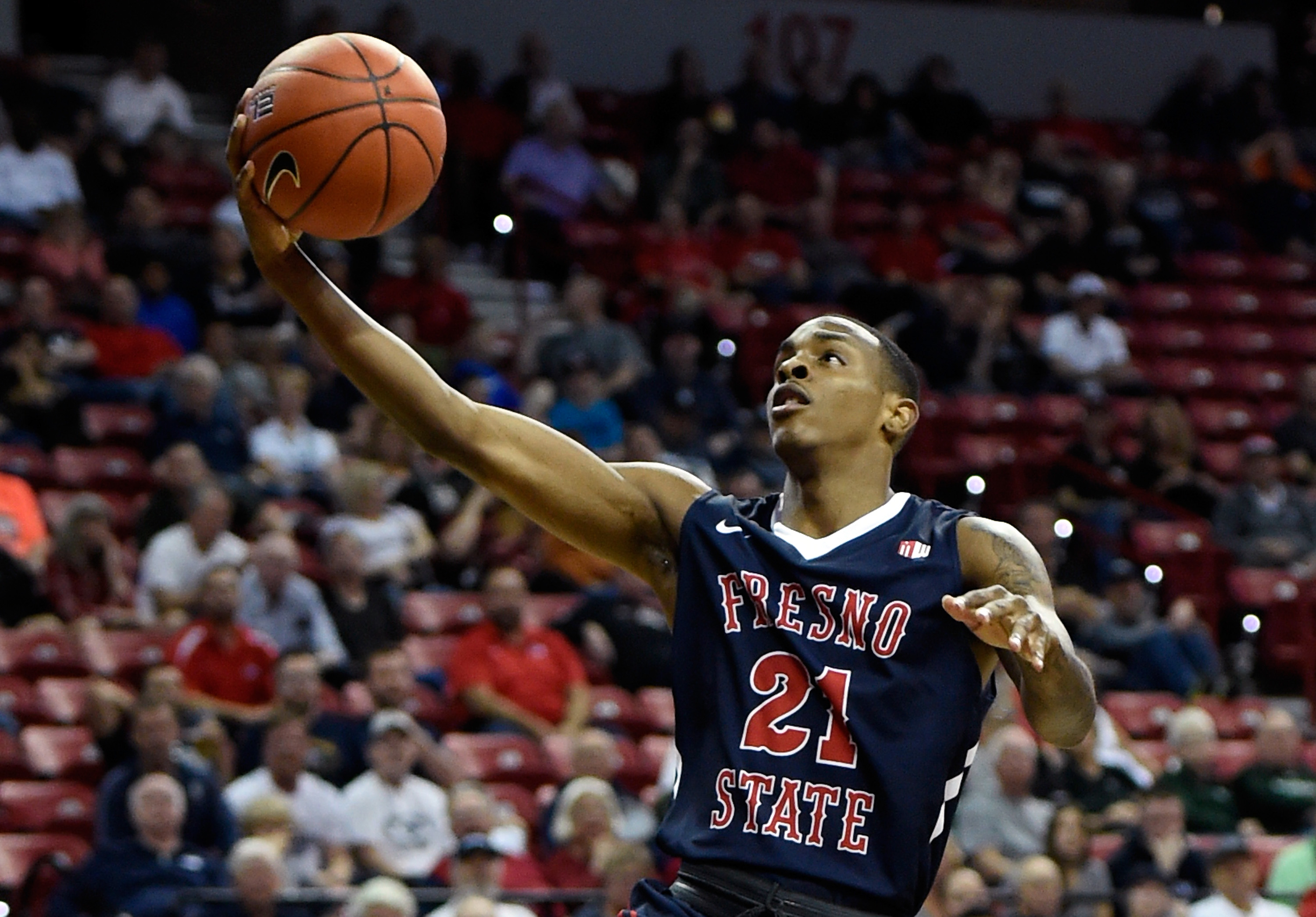 BREAKOUT STAR
It's hard to call Fresno State senior guard Deshon Taylor a breakout star after last season's monster output. But after putting up 17.8 points, 3.2 rebounds and 2.6 assists and 1.5 steals per game last season, the 6-foot-2 guard still doesn't get a lot of national acclaim. After putting his name in the NBA Draft and pulling his name out, Taylor will be counted on for a big season after former backcourt running mate Bryson Williams transferred. That could mean more 20-point games while also being asked to get teammates easy looks.
COACH UNDER PRESSURE
Unquestionably one of the toughest jobs in all of college basketball, things haven't gone according to plan for Dave Pilipovich during his time at Air Force. Five straight losing seasons in the Mountain West hurts, while the program has been held out of the postseason since a CIT appearance in 2013. While everyone acknowledges the Air Force job is difficult, this was a program that made two NCAA appearances and a deep NIT run during a span from 2004 through 2007. Winning is possible in Colorado Springs with the right mix of players.
ON SELECTION SUNDAY WE'LL BE SAYING …
Nevada gives the Mountain West a legitimate Final Four contender, but it's hard to say how good the Wolf Pack actually is since they didn't play another NCAA tournament-caliber team in the Mountain West this season.
I'M MOST EXCITED ABOUT …
Seeing if Nevada can live up to the preseason hype. Being a potential top-five team and Final Four contender is some major pressure. That could especially be the case for a Wolf Pack team that is incorporating a lot of new pieces for this season. But if this Nevada team can put it all together, they have the potential to be scary good.
FIVE NON-CONFERENCE GAMES TO CIRCLE ON YOUR CALENDAR
Nov. 19, San Diego State vs. Duke (Maui Invitational)
Nov. 27, Nevada at Loyola Chicago (Missouri Valley/Mountain West Challenge Series)
Dec. 1, Nevada at USC
Dec. 1, Cincinnati at UNLV
Dec. 7, New Mexico vs. Saint Mary's (Hall of Fame Classic, Los Angeles)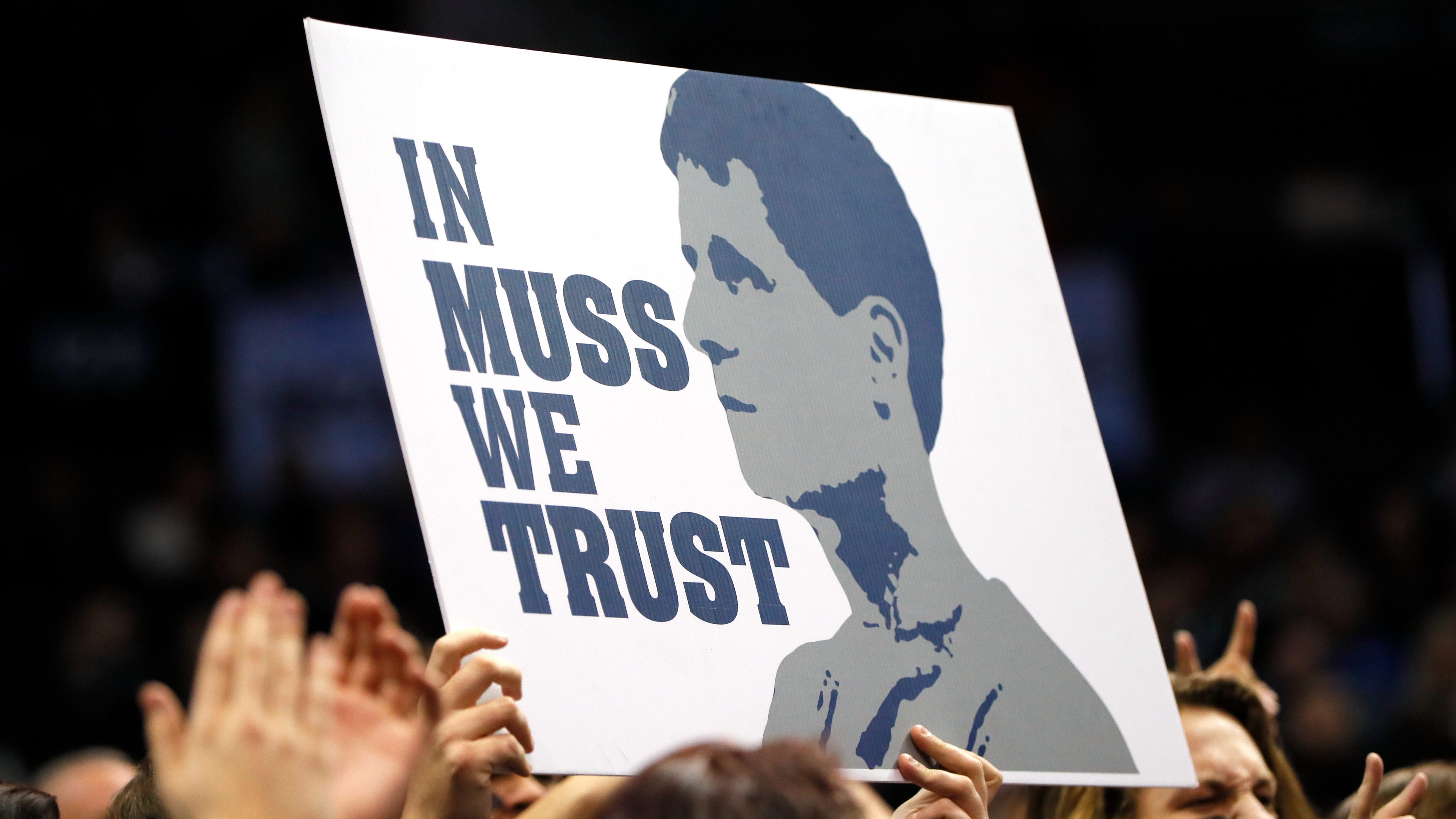 PREDICTED FINISH
1. NEVADA: Watching how Nevada operates its rotation will be something to monitor this season. Head coach Eric Musselman has typically liked to work with a shorter bench, but with this group, he has plenty of experienced options. If the Wolf Pack can interject some depth into the equation, then the Final Four is possible.
2. SAN DIEGO STATE: The Aztecs will need more from senior guard Jeremy Hemsley after a disappointing junior season. Once a double-figure scorer, if Hemsley can return to form, then San Diego State will be loaded with options in the starting lineup.
3. NEW MEXICO: To stabilize the roster, New Mexico brought in a quality stable of junior college recruits and freshmen, as some rotation pieces should also emerge from that pack. If the Lobos find some immediate contributors then they might be deeper than anticipated.
4. UNLV: Things looked promising last season for the Runnin' Rebels until they lost six of seven to finish out the season. Replacing Brandon McCoy, Jovan Mooring and Jordan Johnson will be tough, but the Rebels have some talented newcomers and forward Shakur Juiston back.
5. COLORADO STATE: New head coach Niko Medved lost Prentiss Nixon to transfer, but he inherits an experienced core. Guard J.D. Paige and forward Deion Page are senior double-figure scorers while big man Nico Carvacho is a regular double-double threat.
6. BOISE STATE: Replacing Chandler Hutchison will be next to impossible but the Broncos have hope. Justinian Jessup should be in line for a bigger season while Alex Hobbs, Zach Haney and Marcus Dickinson have all contributed in the past.
7. FRESNO STATE: All-conference guard Deshon Taylor returns to give the Bulldogs a go-to player. Transfers should play a huge part for Fresno State this season as Braxton Huggins (New Mexico State) and Noah Blackwell (Long Beach State) should contribute right away.
8. WYOMING: Losing nine players from last season (including five transfers), this Cowboy team will look like a completely different team outside of Justin James. Wyoming needs to find newcomers to supplement James' immense ability.
9. UTAH STATE: Losing Koby McEwen and DeAngelo Isby early is going to hurt. Thankfully, new head coach Craig Smith can turn to promising junior Sam Merrill as the Aggies look to get back on the winning track.
10. AIR FORCE: Two of three leading scorers return for Air Force as Lavelle Scottie and Ryan Swan are back. Expected to play slow once again, Air Force can be a tough out at home, but they need to improve dramatically on the road.
11. SAN JOSE STATE: The Spartans went 4-26 overall and 1-17 in the league as they still lost their three leading scorers to transfer. The leading returning scorers are Oumar Barry (5.8 ppg) and Noah Baumann (5.2 ppg) as San Jose State once again looks like a bottom feeder.