During the 2018-19 college basketball season, we will be taking deeper dives into the betting markets now that sports gambling has been legalized outside of the state of Nevada.
To kick the season off, we are going to break down National Title futures and which bets are worth your time and money. 
Here are the top ten teams in the NBC Sports Preseason Top 25 ranked in order of which futures bet is the best value.
REMINDER: A bet of $100 on +200 odds would win $200. A bet of $100 on +10,000 odds would win $10,000. A bet of $1 on +20,000 would win $200.
NOTE: These odds come via the Westgate Las Vegas Superbook. 
VALUE BETS
1. Villanova (+3000), No. 5 in our top 25
I may the only member of Villanova Island these days, but I'm fully bought in on the idea that the Wildcats are still national title contenders.
The narrative this team is currently facing is that they are young, which, in Villanova terms, is totally accurate. Three members of their rotation are going to be sophomores. They'll likely play at least two, if not three freshmen significant minutes. For a program that has featured at least two players receiving social security benefits in each of the last five seasons, that is quite a bit of youth.
But Villanova also has as much veteran leadership as anyone in the country. Phil Booth is a fifth-year senior that has won two national titles and has more experience that any other player in the sport. Eric Paschall only played in one national title game, but he is also a fifth-year senior with two rings to his name. Joe Cremo is an Albany transfer, but Albany has a track record of winning and Cremo is a perfect fit for the way the Wildcats want to play.
And all that comes before we start talking about the way the Villanova program operates. It's always been next-man-up, and there has always been someone ready to make that next step. Darrun Hilliard, Josh Hart, Mikal Bridges, Donte DiVincenzo. The beauty of the way Villanova operates is that there are NBA-caliber players willing to play a role for the betterment of the team, and this season I think that Paschall is going to be the guy that is the next-man-up.
A 15.9-ppg scorer at Fordham as a freshman, Paschall is a terrific athlete, an excellent three-point shooter — he shot 46.1 percent in the final three months of the season after a 1-for-25 start — and a guy primed for a breakout year. If he ends up being an All-American as I expect he will be and Booth becomes that secondary scorer, all Jay Wright needs his new faces to do are to thrive in their roles, and there is no reason that they can't.
At these odds, a $10 bet pays off $300. That's more than worth the risk.
2. Auburn (+4000), No. 10
Auburn has plenty of question marks this season. How will they handle the loss of their leading scorer, Mustapha Heron? Will the team able to effectively integrate Austin Wiley and Danjel Purifoy without messing with their style of play and their ego-less brand of basketball? What happens when the Tigers are no longer sneaking up on anyone? They are the reigning SEC co-champions and a preseason top ten team. They will be one of the biggest games on the schedule for every team they play this season.
But the key here is that while there are a couple of question marks, Auburn brings back the two most important pieces to their space-and-pace system. Jared Harper is their junior point guard and the floor general that make their fast-paced offense work. He declared for the draft but returned to school.
More importantly, however, it appears that Anfernee McLemore is healthy after a devastating ankle injury (think Gordon Hayward) that he suffered in February. McLemore is the piece that brings everything together for the Tigers. He's a hyper-athletic 6-foot-7 big man that led the SEC in blocked shots (2.7 per game) despite playing less than 20 minutes per night. He led the nation in block rate. And he shot 39.1 percent from three.
There are real concerns about this team, but the risk is baked into the odds. At 40:1, Auburn is getting better odds than Michigan, UCLA and Oregon and is at the same level as Wichita State and Indiana. I like those odds.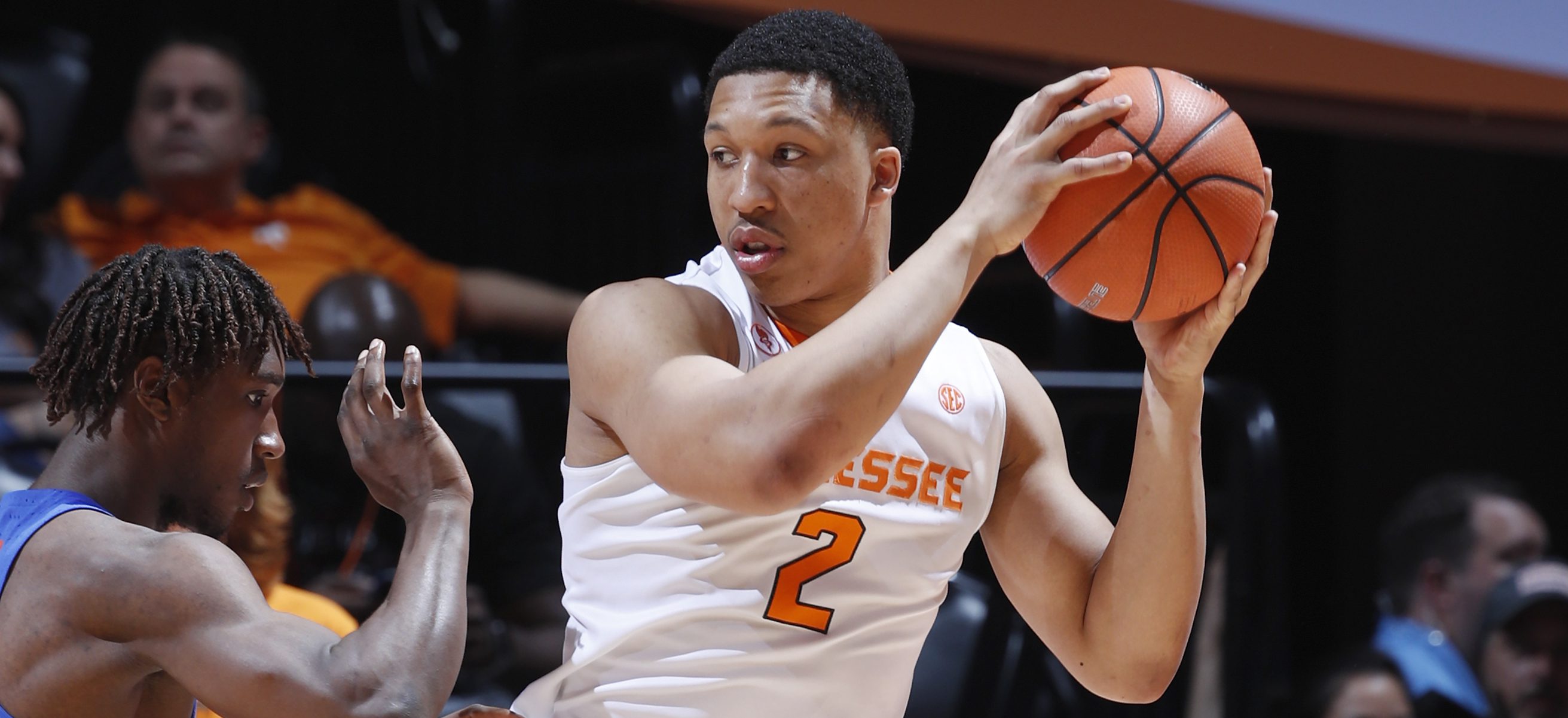 3. Tennessee (+2500), No. 7
I'm still not totally sure how I feel about Tennessee this season. It's impossible to deny the success that they had last year, coming out of nowhere to win a share of the SEC regular season title. And they bring everyone back from that team, including reigning SEC Player of the Year Grant Williams.
They are going to win a lot of basketball games this season. They are very likely going to end up getting a top three seed again. They are old, they have some star power, Rick Barnes has been to a Final Four before.
At 25:1 odds, I see the value, I'm just not sure I'm ready to pull the trigger yet. If I'm betting on someone from the SEC, it's probably going to be Auburn.
WORTH A LOOK
4. Virginia (+2000), No. 8
Look, I get it.
Virginia is scary.
In the last five years, they've been a No. 1-seed three times and a No. 2-seed once. In each of those four NCAA tournaments, they lost to a team seeded lower than them, including blowing a 15-point lead in the last ten minutes against No. 10-seed Syracuse and becoming the first No. 1-seed to ever lose to a No. 16-seed. So I understand why you would be hesitant.
But you're also getting 20:1 odds here. Remember back in 2016, when Villanova was the team that always choked in March? Or when Mark Few, or Bill Self, or Jim Calhoun, or Lute Olson couldn't win a big game? Or when the Cubs were those lovable losers that were never going to win a World Series?
This may not be the year that Virginia finally sheds the label of choke artist, but when a $100 bet pays off your phone bill for the entire year, the risk is worth it.
5. Kansas (+800), No. 1
There is a clear-cut top four in college basketball this season: Kansas, Kentucky, Gonzaga and Duke. They are the four teams with the lowest odds to win the national title, they are the four teams at the top of the NBC Sports preseason top 25 and they will be the four teams that inhabit the top four of both preseason polls.
The order that they wind up in will vary from place to place. Personally, I have Kansas at No. 1. Not only do they have a potential Player of the Year in Dedric Lawson and another potential All-American in Quentin Grimes, this is a team that has a terrific combination of talented youngsters and quality veterans. I'm a little worried about point guard play and I think that shooting will be an issue, but this group has the roster build of Bill Self's best teams: big, athletic perimeter players, a hoss at the five and a face-up four that can get 20 points on any given night.
If you want to bet on one of the top four teams this season, Kansas — who has the best odds of the four — is the one I'm looking at.
6. Gonzaga (+700), No. 3; 7. Kentucky (+600), No. 2
I don't see all that much of a difference between the Zags and the Wildcats this year. I think Kentucky probably has a higher ceiling, although their dependence on freshmen guards and the questions about who will be their go-to guy (Tyler Herro) in crunch-time are concerns. Gonzaga might have the best frontcourt in all of college basketball, but betting on them to win a national title means that you are betting on a team that will be run by Josh Perkins, and I'm not sure I'm ready to do that.
Either way, I doubt that I'll invest in any futures for either of these teams. But at their cost I don't think either are worth the payoff.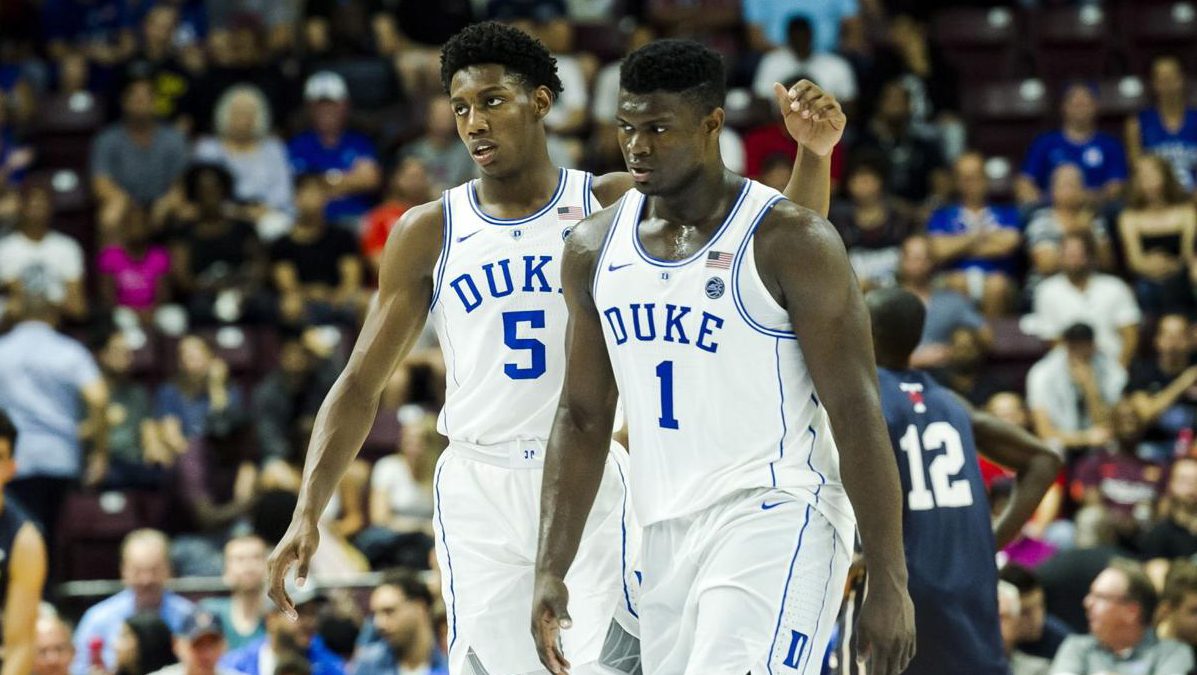 I'M STAYING AWAY
8. Duke (+500), No. 4
Everyone has a blind spot, and I think Duke might be mine. I am lower on the Blue Devils than the rest country. I did not really consider them for the top three in my rankings because I am really concerned about the way the pieces on this roster are going to come together.
There is no questioning the talent that will be on display here. RJ Barrett looks like the favorite to be the No. 1 pick in the 2019 NBA Draft. Cam Reddish might have the highest upside of anyone in the draft class. Tre Jones has all those point guard qualities Duke has been trying desperately to find for the last three seasons. Zion Williamson is Zion Williamson.
What concerns me is that the Blue Devils' four best players are all going to operate best with the ball in their hands. There is also going to be a lack of shooting on this roster, and I'm not fully convinced that Coach K has figured out how to make these one-and-done rosters as good as he needs them to be defensively.
If they do end up winning the title, I will not be cashing a ticket. At the lowest odds of any team in the country, I'll let someone else make that bet.
9. Nevada (+1200), No. 6
When the odds for the 2019 national title were first posted, Nevada checked in at (+6000). I would have been all over the Wolf Pack at 60:1, but once the Martin twins both announced that they would be returning to school for their final year of eligibility, those odds fell to 12:1. They now, according to the Westgate, are the sixth-most likely team to win the national title. I have them sixth-nationally heading into the season.
If you feel strongly that this is the year Eric Musselman's crew can win a title, make the bet. I don't hate it. But at these odds, I won't be there with you.
10. North Carolina (+800), No. 9
I actually think the Tar Heels have a chance to be pretty good this season. I have them ninth in the preseason top 25. They have an All-American in Luke Maye and a future top three pick in Nassir Little. They might win the ACC. They're good.
They're also getting the same odds as Kansas — who I have as the preseason No. 1 team in the country — and are sitting between Tennessee (+2500), Virginia (+2000), Auburn (+4000) and Kansas State (+8000) in my rankings.
They could win the title, but at 8:1 odds I'm not going to be the guy betting on it.