Beginning in September and running up until November 6th, the first day of the season, College Basketball Talk will be unveiling the 2018-2019 NBCSports.com college hoops preview package.
Every day at Noon ET, we will be releasing an in-depth preview of one member of our Preseason Top 25.
Today we dive into No. 9 North Carolina.
---
North Carolina has been the most successful program this side of Villanova over the course of the last five years because they bucked the trend, whether that was the plan or not.
In an era where the other bluebloods have chased one-and-done talent and rebuilt their roster each and every offseason, the Tar Heels reached the 2016 national title game and won the 2017 national title on the backs of veterans.
Marcus Paige, Justin Jackson, Joel Berry II, Kennedy Meeks, Brice Johnson, Isaiah Hicks, Theo Pinson. Roy Williams went from being a Hall of Famer to one of the very best to ever do it thanks to players that stuck around for three or four years.
Now that might not have been by design.
The scandal that enveloped the UNC athletic department for years took some of the luster off of the program. Concerns about whether or not the program would be eligible for the NCAA tournament played a role in why a handful of those one-and-done prospects — namely, Brandon Ingram — ended up elsewhere.
This season is different.
For the first time in years, the Tar Heels will be relying quite heavily on a pair of highly-touted freshmen to carry them.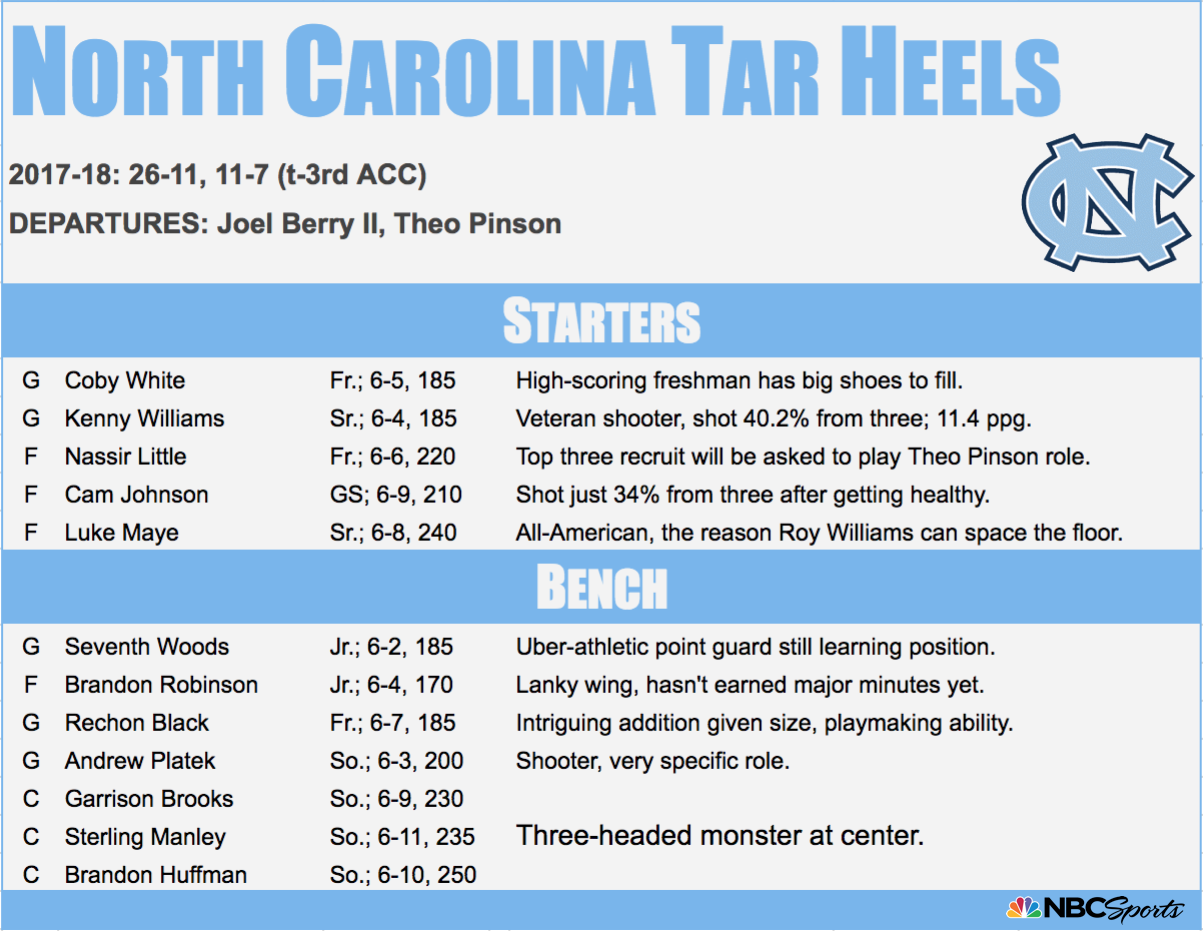 NORTH CAROLINA WILL BE GOOD BECAUSE …
When Luke Maye committed to North Carolina in the fall of 2014, no one in the country thought much of it. Here was a three-star recruit, an in-state kid and the son of a former Tar Heel quarterback, committing to program that he had loved his entire life. The most notable thing about his decision to enroll at UNC was that he was, for a long time, the only member in Roy Williams 2015 recruiting class thanks to the academic scandal that was still hanging over the program at the time.
For forward three years, and Luke Maye had turned a memorable buzzer-beater during a national title run into an all-american season.
And now, he will enter the 2018-19 season as the best returning player in all of college basketball.
If you predicted that would happen, please buy me a Powerball ticket and predict the winning numbers.
In all seriousness, Maye is a terrific talent and almost the antithesis of a Roy Williams big man. For years and years, Williams was one of the last coaches to embrace the small-ball movement, but as his roster dictated it, he made the change last season and bought in. UNC's best lineup a season ago featured Maye — a 6-foot-9 forward who is at his best as a shooter or when he has the chance to face-up — at the five with Cameron Johnson — a 6-foot-8 shooter that is officially listed as a guard — at the four. Johnson, along with fellow senior Kenny Williams, will join with Maye to provide Ole' Roy with plenty of shooting and plenty of veteran leadership.
And, unlike past seasons, that group will be joined by a pair of five-star freshmen in Nassir Little and Coby White.
Little is the name to know here. He's a consensus top three player in the class and, depending on how R.J. Barrett performs cross-town at Duke, he could end up being the No. 1 pick in the 2019 NBA Draft. He's a perfect fit alongside Maye and Johnson, as he is more toolsy and, at 6-foot-6 and 220 pounds with a 7-foot-1 wingspan, known more for what he can do defensively. White is the bigger question mark, but we'll get into that in a bit.
The Tar Heels have a really nice blend of role-playing veterans and talented freshmen to go alongside their all-american senior.
They are also going to be coached by Roy Williams, who is definitively one of the best to ever do it.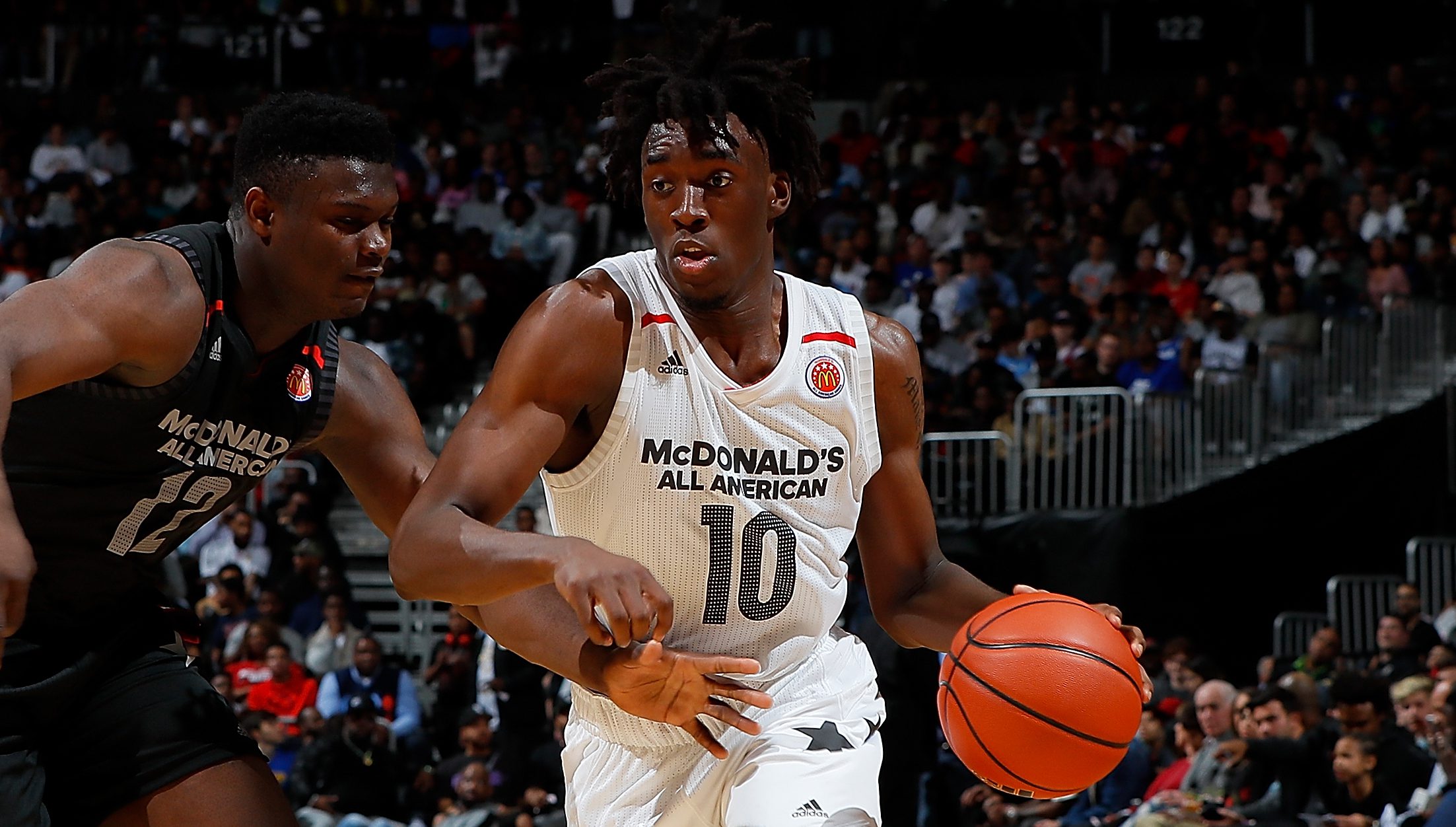 BUT NORTH CAROLINA IS GOING TO STRUGGLE BECAUSE …
I may be in the minority here, but I actually think that losing Theo Pinson is going to hurt North Carolina more than losing Joel Berry II.
That's not meant as a shot at Berry, either. He was terrific. He was the MOP when the Tar Heels cut down the nets in 2017. He played in two national title games. His resume speaks for itself.
What he did for this North Carolina team, however, can more easily be replaced than what Pinson did. Berry may have played the point for the Tar Heels last season and he may have been the 'one' in Roy Williams' secondary break, but for all intents and purposes, Pinson was the playmaker on that Tar Heel team the last two years. He's the guy that made things have in the halfcourt, helping to break down a set defense. He's the guy that led the program in assists. He was their most important player for long stretches, and while the Tar Heels bring in guys that can score, they don't have someone that can do the things that Pinson did.
But that doesn't mean that UNC won't miss Berry, who provided the kind of leadership every team in the country needs. That's not necessarily something that can be coached into you. You either have it or you don't, and Berry had it.
And all of this becomes more relevant when you realize that UNC will likely end up starting a freshman at the point this season …
THE X-FACTOR
… and that brings me to Coby White.
First things first: Roy Williams, more than anything, is known for being a coach that wants to play two bigs as much as possible. He's also known as a coach that prioritizes playing in transition, that runs a lethal secondary break and that attacks the glass with abandon.
The other thing that Williams' best teams have been known for has been point guard play.
Ray Felton was the starter with the Tar Heels won the 2005 national title. Ty Lawson ran the show when North Carolina cut down the nets in 2009. The 2017 title saw UNC led by Joel Berry II, who isn't going to have the NBA career of the other two but who was an all-american in his own right. In 2012, the year where the Tar Heels were the one team that could have kept John Calipari from getting his national title with Kentucky, North Carolina had Kendall Marshall at the point.
Marshall was a pure point guard in every sense of the word, but he's also something of the outlier in this group.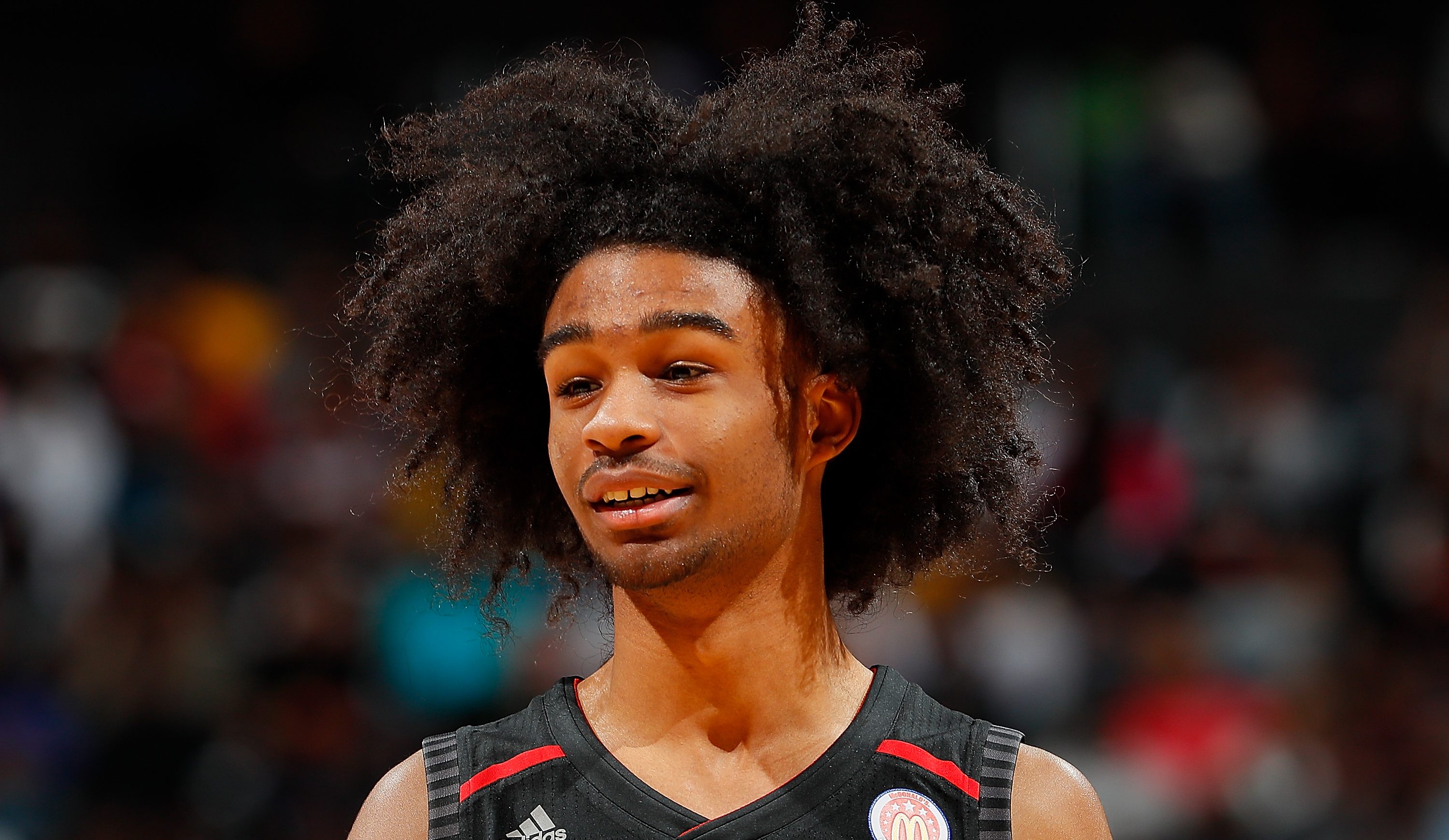 Berry was more of a natural scorer than he was a playmaker, as Pinson was the guy that North Carolina ran their offense through last season. Felton and Lawson both put up big assist numbers in their time in college — both were clearly more than capable as playmakers — and while they weren't exactly score-first, they certainly were scoring point guards. Having a player that can go coast-to-coast, having a lead guard that can get him 20 points on any given night, that's what Williams' best teams have had. It's part of what makes his offense work.
And that's where Coby White comes into play.
A low-end five-star prospect, White is a 6-foot-5 combo-guard that scored a state-record 3,573 points while in high school, a downright ludicrous number that should tell you all you need to know about his reputation as a bucket-getter. It also provides the clear contextual concerns for this UNC team: Not only is White looking at stepping into the ACC as a starting point guard as a freshman, he's potentially doing so as a score-first combo on a team where he will be surrounded by plenty of shooting and a roster full of veterans, particularly UNC's all-american big man, Luke Maye.
It's almost counter-intuitive to say this, but the freshman that could end up being a top two pick in the 2019 NBA Draft — Nassir Little — is less important to North Carolina's success this season than the freshman that profiles as their next three- or four-year starting point guard.
How quickly will White adjust to playing at the one in the ACC? Can he score at that level? Can he also be more than just a scorer at that level?
The answers to those questions could end up being the difference between the Tar Heels competing for the ACC title and making a run at a Final Four and finishing the year as something closer to a No. 6 seed.
2018-19 OUTLOOK
The Tar Heels should be fine.
They are old, they are talented and they have at least one all-american on a roster that is going to be coached by a Hall of Famer.
That's enough to win a lot of basketball games.
That said, given the question marks we do have about their point guard situation, I think the ceiling on this team is a little bit limited. In a one-off competition like the NCAA tournament, anyone can win, I just find it difficult to believe that the Tar Heels are going to have the horses to make a run at getting back to the Final Week of the season.
THE REST OF THE TOP 25
No. 10 Auburn
No. 11 Kansas State
No. 12 Virginia Tech
No. 13 Michigan State
No. 14 Florida State
No. 15 TCU
No. 16 UCLA
No. 17 West Virginia
No. 18 Oregon
No. 19 Syracuse
No. 20 LSU
No. 21 Mississippi State
No. 22 Clemson
No. 23 Michigan
No. 24 N.C. State
No. 25 Marquette