Beginning in September and running up until November 6th, the first day of the season, College Basketball Talk will be unveiling the 2018-2019 NBCSports.com college hoops preview package.
Today, we are previewing the Big East Conference.
---
What do we make of the Big East this season?
Villanova is the headliner after winning its second national title in three seasons, but Jay Wright's program is also emblematic of what's going on across much of the league – turnover.
The Wildcats lost four of their top players.
Xavier turned over its roster and lost its head coach.
Creighton said goodbye to its backcourt.
Seton Hall bid farewell to Angel Delgado, Desi Rodriguez and Khadeen Carrington.
Does all that change clear a path for new challengers like Marquette or St. John's, or does it simply mean more of the same with reloading over rebuilding?
Let's dive into the Big East.
FIVE THINGS YOU NEED TO KNOW
1. Are the 'Cats back?
Jay Wright might not be in the one-and-done business, but he's about to be tasked with something his colleagues who are, like John Calipari or Mike Krzyzewski, go through each and every year — rebuilding a winner from near-scratch. Villanova lost its top four scorers (to the first 33 picks of the 2018 NBA Draft) off a team that won a second national title in three years, and while a step back is probably inevitable, the size of the stride might be negligible.
Sure, Jalen Brunson, Mikal Bridges, Donte DiVencenzo and Omari Spellman are collecting NBA paychecks, but Eric Paschall and Phil Booth are still Villanova students, as are five-star freshman point guard Jahvon Quinerly and the rest of rest of Wright's top-10 2018 recruiting class. Things ain't exactly dire for Villanova. How far the 'Cats slide — or how high they fly, depending on your perspective — may very well hinge on how Paschall steps into a starring role. He was an exactingly efficient offensive player a year ago, but he was also playing with four soon-to-be draft picks. If he's able to join those ranks in a few months, Villanova probably isn't going to be far off from the top of the Big East standings.
Or national rankings.
2. Xavier bets on itself
It's always struck me as a little wild that you can draw a straight line from Socrates to Plato to Aristotle. The first taught the second, who taught the third. That's some serious historical firepower, all one after the other. Now, I'm not saying Xavier's coaching lineage is comparable to the development of the philosophy that has served as one of the primary influences of western civilization, but maybe I am?
Skip Prosser to Thad Matta to Sean Miller to Chris Mack. That's incredibly impressive longevity* with home run hire after home run hire. Xavier really is a model of consistent excellence on the bench. So, um, no pressure, Travis Steele.
*And, not that we're keeping score or drawing out this dumb comparison, but that's four (4) super successful college basketball coaches to three (3) revolutionary philosophers. Draw your own conclusions, is what I'm saying.
With Mack moving on to Louisville to replace a Hall of Famer, X turned to Steele, a Musketeer assistant for 10 years. Spending a decade at Xavier and working for both Miller and Mack seems to be resume enough to take over the program, given its history. Steele, though, will have to do more than rely on Xavier's legacy of winning as Mack's departure coincides with those of Trevon Bluiett, Kerem Kanter and J.P. Macura, a trio that won a lot of games in Cincinnati. Quentin Goodin, thankfully for Steele, is still with Xavier as are a host of grad-transfers that will help hold the fort until Steele's top-15 2019 recruiting class gets to campus.
If, as my man Aristotle said, "We are what we repeatedly do. Excellence, then, is not an act, but a habit," then Xavier certainly has developed a habit over the last 20 years. Can Steele maintain the routine?
3. Mullin's make-or-break
Whatever designs St. John's had on a quick rebuild when it hired legendary alum and Dream Teamer Chris Mullin have not materialized. Mullin has three successive losing seasons to his credit in Queens (though the Red Storm have increased their win total each year) and seven conference wins has been the high-water mark. St. John's dreamed of the instant-turnaround that Fred Hoiberg, who also had NBA front office experience but no coaching resume, produced at his alma mater, Iowa State, but all they've done is exacerbate the slide that started under Steve Lavin.
If that's going to change, it's probably going to have to happen this season.
Mullin has without a doubt his most talented roster, and it's one that has the look of being capable not only of breaking that .500 barrier, but competing, truly competing, in the Big East. Shamorie Ponds flirted with an NBA future, but instead returned for his junior season and will be a conference player of the year candidate. The Red Storm also were given a gift when the NCAA declared Auburn transfer Mustapha Heron immediately eligible, giving them one of the country's most dynamic backcourts. St. John's also has Justin Simon and Marvin Clark back plus some other intriguing transfer options.
With talent in tow, consistency and identity will likely be what determines St. John's level of success this season. They've never really had either under Mullin, but they haven't had this kind of roster, either.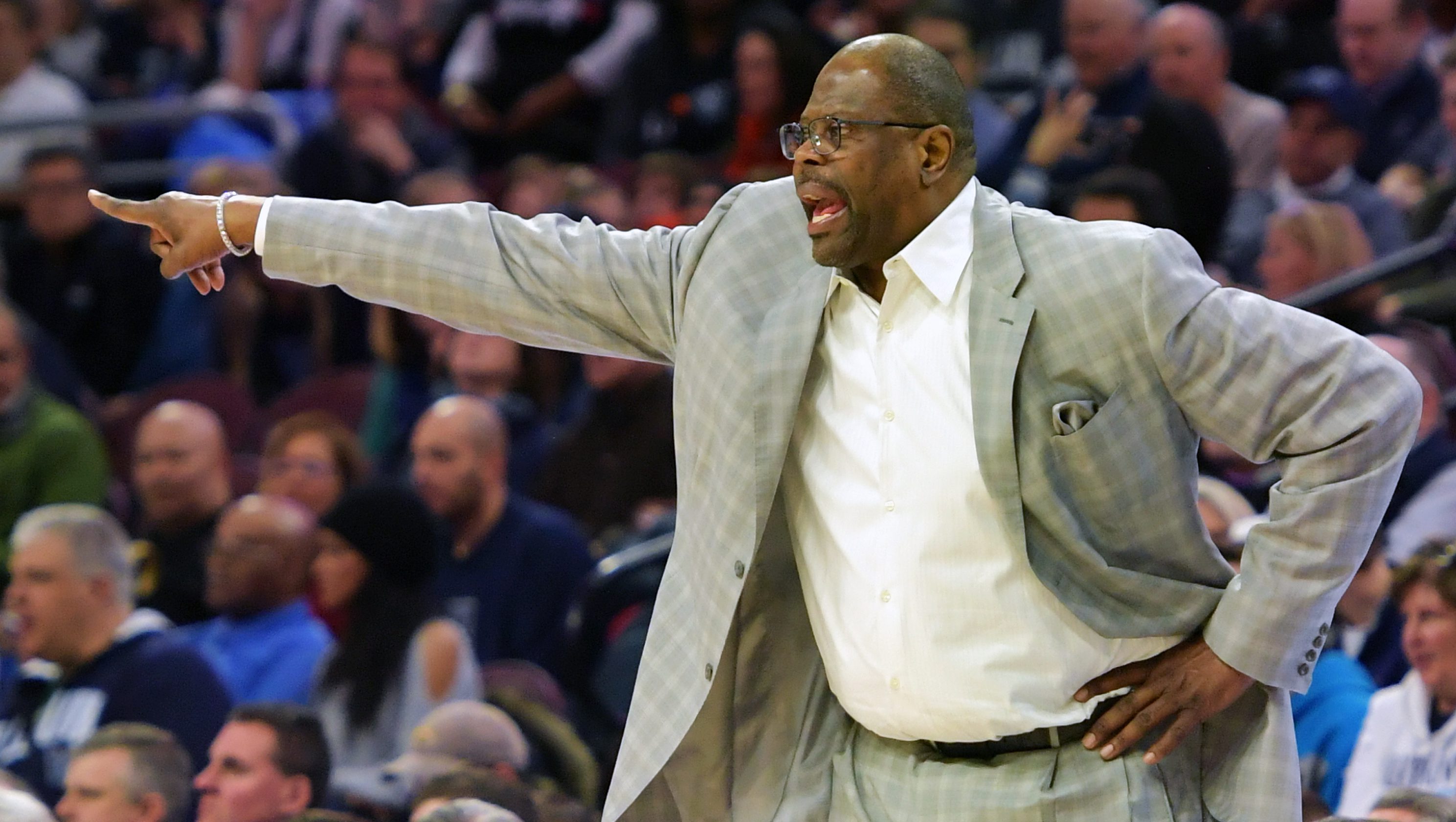 4. Ewing's Year 2
Mullin isn't the only Dream Teamer in the Big East, and he's not the only one looking to build his alma mater back to former glory. Patrick Ewing's first season at the helm at the Hilltop was something of a mixed bag in that the Hoyas didn't win a ton of games, but the expectation wasn't really that they would. Georgetown was pretty middling at everything (84th in offense and 119 on defense, according to KenPom) and the only two wins of note came back-to-back in February when the Hoyas beat Seton Hall and Butler.
So what's the expectation for Ewing's second season? Well, they're not exactly raised exponentially. They are, however, raised, especially with Jessie Govan's decision to return for another season. The 6-foot-10 big man averaged 17.9 points and 10 rebounds per game as a junior, flashing elite skill on the boards and production on offense. Freshmen James Akinjo and Mac McClung inject some talent and excitement into the program as well. None of that likely adds up to a ton of wins, but there's enough there to believe that Ewing has the Hoyas on a positive trajectory.
5. Marquette's offense leads the way
Steve Wojciechowski may have lost Andrew Rowsey, who made 41.5 percent of his 301 3-point attempts, from last year's team, but there remains plenty of offensive firepower in Milwaukee, starting with Markus Howard. The 5-foot-11 junior is among the country's best shooters after going 46.4/40.4/93.8 last season, and will be a frontrunner for conference player of the year honors. Pair him with Sam Hauser, who shot 48.7 percent from 3 last year, and you've got yourself some long-range threats. Hauser's younger brother, Joey, will also join the ranks this season, and the top-55 recruit should only bolster Marquette's march toward being one of the best offenses in the country.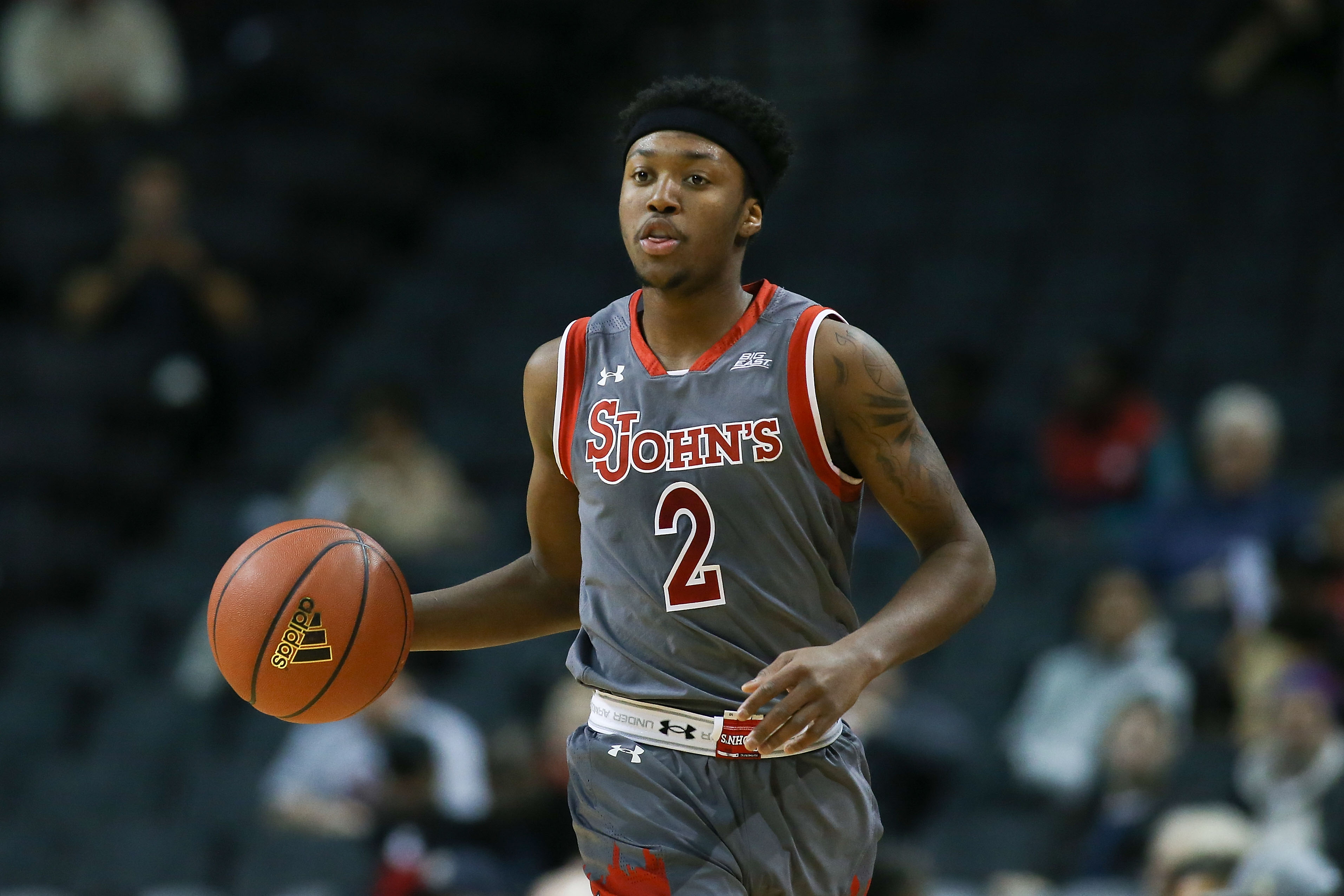 PRESEASON BIG EAST PLAYER OF THE YEAR: SHAMORIE PONDS, St. John's
There are plenty of contenders here in what will be a wide-open race, but the nod goes to Ponds, who will need to put up huge numbers if the Red Storm, even with Mustapha Heron in the fold, are going to find some success and get back to the NCAA tournament. He averaged 21.6 points per game last season, but also had one of the better assists rates in the country. Ponds also was productive defensively with 2.3 steals per game.
Ponds' raw numbers might not duplicate what he did last year, but Heron's presence should ease some of the burden that Ponds had offensively last year as he carried St. John's offense with a huge usage rate. That should come down and allow his efficiency numbers to tick up – though his 3-point shooting will have to revert from his sophomore season (25.1) to his junior numbers (37.5) – and keep the Red Storm offense humming.
THE REST OF THE BIG EAST FIRST TEAM
MARKUS HOWARD, Marquette: One of the country's best shooters, Howard will be the engine of Marquette's offense.
ERIC PASCHALL, Villanova: With much of last year's national championship roster in the NBA, Paschall will move into a major role – with major responsibilities.
KAMAR BALDWIN, Butler: Baldwin took an expanded role and ran with it last year, and he's on pace to be one of the best scorers in Butler history.
PHIL BOOTH, Villanova: Booth had a strong 2017-18 dispute injury and he'll be called upon to keep the Wildcats' elite status.
FIVE MORE NAMES TO KNOW
SAM HAUSER, Marquette
ALPHA DIALLO, Providence
MUSTAPHA HERON, St. John's
MAX STRUS, DePaul
MARTIN KRAMPELJ, Creighton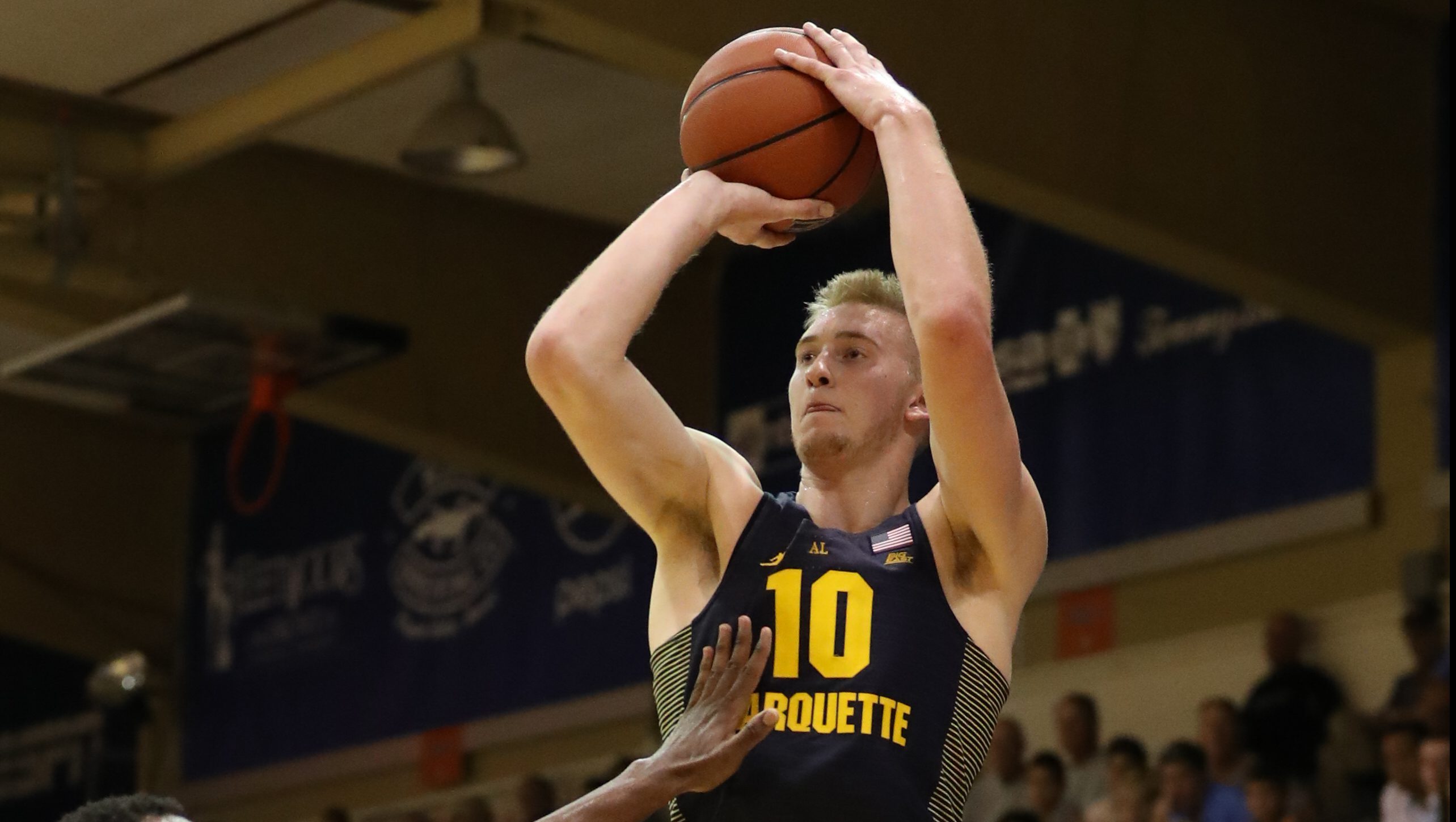 BREAKOUT STAR
Markus Howard is going to generate the headlines and most of the attention for Marquette heading into the season, but Sam Hauser deserves some notice as well. The 6-foot-8 Wisconsin native shot an eye-popping 48.7 percent from 3-point range, and it wasn't a product of a small sample size as he hoisted 195 shots from distance. He needs to defend better to transform into something special, but his shooting alone makes him likely to have a couple monster nights in the Big East.
COACH UNDER PRESSURE
Dave Leitao took DePaul to the NIT and back-to-back NCAA tournaments in his first stint with DePaul back in the early 2000s. His first three years back with the Blue Demons have gone…not as well. DePaul has gone 29-65 overall and 9-45 in Big East play during his second tenure. Safe to say, a program like Virginia ain't about to come calling like the last time. It's a very different world for the Blue Demons since Leitao led them to success, starting with the fact competing in the Big East is vastly different than doing it in C-USA. Given Leitao's track record with the Cavaliers and now a three-year sample at DePaul, there doesn't seem to be a lot of reason for hope that things will turn around for the Blue Demons.
ON SELECTION SUNDAY WE'LL BE SAYING …
The Big East doesn't have any national-title favorites, but the strength of the league could put a few teams into the second weekend.
I'M MOST EXCITED ABOUT …
The conference's guard play, from St. John's Ponds-Heron duo to Marquette's 3-point specialists to Villanova's quest to replace Jalen Brunson to Kamar Baldwin running the show in Indianapolis, there's a lot to like about the Big East's backcourts.
FIVE NON-CONFERENCE GAMES TO CIRCLE ON YOUR CALENDAR
Dec. 15, Villanova vs. Kansas

Dec., Georgetown vs. Syracuse
Dec. 29, Butler vs. Florida
Dec. 1, Creighton vs. Gonzaga
Dec. 1, Seton Hall vs. Louisville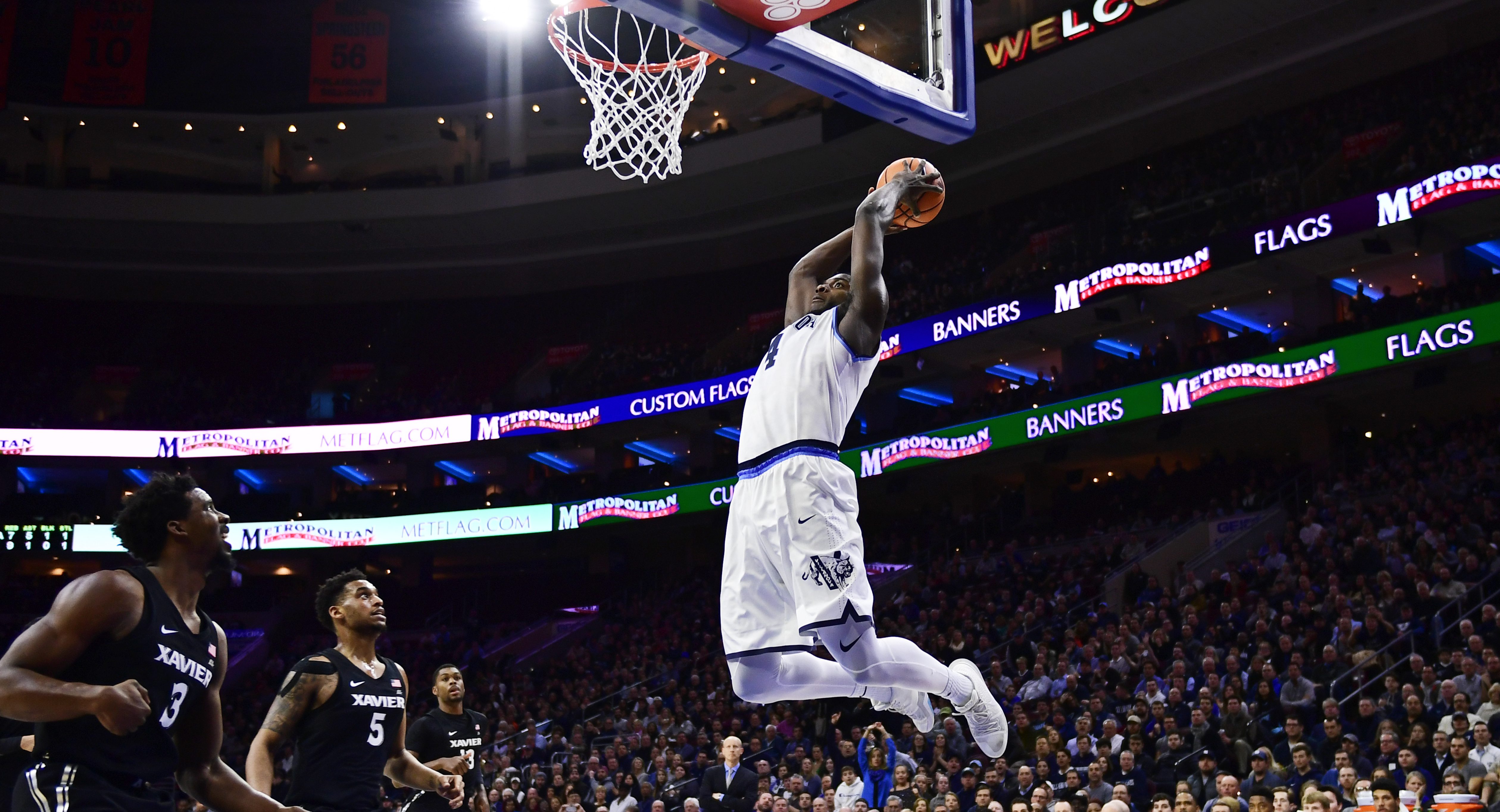 PREDICTED FINISH
1. VILLANOVA: Yeah, there are plenty of questions about how Villanova will reload given the heavy losses it sustained, but with how Jay Wright has navigated the program in recent years, is there really any doubting him? The Wildcats have put themselves among the premier programs in the country, and they've done it by replacing stars with stars. There are candidates on this roster, and here's guessing they reach their potential.
2. XAVIER: Xavier decided to do what it does when it promoted Travis Steele, and given the history of hires at X, there are two ways to look at it. Either, one, this is a school that simply does not miss on coaches, or, two, they're due for a dud.
Here's guessing Xavier knows what it's doing.
The Musketeers will have their work cut out for them this season with losses like Trevon Bluiett and J.P. Macura (plus Sean O'Mara, Kerem Kanter and Kaiser Gates), but the infrastructure and culture remain and there is still talent on the roster. They'll need more from Quentin Goodin and Naji Marshall and the graduate transfers like Zach Hankins, Ryan Welage and Kyle Castlin will have to contribute, but Xavier has been through this before. It's worked out.
3. PROVIDENCE: The Friars have been to five-straight NCAA tournaments and coach Ed Cooley has some major holes to fill after the departures of Kyron Cartwright and Rodney Bullock, but the presence of Alpha Diallo and a healthy Emmitt Holt could be enough to catapult them to toward the top of the league. The 6-foot-7 Diallo will be asked to shoulder a significant burden on both ends of the floor, but his versatility and ability to score around the bucket make him a strong candidate for that role. An abdominal injury robbed Holt of last season, but if his health holds up this season, he and Diallo make for a formidable one-two punch.
4. ST. JOHN'S: The Red Storm already looked poised to make a move up the standings when Shamorie Ponds decided to return for his junior season, but the NCAA's decision to grant Mustapha Heron immediate-eligibility after his transfer from Auburn solidifies the expectation that this is the year Chris Mullin breaks through to an NCAA tournament. That's what happens when you're projected to have one of the best backcourts in the country.
The Red Storm actually put up strong defensive numbers last season after being pretty mediocre on that end in Mullin's first two years, but the offense sagged with Ponds simply carrying too much of the load. If they can build on what they did defensively last year and use the Ponds-Heron backcourt to power the offense, the hopes the program placed in Mullin might prove justified.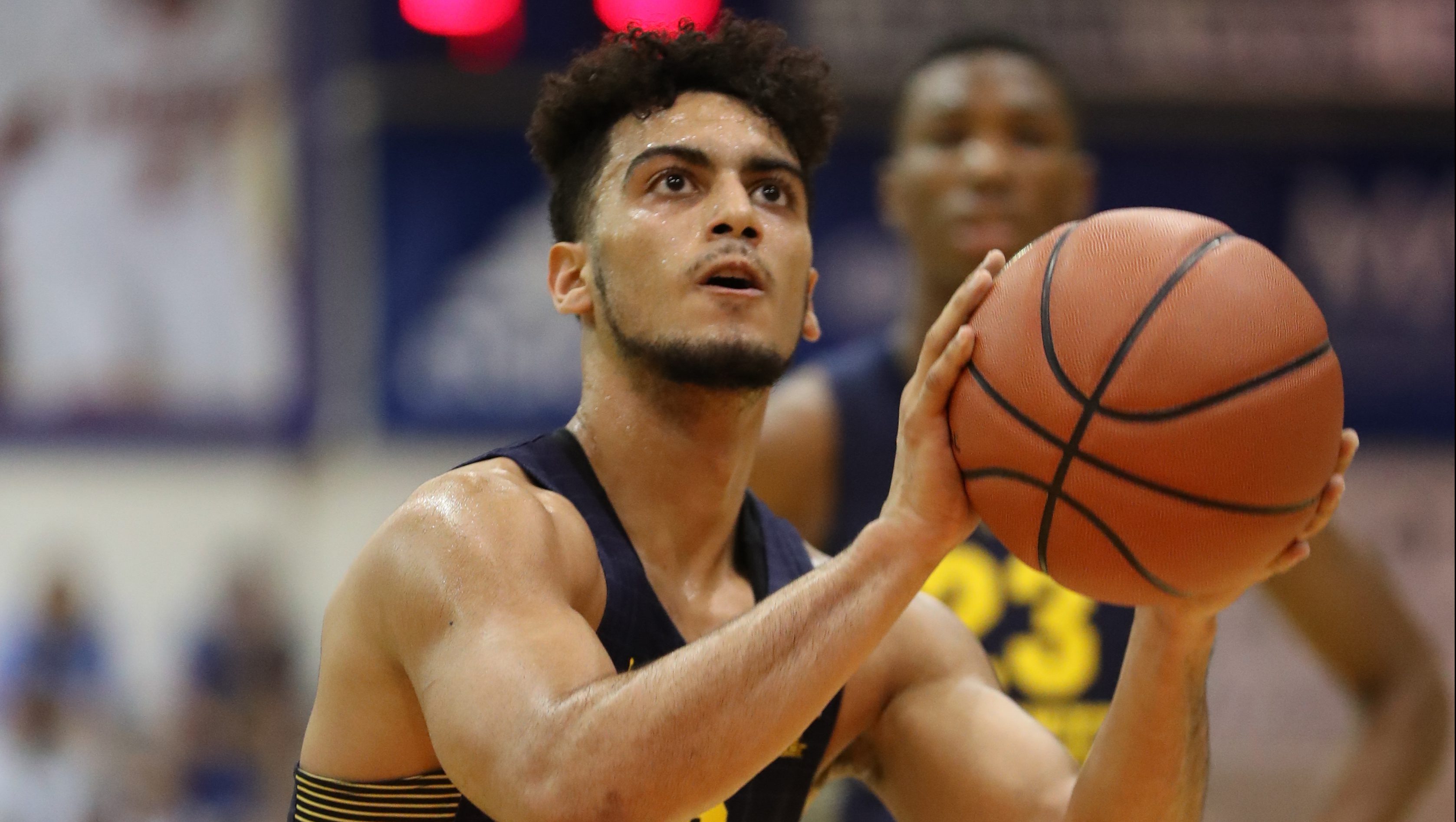 5. MARQUETTE: The Golden Eagles are going to score. A lot, probably. Markus Howard is going to get buckets. So is Sam Hauser. Joey Hauser, probably too. Fordham grad transfer Joseph Chartouny is a nice addition as well. Marquette is going to put the ball in the basket.
Can they keep their opponent from doing the same with any sort of consistency? That'll determine their season's fate. Marquette's defensive ranking at KenPom has slipped in every season under Steve Wojciechowski, from 69th in his first season to 182nd last year. That's kept the last two teams, both having awesome offenses, from thriving. If it doesn't improve this year, it'll likely make it three in a row.
6. BUTLER: This feels too low for a Bulldogs team that weathered the loss of Chris Holtmann a year ago to go to a fourth-straight NCAA tournament and returns three starters, including Kamar Baldwin, but they'll have to do some serious retooling after the graduation of 2,000-point scorer Kelan Martin, around whom everything revolved offensively.
Baldwin will be the key here as he steps into a bigger role and will be the focal point of defensive strategies. He was good last year, but also was short of great and that was with an All-American candidate by his side. If he grows along with his role, the Bulldogs will be just fine in their second year under LaVall Jordan.
7. SETON HALL: It's a new chapter of hoops for Seton Hall and coach Kevin Willard with the losses of program stalwarts Desi Rodriguez, Khadeen Carrington and Angel Delgado, who helped lead the Pirates to three-straight NCAA tournaments and arguably keep Willard in place at Seton Hall after five-straight NCAA tournament-less seasons previously. That's the type of chapter Seton Hall would just assume not re-read.
Myles Powell's ability to assume a huge role will likely determine how the Pirates' season unfolds. He was a supporting character a year ago, but was effective in his limited workload, converting at a 37.9 percent clip from deep and 43.3 percent overall. He'll need to improve as a distributor and trim the turnover rate, but he'll be given the opportunity to flourish.
8. GEORGETOWN: Most believe that Patrick Ewing is doing good things with his alma mater. That the program is poised to make progress and that, eventually, he'll get the Hoyas back in the NCAA tournament. There's maybe just not all that much to get excited about this season.
Jessie Govan is undoubtedly one of the Big East's top players, but it's hard to look at the rest of the roster and forecast a major improvement from last season's team that won just five conference games. If some of the youngsters pan out immediately, maybe, but the upside just doesn't appear to be all that significant for Ewing's Hoyas in Year 2.
9. CREIGHTON: If history is a guide, Greg McDermott will get Creighton back to the NCAA tournament. It just might take a little bit. The Blue Jays will have to rebuild after losing their do-everything backcourt of Marcus Foster and Khyri Thomas but there are pieces in place to make that happen. Maybe just not this year.
It's not unlike McDermott's job after his son, Doug, wrapped up a historic career. The Blue Jays went to three-straight tournaments before a two-year hiatus gave way to the last two seasons' success. Creighton may hit pause this year, but the Mitchell Ballock has the look of a potential future star and Creighton has raised its profile enough to believe it'll be able to find a third era of success under McDermott.
10. DEPAUL: The Blue Demons have steadily upped their talent level as Dave Leitao makes another go at it in Chicago, but it has been significant enough through three seasons to really matter as they've finished last in the Big East in back-to-back years after finishing ninth in Leitao's first season back at DePaul.
Max Strus proved he was a Big East-caliber player after starting his career in Division II, and Illinois transfer Jalen Coleman-Lands is a 3-point threat. The rest of the roter, though, remains largely unproven.