Beginning in September and running up until November 6th, the first day of the season, College Basketball Talk will be unveiling the 2018-2019 NBCSports.com college hoops preview package.
This year's freshman class is, frankly, not all that great.
There are a couple of big time talents at the top, there handful of players with all-star potential at the next level and, of course, there is the biggest social media star in the history of high school sports coming through with this class.
Where this particular recruiting class is loaded is at the wing spot, the combo-forwards that can guards twos, threes and fours and are skilled enough offensively to fit in an offensive system that spaces the court.
Those are the guys who have the long-term potential to intrigue NBA teams.
The question we probably have to ask right now is whether or not those players will impact the college game this season the way we think they could impact the NBA in three or four years.
Anyway, here are all the freshmen you should become familiar with heading into this college basketball season.
TEN NAMES YOU NEED TO KNOW
R.J. BARRETT, Duke: The Canadian wunderkind has already made himself the future of his country's senior national team as the 6-foot-7 Barrett spent this summer training and playing against older professional players. Now, Duke is hoping that Barrett is the go-to player who can help lead them to another national title. Although Barrett is surrounded by one of the most talented, and well-known, recruiting classes in history, there is a reason he's viewed as the potential No. 1 pick in the NBA Draft. It's because Barrett has been a winner at all levels while showing a killer instinct for scoring and making plays. A dynamic two-way wing, who also shows a strong competitive nature, Barrett is going to have plenty of monster highlights this season. Barrett doesn't need to be Duke's go-to player every night for them to win. But the Blue Devils need Barrett to be elite if they want to be in Minneapolis at the end of the season.
ZION WILLIAMSON, Duke: Barrett might be the better overall player and NBA prospect, but Williamson is undoubtedly the bigger star. The brightest star at the high school level since LeBron, the 6-foot-6, 285-pound Williamson became an international sensation during the past few years. Built like an NFL defensive lineman with graceful and powerful leaping ability, Williamson is a double-double machine who has generated hundreds of millions of views thanks to his electric above-the-rim play. It's unclear how Williamson's role might look at Duke — will he be a small-ball big man or a wing who can push in transition? — but he looked dominant at times during the team's summer exhibition tour to Canada. If Williamson's inconsistent perimeter jumper improves, he could be a lethal college scorer.
ROMEO LANGFORD, Indiana: There might not be a freshman in college hoops facing more pressure than the 6-foot-4 Langford. Already a legend in Indiana since his sophomore season of high school, the shooting guard staying home gives the Hoosiers a top-five prospect and a potential go-to scorer to build around. The first Indiana Mr. Basketball to pledge to Indiana since Cody Zeller in 2011, Langford is a talented three-level scorer who is capable of getting hot and having a monster night. On the other end of the spectrum, Langford has also had questions about his intensity, as he has run hot-and-cold at times during his prep career. But when Langford's on, there isn't a more naturally talented freshman scorer in this class outside of Barrett.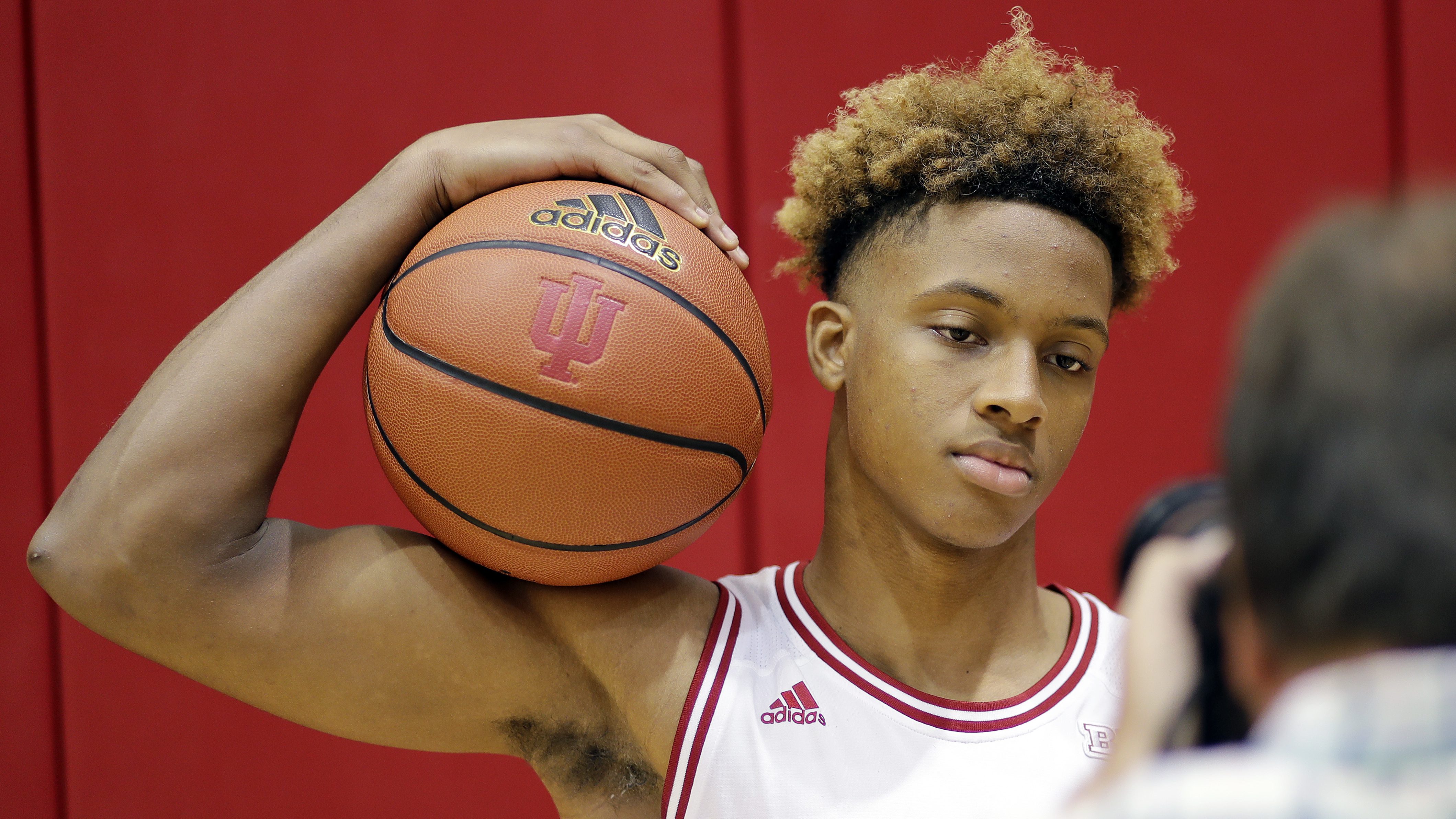 NASSIR LITTLE, North Carolina: The highest-rated North Carolina recruit in years, the 6-foot-7 Little enters Chapel Hill with tons of hype this season. A late-blooming forward who morphed more into a wing during his senior season in high school, Little is a high-motor double-double threat with a developing perimeter skill level. While North Carolina doesn't need Little to be a go-to player this season, the Tar Heels still need Little to come through with some big-time production, as they'll likely count on him to produce right away. If Little shows consistency with his jumper, then he'll be a menace to defend thanks to his quick leaping and ability to score at the rim.
QUENTIN GRIMES, Kansas: Reigning MVP of the 2018 FIBA Americas, the 6-foot-4 Grimes helped USA Basketball capture a gold medal at the event. With his future head coach, Bill Self, already coaching him with Team USA this summer, Kansas will have plenty of ideas on how to unleash the talented guard during the season. Grimes is an explosive scorer who is also skilled enough to have the ball in his hands to run some point. If Grimes can shoot a consistent deep ball, then he will be one of the toughest covers in the country this season.
CAM REDDISH, Duke: The 6-foot-7 Reddish is the least-famous member of Duke's star-studded recruiting class. He's not a YouTube sensation, or the younger brother of an NBA player, or the face of a country's youth basketball program. But it would be really foolish to count out Reddish's ability and act like he's some second-fiddle player. Because this dude is a cold-blooded scorer when he gets rolling. With a developed perimeter game, and the ability to go on extended scoring runs from all over the floor, Reddish can take over a game whenever he sees fit. Reddish's biggest problem has been maintaining consistent intensity while practicing good shot selection. The game comes easy to Reddish, so he takes plays off and challenges himself by taking difficult shots. But once (if?) Reddish figures out how to make things simple, good luck stopping him.
DARIUS GARLAND, Vanderbilt: A monster local five-star grab who should immediately have the ball in his hands, the 6-foot-2 Garland is one of the premier freshman point guards in this class. Silky with the ball in his hands, Garland has a feathery touch on his jumper to go along with a penchant for making others around him better. Garland has already made a huge difference for the Commodores as he helped convince five-star forward Simi Shittu to also sign with Vanderbilt for the 2018-19 season. If Shittu returns to health after a torn ACL suffered last season, then this Commodore freshmen duo could have Vanderbilt back in the Big Dance by the end of their first year on campus.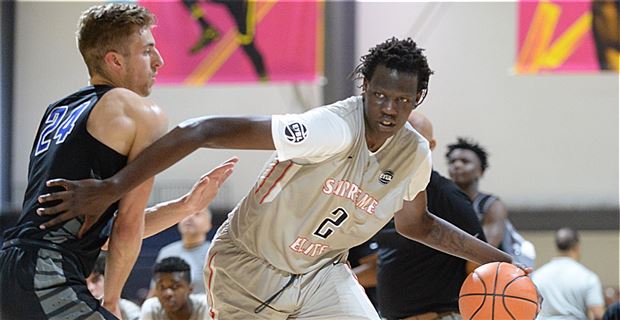 BOL BOL, Oregon: The son of former 7-foot-7 NBA center Manute Bol, the younger Bol has a chance to be the most unique player in college hoops this season. Standing *only* 7-foot-3 with a close-to 9-foot-7 standing reach, Bol has a chance to be one of the nation's elite shot blockers this season — in an Oregon frontcourt that also includes another notable rim protector in sophomore Kenny Wooten. But the thing that makes Bol fascinating is his shooting touch for his size. Making nearly 50 percent of his three-pointers in the Nike EYBL during his final spring and summer on the AAU circuit, Bol is a gifted offensive weapon who can stretch the floor on offense and protect the rim on defense. Motor and lateral quickness will be the things to watch with Bol this season. He doesn't move particularly well from side-to-side and there are times when he doesn't play his hardest.
TRE JONES, Duke: The younger brother of former Duke point guard Tyus Jones comes in with plenty of his own accolades as the five-star point guard also won multiple gold medals during his high school career. Although Tre isn't quite the floor leader that Tyus was as a freshman (but, really, who was?) he brings plenty of other useful intangibles to the table. Tre is a slightly better athlete and better defender than his older brother was at the same stage. But will Tre inherit the "Stones" family nickname that his brother carried? Because Tyus made some monster clutch plays during his single season at Duke and the Blue Devils are hoping for the same from Tre.
CHARLES BASSEY, Western Kentucky: Rick Stansbury finally has his five-star big man with the Hilltoppers as Bassey reclassified this summer from the Class of 2019. The 6-foot-10 Nigerian has been a known national prospect since his freshman season of high school thanks to elite hands, an ability to protect the rim and a developing post game. Expected to be perhaps the best big man in Conference USA as only a freshman, Bassey is going to carry big expectations this season for a Western Kentucky team that has NCAA tournament aspirations. If Bassey is as good as advertised, and he puts up close to double-double numbers, then the Hilltoppers could even win a game or two in March as one of the nation's most dangerous mid-major teams.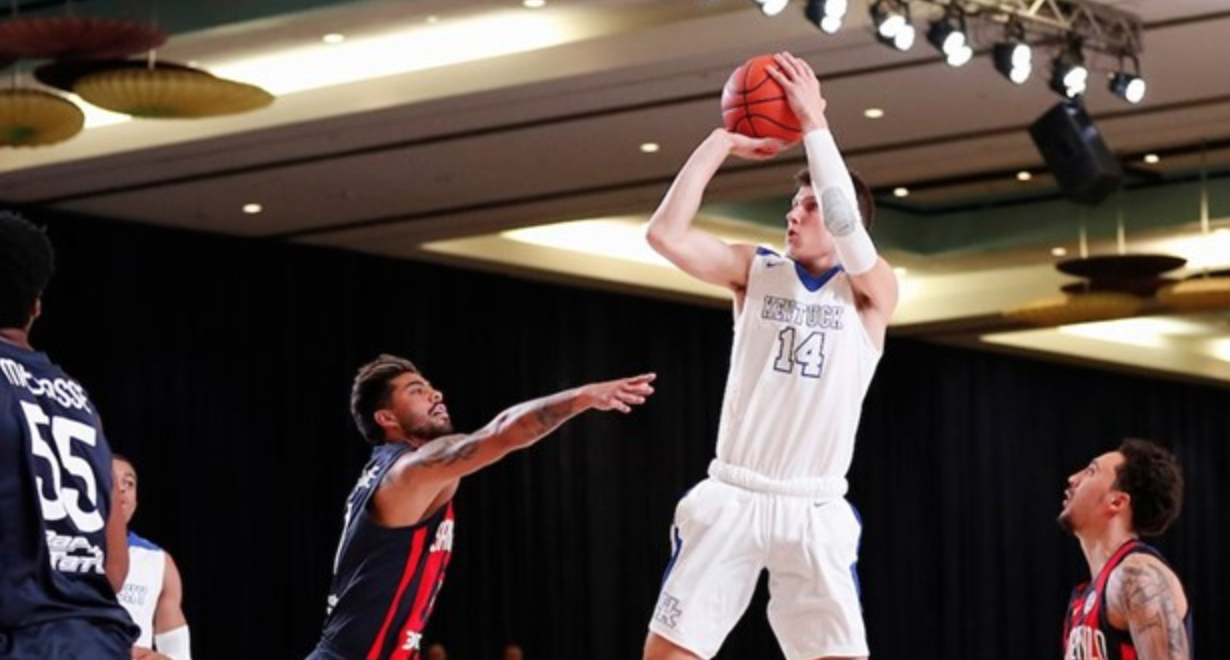 FIVE POTENTIAL TRAE YOUNGS
JAHVON QUINERLY, Villanova: Losing Jalen Brunson won't be easy for the Wildcats. The addition of the 6-foot-1 Quinerly should help ease the pain. The five-star prospect is a natural floor leader who is at his best setting up others while running an offense. The Wildcats are going to have plenty of other talented guards who can play this season. But none of the others possess the natural ability to get others easy shots like Quinerly can. He's potentially a perfect uptempo floor general to maintain Villanova's high-octane offense.
TYLER HERRO, Kentucky: Watching Herro is going to be one of the most fascinating subplots of Kentucky's season. The team's leading scorer during a Bahamas exhibition trip this summer, despite coming off of the bench, the 6-foot-5 Herro should be a better three-point shooter than anyone Kentucky had on the roster last season. Perimeter shooters with size have been able to make waves in a John Calipari offense before, and with Herro's microwave scoring ability, it might be tough to keep him off the floor — or at the very least out of the starting lineup.
KEVIN PORTER JR., USC: One of the most fascinating freshmen to watch this season will be this 6-foot-5 Seattle native. Initially an afterthought at the prestigious Nike Hoop Summit this spring, Porter was the last player invited to workout with his elite peers before putting on a show-stopping performance in front of NBA front-office personnel. Oh, and Porter wasn't even a selected member of the actual Hoop Summit roster… He was a practice body who took the train down from Tacoma during spring break and quickly ran through the best players in his class like a hot knife through butter. Keep an eye on Porter this season at USC. When naturally talented players have a natural chip on their shoulder it makes for an enticing combination.
COBY WHITE, North Carolina: Much like Villanova with Brunson, replacing Joel Berry II is next to impossible. But North Carolina should be in good hands, again, this season as long as the 6-foot-3 White is able to step in and play right away. More of a natural scorer than floor leader, White might have to adjust how he plays a little bit at the college level. There also aren't many players in the country who are as naturally talented at scoring the ball as he is. As long as White can control the ball and limit turnovers, he's a major weapon who should help the North Carolina offense put pressure on opposing defenses.
NAZ REID, LSU: An intriguing LSU team is going to need the 6-foot-10 Reid to be a major factor this season if they want to live up to the preseason hype. Expected to come in and start right away, Reid has an opportunity to be one of the premier big men in the SEC. The question will be if he wants to dominate. During times in his high school career, Reid didn't play with the highest motor, as some questioned his passion for being great. But with shooting touch, athleticism and an NBA-ready body, Reid could be a force if he's fully engaged.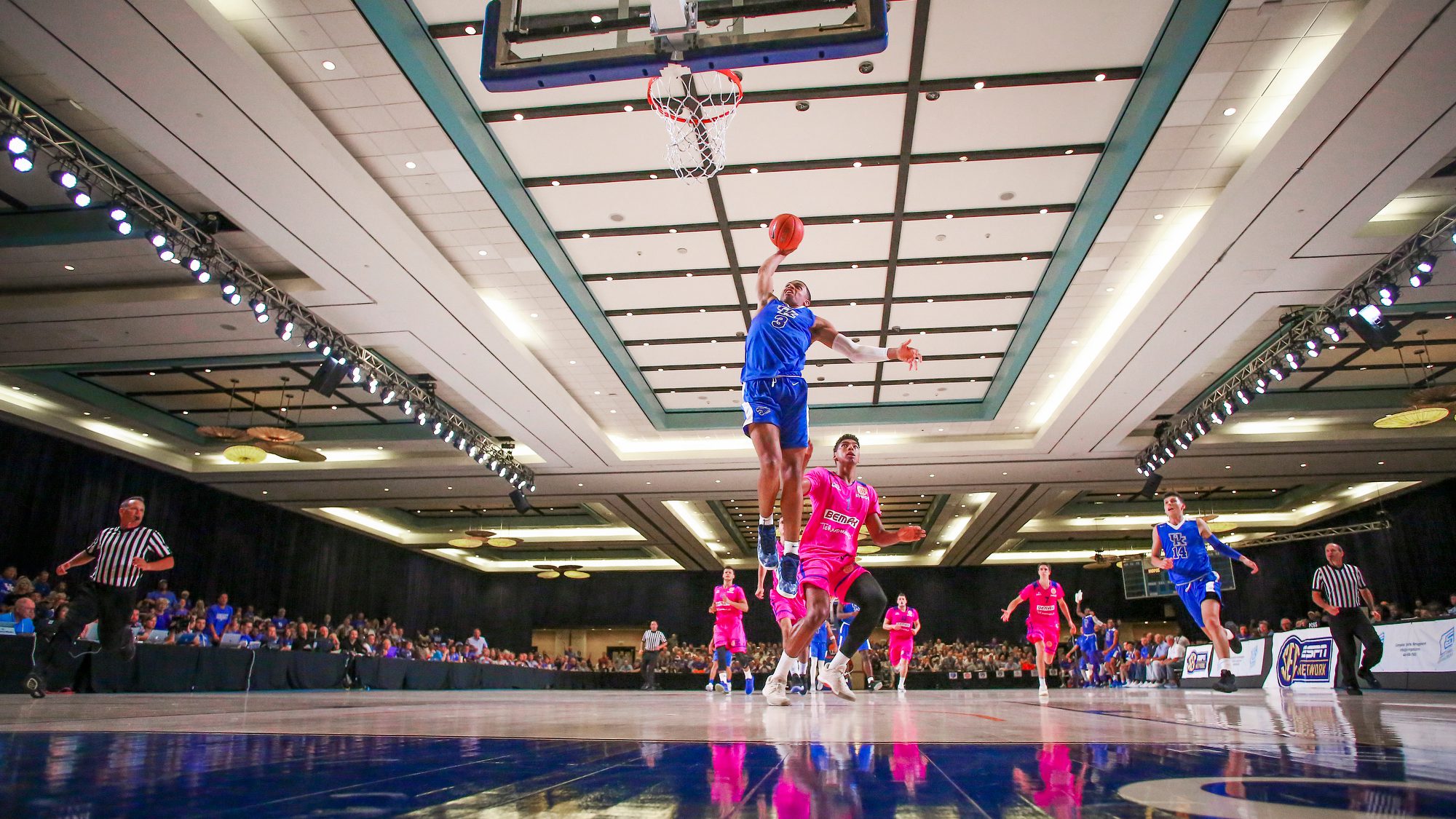 FIVE NAMES THAT WILL HAVE AN IMPACT IN MARCH
DEVON DOTSON, Kansas: Although Kansas has a lot of talented guards in the fold, the aggressive, downhill nature of Dotson could come in handy for the Jayhawks this season. The 6-foot-1 Dotson is an attack-minded floor general who should benefit greatly from all of the talent that he has around him in Lawrence this season. Dotson is capable of getting his own buckets, or getting others involved, as his style of play should fit in well at Kansas. If Dotson shows that he's capable of making a perimeter jumper then Kansas might need to explore the use of more three-guard lineups.
ANDREW NEMBHARD, Florida: Mike White's first five-star recruit as head coach of the Gators could be a vitally important piece for this season. With point guard Chris Chiozza exhausting his eligibility, Florida has question marks at point guard. Experienced pieces like Jalen Hudson and KeVaughn Allen are both back, but neither of them are natural floor leaders. If the 6-foot-4 Nembhard shows he can run an offense right away, then the Gators might be using a lot of three-guard lineups. Perhaps the best passer in this freshman class, Nembhard is a winner who has already seen time with the Canadian senior national team this summer.
KELDON JOHNSON, Kentucky: An insanely deep Kentucky recruiting class could see a number of unique players step up in March. But none of them possess the natural toughness or ability to attack the rim like the 6-foot-6 Johnson. While Kentucky is likely going to have a plethora of options, particularly on the perimeter, Johnson could force Calipari's hand with his intensity on both ends of the floor. And since Johnson is a bit bigger and stronger than many of his Kentucky perimeter teammates, he could also be a key matchup problem for opposing teams with three- and four-guard lineups.
JALEN SMITH, Maryland: The big man known as "Stix" is one of the best recruits Mark Turgeon has landed during his time at Maryland. At 6-foot-10, Smith runs the floor very well while also showing an ability to make plays near the rim on both ends of the floor. While the Terps won't need Smith to be a monster right away with sophomore big man Bruno Fernando returning to the lineup, they would be a very tough out if Smith showed an ability to contribute right away.
JORDAN BROWN, Nevada: Parlaying its Sweet 16 run into a McDonald's All-American big man, the Wolf Pack will have much more size and stability on the interior this season. An expected top-10 team in the preseason with Final Four aspirations, Nevada can turn to the 6-foot-10 Brown for some post touches while also expecting him to help defend the interior and rebound. The Wolf Pack don't need Brown to be an immediate star. But if he gives them consistent production they'll be a very dangerous team.