Beginning in September and running up until November 6th, the first day of the season, College Basketball Talk will be unveiling the 2018-2019 NBCSports.com college hoops preview package.
Every day at Noon ET, we will be releasing an in-depth preview of one member of our Preseason Top 25.
Today we dive into No. 13 Michigan State.
---
To understand the level of expectation that there was on this Michigan State program last season, consider this: The Spartans went 30-5 last year. They won the Big Ten regular season title outright. After a loss to Duke in the second game of the regular season, they won 28 of their next 30 games.
And the year was, depending on who you ask, somewhere between underwhelming and an outright disappointment.
There are myriad reasons for that.
Michigan State entered the season as a consensus top three team in the country. Many people had them ranked No. 1. That's what happens when a loaded sophomore class, headlined by Preseason Player of the Year Miles Bridges, is joined by a player as talented as Jaren Jackson Jr. Expectations were enormous.
Speaking of Jaren Jackson Jr., the theme of last season for the Spartans was, more or less, "why won't Tom Izzo play Jackson at the five and Bridges at the four?" That frustration lingered, and was palplable.
In January, ESPN published a story about the way that Michigan State's basketball program handled sexual assaults, and it certainly was not positive. Izzo spent much of the rest of the season dealing with questions about the story, and they were done no favors by how much that story was tied into reporting about Larry Nassar. This lingered over the program and, to an extent, still does.
Not only did the Spartans get bounced in the second round of the NCAA tournament, but they sat at home and watched in-state rival Michigan — who knocked them out of the Big Ten tournament — make a run to the national title game.
Put simply, Michigan State's regular season was marred by off-the-court issues and on-the-court frustrations before a decidedly disappointing performance in March.
That is how an otherwise successful season can get distorted.
And it leads to the inevitable question: What does Michigan State have in store for an encore?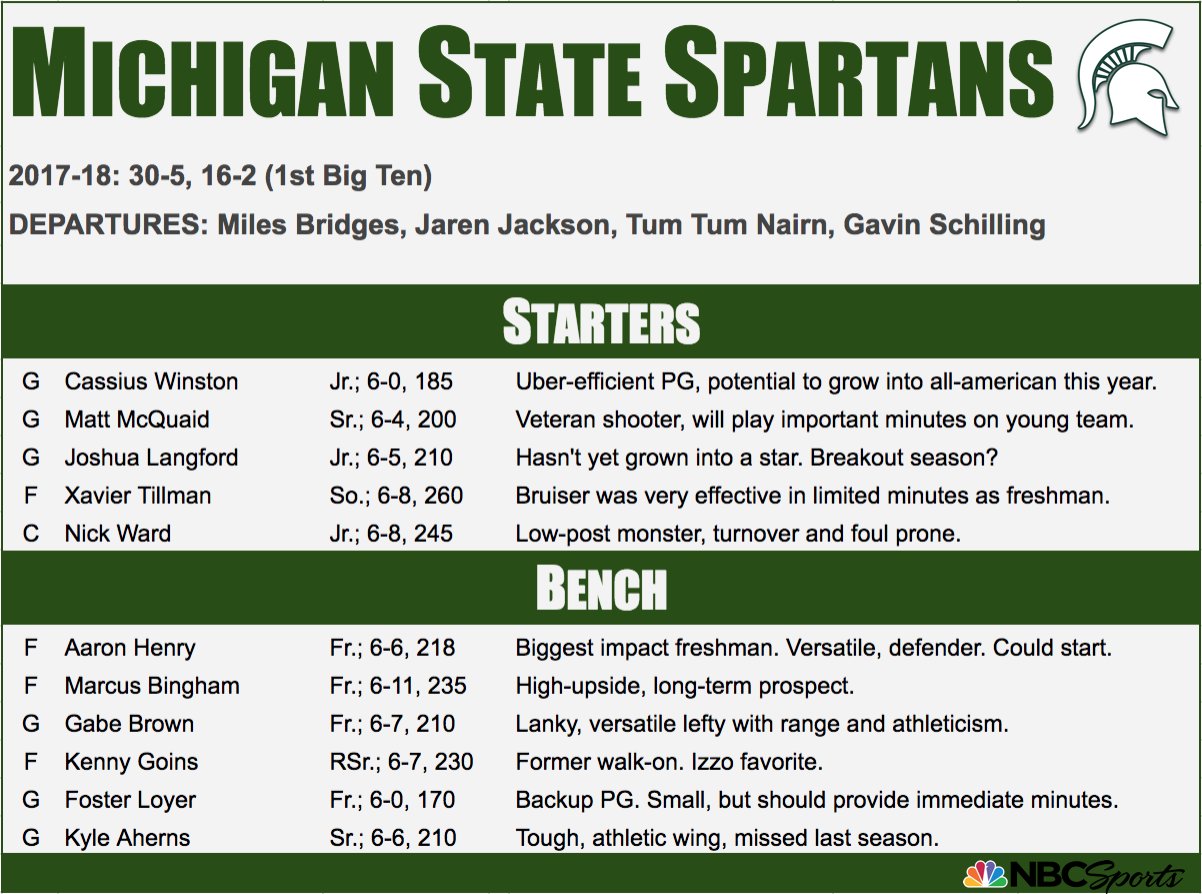 MICHIGAN STATE WILL BE GOOD BECAUSE …
Think about this in a vacuum.
The Spartans went 30-5 last season. They won the Big Ten regular season title outright. They return three of their top four scorers and four of the six players that played starters' minutes last season. They'll start at least four, and possibly five, upperclassmen this year, including a trio of top 50 prospects that are finally — hopefully? — coming of age.
On paper, without all the noise that comes with the hangover of last season, this team looks really, really good.
Let's start by talking about Cassius Winston. The 6-foot junior is one of the nation's best passers and, as his sophomore season progressed, he grew into being one of the most dangerous shooters in college hoops. He led the Big Ten by averaging 6.9 assists per game which finishing second nationally in assist rate. He shot 49.7 percent from three on more than four attempts per game, which led the Big Ten and put him fifth nationally. He finished third in the country in offensive rating for players that used at least 20 percent of their team's offensive possessions.
Simply put, there is no questioning just how valuable he is to Michigan State's offensively, even if he still turns the ball over at a higher-than-ideal rate.
And Winston, like Joshua Langford and Nick Ward, will be entering his junior season with a chance to make this team his. The last two seasons, Miles Bridges has been the name that everyone associated with Spartans basketball, and that worked but only to a point: Bridges was built more as a role player than an alpha-dog. Losing a player like that isn't a good thing, but it may make things easier from a role allocation perspective.
Langford and Ward will determine Michigan State's ceiling — I'll expand on that in a bit — while the rest of this roster is filled with veteran try-hards that Izzo has had so much success with and a promising freshman class that will be better than most realize. Senior Matt McQuaid should start in the backcourt while Kenny Goins will likely compete with sophomore big man Xavier Tillman — who has dropped 30 pounds — for a starting spot at the four.
Aaron Henry is the freshman that should have the biggest impact, as he's a terrific athlete with a body that's filled out and an understanding of how to play without needing to have the ball in his hands. He is not going to come in and put up 15 points a night, but he should provide big minutes as a defensive presence. Gabe Brown and Marcus Bingham are both four-star recruits with terrific physical tools that are still learning how to best use them while adding weight and strength. Foster Loyer is the guy that will backup Winston at the point.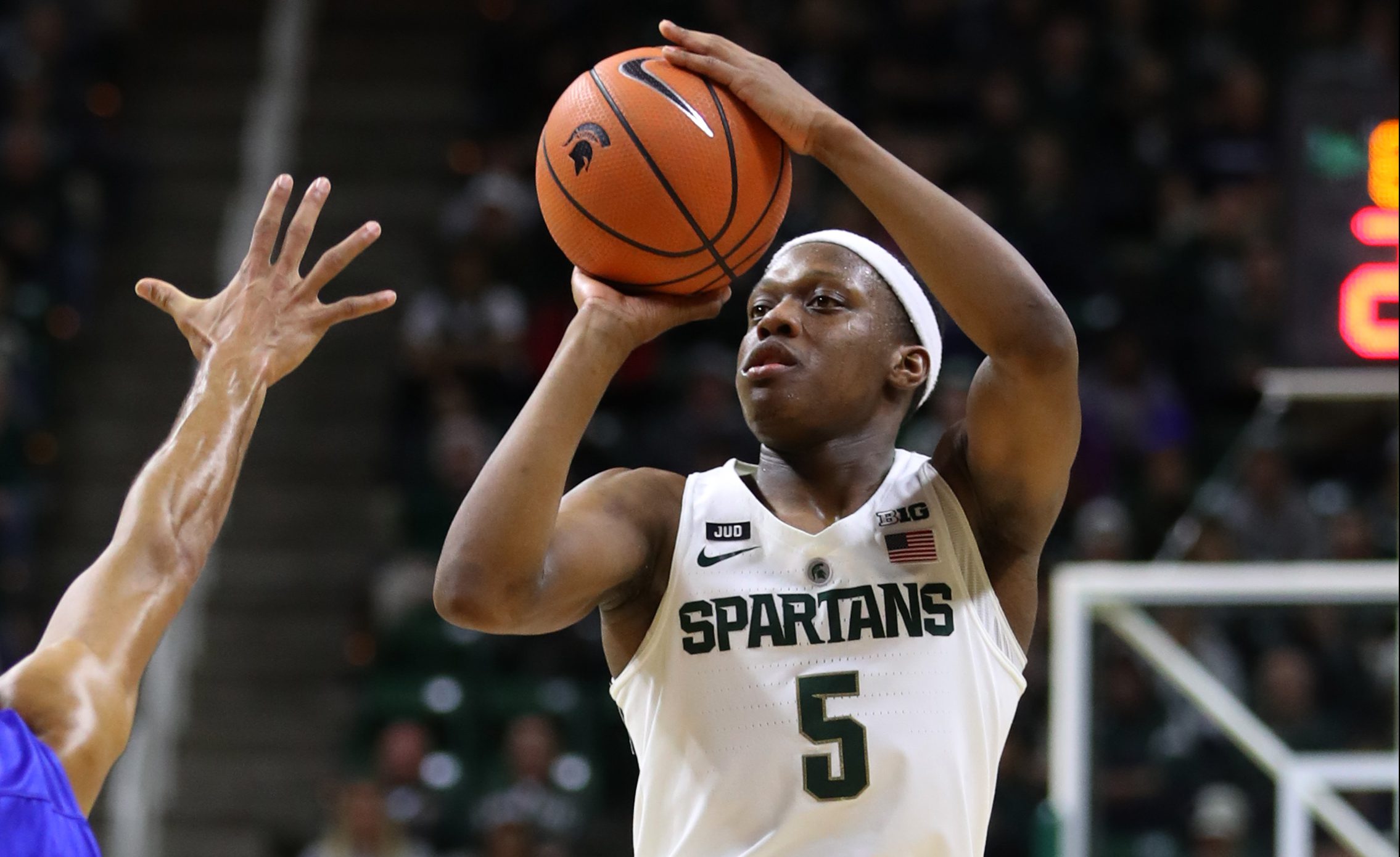 BUT MICHIGAN STATE IS GOING TO STRUGGLE BECAUSE …
As a team, the Spartans were not very athletic last season. Miles Bridges was an absolute freak-show, but beyond that, their roster was made up of below-the-rim land warriors in the paint and guards that notable because they are skilled and savvy and crafty, not because they can jump over a car.
Jaren Jackson Jr. was the second-best athlete on this team last season, and even he was an average-at-best athlete; he was long and smooth more than he was explosive.
What's left is a team that may not have a plus-athlete in their starting lineup.
I'm sure Winston can dunk, but I've never seen him do it in a game. Langford has matured into a really effective jump-shooter, but one of the reasons he's the highest-rated five-star from the Class of 2016 that's still in college is that he doesn't have the burst to turn a corner or finish amongst the trees. Ward and Tillman are both big, physical forwards, throwbacks to an era where a power forward was, you know, powerful. McQuaid gets the most out of his physical ability, but he is what he is.
There is some athleticism in this freshman class, but I'm not quite sure just how ready those kids are for the grind of the Big Ten.
This team actually reminds me quite a bit of North Carolina's 2017 national title team, the one that starred Kennedy Meeks, Joel Berry and Justin Jackson.
It's proof that you can win without having the best athletes on the floor.
But Berry was an all-american, Jackson was a lottery pick and Meeks was able to defend without fouling and avoid turnovers. Winston might end up being an all-american, but Langford is a long way from being a lottery pick right now while there is a reason that Ward — who struggles with fouls, turnovers and maintaining Izzo's trust — has yet to average 20 minutes a night despite 13 points and nearly seven boards in his two seasons.
Which is why …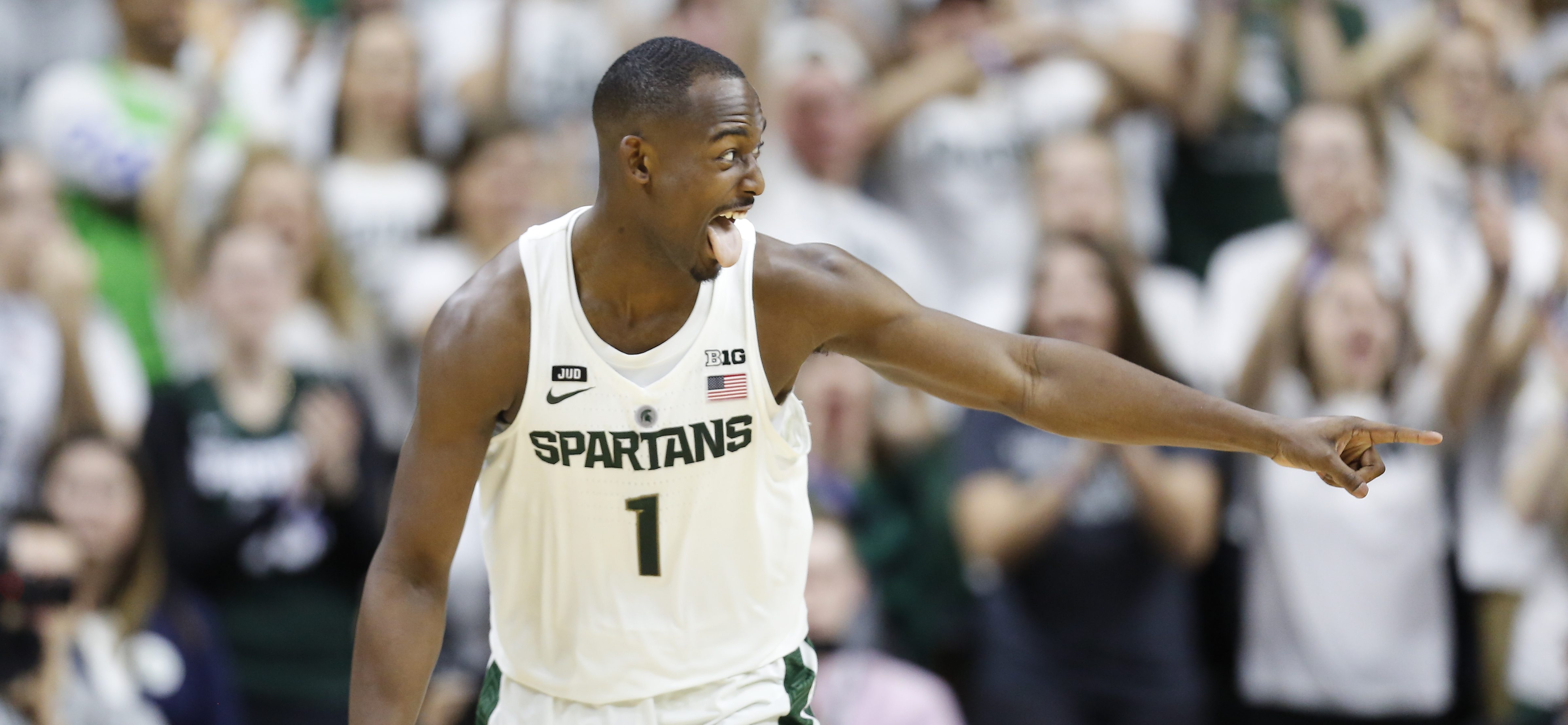 THE X-FACTOR
… this team's ceiling is going to be determined by what Langford and Ward turn into this year.
Both players are talented, although the reasons that they have struggled to consistently live up to expectations differs.
The answer is probably easier with Ward, whose struggles with playing time seem to be more self-inflicted than anything else. Some of it was bad body language. Some of it was defensive miscues, whether it be a missed assignment or mounting foul trouble he couldn't seem to avoid. Some of it was the fact that he just turned the ball over too damn much. The end result, however, was a season of frustration spent playing fewer minutes than he felt he deserved while bouncing in and out of Izzo's doghouse.
It should shock no one that Ward's struggles were magnified against elite competition. Case in point: His offensive rating last season was 116.8, but that dropped to 112.4 against Big Ten foes, 103.1 in top 100 games (adjusted for location) and 89.4 in top 50 games. Similarly, his foul and turnover rates soared against better competition.*
Ward, when he's right, is one of the most dominant low-post scorers in the country and a guy that is actually much better than he gets credit for as a rim-protector, but so much about the way that Izzo manipulates his rotation is about trust — that's why Kenny Goins may start and Tum Tum Nairn played as many minutes as he did — and Ward has yet to earn his trust for an entire season.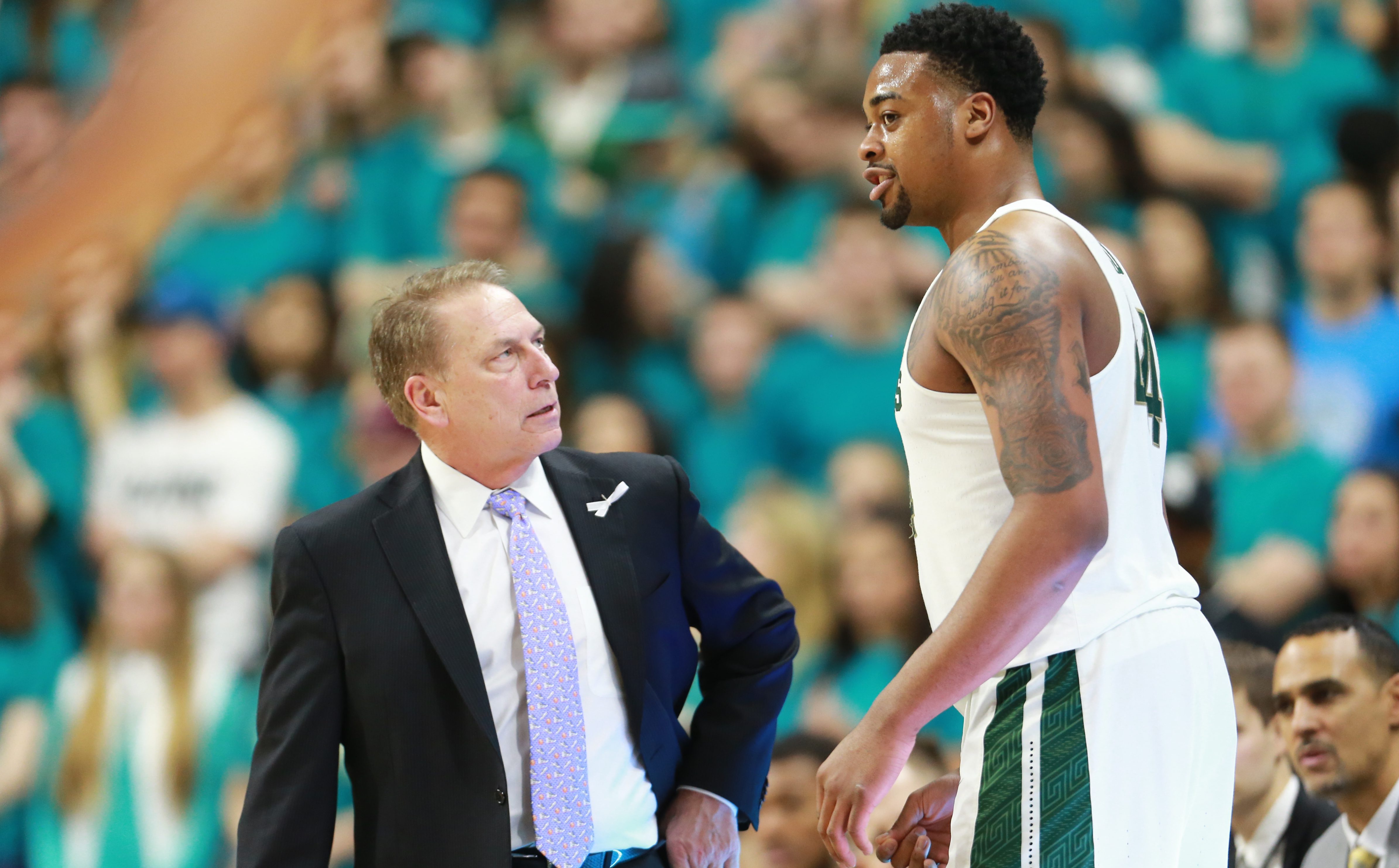 Langford's issue is a bit different.
He's been fine as a player, someone that started all 35 games last year while averaging 27 minutes. He was as consistent as anyone on the team too, which ended up being something of a detriment for him. Relatively speaking, Langford is just an OK athlete at the Big Ten level. He's not one of these two-guards that thrives putting the ball on the floor and getting all the way to the rim, and even when he does, he lacks the vertical burst to deal with the shot-blockers at the rim.
The result is that he's turned into something of a midrange jump-shooter, and if you know even the slightest thing about basketball analytics, you know that two-point jumpers are the worst shot in basketball you can take.
Why?
Because players in general — and Langford specifically — doesn't make them at a rate that is all that much higher than shooting threes, but every shot he makes is worth one point less. That, quite literally, is the definition of inefficiency. That is how a guy that shot better than 40 percent from three and 84.9 percent from the free throw line finished with an offensive as low as his was.
If those two play up to an all-Big Ten level, the Spartans will likely win the Big Ten regular season title for a second straight season.
If they don't, the outlook for this season is much, much different.
*(Data from KenPom)
2018-19 OUTLOOK
The Big Ten is not all that good this season. Even the most ardent Big Ten supporters would probably agree with that. There will be more depth this year than in year's past, but the fact of the matter is that Michigan State is our highest-ranked team in the league heading into 2018-19, and I'm not sure there is anyone that is going to disagree with that.
Which means that the Spartans have a pretty good chance at repeating as Big Ten champs. At the very least they are going to be in the mix. Winston is good enough that he'll allow them to be effectively offensively, while I think Izzo is incapable of having a team that is outright bad on the defensive end.
Put another way, they'll be fine.
I do wonder whether or not this group has the upside to make another run to the Final Four. Generally speaking, talent wins out in March. Teams with NBA players win in March, and I wonder if there actually is a first round pick on this roster.
THE REST OF THE TOP 25
No. 14 Florida State
No. 15 TCU
No. 16 UCLA
No. 17 West Virginia
No. 18 Oregon
No. 19 Syracuse
No. 20 LSU
No. 21 Mississippi State
No. 22 Clemson
No. 23 Michigan
No. 24 N.C. State
No. 25 Marquette