Beginning in September and running up until November 6th, the first day of the season, College Basketball Talk will be unveiling the 2018-2019 NBCSports.com college hoops preview package.
Today, we are previewing the Atlantic 10 Conference.
---
Since sending a combined 11 teams to the NCAA tournament in 2013 and 2014, the Atlantic 10 has put just 12 combined teams into the tournament in the four years since.
In those four years, the league has been the target of more powerful conferences.
First, in realignment and expansion. More recently in pilfering head coaches like Shaka Smart, Archie Miller and, this offseason, Dan Hurley.
The conference was fortunate to get three teams into the Dance last year after a fluky A-10 tournament title run.
That mark may be difficult to repeat this year unless the top of the league exceed expectations.
FIVE THINGS YOU NEED TO KNOW
1. Turnover at the top
Predicting the contenders of the A10 in recent years hasn't been much of a chore with the likes of Rhode Island, VCU, St. Bonaventure and Dayton fixtures at the top. This year doesn't promise the same continuity. Rhode Island is down four starters and a head coach, VCU is still finding footing in the wake of Shaka Smart and Will Wade's departure, the Bonnies lost their backcourt and Dayton is rebuilding since the loss of Archie Miller. The top crop this year features some familiar names that look to be back on an upswing like St. Louis and George Mason along with traditional contenders St. Joseph's and Davidson, but the league doesn't have any heavyweights and may be without much depth either.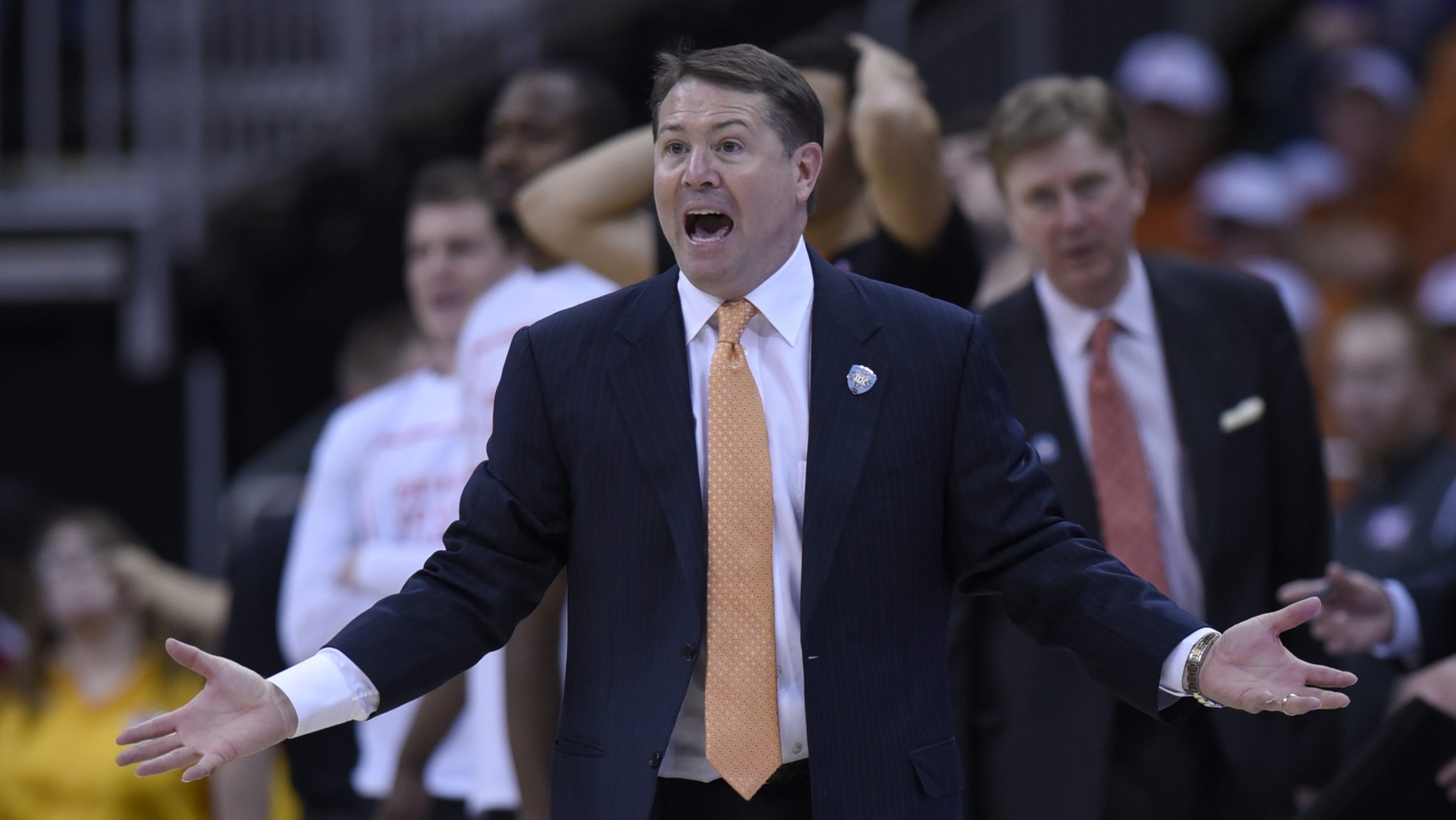 2. Built Ford tough?
St. Louis has gone 29-37 overall and 15-21 in the two years since Travis Ford took the helm after eight years leading Oklahoma State, but this would seem to be the season when things could take a major leap forward. The Billikens are adding transfers Traimaine Isabell, Jr. (Missouri and Drexel) and Dion Wiley (Maryland) along with four-star recruit Carte'Are Gordon to a core that already included Javon Bess (all-A-10 defense), Hasahn French (all-A-10 rookie) and Jordan Goodwin (11.5 points and 7.5 rebounds).
Ford's teams have always played defense, and he got the Billikens to buckle down on that end last year after struggling to do so in his debut season, but if St. Louis is going to win the A-10 and make some noise nationally, it'll have to improve on offense. They went from being one of the worst offenses in the country in 2017 to merely poor last year based largely on hitting the offensive glass — a good idea when you're one of the weakest shooting teams in the country. If the Billikens can hold the line defensively and make big a leap on the other end, they've got the talent to be quite good.
3. Davidson's next star(s)
Every sweet-shooting guard Davidson ever has, from now until eternity, will likely have the unfortunate fate of being compared, or at least mentioned in relation to, Steph Curry. Such is life when an under-the-radar recruit evolves into a transformational, generational player under your watch. Fair or not, expect to hear plenty of Curry talk when it comes to sophomore Kellan Grady. The 6-foot-5 guard shot 37.2 percent from 3-point range and had a true-shooting percentage of 61.1 percent while scoring 18 points per game.
Grady, obviously, isn't Curry, but he's a damn good player with a potential NBA future. Before that, though, he'll be tasked with helping get Davidson back to a second-straight NCAA tournament and compete for its first league title since 2015. He won't be doing it alone, though, as Jon Axel Gudmundsson is back after a sophomore campaign in which he shot 40.6 percent from beyond the arc. They'll both need to be at their best to replace Peyton Aldridge and the 21 points he scored every night.
4. Rhode Island rebuild
Dan Hurley took Rhode Island from eight wins in his first season of 2012-13 to a combined 51 wins and two NCAA tournaments the last two years. Now, though, he's gone, off to Connecticut to try to return the Huskies to prominence, and so, too, are four starters off last year's squad. Rhode Island bet on itself when finding Hurley's replacement, promoting David Cox, who spent four years on Hurley's staff (including two as associate head coach), to the first chair.
Cox also helped preside over a recruiting class that will be carrying a heavy load, but is well-regarded. It's highlighted by top-100 forward Jermaine Harris and three-stars Dana Tate and Tyrese Martin. Returning guard Jeff Dowtin should help lead the way after averaging just under 10 points per game as a role player and lone returning starter, but the Rams have quite a bit of work ahead of them replacing the likes of Jared Terrell and E.C. Matthews.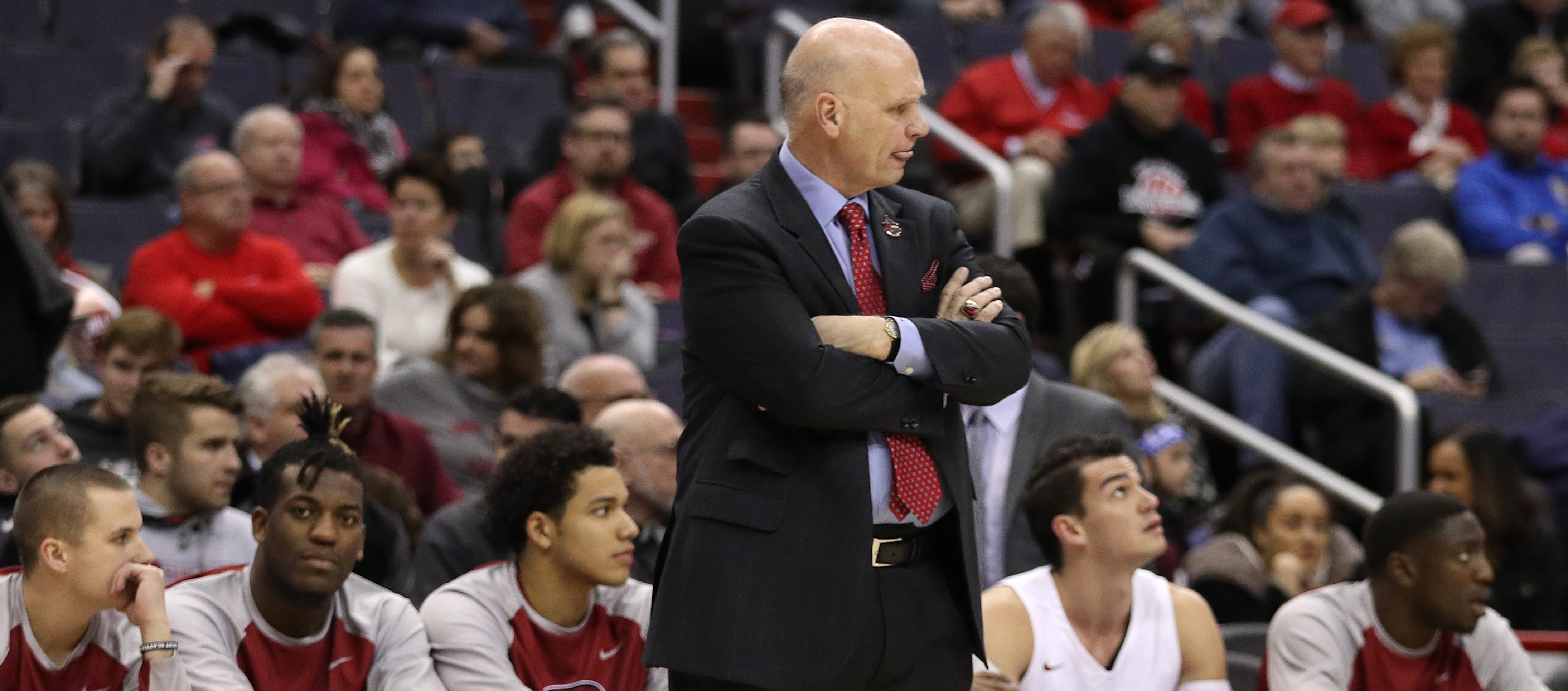 5. How high can healthy Hawks fly?
St. Joseph's finished the year on a tear, winning seven of its last nine games and nearly upending Rhode Island in the A10 tournament. That, along with a fourth-place finish in the regular season standings, is an admirable season, but one in which the Hawks couldn't have helped but wonder what might had been if Lamarr Kimble and Charlie Brown, who combined to play one game last season, had been healthy.
Both are now back to a team that sustained minimal losses from a season ago. Kimble, who broke his foot one game into the season, averaged 15.5 points per game as sophomore wile Brown put up 12.8 as a freshman before a broken wrist robbed him of 2017-18. Their return along with four starters, including Taylor Funk (11.8 ppg), means St. Joe's has championship aspirations and eyes on its third NCAA tournament in six years.
PRESEASON ATLANTIC 10 PLAYER OF THE YEAR: KELLAN GRADY, Davidson
So now that we've previously established that Kellan Grady is not, in fact, Stephen Curry, let's talk about what exactly he is.
Grady was a fringe top-100 recruit in the 2017 class, and picked Davidson over other A10 programs and more than a handful Power 5 offers. The decision to follow in his idol's footsteps – the Boston native picked up NBA league pass as an 11-year-old to follow Curry's rookie season – paid off in a major way during his own rookie campaign. He went for more than 20 in his first two games (hitting seven 3s in his debut), erupted for 30 on Christmas Day against Akron and then 39 in a three-OT thriller against St. Bonaventure. He did all that while playing aside A10 player of the year Peyton Aldridge, who, while being an excellent player, took 30 percent of Davidson's shots while on the floor. His departure means more looks for Grady. That could mean that Grady's stay at Davidson is one year shorter than Curry himself.
THE REST OF THE ATLANTIC 10 FIRST TEAM
JOSH CUNNINGHAM, Dayton: A former top-150 recruit who began his career at Bradley, blossomed in his junior year, averaging 15.6 points and 8.4 rebounds while shooting 64.6 percent from the floor.
OTIS LIVINGSTON, George Mason: The 5-foot-11 point guard from New Jersey put up 17.3 points per game last year for the Patriots.
LUWANE PIPKINS, UMass: The Minuteman went from 10.2 ppg as a freshman to 21.2 ppg as a sophomore thanks in large part to shooting 42.6 percent from 3-point range.
JAVON BESS, St. Louis: The Michigan State transfer emerged as a major contributor last year and could be even better with an improved team around him.
FIVE MORE NAMES TO KNOW
JEFF DOWTIN, Rhode Island
CHARLIE BROWN, St. Joseph's
CARTE'ARE GORDON, St. Louis
JON AXEL GUDMUNDSSON, Davidson
GRANT GOLDEN, Richmond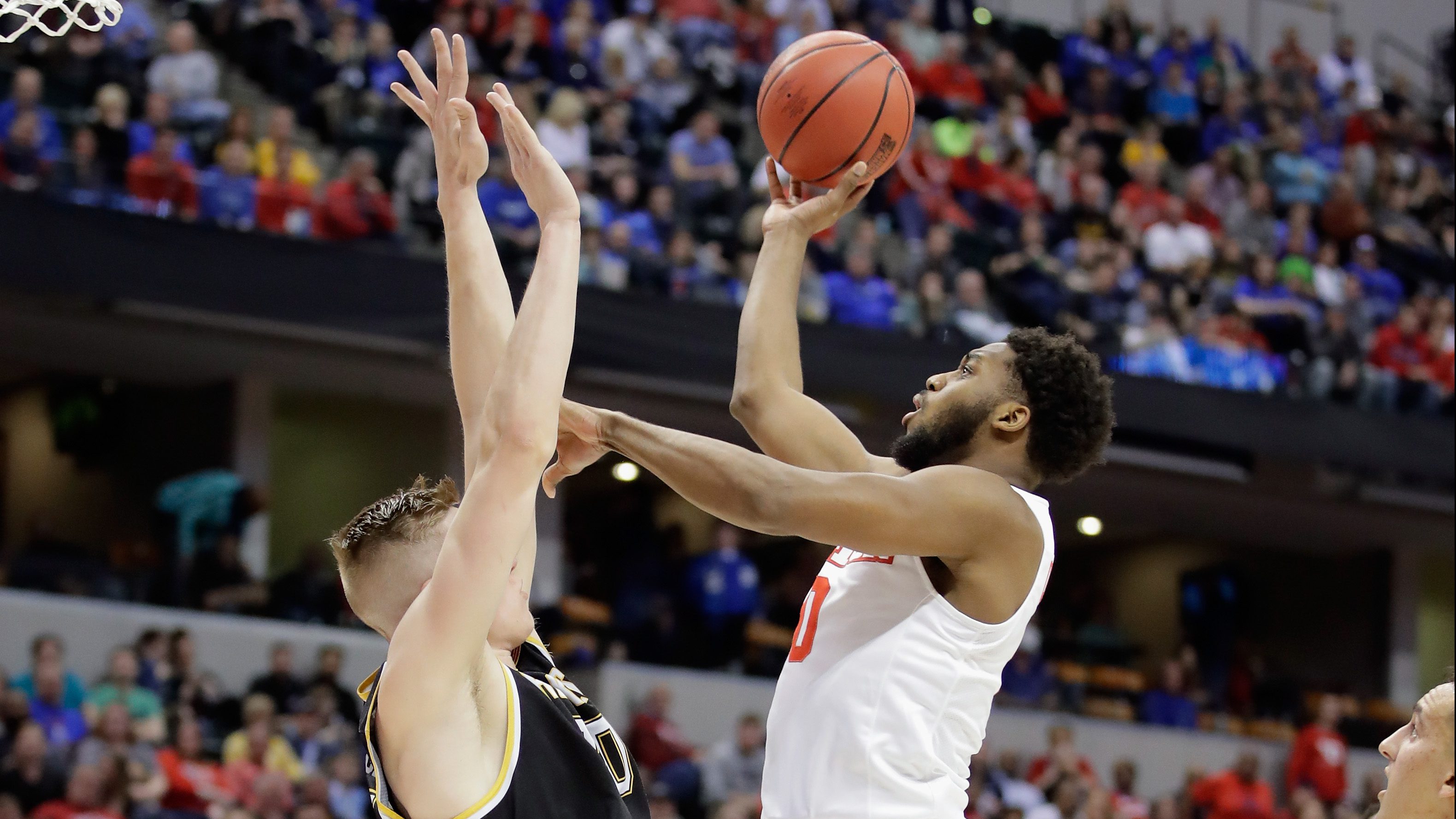 BREAKOUT STAR
Carte'Are Gordon is the rare top-75 recruit to call the A-10 home, which makes him interesting enough, but Gordon's ability to do stuff like render a backboard to mere smithereens means there's a decent chance your Twitter feed features a healthy helping of Gordon highlights, especially if St. Louis is the class of the conference.
COACH UNDER PRESSURE
Fordham isn't exactly a traditional power or a program with exactingly high hoops standards, but the Rams have gone in the wrong direction the last two years under Jeff Neubauer. He posted a 17-win season after taking over for Tom Pecora, who had five-straight losing seasons, in 2016, but the Rams regressed to 13 wins in 2017 and down to nine last year. The recipe for improvement – unless you're at Duke or Kentucky, which is decidedly not the case here – does not include eight freshmen on the roster, as Neubauer has this season.
ON SELECTION SUNDAY WE'LL BE SAYING …
The Atlantic 10's trouble continued without strength beyond the top, limiting it to three NCAA tournament teams if all goes well.
I'M MOST EXCITED ABOUT …
While the league may not have its historical depth, there's plenty interesting with St. Louis, George Mason, St. Joe's and others, but the excitement the A10 generates this year is going to come from Kellan Grady. He's a potential superstar.
FIVE NON-CONFERENCE GAMES TO CIRCLE ON YOUR CALENDAR
Dec. 22, St. Louis vs. Florida State

Dec. 29, George Mason vs. Kansas State
Dec. 8, St. Joseph's vs. Villanova
Dec. 29, Davidson vs. North Carolina
Dec. 8, Dayton vs. Auburn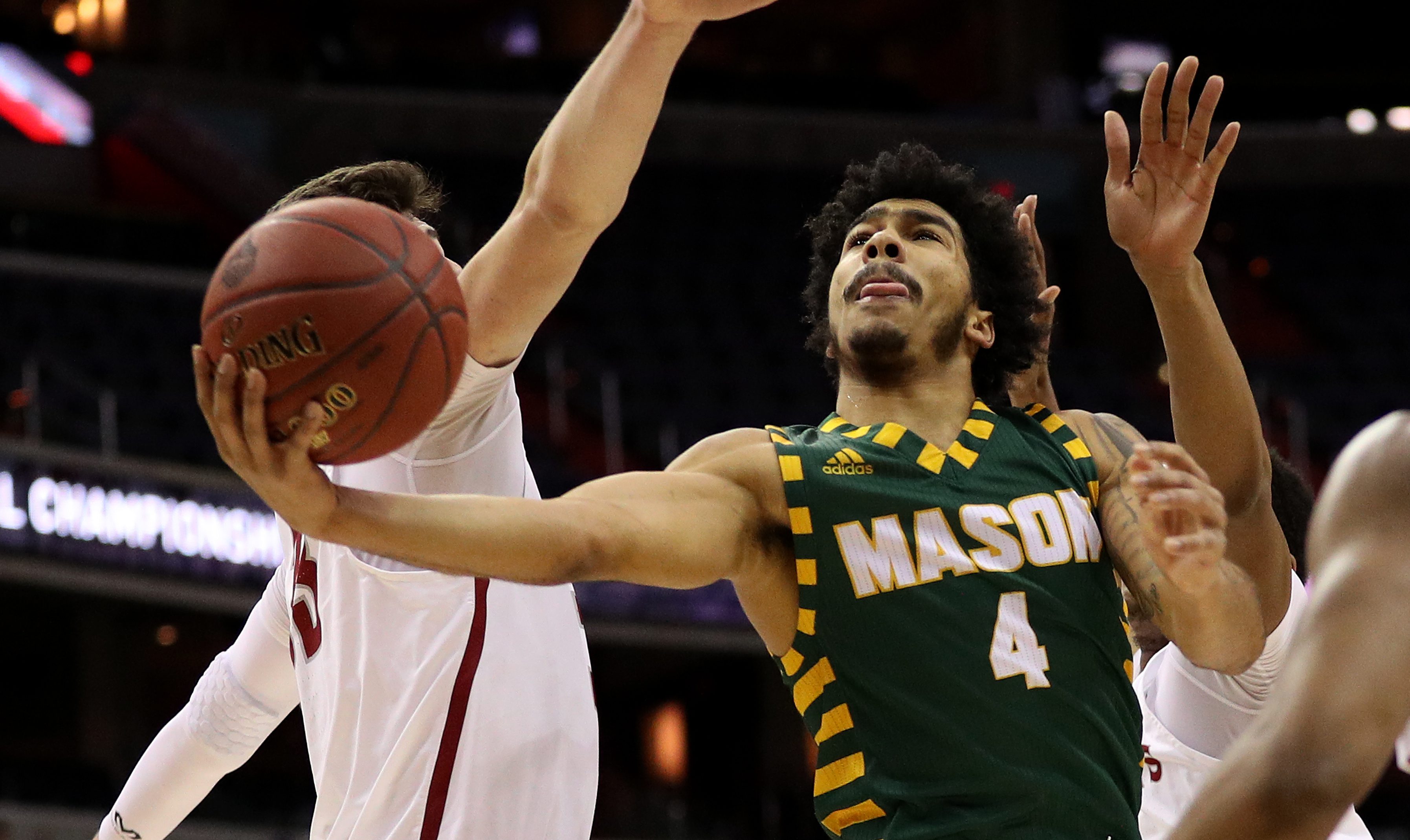 PREDICTED FINISH
1. ST. LOUIS: Year 3 under Travis Ford should bring the level of success the Billikens were hoping for when they became Ford's post-Oklahoma State landing spot. With a solid group of returners meshing with talented newcomers, St. Louis should be the class of the Atlantic 10.
2. ST. JOSEPH'S: Phil Martelli's group was competitive last year despite losing two of its top players for essentially the entire season. WIth Lamarr Kimble and Charlie Brown back and healthy, however, the Hawks should be in position to be more than a fly in the ointment – they should be among the A10's best.
3. DAVIDSON: Replacing A10 player of the year Peyton Aldridge is no easy task, but coach Bob McKillop has a potential first-round draft pick in Kellan Grady, but also dynamic backcourt mates Jon Axel Gudmundsson and KiShawn Pritchett. There are frontcourt questions, but none loud enough to doubt the Wildcats much.
4. GEORGE MASON: Otis Livingston and Jaire Grayer (son of former NBA player Jeff) give the Patriotsa significant one-two scoring punch and Virginia transfer Jarred Reuter could help solidify a defense that struggled.
5. UMASS: It was a struggle for Matt McCall's team in his first season in Amherst, but things are looking up in Year 2. Luwane Pipkins can get buckets with the best of them, but the Minutemen will need to clean up the defense to really make an A10 run.
6. ST. BONAVENTURE: The Bonnies won 13-straight to end the regular season and get an at-large bid before knocking off UCLA in the First Four last year, but the losses of Jaylen Adams and Matt Mobley means they're due for a step back this season.
7. RICHMOND: The Spiders limped to the finish line last year, dismissed second-leading scorer De'Monte Buckingham and lost Khwan Fore to Louisville, but Grant Golden should be one of the best in the conference and keep the Spiders competitive.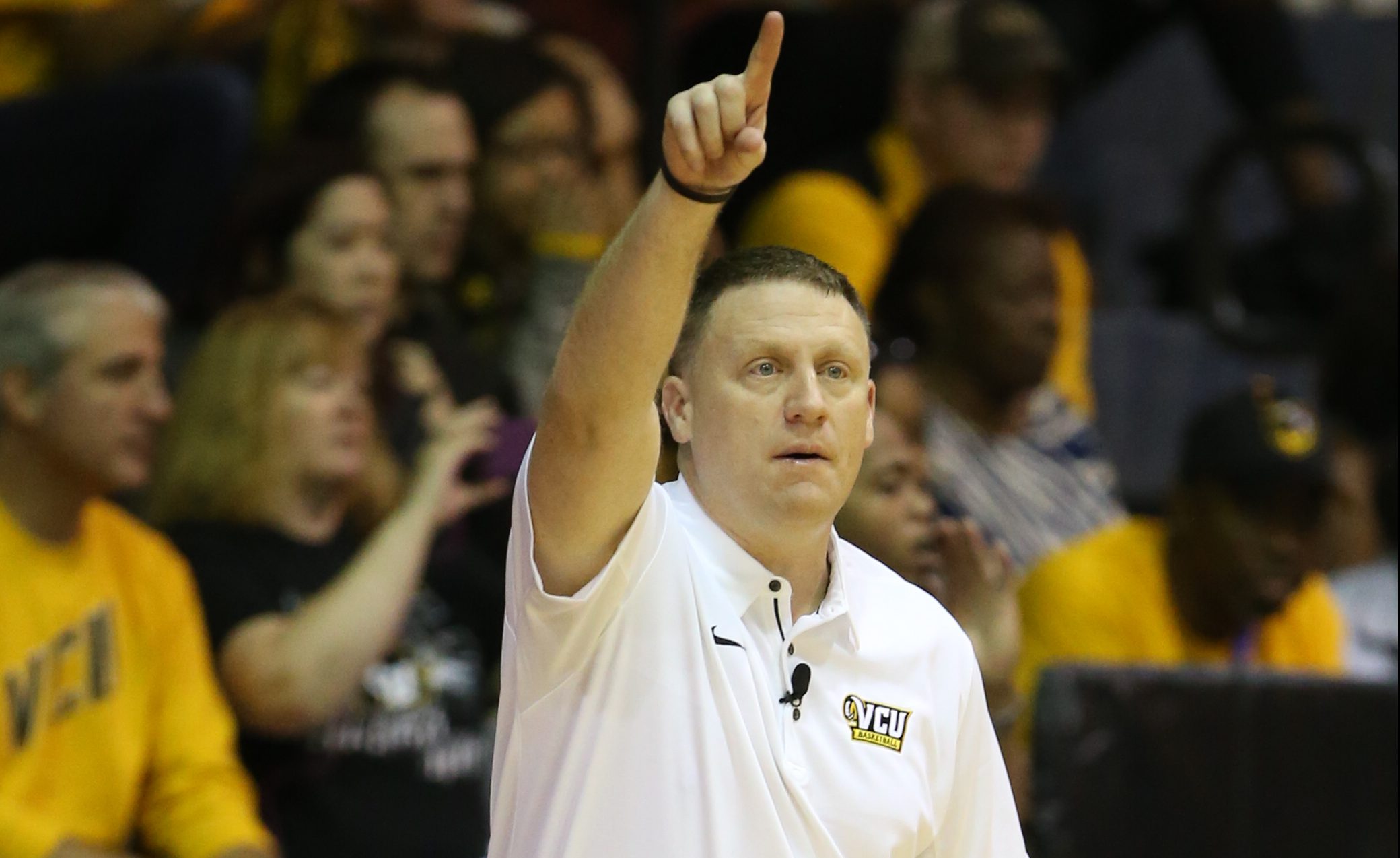 8. VCU: Star guard Marcus Evans suffered a second Achilles tear this summer, but is still hopeful to play this season. With his health in doubt, however, the Rams could be in for bumpy ride in Mike Rhoades' second season.
9. DAYTON: Josh Cunningham leads a group of four returning starters that should make things better for Anthony Grant in his second season with the Flyers, though frontcourt issues could hold them back.
10. RHODE ISLAND: The Rams welcome a solid recruiting class and David Cox represents stability on the coaching staff, but Rhode Island's losses are simply too much to suffer without ensuing struggles.
11. DUQUESNE: Keith Dambrot is counting on five Division I transfers to get things off the ground in his second season in Pittsburgh after a 13-year run at his alma mater Akron.
12. GEORGE WASHINGTON: Yuta Watanabe exhausting his eligibility would have been a tough blow by itself, but Jair Bolden transferring to South Carolina makes this an especially tough hill to climb for coach Maurice Joseph in Year 3.
13. LA SALLE: Ashley Howard had heaps of success across town on Jay Wright's national championship staff, but he's got a significant rebuild job ahead of him with the Explorers.
14. FORDHAM: Joseph Chartouny transferring to Marquette was a huge loss that will loom large for a Rams team that struggled mightily last year.