Beginning in September and running up until November 6th, the first day of the season, College Basketball Talk will be unveiling the 2018-2019 NBCSports.com college hoops preview package.
Every day at Noon ET, we will be releasing an in-depth preview of one member of our Preseason Top 25.
Today we dive into No. 17 West Virginia.
---
It's not often that Hall of Fame head coaches reinvent themselves when they're 60 years old with nearly four decades of coaching experience on their résumé, but that is precisely what Bob Huggins did prior to the start of the 2014-15 season.
After missing his second straight NCAA tournament in 2014, the program's second season as a member of the Big 12, Huggins decided to drastically change the way that his teams would play. The new and improved West Virginia would base everything around one, simple concept: They wanted to maximize the number of possessions they get during a game.
To do so, Huggins made the change to being a team that pressed 94 feet, forcing as many turnovers as possible, pounding the offensive glass and spending the full 40 minutes testing their opponents' fitness and toughness, both physically and mentally.
Press Virginia was born, and it's been more successful than I'm sure even Huggins would have predicted. The Mountaineers have been to three Sweet 16 in the last four seasons, never entering the tournament lower than a No. 5 seed. They've won at least 25 games each year and finished second in the Big 12 three of those four season and no worse than a tie for fourth.
Those four seasons also happened to coincide with when Jevon Carter and Daxter Miles entered the West Virginia program, and no one has represented the ethos of any program better than the way that duo represented the Mountaineers these last four seasons.
It begs the question: Can West Virginia press on without the two players most responsible for that change?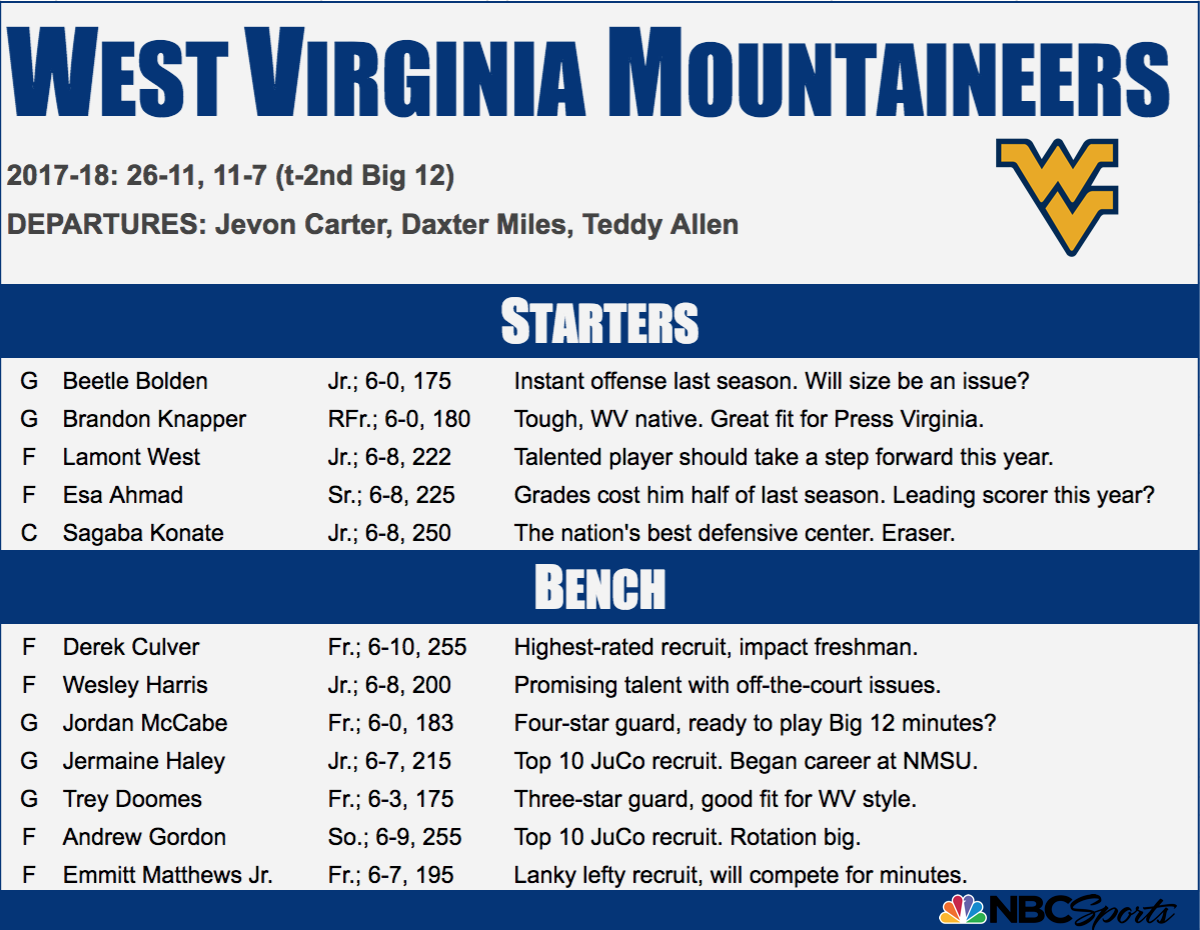 WEST VIRGINIA WILL BE GOOD BECAUSE …
The system is the system.
Press Virginia is Press Virginia.
The most important skill that a player can have when playing for this iteration of Bob Huggins is that he is willing to play his tail off.
This is not something that can be coached or taught, for the most part. This is something that a kid has or doesn't have, but the beauty in the way that Huggy Bear has recruited is that he is not going to bring a player onto his campus or into his locker room if he doesn't believe they'll be able to deliver when they're called upon. Put another way, he's not signing a kid that won't leave everything they have on the floor every night.
Carter is the perfect example. Huggins told me the story of when he decided to offer Carter last March. It was during an 8 a.m. game at AAU Nationals in Orlando. Huggins was sitting courtside with a coffee, trying to shake off the cobwebs, and Carter was out there guarding full court on every possession even though his team wasn't pressing.
Huggins called one of his assistants. "We've got to sign this guy. I don't know what he does well, but he sure tries to guard."
That's the kind of player that he brings in, which is why it's become fairly easy for him to be able to replace "program guys", players that weren't necessarily stars but that fit the ethos of a team. Glue guys, veteran leaders, the swiss army knife that made all the other pieces on the team fit.
Nathan Adrian was a program guy, a 6-foot-8 West Virginia native that turned into the point-man of Huggins' press while developing into a solid scorer and shooter. When he graduated, he was replaced by the likes of Esa Ahmad, Lamont West and Wesley Harris. Adrian himself filled a void that was left by Jonathon Holton.
Carter stepped into Jaysean Paige's shoes after Paige took the reins from Juwan Staten. West Virginia lost Devin Williams a year earlier than expected but didn't miss a beat as Sagaba Konate has had developed into the nation's most intimidating shot-blocker.
With West Virginia, there is always going to be a next man up.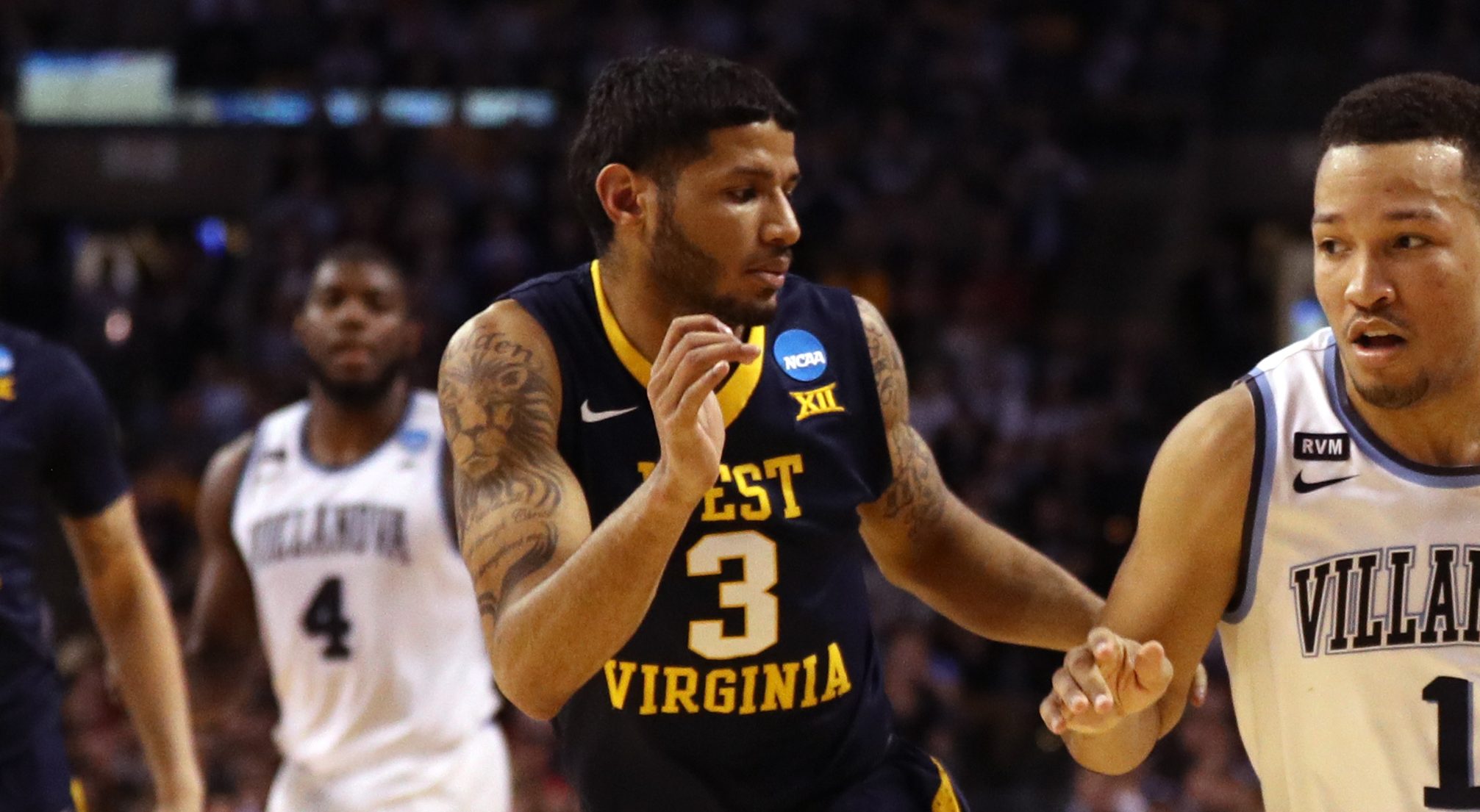 BUT WEST VIRGINIA IS GOING TO STRUGGLE BECAUSE …
I know this is totally antithetical to what I just wrong, but what Carter and Miles provided this program cannot and will not be replicated.
Carter was a unicorn. The way that he was able to apply pressure on the ball, the tenacity and relentless with which he defended, his basketball IQ — Carter had a rep for telling opponents where to be when they ran the wrong play — was unique. Miles was not on his level, but he still was a guy that could get after a ball-handler and carried with him the dogged determination of a player that spent his entire life being overlooked and underrecruited.
That permeated the entire Mountaineer basketball program. They set a tone. They were the example. And the truth is that that kind of leadership cannot be taught or learned; you either have it or you don't.
Carter and Miles were the personification of a "program guy". The Mountaineers have lost "program guys" like this in the past and survived, but this one feels different if only because I am not convinced that the next men up are going to be able to do what Carter and Miles did during their four-year careers.
Press Virginia has, for the last four years, finished either first or second in the country in turnover percentage. Twice, that led to the Mountaineers finishing the year as a top six defensive nationally, according to KenPom's adjusted defensive efficiency metric. Last year, however, they finished outside the top 40, and it is not a coincidence that this happened in the season where the Mountaineers finished with the lowest turnover rate of the Press Virginia era.
In 2017-18, West Virginia forced a turnover on 23.4 percent of their defensive possessions. The previous three seasons, their average turnover rate was 26.9%.
It's not a coincidence that the least effective Press Virginia team we've seen to date was the one that forced the fewest turnovers.
And next season, the Mountaineers will be replacing a backcourt that featured two seniors that stood 6-foot-3 and over 200 pounds with junior Beetle Bolden and redshirt freshman Brandon Knapper, who are listed at 6-foot-0, 175 pounds and 6-foot-0, 180 pounds, respectively, which is why …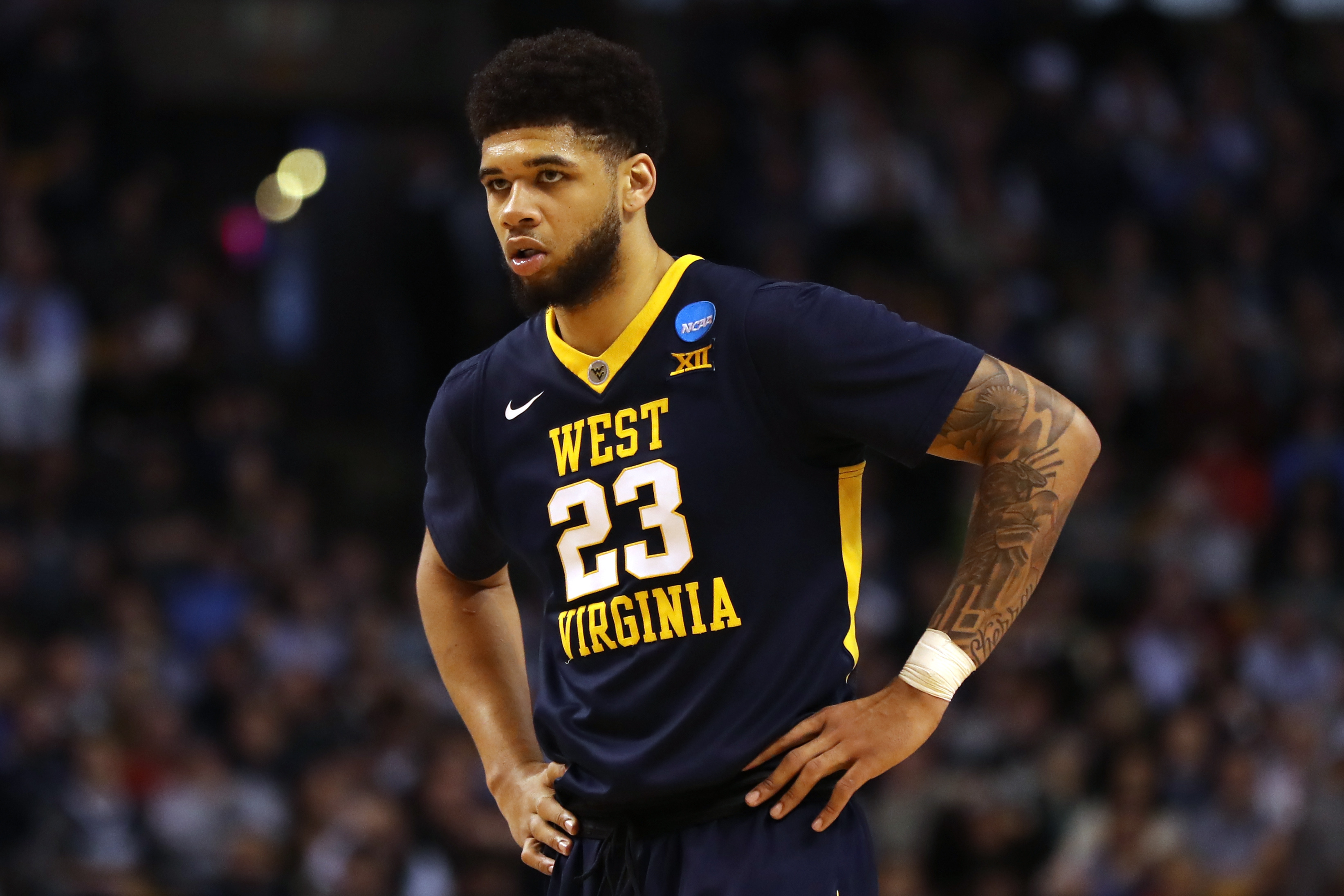 THE X-FACTOR
… West Virginia's season really hinges on whether or not their current guards are going to be able to apply the ball pressure and defensive intensity that Carter and Miles did for four years.
I hate to belabor the point, but more than any other program in college basketball, the Mountaineers thrive based on the system that they run. The concept is pretty simple, really: West Virginia does not have great halfcourt offensive weapons, so they play this style — pressing, attacking the offensive glass — to maximize the number of possessions they get, and to ensure they get as many easy baskets as possible. This matters because in order to get into their press, they need to make the other team take the ball out of the rim.
They need to make shots.
Frankly, a pressing system like this winds the clock back. West Virginia may be the only team in college basketball that defies math, where two-pointers — made at a higher percentage leading to a higher percentage of defensive possessions where they can get into the press — are actually more efficient than three-pointers.
It all works in concert.
Their defense leads to easy buckets which, in turn, leads to the Mountaineers being able to get into their defense, and so on.
That's what makes Bolden, Knapper, Trey Doomes, Jermaine Haley and Jordan McCabe so important.
If their press isn't effective, if their guards aren't forcing turnovers and turning them into easy buckets, then West Virginia just is not going to be all that good.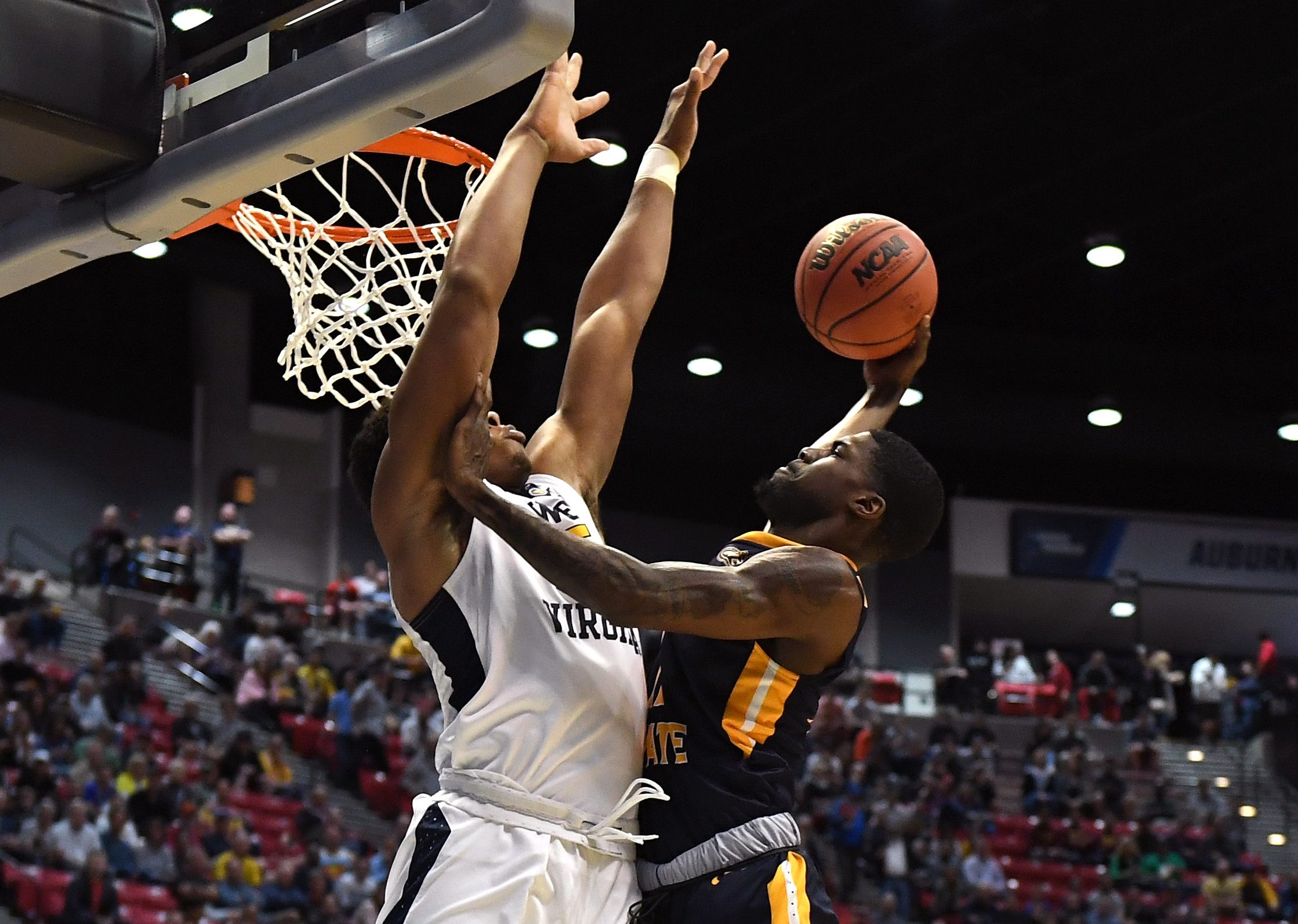 2018-19 OUTLOOK
At this point, what can we do other than trust in Hugs?
The Mountaineers have lost important pieces every season — including heading into the inaugural year of Press Virginia — and they've been arguably the second-best program in the Big 12 the last four years.
And it's not like the cupboard is bare.
The things that Sagaba Konate can do in front of the rim are ridiculous. He's the most entertaining shot-blocker that I can remember watching at the college level if only because his size seems to invite opponents to try and dunk on him. His timing, his leaping ability and his celebrations are all elite, and when you have an eraser in front of the rim, ready and willing to clean up any mistakes made by perimeter defenders, it lifts the entire defense.
Esa Ahmad should be in line for a big year. He's averaged double-figures each of the last two seasons despite playing with Jevon Carter — and missing the first half of last year due to academic issues — and is the odds-on favorite to lead West Virginia in scoring this season. Lamont West and Wesley Harris (pending legal troubles) also appear to be in line for big years. Throw in a pair of JuCo transfers and two freshmen in Derek Culver and Trey Coomes that should be ready to contribute immediately, and Huggins has a nice mix of experienced talent, youth and depth.
They should be a tournament team again.
But the difference between finishing in the tournament and making a run at the top of the Big 12 is vast, and it's hard for us to know which West Virginia will be until we get a glimpse at what they can do defensively.
THE REST OF THE TOP 25
No. 18 Oregon
No. 19 Syracuse
No. 20 LSU
No. 21 Mississippi State
No. 22 Clemson
No. 23 Michigan
No. 24 N.C. State
No. 25 Marquette