Beginning in September and running up until November 6th, the first day of the season, College Basketball Talk will be unveiling the 2018-2019 NBCSports.com college hoops preview package.
Every day at Noon ET, we will be releasing an in-depth preview of one member of our Preseason Top 25.
Today we dive into No. 18 Oregon.
---
You know that you've hit the sweet spot as a recruiter when, coming off of a 13-loss season and a trip to the NIT, you lose three of your top four scorers and still manage to find a way to crack the top 20 of the preseason polls.
That's where we are right now with the Oregon Ducks.
Dana Altman's program saw a trio of one-and-dones — two grad transfers and one first round pick — pass through last season, a disappointing follow-up to 2017's trip to the Final Four, but it laid the foundation for what should be a team that will push for a Pac-12 regular season title in 2019.
Payton Pritchard is back and one of the most underrated point guards in the country. A pair of sophomores are in line for big years, while a pair of redshirt senior transfers will provide a veteran presence on the roster. Throw in what may be Altman's best recruiting class since he took over in Eugene, and you have the makings of a team that will contend for the Pac-12 title.
But that's not the most interesting dynamic with this team.
How they will decide to utilize their top five prospect is, and it may be the single-most intriguing story line in college basketball this season.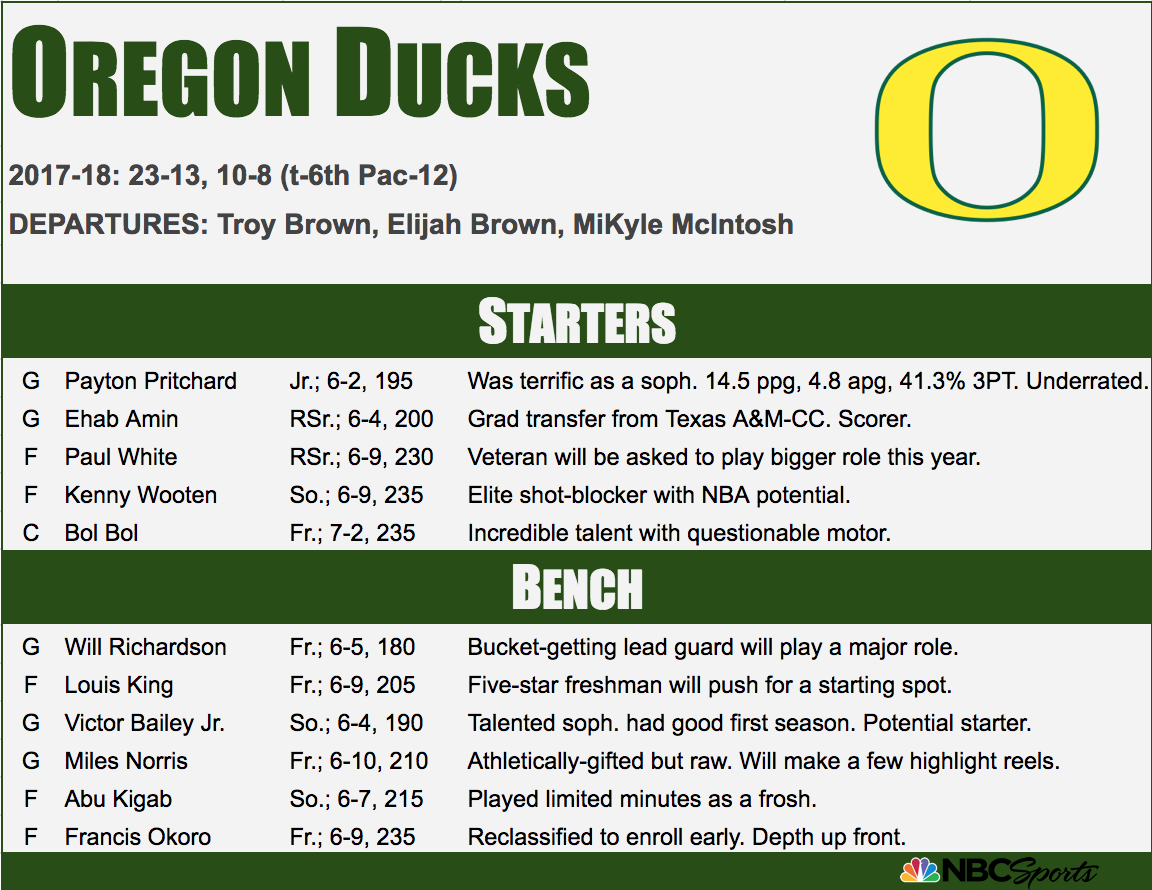 MORE: Mid-Major Power Rankings | The Hot Seat | Perry Ellis All-Stars
OREGON WILL BE GOOD BECAUSE …
Dana Altman is a helluva basketball coach.
I think it really is that simple.
Over the course of Altman's tenure at Oregon, we've seen him repeatedly find a way to get a team that doesn't have all that much experience playing together to gel, find their roles within his system and win more games than their talent says they should on paper.
Why would we expect anything less this season?
And, frankly, this roster has a makeup that is quite similar to Altman's best teams in Eugene: Talented lead guards, a defensive presence at the rim and a slew of athletic and versatile wings.
Pritchard is underrated at the point guard spot. He's not a typical Altman lead guard — he's not the scorer that Joseph Young or Tyler Dorsey was — but he did average 14.5 points last season, he is a very good three-point shooter and he's a better playmaker than either of those two were. He also started as a freshman for a team that reached the Final Four. You can trust him.
Up front, Bol Bol and Kenny Wooten will give the Ducks the best pair of shot-blockers in the country (more on them and the interesting dynamic at play below) with enough depth behind them that the Ducks shouldn't really have to worry about foul trouble. And on the wings, Altman has plenty of depth and talent at his disposal. Paul White and Ehab Amin are both fifth-year seniors that are in line for starting spots, and they will be pushed by a trio of talented youngsters — sophomore Victor Bailey Jr. and freshmen Louis King, a five-star prospect, and Will Richardson, who might actually be better-suited to playing the role that Dorsey played for this program.
I'm not quite sure how it is all going to come together this season, but I'm going to bet that Altman figures out how to make it happen.
RELATED: Expert Picks | CBT Podcast | Best non-conference games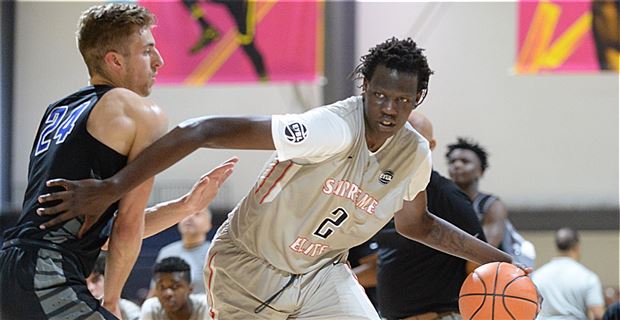 BUT OREGON IS GOING TO STRUGGLE BECAUSE …
This is the youngest team that Altman has coached during his time at Oregon.
Half of his rotation is going to end up being freshman. There are just three scholarship players on the roster that are upper-classmen, and one of those three — Ehab Amin — is a grad tranfer that was planning on enrolling at Nevada until the Martin twins announced that they were returning to school in late-May.
That's not to say that Altman hasn't coached freshmen before. Tyler Dorsey started as a freshman on a team that won the Pac-12 and made it to the Elite 8. Dillon Brooks and Jordan Bell started as freshmen for a team that won 26 games and earned themselves a trip to the NCAA tournament.
Those rosters were made up differently, however. They had bonafide stars to lean on, veterans that had spent time in Altman's system that would be able to carry the bulk of the load, particularly on the offensive end of the floor. I think Pritchard will be able to be that guy for the Ducks this season, but the way that he handles the lead guard spot is very different from the way that Joseph Young and Tyler Dorsey played it. Amin scored a lot of points last season and White is a veteran that has been in the college ranks for four years, but neither of them have proven themselves as elite contributors at this level yet.
If anything, I think this issue will manifest itself more as a learning curve then as a hindrance come March, but it should be something that we keep an eye on.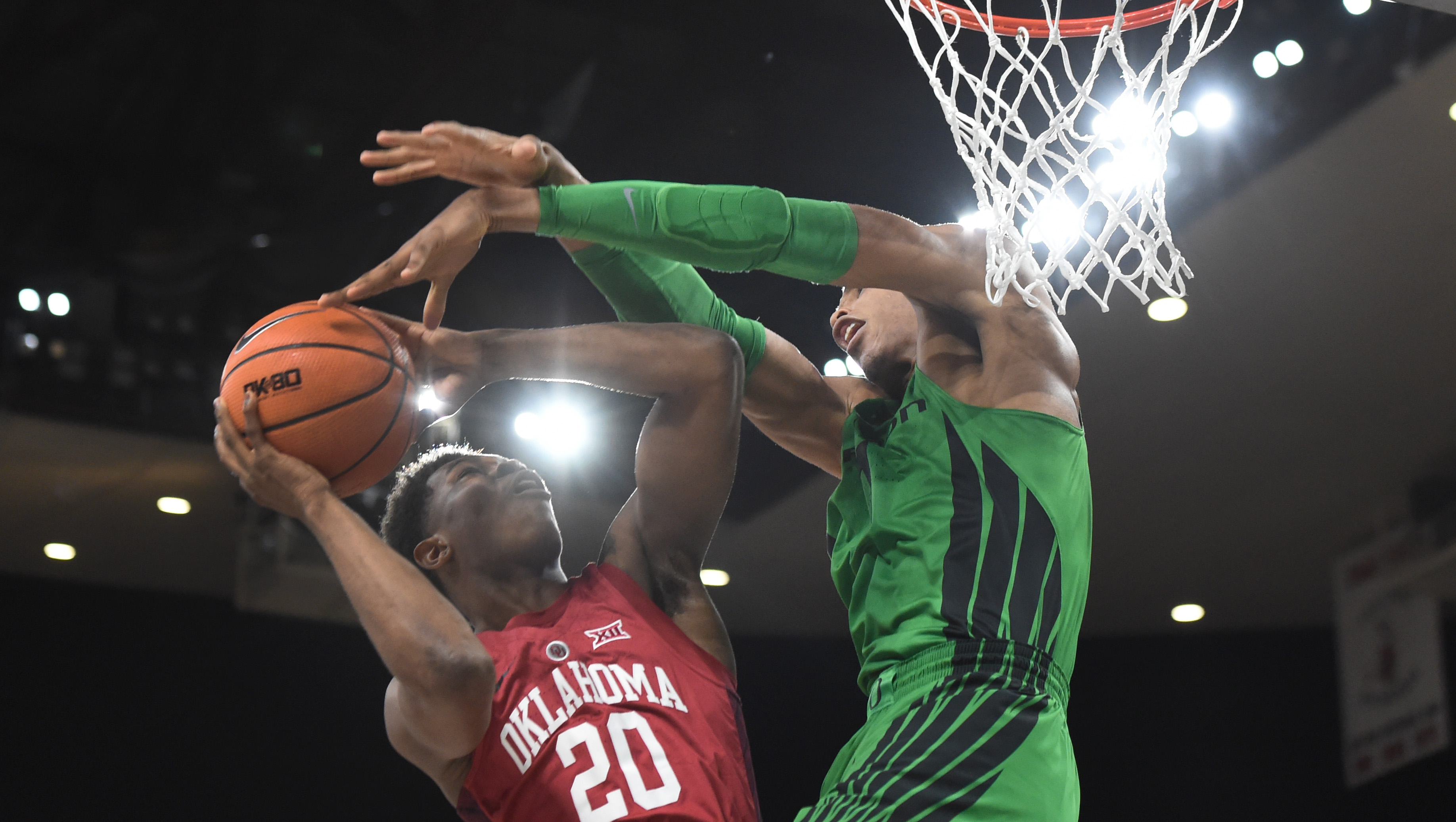 THE X-FACTOR
There may not be a player in the country this season who is going to be more fascinating to follow than Bol Bol.
He is and will be one of the most divisive prospects when it comes to NBA potential that I can ever remember. The physical tools are there for him to thrive in college and pay off the risk that comes with drafting him in the top five. He's 7-foot-2 with a 7-foot-6 wingspan and, when engaged, can be an absolutely devastating force around the rim. There are times where you watch him play and it just feels like no one on the other team is going to get a shot off inside the foul line. Bol is also a terrific shooter for someone his size, knocking down better than 46 percent of his threes during his last year on the EYBL circuit while firing up more than four threes per game. He's not just a catch-and-shoot guy, either. He does have some perimeter skill and he is capable of burying step-in threes in transition.
Three-and-D bigs aren't quite as valuable as they were a couple of years ago, but being able to space the floor on one end and protect the rim on the other is still something that few players can do, particularly at the college level.
The issue with Bol is and always has been his motor. He can spend 10 minutes looking totally dominant and then totally disappear, failing to box out, unable to hold position in the paint, barely bothering to try and change a shot at the rim. When he isn't engaged he can be a downright liability, particularly given some of his issues as a screener and as a switchable big man.
Speaking strictly about Bol as a player, there are plenty of red flags mixed in with his obvious and significant upside. You can ask ten scouts what they think of him and you'll probably end up with ten different opinions.
And all of that is before we get into what will be the most interesting dynamic for this Oregon team: Kenny Wooten vs. Bol Bol.
Two years ago, Altman had this very same issue to deal with. He had a team that featured two of the nation's best shot-blockers in Chris Boucher and Jordan Bell. Boucher was the golden boy that year, coming off of a season where he averaged 12.1 points, 7.4 boards and 2.9 blocks while shooting 33.9 percent from three. But by the start of Pac-12 play, Bell had taken over as the program's starting center, all-american Dillon Brooks was playing the four and, come tournament time, Oregon was able to make a run to the Final Four despite the fact that Boucher was out of the lineup with a torn ACL.
Bell's ability as an all-around defender — someone that could protect the rim and switch onto perimeter players — allowed Altman to play the small-ball style that he prefers. Oregon, quite simply, was a better team with Bell on the floor than with Boucher.
And Wooten is the guy that can play the Bell role this year. As a freshman, the 6-foot-9 Wooten averaged 2.6 blocks in less 20 minutes a night. He can defend on the perimeter. He can operate as the screen-and-dive rim-runner and lob target that, in theory, takes advantage of all the space in the paint that would be created by having four guards on the floor around him.
The guard play on this team is not at the level it was for that Final Four team, which could end up meaning that the optimal lineup for Oregon is to play bigger, but that doesn't change the fact that the most interesting part of this Oregon season is going to end up being Bol, both in whether or not he shows up to play and how his head coach opts to utilize the pieces on his roster.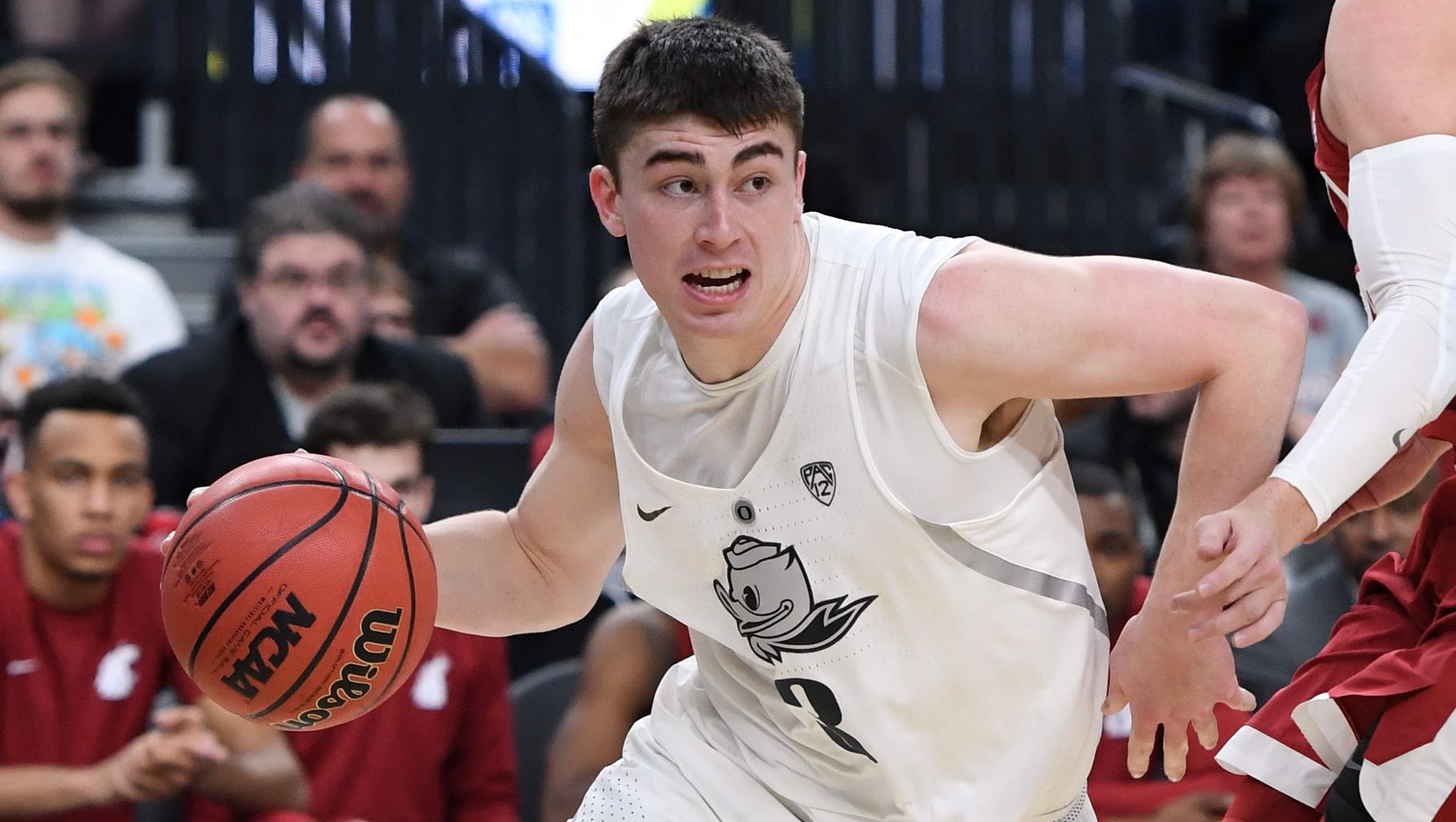 2018-19 OUTLOOK
Oregon is going to be good. The simple fact of the matter is that Dana Altman is a really good basketball coach that has a roster at his disposal that features talented players at the positions he prioritizes.
It's not that hard to envision the Ducks winning a watered down Pac-12 this season.
I also don't think this is going to be the easiest coaching job he's ever had. Bol Bol's inconsistency is enough to drive any coach insane, and while I think Pritchard is a very good player, he's not exactly the perfect fit as the lead guard in Altman's offense. Throw in the fact that he has a number of options on the wings that are talented but have yet to prove themselves at this level and you get a team that could feasibly limp into the NCAA tournament as a No. 10 seed.
And let me be clear: I think Oregon is heading to the NCAA tournament.
But I think this group is more likely to be in the mix for the Pac-12 title and a trip to the second weekend of the NCAA tournament than they are destined for a return trip to the Final Four.
THE REST OF THE TOP 25
No. 19 Syracuse
No. 20 LSU
No. 21 Mississippi State
No. 22 Clemson
No. 23 Michigan
No. 24 N.C. State
No. 25 Marquette