Beginning in September and running up until November 6th, the first day of the season, College Basketball Talk will be unveiling the 2018-2019 NBCSports.com college hoops preview package.
Every day at Noon ET, we will be releasing an in-depth preview of one member of our Preseason Top 25.
Today we dive into No. 19 Syracuse.
---
For the second time in just three seasons, Syracuse and head coach Jim Boeheim did their best to make me look like an idiot in March.
In 2016, after the Orange were bounced out in the first round of the ACC tournament, finishing with a 19-13 record and a 9-9 mark in the ACC, I said that they had absolutely no business getting an at-large bid to the Big Dance before they, as a No. 10 seed, decided to march all the way to the Final Four. This past season, I, again, railed against the Orange's inclusion in the NCAA tournament field after they entered Selection Sunday with a 20-13 record and an 8-10 finish in the ACC.
What did Syracuse do?
They beat Arizona State in a play-in game before knocking off both TCU and Michigan State en route to the Sweet 16, where Duke was finally able to send Syracuse packing.
You see, despite entering the tournament with a rotation that included just seven scholarship players, Boeheim was able to field a roster that finished with the nation's fifth-best defense, according to KenPom.com, and was anchored by Tyus Battle, one of the most productive guards in the sport despite the fact that he essentially played every minute for the Orange over the course of the final three months of the season. He finished last season averaging 19.2 points despite playing on one of the slowest teams in college basketball.
And this is the best part: Syracuse returns everyone of consequence from that team while adding a pair of freshmen that will play roles as well as a transfer that could end up pushing for a starting spot.
It's why Syracuse may not be the most entertaining team to watch this season, but they are a sneaky bet to win the ACC.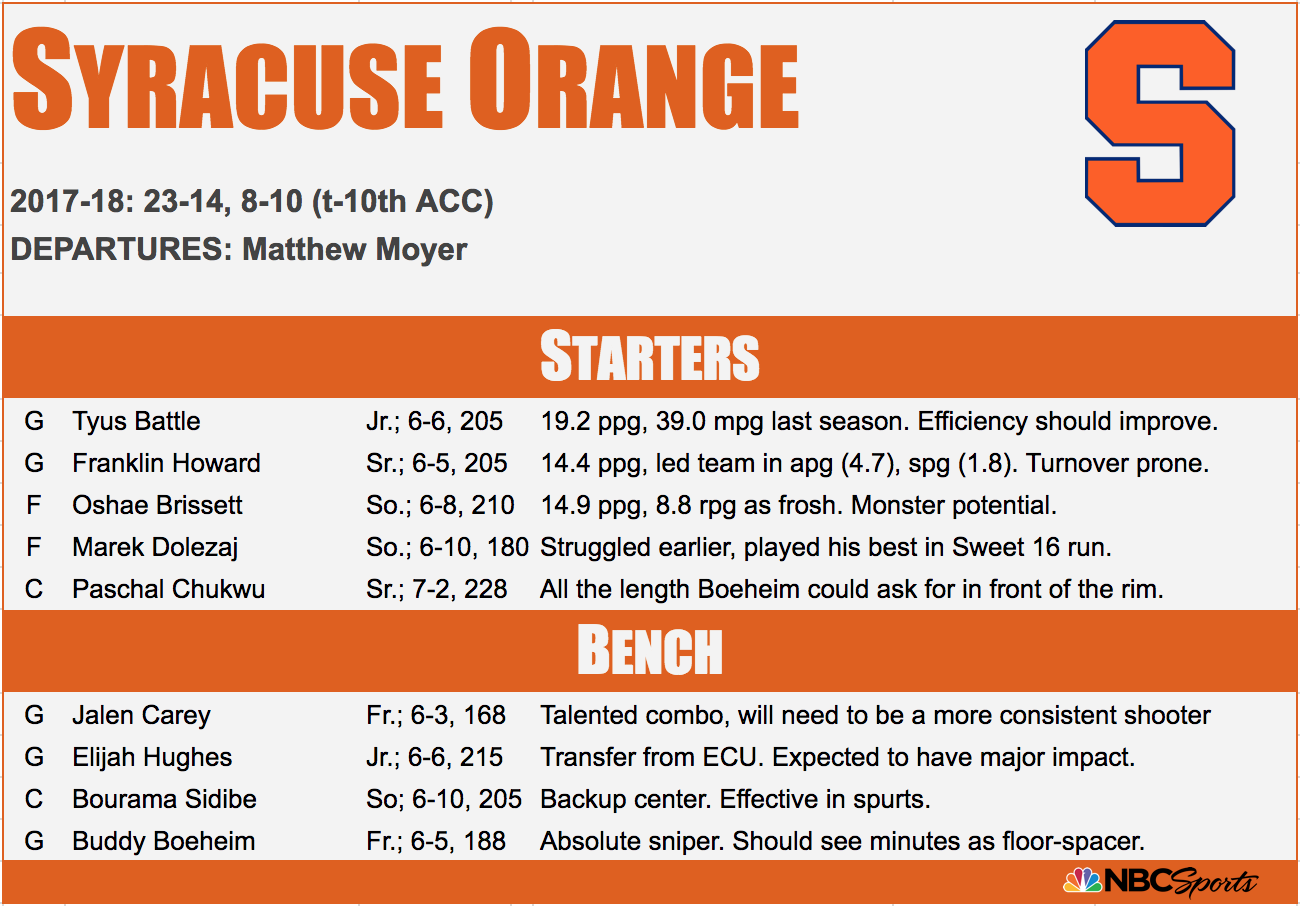 MORE: Mid-Major Power Rankings | The Hot Seat | Perry Ellis All-Stars
SYRACUSE WILL BE GOOD BECAUSE …
The Orange will, once again, be one of the single-best teams in the country on the defensive end of the floor.
And, as Jim Boeheim has for what feels like half-a-century, they'll do so by playing the nation's preeminent 2-3 zone.
I know what you're thinking: How can it be so difficult for coaches to game-plan against their zone? Why is it so hard for good basketball coaches and good basketball teasm to run good offense against a defense that is generally reserved for old guys trying to keep the dream alive in a men's league?
It's because the zone that Syracuse plays is different than your average 2-3 zone. It starts with the ridiculous amount of length that Boeheim has on his roster. Both of his starting guards are 6-foot-6, long and athletic. The wings are 6-foot-9, long and athletic. His starting center is 7-foot-2, and his back-up center is 6-foot-10. Both of them are, you guessed it, long and athletic.
What all that length does is take away passing lanes, especially when you factor in that Boeheim's zone starts as something closer to a 2-2-1 than a 2-3. The wings push up high, the guards at the top of the zone cut-off a pass to the high-post as the center at the rim defends against a lob over the top of the defense. Opposing offenses can swing the ball around the perimeter or throw looping passes to the corners, which gives Syracuse defenders ample time to move where they need to be, but that's about it.
The entire purpose of Boeheim's recruiting strategy — stockpiling as much height, length and athleticism as humanly possible — is to make moving the ball quickly or getting a clean look from the perimeter against his zone impossible.
With this roster, he has done just that.
Syracuse finished last season ranked as the fifth-best defense in the country, according to KenPom's adjusted-defensive efficiency metric. That is the highest that any Syracuse team has finished in the 17 seasons in KenPom's database. They were 10th nationally in defensive effective field goal percentage, and while they struggled on the defensive glass, anyone that grabbed an offensive board still has to contend with finishing in the paint around all that length. Should I mention the Orange finished the year third in defensive block rate?
But that's not the most impressive thing Syracuse did defensively.
This is: The Orange held opponent's to just 31.8 percent shooting from three (good for 17th nationally) while forcing their opponents to shoot 44.5 percent of their field goal attempts from beyond the arc. That is the highest percentage of any team in the seven high-major leagues. For comparison's sake, Virginia held opponent's to 31.0 percent shooting from three, with 40.8 percent of their field goal attempts coming from beyond the arc.
That, frankly, is incredible. It tells you everything you need to know about the Syracuse.
And not only does Boeheim return all five starters and his sixth-man from that team, three of those six returnees — Oshae Brissett, Marek Dolezaj and Bourama Sidibe — were freshmen a season ago, and another 6-foot-6 guard — East Carolina transfer Elijah Hughes, who sat out last season — is eligible to play this season. Throw in a pair of freshmen — Jalen Carey and Buddy Boeheim — that are expected to see immediate playing time, and the Orange will actually be able to give some of their starters a rest this season.
Syracuse is going to be one of the nation's elite defenses once again, and that is enough to make them a top 25 team entering the season.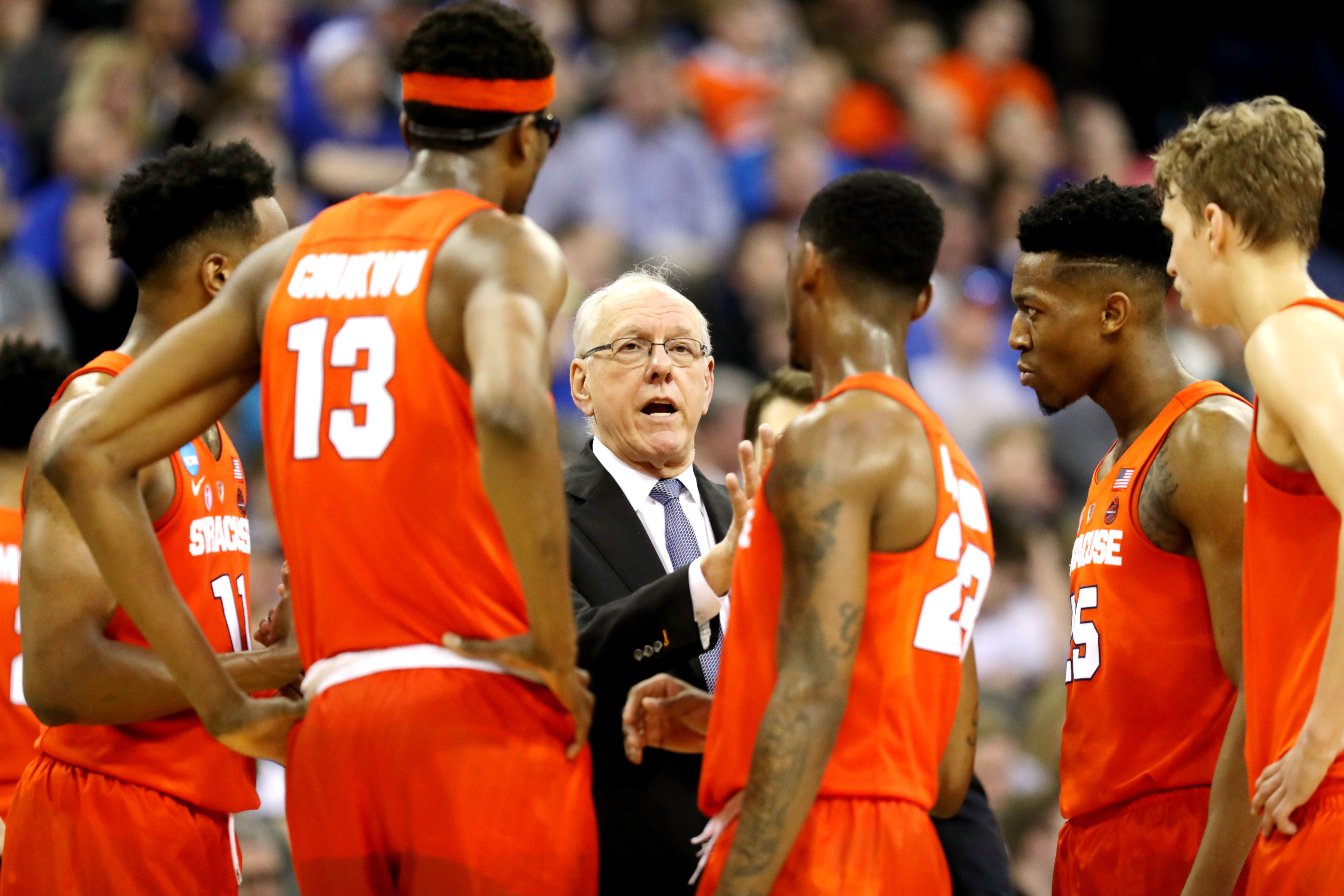 BUT SYRACUSE IS GOING TO STRUGGLE BECAUSE …
I'm not convinced that their offensive improvement is going to be all that drastic.
Let's call a spade, a spade: Syracuse was downright bad offensively a season ago. They finished the year 135th in KenPom's adjusted-offensive efficiency metric, which is easily the lowest Syracuse finish in KenPom's database. The reason the Orange were so poor on that end is three-fold:
They were horrid shooting the ball from the perimeter, making just 31.8 percent of their threes. That was good for 324th nationally. Their floor-spacing was non-existent, which is what happens when you have two players on the floor that are ineffective more than five feet from the rim.
Syracuse didn't exactly have a point guard on the floor. Franklin Howard led the team in assists, but he was quite turnover prone and, for the second straight season, padded those raw stats against some middling early-season competition. Tyus Battle took over lead guard duties, but …
… he was not only an inefficient scorer that struggled to make his teammates better, he was also more or less the only option for Syracuse to be able to create offense against quality competition.
I don't think there's any question that Syracuse will be improved on that end this season. I fully expect Brissett and Dolezaj to be more well-rounded weapons offensively, particularly Brissett, who averaged 14.9 points and 8.8 boards as a freshman. As he gets 'stretchier', making more than 33.1 percent of his threes, he'll only become a better weapon.
Carey and Hughes will also help space the floor and take some of the creative responsibility off of Battle's plate. Both have drawn rave reviews from sources around the program this offseason. Then there is Buddy Boeheim, a 6-foot-5 sharpshooter that could see 15-20 minutes per game. His size will allow him to play on the top of the zone, hiding his defensive issues, and he steps on campus as the best shooter in the program this side of assistant coach Gerry McNamara.
But I'm nowhere near convinced that this ensures Syracuse will be a top 50 offense, and I think that is what it will take for the Orange to be by the end of the season if they want to be a top four team in the ACC and a true Final Four contender.
Last season, Syracuse was the only top seven team in KenPom's adjusted defensive efficiency metric that was not ranked between 30th and 50th in adjusted offensive efficiency. Of those six — Virginia, Cincinnati, Michigan, Texas Tech, Tennessee and Clemson — only Clemson was outside the top three seed lines in the NCAA tournament; the Tigers were a No. 5 seed that reached the Sweet 16.
That's where the Orange need to be offensively to hit their ceiling …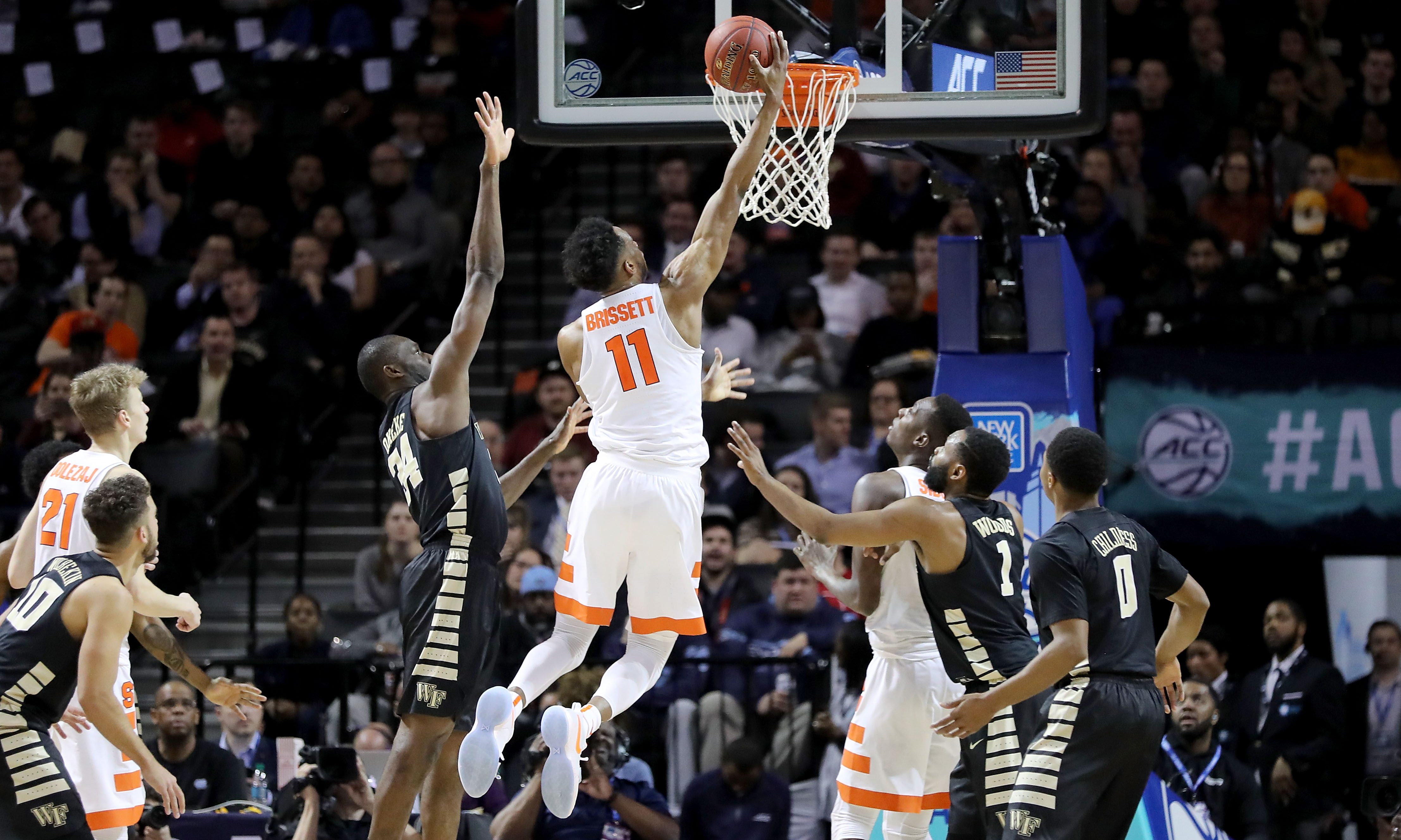 THE X-FACTOR
… but I'm still in wait and see mode.
The biggest reason? I don't see a difference in their best five this season when compared to last season. Hughes averaged 7.8 points, 2.3 boards and 1.3 assists while shooting 27.3 percent from three for a bad East Carolina team in 2016-17. Is he going to solve the issues Syracuse has offensively? Carey is a four-star prospect that picked the Orange over Seton Hall and ranked 61st in 247 Sports composite rankings. Buddy Boeheim shoots the leather off the ball, but again, we're not exactly talking about the second-coming of J.J. Redick here. Those two can fill a role. They're not going to be one-and-done.
More importantly, every time one of those three newcomers steps on the court, Syracuse will be forced to do one of three things: Send Battle to the bench, send Howard to the bench or play with a guard in one of the wing spots.
Howard has his warts as a player, but he still managed to put up 14.4 points, 4.7 assists and 3.5 boards while leading the Orange in steals. He's not a perfect fit for what Syracuse needs him to be, but he's also a long way from being a bum. Playing a guard on a wing will hurt the Orange defensively. Will the boost they get from having another real offensive threat on the floor instead of playing Dolezaj alongside a catch-and-dunk center outweigh what they lose defensively?
And all of this ignores the simple fact that Jim Boeheim despises using his bench. His program hasn't finished in the top 300 of bench minutes since the 2011-12 season, when he used Dion Waiters — who was the No. 4 pick in the 2012 draft — and Michael Carter-Williams — the No. 11 pick in the 2013 draft and the 2014 NBA Rookie of the Year — as substitutes.
2018-19 OUTLOOK
Syracuse is going to be a good basketball team. They should make it back to the NCAA tournament. They are right there with the likes of Clemson, N.C. State, Virginia Tech and Florida State in the discussion for the fourth-best team in the ACC.
The difference-maker, I think, will be Tyus Battle.
The 6-foot-6 junior scored a ton of points last season. He also took a ton of shots and finished with a higher turnover rate than assist rate. It's why he's back in school right now instead of trying to earn a roster spot in the NBA. His inefficiency, while explainable, scared teams off.
And I think he'll make an effort to improve that this year. He'll look to take better shots. He'll try to get his teammates more involved. If he wants to be a combo in the NBA, he has to showcase some ability to make teammates better in college.
If he does that, if he's more efficient while the sophomore class takes a step forward and the newcomers take some of the load off of Battle's shoulders, this group has a chance.
Their ability to fluster anyone and everyone with that zone gives them a floor of being a tournament team. Their ceiling, if it all comes together, is as a top ten team, but as of today, my money is on this group finishing closer to their floor than their ceiling.
THE REST OF THE TOP 25
No. 20 LSU
No. 21 Mississippi State
No. 22 Clemson
No. 23 Michigan
No. 24 N.C. State
No. 25 Marquette