Beginning in September and running up until November 6th, the first day of the season, College Basketball Talk will be unveiling the 2018-2019 NBCSports.com college hoops preview package.
Today, we are previewing the Atlantic Coast Conference.
---
The ACC returns for another mega year as the league reloads with five-star freshmen and a ridiculous number of preseason top-25 teams.
This could very well be another year in which the ACC gets multiple No. 1 seeds and up to 10 teams in the NCAA tournament as the conference looks deep and talented.
Here's a look at the ACC.
FIVE THINGS YOU NEED TO KNOW
1. The ACC is loaded with contenders, but doesn't have a clear cut favorite.
A lot of familiar names pepper the top of the ACC's preseason standings. Duke and North Carolina are the seemingly perennial contenders while Virginia has now included themselves in that tier with the past few years. All of those programs have the potential to win the ACC again this season. None of them are the clearcut favorite at this point.
You can certainly make a strong case for all three of those schools. They also all have glaring issues. Duke is going to be very young, with question marks about how the ball moves and defense. Virginia has the talent to be a title contender again, but how will they handle last season's loss while also handling season-long questions about the team's ability to score when necessary? And North Carolina will be relying heavily on two freshmen this season — something Roy Williams hasn't always done before — so how well will Nassir Little and Coby White adjust to potential prime-time roles?
And this doesn't include a ridiculously loaded second tier of teams. The NBC Sports Preseason Top 25 has more than half the league in the poll. Can one of those teams make a leap to compete for the title as well? It's certainly feasible, with teams like Virginia Tech, Florida State, Clemson and Syracuse all returning a lot of talent from successful teams. This should be a fascinating year in the conference.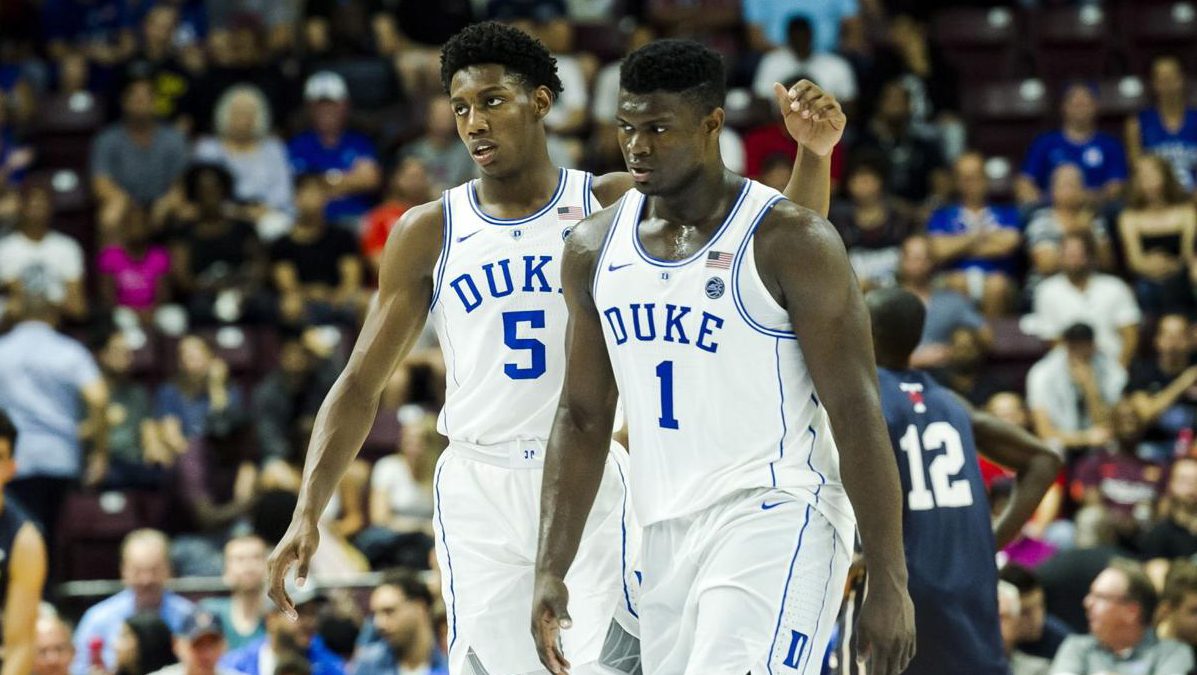 2. Duke's freshman class has the potential to be legendary.
Duke returns a few key pieces from last season, but the truth is nobody's interested in the Blue Devils that are coming back. Everybody wants to talk about the recruiting class with four top-10 talents and huge expectations.
The freshman class of R.J. Barrett, Zion Williamson, Cam Reddish and Tre Jones will all likely start from day one as the quartet is perhaps the most well-known recruiting class of all time. You could argue that other groups of recruits were deeper or more talented. None of them carry the level of burden this group does.
Williamson is the most popular high school basketball player since LeBron. He's a YouTube sensation who throws down NBA Dunk Contest-level in-game dunks while checking in at the 285 pounds that an NFL defensive end weighs. He destroyed rims in Canada and showed off a higher skill level than people give him credit for.
Barrett is the future of Canada basketball and a potential No. 1 pick in next June's NBA draft. He's already defeated a team full of American stars in FIBA play while getting an early call up to play with pros on the Canadian Senior National team this summer. He just played a national high school schedule at Montverde and dominated everybody.
Reddish might be even more talented than Barrett and Williamson. There were times in high school that the 6-foot-8 perimeter threat looked like the best player in the class. But inconsistencies have plagued Reddish at times, as he makes for an insanely talented No. 3 option in this class.
And then there is Jones, the younger brother of an NBA player who already won a national title at the same school. Tre will be known more by casual basketball fans than the common Duke player because of that association to Tyus. But Tre has also won multiple gold medals with USA Basketball and should be ready for the attention that comes with the position of being Duke's lead guard.
Veterans like Javin DeLaurier, Marques Bolden and Alex O'Connell will likely play a big role in Duke's season, but it's the freshman class that everyone will be watching for, as we'll only get a limited window to see these four play together in Durham.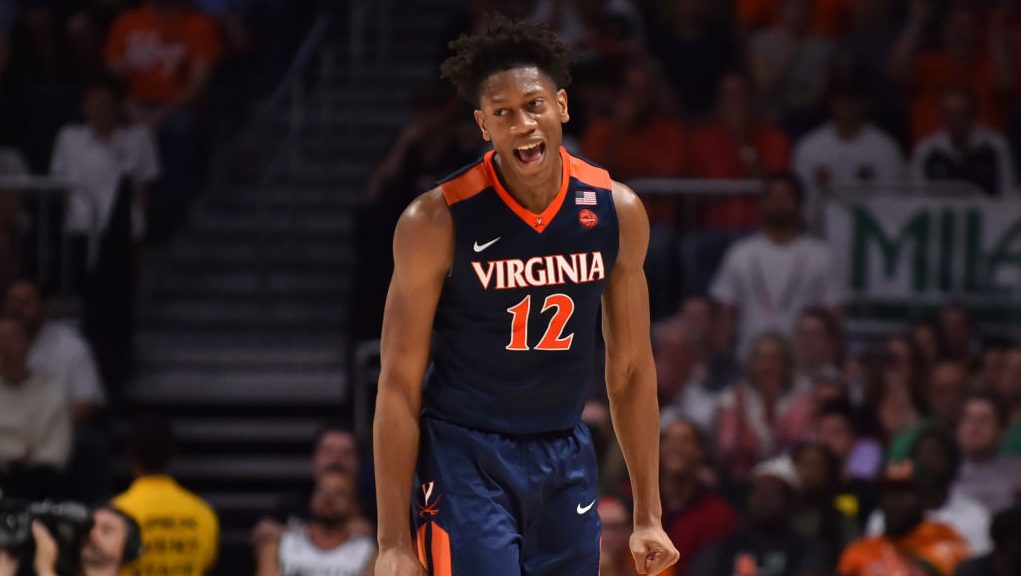 3. Virginia returns another potential No. 1 seed after last season's NCAA tournament disaster.
The jokes and memes are never going to stop, and neither will the questions about Tony Bennett's credibility when it comes to winning in March. Virginia's loss to No. 16 seed UMBC during last season's NCAA tournament will always be remembered as one of the biggest upsets in sports history.
The good news for the 'Hoos is that they have a potential No. 1 seed once again this season. They get a chance at revenge. Three starters, including the backcourt of Ty Jerome and Kyle Guy, are back, as is senior center Jack Salt. And De'Andre Hunter should earn starting minutes and make a huge leap this season on the wing. Junior big man Mamadi Diakite showed some late signs of being a major factor with more minutes.
No matter what Virginia does, they'll still have plenty of doubters — especially if the slow-paced offense continues. But this team has the makings of another consistent season in which they should compete for an ACC title.
4. North Carolina has the weapons to make another deep March run.
After four seasons of March memories, the backcourt of Joel Berry II and Theo Pinson have exhausted their eligibility. With a title and two Final Four appearances, the duo will be greatly missed. The good news for North Carolina is that they have the necessary weapons to make another deep run in March.
Senior forward Luke Maye is one of the nation's most versatile frontcourt weapons. He's a double-double machine who can also hit a three. Cameron Johnson and Kenny Williams are veteran perimeter threats and two more returning double-figure scorers. And North Carolina also has a promising young center platoon that includes Garrison Brooks and Sterling Manley.
But it's the freshmen who could be the key to North Carolina's success. Forward Nassir Little exploded into a top-five prospect during his senior season of high school as he'll be expected to be a major contributor this season. Scoring guard Coby White will likely be asked to handle much of the point responsibilities that fell on Berry, as he'll be playing a new role.
On the plus side, many project Little as a lottery pick after one season, while the scoring-minded White looked very good playing for the gold-medal winning USA Basketball U18 team this summer. So expectations will be high for both of them. The duo is also a big reason why expectations are once again high on North Carolina.
5. Eight ACC teams are in the NBC Sports Preseason Top 25. In other words, the league is loaded again.
It's easy to get lost discussing the recent greatness of programs like Duke, North Carolina and Virginia. So let's not forget about the rest of the ACC — which is once again loaded this season. Virginia Tech returns most of last season's NCAA tournament team, as they have a promising core and an offense that can really put up points.
Florida State, Syracuse and Clemson, the next pack of ACC teams, all made at least the Sweet 16 last season (the Seminoles made the Elite Eight) while each program returns a good chunk of those rosters. N.C. State and Miami both have intriguing rosters that just came off of NCAA tournament appearances. Both of those teams will rely heavily on rosters to offset the loss of some key players.
And it's also tough to count out programs like Louisville, Boston College and Notre Dame this season. New coach Chris Mack inherits a talented, but inconsistent, group with the Cardinals. Boston College might have received preseason top 25 consideration if Jerome Robinson didn't leave and go in the first round. The Eagles do have an All-American candidate in Ky Bowman with four starters back. And Notre Dame has T.J. Gibbs and Rex Pflueger returning, but they'll rely heavily on freshmen.
All together, it's feasible that this league gets double-digit NCAA tournament bids this season, particularly if some power leagues struggle to generate a normal number of bids.
PRESEASON ACC PLAYER OF THE YEAR: R.J. BARRETT, Duke
Many already view the 6-foot-7 Canadian as the No. 1 NBA Draft prospect for 2019, but before he shakes Adam Silver's hand, Barrett will see if he can be the latest freshman to dominate college basketball. Already great at the high school level in both FIBA and playing a national schedule with Montverde Academy, Barrett has been battle-tested by older players for much of his career. An electric athlete who has a chance to be a menace on both sides of the ball, Barrett could be an unstoppable scorer for the Blue Devils this season. He was the NBC Sports Preseason National Player of the Year.
THE REST OF THE ACC FIRST TEAM
LUKE MAYE, North Carolina: The versatile junior big man became only the sixth Tar Heel in the last 40 years to average a double-double for a season (16.9 ppg, 10.1 rpg) as he also shot 43 percent from three-point range.
TYUS BATTLE, Syracuse: Stuck in a bad offense last season, the junior guard still managed to average 19.2 points per game — helping carry the Orange to a surprising postseason run.
ZION WILLIAMSON, Duke: Expectations for the freshman forward have been enhanced after some flashes of brilliance during Duke's summer exhibition tour to Canada.
DE'ANDRE HUNTER, Virginia: The sophomore could emerge as one of the premier two-way wings in the country after earning ACC Sixth Man of the Year last season.
FIVE MORE NAMES TO KNOW
KYLE GUY, Virginia
NASSIR LITTLE, North Carolina
KY BOWMAN, Boston College
CAM REDDISH, Duke
T.J. GIBBS, Notre Dame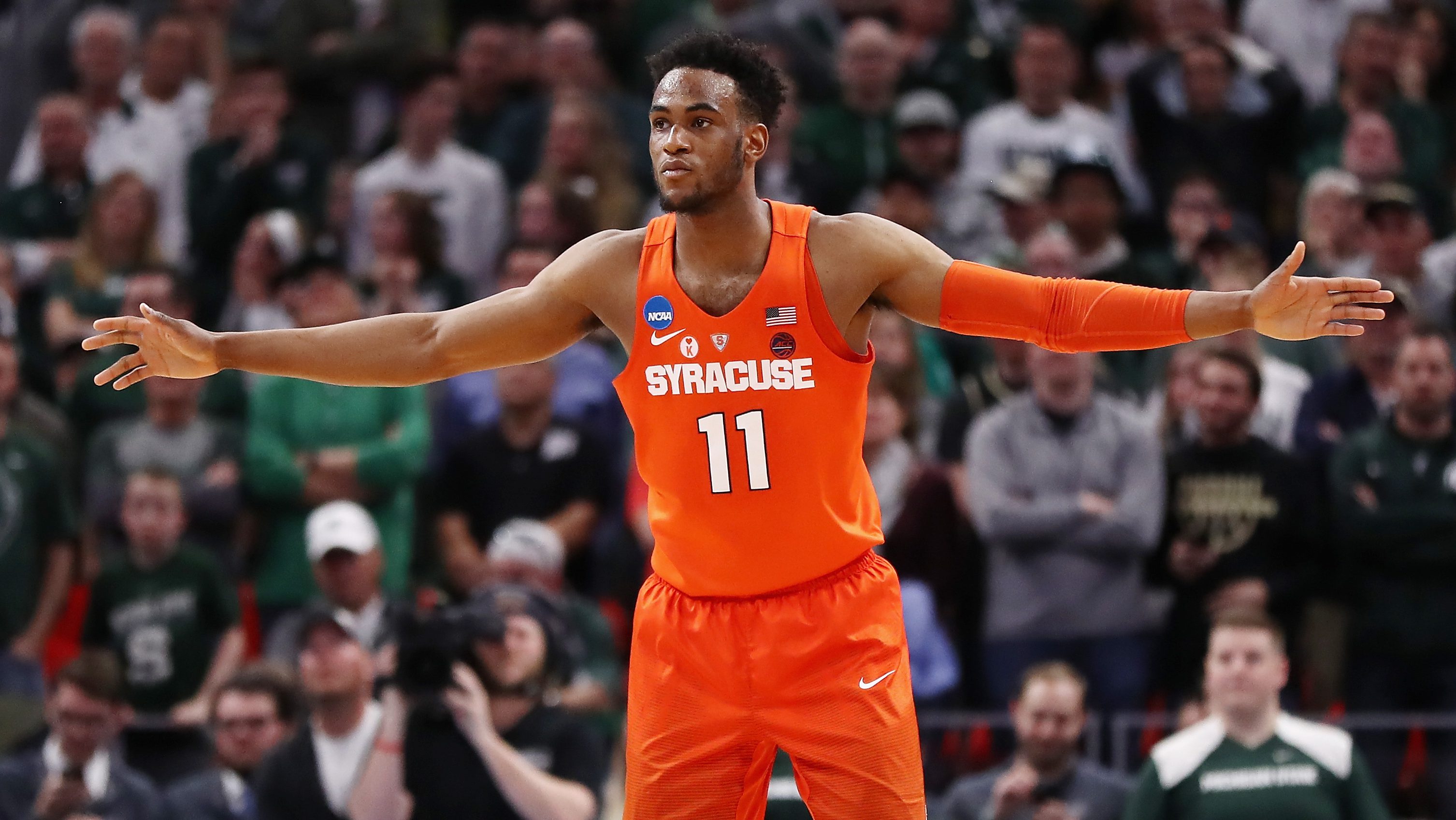 BREAKOUT STAR
Syracuse sophomore forward Oshae Brissett didn't receive a lot of attention as a freshman putting up big numbers at a known school. The bouncy 6-foot-8 Brissett averaged 14.9 points, 8.8 rebounds and 1.2 steals per game as he played in a notable 38.1 minutes per game. Despite putting up one of the best freshman seasons in Orange history, Tyus Battle received most of the attention as the go-to scorer from last season's team. If Brissett improves his 35 percent shooting, while showing more consistent three-point range (33 percent), then he could have a monster second season and receive much more attention.
COACH UNDER PRESSURE
Danny Manning has recruited at a high level at Wake Forest (including a very good freshman class this season). Unfortunately that hasn't always translated into success for the Demon Deacons. Although Wake Forest made the NCAA tournament with a breakout star in John Collins just two seasons ago, the program reverted back to a 4-14 finish in the ACC last season. Manning only has one postseason appearance in four seasons with the program and Wake Forest hasn't finished about 10th in the ACC during his tenure. Regardless of how well he is recruiting, Manning needs to start winning some games.
ON SELECTION SUNDAY WE'LL BE SAYING …
The loaded ACC has multiple national title contenders to go along with a deep group of eight teams who were selected into the final Field of 68.
I'M MOST EXCITED ABOUT …
Watching Zion Williamson play at the college level is something I've been waiting for since his sophomore year of high school. America's most popular prep basketball star since LeBron James, Williamson has rare size and athletic grace. If Zion puts up some monster numbers, while making huge highlight-reel plays, for the Blue Devils this season, then it's a very good thing for college basketball.
FIVE NON-CONFERENCE GAMES TO CIRCLE ON YOUR CALENDAR
Nov. 6, Duke vs. Kentucky (Champions Classic, Indianapolis)
Nov. 28, Purdue at Florida State (ACC/Big Ten Challenge)
Nov. 28, North Carolina at Michigan (ACC/Big Ten Challenge)
Dec. 8, Georgetown at Syracuse
Dec. 15, Gonzaga at North Carolina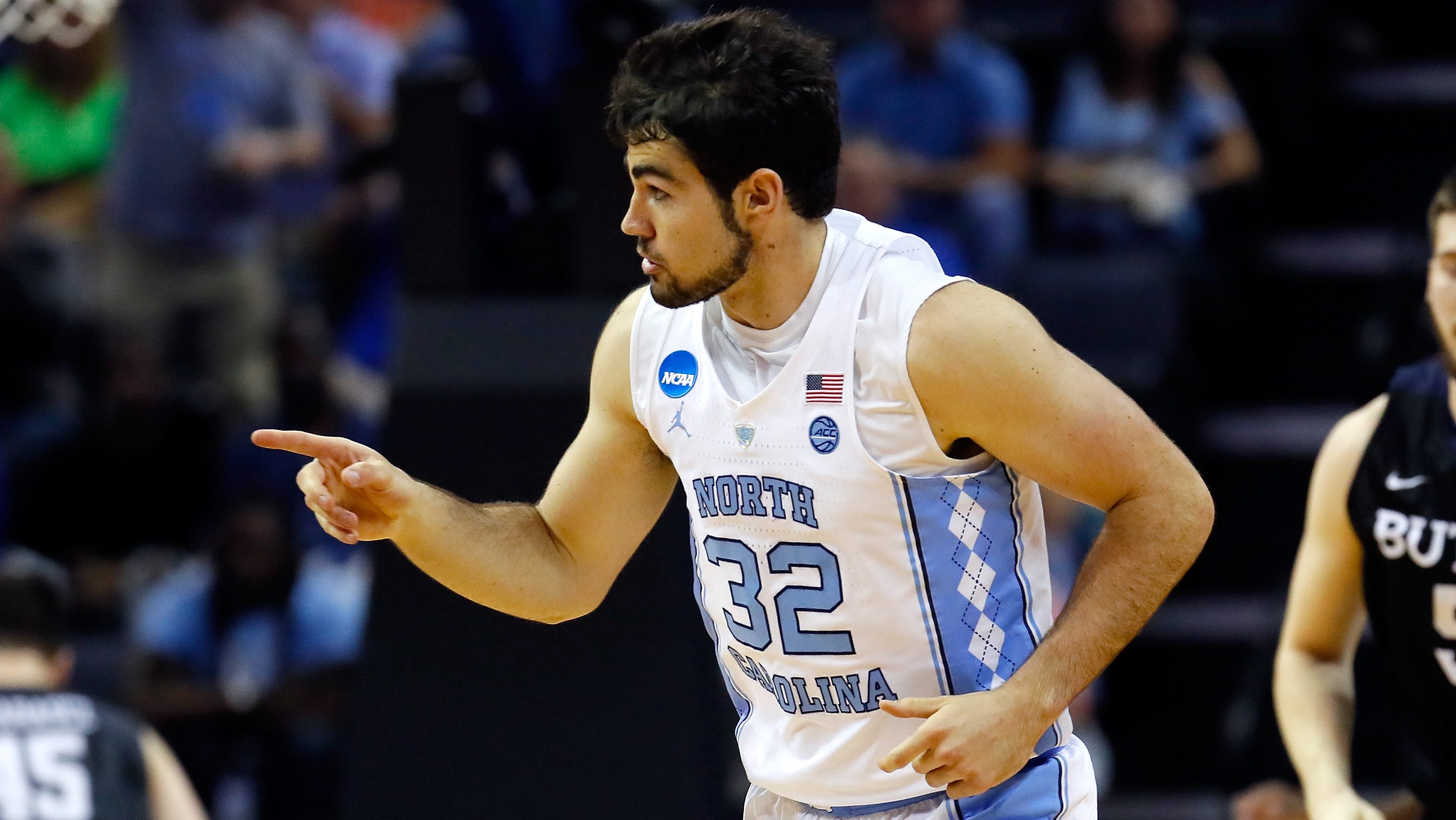 PREDICTED FINISH
1. DUKE: It's always tough for teams reliant on freshmen to make the Final Four. Duke is hoping this potentially special group is an exception. Figuring out roles and lineups is going to be one of the fascinating things about this Duke roster.
The Blue Devils have the luxury of throwing a lot of unique looks out there since Barrett, Reddish and Williamson can play so many different positions on the wing. Small-ball lineups are available. Duke can throw a lot of size out there with someone like Bolden at center and maybe DeLaurier at the four. And O'Connell gives them another perimeter weapon who showed he can make some big plays last season. Scoring shouldn't be too much of an issue. Getting consistent stops is likely going to dictate whether this team lives up to its ultimate potential.
2. VIRGINIA: Expected to once again be one of the best teams in the country, the Cavaliers feature a lot of returning talent. The backcourt of Ty Jerome and Kyle Guy are back. De'Andre Hunter goes from the bench to a starting, more featured role. Frontcourt depth shouldn't be a concern as Jack Salt, Mamadi Diakite and Jay Huff are among a versatile group.
Improving offense is going to be what everyone is watching for. Since Virginia got run out of the gym by UMBC last season, putting up points — when necessary — has been a big subject with this team. With an NBA talent and two upperclass guards who can really shoot, Virginia is hoping to have more consistent offensive firepower this year. Remember, Hunter also missed the NCAA tournament with a broken wrist. While the pack-line defense and getting stops is still the backbone of Virginia basketball, this offense should be better equipped to fight back if an opposing team gets hot. And if Virginia can consistently put up points, then it makes them more intriguing for a potential Final Four run.
3. NORTH CAROLINA: While the Tar Heels have plenty of returning veterans and five-star freshmen to plug in holes at starting positions this season, the North Carolina bench is going to be a fascinating subplot. Reliable players fill most of the spots in the starting five, but the Tar Heels will ultimately need a few more guys to step up and help Luke Maye, Cameron Johnson and Kenny Williams.
Aside from freshmen like Nassir Little and Coby White, junior guards Seventh Woods and Brandon Robinson could be key guys off the bench, while sophomore big man Brandon Huffman is another development piece to keep track of. Freshman Rechon Black could also be looked at to play a Pinson-like role on the perimeter as his versatility and 6-foot-7 size are standout attributes. The freshmen duo of Little and White will ultimately be the big key to North Carolina's ceiling. But developing a deep bench, or some surprising late-risers, wouldn't hurt either.
4. VIRGINIA TECH: Back-to-back seasons of making the NCAA tournament is a good start for Buzz Williams turning Virginia Tech into more of a basketball school. Now the goal is to win a game or two in March. The Hokies return everybody except Justin Bibbs from a postseason team as expectations will be high.
Bibbs was an experienced double-figure scorer, but the Hokies can now slide Chris Clarke into the starting lineup and led him battle on both ends with Kerry Blackshear up front. Point guard Justin Robinson, one of the nation's most underrated lead guards, also has talented perimeter options like Ahmed Hill and Nickeil Alexander-Walker returning. While the Hokies led the ACC in field goal percentage and threes last season, they often struggled for long stretches on the glass and the defensive end. If this veteran team puts more of a focus on being great on both ends, then the second weekend and beyond in the tournament isn't a stretch.
5. FLORIDA STATE: Putting a reigning Elite Eight team fifth shows how loaded the ACC is, because Florida State could be really good once again. Most of last season's group is back. Seven returning players averaged double-figure minutes. Depth is not going to be an issue.
Senior wing Terance Mann and fifth-year senior forward Phil Cofer are both returning double-figure scorers while lead guard Trent Forrest and wing M.J. Walker also return. The center rotation of Christ Koumadje and Mfiondu Kabengele provide a nice platoon in the middle. Shooter P.J. Savoy should also have more bench help from newcomers that include Albany transfer guard David Nichols and redshirt freshmen Raiquan Gray and Anthony Polite. Florida State is hoping that someone like Walker can make a leap and become a consistent third scoring option.
6. SYRACUSE: After shocking the sport by returning to the Sweet 16, the Orange have the makings of a very good team this season. All of the important pieces are back from last season, most notably junior guard and All-American candidate Tyus Battle. With Battle coming back, the Orange have a returning double-figure scorer at point in Frank Howard along with a long and athletic frontcourt that can really defend. Senior center Paschal Chukwu and sophomores Oshae Brissett and Marek Dolezaj all logged heavy minutes last year, with Brissett becoming a solid secondary off-ball scorer.
Landing reinforcements is what makes this Syracuse team so interesting. Last season's group had to log heavy minutes, leading to low-scoring slogs throughout the NCAA tournament. Adding some talented freshmen and transfers should help alleviate some of the minutes burden on this program. Freshman guard Jalen Carey is a four-star prospect who should earn some minutes. East Carolina transfer Elijah Hughes is another 6-foot-6 shooter who can help. Guard Howard Washington should recover from injury. And you can't forget freshman guard Buddy Boeheim, Jim's son, who adds another shooter to the rotation as well. If Syracuse finds a good minutes balance for this roster then an improved offense could make them scary.
7. CLEMSON: Many of the Sweet 16 pieces return this season as the starting lineup features four returning seniors. Clemson's backcourt of Shelton Mitchell and Marcquise Reed are one of the best duos in the nation as they'll log heavy minutes. Forward David Skara and former top-50 recruit Elijah Thomas are also back as main cogs for the Tigers. Sophomore Aaric Simms should step in and help Clemson maintain the rugged defense that helped make them elite a season ago.
Question marks with the bench will be the key to Clemson's success. Center Javan White was a near double-double a game at Oral Roberts, but the perimeter group could be thin. Freshman guard John Newman III could figure immediately into the Clemson rotation if head coach Brad Brownell wants to go small (as he's done in the past). Expect a lot of opportunities for bench guys to help find a spark plug for the second unit.
8. N.C. STATE: Unknown, and perhaps underrated, the Wolfpack have eight new players on the roster as they try to acclimate transfers and freshmen into the rotation. But after a surprise NCAA tournament appearance last season, there's reason to be decidedly optimistic that N.C. State is a potential darkhorse.
Loaded at guard, head coach Kevin Keatts will utilize a lot of small-ball lineups with 6-foot-5 veteran Torin Dorn often playing the four. Starting guards Markell Johnson and Braxton Beverley are also back after promising seasons. Newcomers will ultimately dictate the season. Guards C.J. Bryce (UNC Wilmington), Devon Daniels (Utah), Eric Lockett (FIU), Blake Harris (Missouri) and forward Wyatt Walker (Samford) are all expected to contribute. If the Wolfpack can mesh the old starters with the talented newcomers, then this could be a dangerous team.
9. MIAMI: Replacing Lonnie Walker, Bruce Brown and Ja'Quan Newton is tough enough. Miami has to replace that trio without the benefit of freshmen. The FBI scandal hurt Miami's recruiting for this season, as they had to rely on transfers to fill holes.
There is still a lot to like about this team. Frontcourt experience returns in the form of junior big man Dewan Huell and senior forward Anthony Lawrence. Sophomore point guard Chris Lykes is also a dynamic playmaker and junior Dejan Vasiljevic can knock down shots. Grad transfer guard Zach Johnson (Florida Gulf Coast)is a proven double-figure scorer, but how do they acclimate to the ACC? And will the loss of transfer Miles Wilson (Mount St. Mary's) hurt their backcourt depth? The key is getting multiple players to step up to become go-to guys. Walker and Brown took so much pressure off of the Hurricanes last season. Who steps up on this team to take and make tough shots down the stretch? That could ultimately decide how good Miami is this season.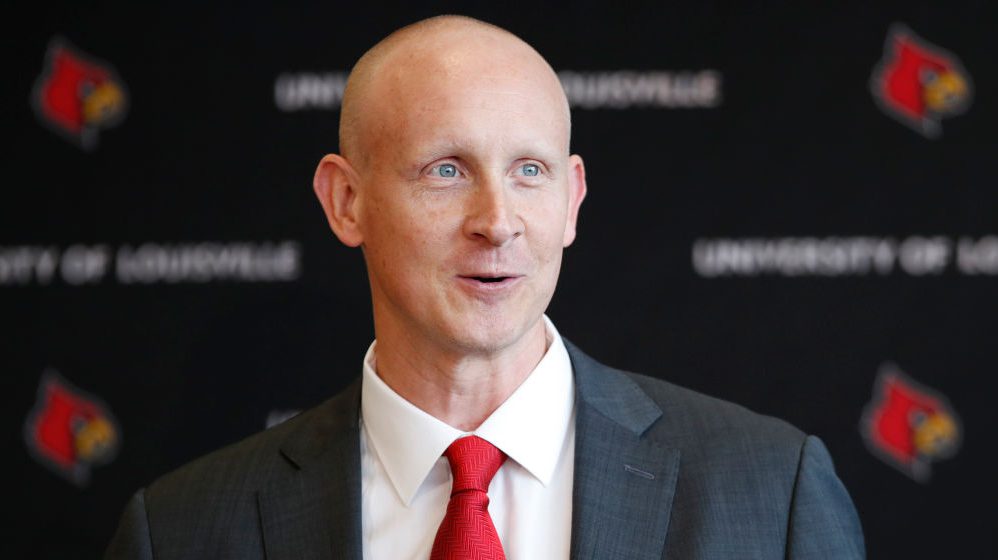 10. LOUISVILLE: The excitement is certainly returning for Louisville as new head coach Chris Mack is drawing a lot of positive attention before even stepping on the sidelines. Recruiting wins aside, this season, Louisville has some holdover talent that should make them an intriguing team.
It all depends on who makes the jump. Junior V.J. King hasn't lived up to his McDonald's All-American billing yet as he has a chance to be a go-to guy this season. Point guard Darius Perry and junior shooter Ryan McMahon also have to address holes in their games on the perimeter. The interior of UConn transfer Steven Enoch and sophomore Malik Williams is unproven as well as both have only shown flashes of strong play. The talent is here, on paper, for the Cardinals to be a top-25 team. It all depends on how a group that has been through a lot the past few seasons handles playing for another new coach.
11. BOSTON COLLEGE: Had Jerome Robinson returned, Boston College could have been a sleeper top-25 team. Instead, Robinson went No. 13 to the Clippers, as the Eagles find themselves trying to replace an elite player. Thankfully, the rest of a team that went a surprising 7-11 in the ACC is back. Buy stock in junior guard Ky Bowman, a 6-foot-1 playmaker who should run the offense and be the team's No. 1 scoring option. If Bowman can handle both responsibilities adequately, then he could reach All-American status. Guard Jordan Chatman is another double-figure scorer who returns as he's another weapon from distance.
Frontcourt options remain intriguing for Boston College as starters Steffon Mitchell and Nik Popovic are back. Mitchell has shown himself to be a plus defender and rebounder while Popovic and Johncarlos Reyes could form an effective platoon in the middle. Replacing Robinson is going to be tough, but Jim Christian's team showed a lot of ability and tenaciousness when many expected them to be a basement dweller last season. Don't sleep on this group to beat some elite teams.
12. NOTRE DAME: It will be interesting to watch Mike Brey have to work with such a young team. Typically a veteran outfit, the Fighting Irish will have to count on a lot of inexperienced players and freshmen in 2018-19. Guard T.J. Gibbs is a potential All-ACC player after a brilliant sophomore season. Senior guard Rex Pflueger is a tough two-way guard who also returns with Gibbs.
But Notre Dame is desperately seeking a stable frontcourt while also finding some kind of lead guard of the future. The Fighting Irish should already be used to playing without former All-American Bonzie Colson since he missed much of his senior season. The loss of point guard Matt Farrell will be a tough one. Gibbs and Pflueger need help. The frontcourt returns junior John Mooney and former UConn transfer Juwan Durham, but question marks pepper this roster outside of the veteran perimeter duo. Finding an early identity will be key.
13. WAKE FOREST: A potential make-or-break season for head coach Danny Manning won't be easy. After a 4-14 mark last season in the ACC, Wake Forest returns only three scholarship players from last season. Junior guard Brandon Childress and sophomore wing Chaundee Brown are the two most notable returnees.
The Demon Deacons have a good freshman class and some graduate transfers that they're riding on to help produce. Freshman forward Jaylen Hoard received some five-star buzz while forward Isaiah Mucius was another top-100 prospect. Guard Jamie Lewis is another freshman who should crack the rotation as a backup lead guard. Finding big men could prove to be difficult as sophomore Olivier Sarr was inconsistent last season. Buffalo graduate transfer Ikenna Smart is also foul-prone. Wake Forest will need to offset the loss of big scorers like Bryant Crawford, Keyshawn Woods and Doral Moore, and they don't have a lot of proven players ready to step up.
14. GEORGIA TECH: Expectations should be minimal as head coach Josh Pastner has a young team with not much returning firepower. Last season's 13-19 team lost four of its top five scorers. Josh Okogie was a first-round pick and the Yellow Jackets still struggled. This season is about trying to rebuild and finding pieces for the future.
Lead guard Jose Alvarado showed All-ACC potential during a noteworthy freshman season that was cut short by an elbow injury. Senior guard Brandon Alston and senior big man Abdoulaye Gueye also have starting experience as the team's veterans. Finding help for Alvarado will be key. Tennessee transfer Shembari Phillips should help on the wing. Sophomore guard Curtis Haywood II has intriguing upside as he returns from a shin injury. Freshman Michael Devoe was intriguing at times during his prep career. But Georgia Tech needs to find somebody to give Alvarado help off of the ball. The program's season (and future) ultimately depends on getting Alvarado help.
15. PITT: Winless in ACC play last season, the Panthers have some positive momentum in Jeff Capel's first season. Capel did himself some favors by feverishly recruiting a backcourt stable of talented pieces during the spring. While the Panthers return starters like Jared Wilson-Frame and Shamiel Stevenson on the wing, the backcourt has some interesting players who could make Pitt a tough out.
St. John's transfer Malik Ellison and New Mexico State transfer Sidy N'Dir provide experience. Capel convinced two four-star guards, Trey McGowens and Au'Diese Toney, to reclassify a year up to play this season while also adding freshman guard Xavier Johnson when he decommitted from Nebraska. Pitt still has major holes in the middle. They're asking a lot out of late additions who are younger than most freshman. They're also in a much better position than last season's winless team.