Beginning in September and running up until November 6th, the first day of the season, College Basketball Talk will be unveiling the 2018-2019 NBCSports.com college hoops preview package.
Every day at Noon ET, we will be releasing an in-depth preview of one member of our Preseason Top 25.
Today we dive into No. 21 Mississippi State.
---
We are heading into Year Four of the Ben Howland Experience in Starkville, and to date, it seems like the story is less what the Bulldogs have accomplished in his tenure and more what they've failed to do: Win with the talent that he has brought to Starkvegas.
Howland's first recruiting class included top ten recruit Malik Newman. In 2016, he had a top ten recruiting class, according to 247 Sports, that included six four-star prospects. This past season his recruiting class didn't rank all that high — he didn't needed to bring in many bodies after 2016 — but he did manage to land Nick Weatherspoon, a top 30 recruit that held a five-star designation by some recruiting services. This year's class is loaded as well, with Reggie Perry — a McDonald's All-American with serious NBA upside — and four-star wing Robert Woodard the headliners.
Getting talent into the program has not been an issue for Howland.
Winning with that talent, however, has not proven so easy. In three seasons, he has gone just 55-45 overall with a 22-32 record in SEC play. He has not finished over .500 in league play to date, and last year's run to the semifinals of the NIT was the first time he played in a postseason that wasn't the SEC tournament.
Keeping that talent in the program has been the most elusive task. Prior to Nick Weatherspoon opting to return for his sophomore season, every player in the top 95 of 247 Sports composite rankings that Howland signed transferred out of the program — Newman, Mario Kegler, Schnider Herard and Eli Wright.
I'm not sure that this is how the Mississippi State administration envisioned it when they hired Howland two years after he was fired by UCLA.
That said, on paper, this should finally be the year that the Bulldogs get over the hump, but can they live up to the expectations they'll have entering the season?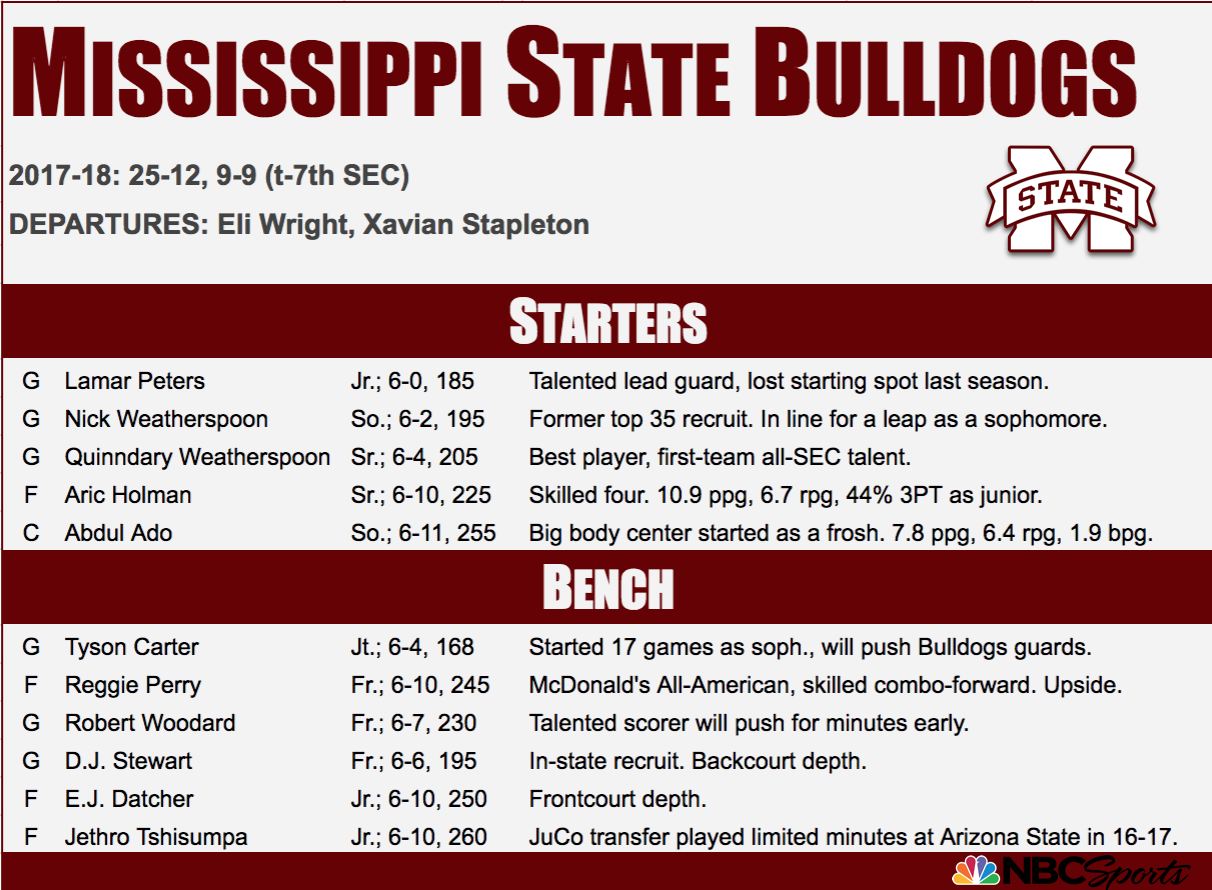 MISSISSIPPI STATE WILL BE GOOD BECAUSE …
Is it too simple to state it like this: They have good players at every position?
Sometimes, it just doesn't have to be complicated.
Let's break it down position-by-position.
Quinndary Weatherspoon is the star of this team, the best scorer on the roster for the last two years and a senior that will deservedly be named a preseason first-team all-SEC player. He's very good, as is his brother, sophomore Nick Weatherspoon. Nick did not acclimate all that quickly as a freshman, struggling with his shot, but he was a starter in every game he played and finished third on the team in scoring. And you know what they say, the best thing about freshman is that they become sophomores.
Lamar Peters is turnover-prone and regressed as a shooter during his sophomore season, but he is still a talented lead guard that has some potential as an NBA player, although the hype around him has died down in the last 12 months. He split time as a starter last year with fellow junior Tyson Carter, who is bigger, more athletic and more of an off-guard. That quartet will spend the season battling it out for the three starting spots on the perimeter assuming that they can hold off four-star freshman Robert Woodard, a physically-imposing wing coming into the program with a reputation for being a big-time scorer.
The frontcourt is just as promising. Aric Holman is a former four-star prospect that has developed into a solid SEC big man, averaging 10.9 points, 6.7 boards and 1.8 blocks while shooting 44 percent from three. Abdul Ado was strong in his role as well, scoring around the rim, rebounding the ball and defending the rim as a redshirt freshman. The x-factor — which we'll get to in a bit — is Reggie Perry, who is probably the most talented player on the floor. Throw in a couple guys at the end of the bench (D.J. Stewart, E.J. Datcher, Jethro Tshisumpa) and there seven or eight guys talented enough to push for a starting spot and a roster that will provide flexibility and lineup versatility with talent at every position.
Yes, Mississippi State needs to shoot the ball better from distance this season, and yes, they need better point guard play (read: fewer turnovers), but that can be worked through. They have talent, depth, competition for positions, experience.
How much more can you ask for?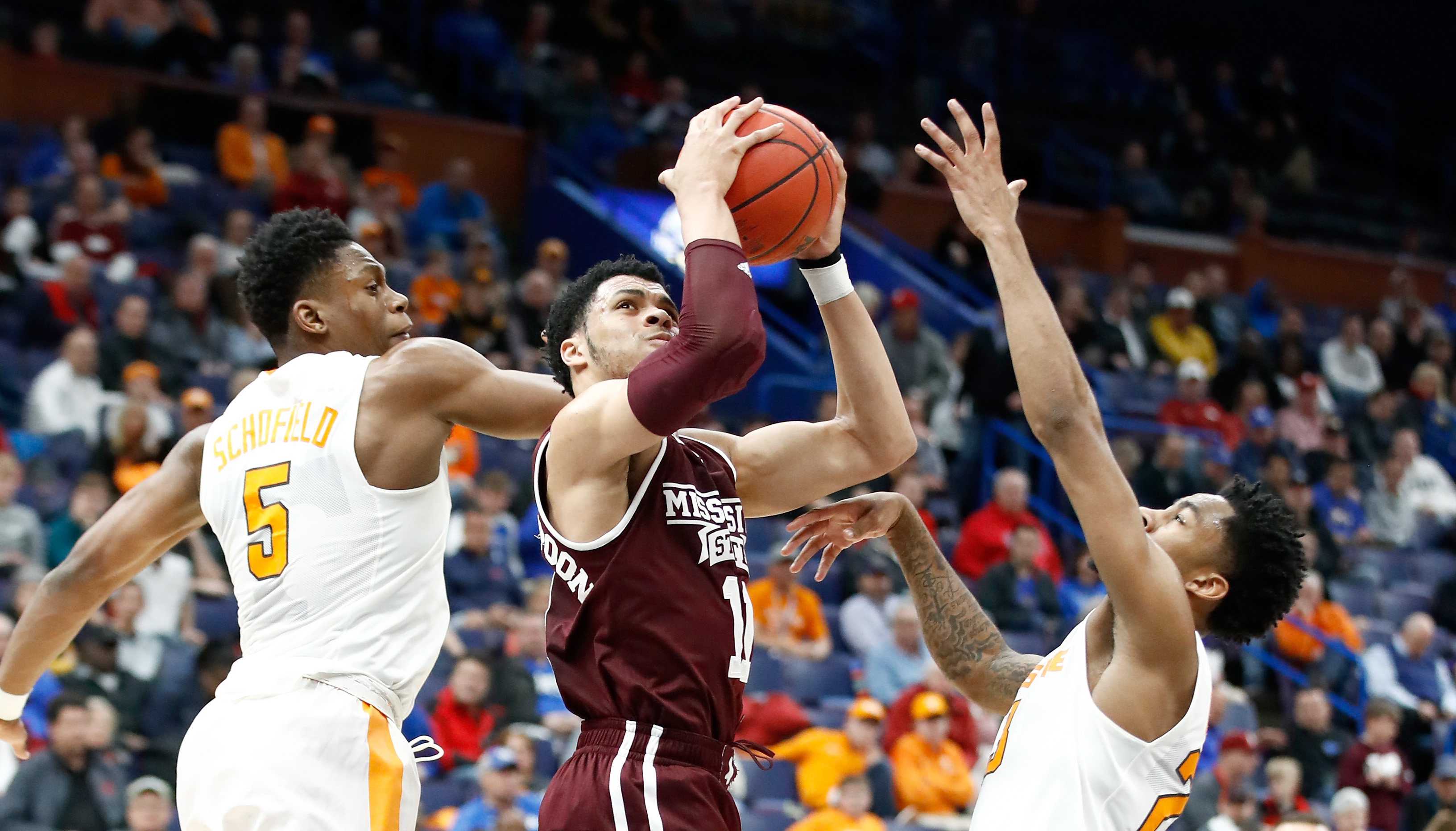 BUT MISSISSIPPI STATE IS GOING TO STRUGGLE BECAUSE …
They're still Mississippi State.
I really don't mean to say this flippantly, but these are facts: Ben Howland hasn't been a great basketball coach for a decade now. He hasn't been bad, per se — he went to three NCAA tournaments in his last five years at UCLA, he won the Pac-12 regular season title in 2013 and he won 25 games just last year — but we are now more than a decade removed Howland reaching his third consecutive Final Four.
To put that into perspective, the last time that UCLA played a game in the Final Four, I had still never sent a tweet and Mariah Carey had a No. 1 song (seriously).
I'm not saying that Mississippi State can't win with Howland as their head coach. I would never say that. I thought Rick Barnes was washed up and looking to cash in with one last job when he took over at Tennessee after getting run out of Texas. Three years later, he's the reigning SEC regular season champion returning a team that is going to be ranked in the top ten this preseason and just beat Duke for a top 15 recruit.
I would not be shocked in the least to see Howland lead this group to a top four finish in the SEC and a run to the second weekend of the NCAA tournament. My point is, simply, that we are a long way removed from assuming a team is going to hit their ceiling simply because Howland is their head coach.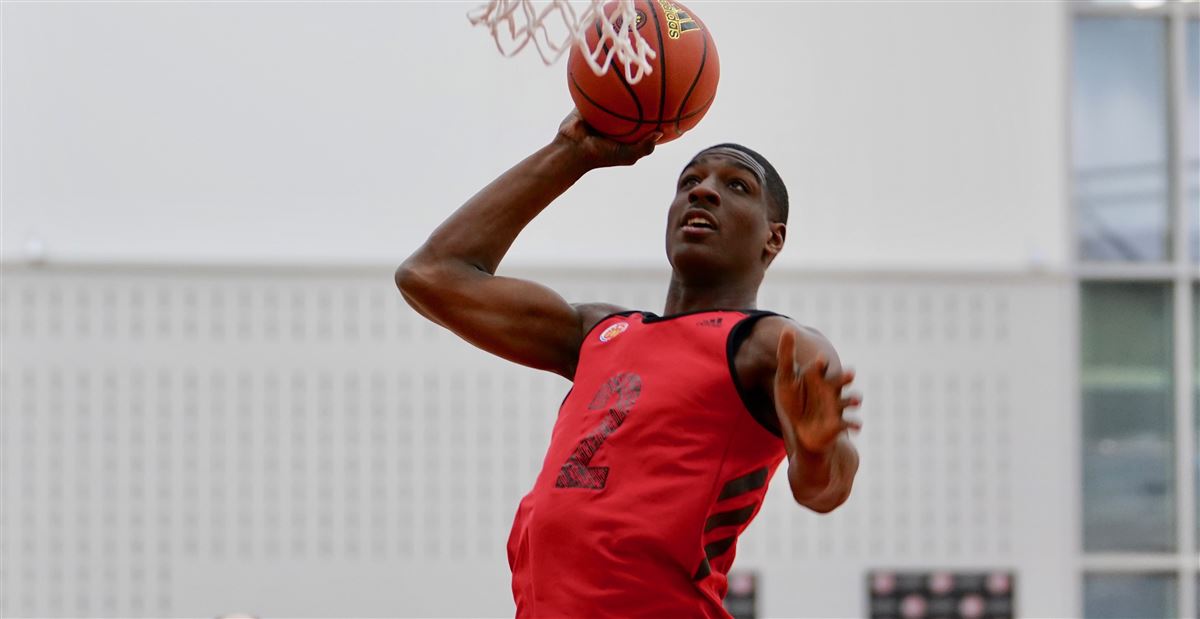 THE X-FACTOR
Reggie Perry is the crown jewel of Ben Howland's 2018 recruiting class, a McDonald's All-American and one of the most interesting — and high-upside — prospects in the class.
"The biggest NBA sleeper in the freshman class," is how one longtime scout in the state of Georgia described the 6-foot-10 Perry, "if [Ben Howland] doesn't ruin him."
That got me to thinking: When was the last time that an elite, five-star prospect that Howland recruited lived up to the hype that he had entering college? Malik Newman didn't. Neither did the class that included Shabazz Muhammad and Kyle Anderson, which ultimately got Howland fired. Josh Smith was eventually run out of Los Angeles. J'Mison Morgan was dismissed by two different programs in his college career. Jrue Holiday has turned out to be a pretty good (and underrated) pro, but he went from being the No. 2 player in a recruiting class where B.J. Mullens was ranked No. 1 to the No. 17 pick in the 2009 NBA Draft as six point guards were picked in front of him.
You have to go all the way back to Kevin Love in the Class of 2007 to find a five-star freshman that played for Ben Howland the way you would expect a five-star freshman to play.
Which brings me back to Perry.
For my money, he is the guy that will determine what Mississippi State's ceiling will be. Howland has good players on their roster. Peters, the Weatherspoons, Holman, Carter. All of those guys are above-average SEC talents and I would not be surprised to see a couple of them end up on an all-SEC team by the end of the season. But Perry is the pro. At 6-foot-10, 245 pounds, he's more physical than most combo-forwards but more skilled than most power forwards. He's gifted athletically, he has a face-up game and he space the floor a little bit.
If he can make the kind of impact his talent says he should, he changes the dynamic of what this team is.
But given Howland's track record with five-star prospects, who knows what will happen.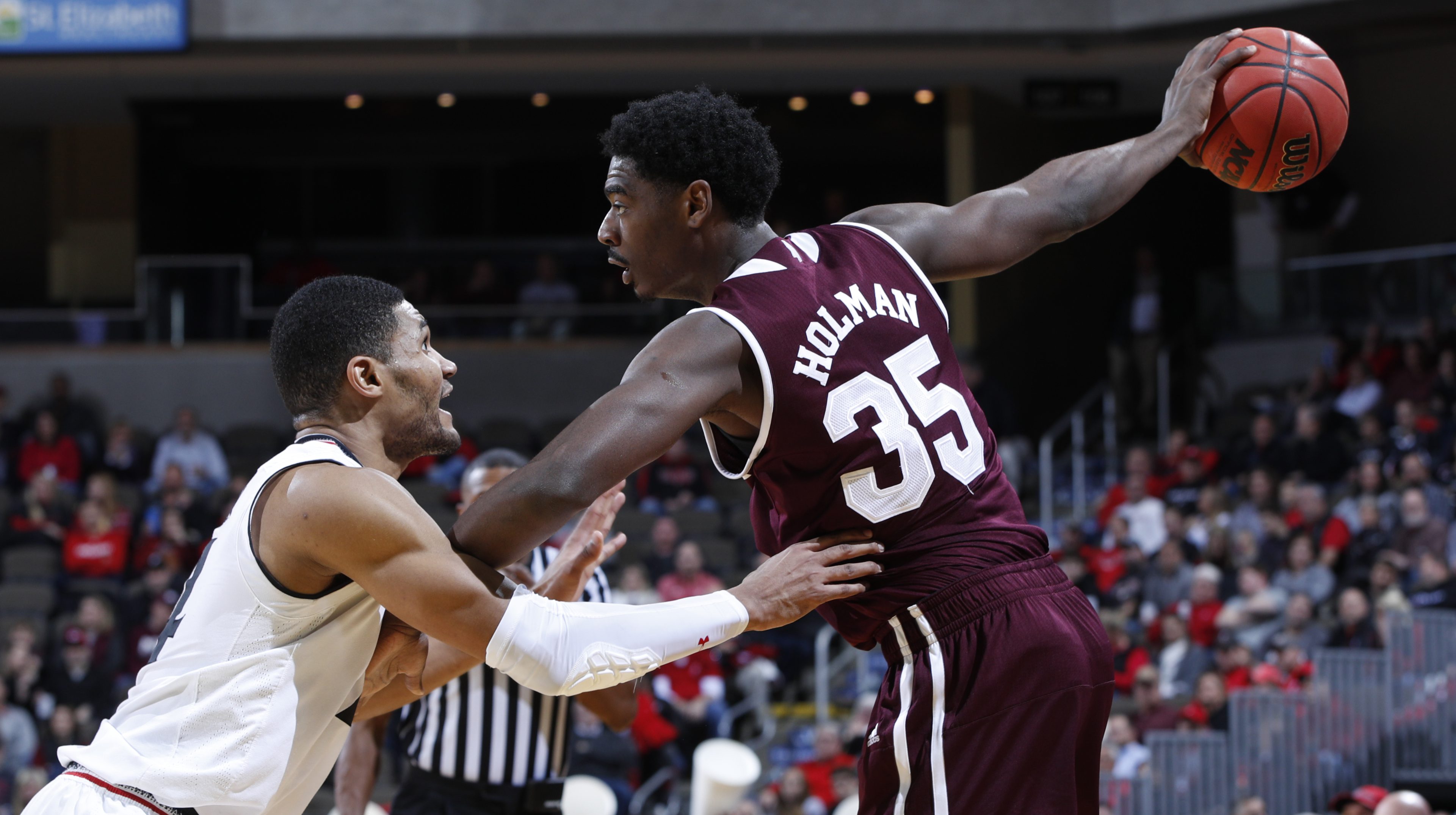 2018-19 OUTLOOK
The Bulldogs absolutely have the pieces to be a team that makes a run at finishing top four in the SEC this season.
They have guard depth, they have size, they have veterans, they have a proven star in Quinndary Weatherspoon and an incoming freshman with the potential to be a difference-maker in Reggie Perry. Throw in a coach that has been to three Final Fours in his career, and it's impossible not to like this team on paper.
That said, I just don't think it's a guarantee the Bulldogs are going to be good. We've already been over some of the narratives that are at play — Mississippi State is Mississippi State, Ben Howland is a decade removed from playing in a Final Four — but there are also some valid concerns about the way this team plays on the court that come into play.
Mississippi State only shot 31.5 percent from three last season, which is a number that is going to have to go up this year. Their three starters on the perimeter — both Weatherspoons and Lamar Peters — all shot under 30 percent from beyond the arc individually.
Those numbers have to be better, as does Mississippi State's point guard play. The Bulldogs turned the ball over on nearly 20 percent of their possessions last season. Peters had a turnover rate of 22.9 percent. If Mississippi State is serious about being better than they were last year, those guards that look so good on paper have to actually play like it for an entire season.
If they do, Mississippi State should be right there with Kentucky, Tennessee and Auburn atop the SEC.
If they don't, another trip to the NIT isn't out of the question.
THE REST OF THE TOP 25
No. 22 Clemson
No. 23 Michigan
No. 24 N.C. State
No. 25 Marquette