While the average college basketball fan tends to focus on the talent on display in power conference programs, there are many talented players at the mid-major level who merit consideration.
And every year a player who may not have been discussed much during the winter due to where he plays becomes a national name, with his standout performance sparking an NCAA tournament upset.
Below are some of the best players at mid-major programs heading into the 2018-19 season, with the first team being headlined by one of the sport's best shooters and a big man who could join the short list of 3,000-point scorers at the Division I level.
As a reminder, the following conferences were not included: American, Atlantic 10, ACC, Big 12, Big East, Big Ten, Mountain West, Pac-12 and SEC. Also Gonzaga and BYU have not been considered as mid-majors.
---
---
FIRST TEAM
G FLETCHER MAGEE, Wofford
You'd be hard-pressed to come up with a lengthy list of college basketball players who shoot the ball better than Magee, who as a junior was very nearly a 50/40/90 player. Averaging 22.1 points per game, Magee shot 48.4 percent from the field, 43.9 percent from three and 90.9 percent from the foul line. Among Magee's best performances last season were a 36-point effort in a win at Georgia Tech, 27 in Wofford's upset win over North Carolina in Chapel Hill, and a career-high 45 points in a win over Chattanooga in mid-February.
G JON ELMORE, Marshall
While Marshall was unable to get out of the first weekend of the NCAA tournament, losing to West Virginia in the second round, Elmore proved to be one of the most entertaining players in the field to watch. For the season Elmore averaged 22.7 points, 6.8 assists and 5.7 rebounds per game, and in Marshall's first round win over Wichita State he racked up 27 points, four rebounds and four assists. Elmore has free reign within Dan D'Antoni's system, and it paid off in a big way for both he and the Thundering Herd. Expect more of the same during Elmore's senior season.
G D'MARCUS SIMONDS, Georgia State
Simonds was the subject of some NBA chatter heading into the 2017-18 season and with good reason, as he's got good size for a lead guard (6-foot-3, 200) and can both score and distribute. As a sophomore Simonds averaged 21.2 points, 5.7 rebounds and 4.4 assists per game, and that was despite struggling with his perimeter shooting (29.2 percent from three). If Simonds can approach the percentage he posted as a freshman (35.6 percent) while continuing to attempt more than four three-pointers per game (1.6 three-point attempts per game as a freshman) he becomes an even tougher matchup for opponents.
F MIKE DAUM, South Dakota State
"The Dauminator" (2,232 career points) is well on his way to becoming just the ninth player in Division I history to reach the 3,000 point mark, and provided he remains healthy the senior forward is a safe bet to join that illustrious group. As a junior Daum averaged 23.9 points and 10.3 rebounds per game, winning Summit League Player of the Year for the second consecutive season. Daum can knock shots down from anywhere on the court, as he shot 46.2 percent from the field, 42.5 percent from three (on 6.5 attempts per game) and 85.1 percent from the foul line.
F DEVONTAE CACOK, UNC Wilmington
As a junior Cacok was the nation's leading rebounder, pulling down an average of 13.5 caroms per night while also scoring 17.7 points per game and shooting 58.5 percent from the field. The 6-foot-7 senior is a handful on both ends of the floor when it comes to rebounding, as his offensive (17.7) and defensive (32.0) rebounding percentages ranked second and third in the nation, respectively, according to Ken Pomeroy's numbers.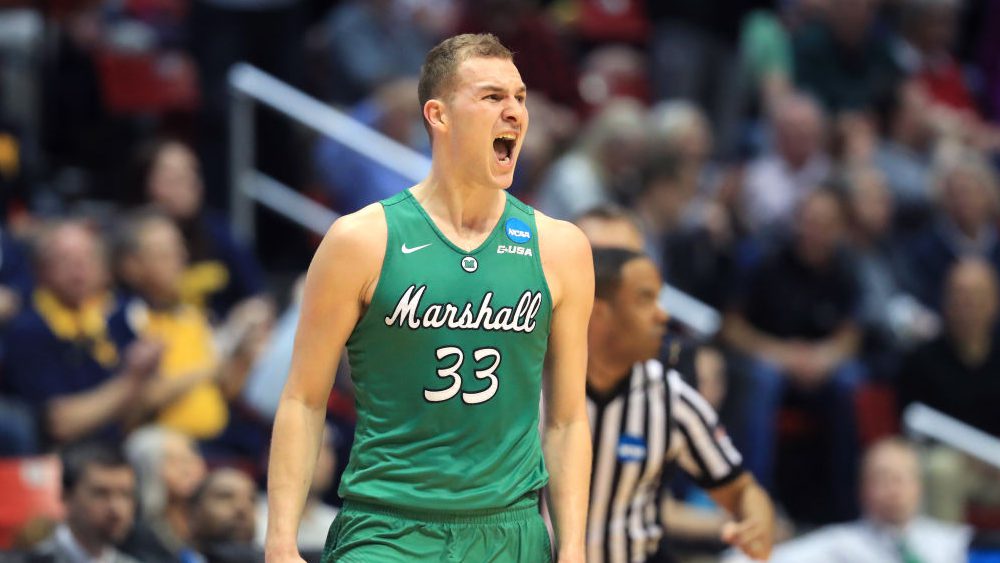 SECOND TEAM
G CHRIS CLEMONS, Campbell
In each of the last two seasons Clemons has managed to make his freshman year average of 18.5 points per game, which is more than respectable, look downright pedestrian. After averaging 25.1 points per game as a sophomore the 5-foot-9 lead guard pumped in 24.9 points per contest in 2017-18. Clemons also averaged 4.6 rebounds and 3.1 assists per game for the Camels, and he's in line to produce another big season as a senior.
G JUSTIN WRIGHT-FOREMAN, Hofstra
The Pride managed to win 19 games last season, thanks in large part to an offensive attack anchored by Wright-Foreman. Last season's CAA Player of the Year, the 6-foot-1 guard accounted for 24.4 points, 3.3 rebounds and 3.2 assists per game, shooting nearly 45 percent from the field on 19 shot attempts per game. Another season like that, and Wright-Foreman could become Hofstra's first repeat winner of CAA Player of the Year since Charles Jenkins pulled off the feat in 2010 and 2011.
G CLAYTON CUSTER, Loyola-Chicago
The reigning Larry Bird Missouri Valley Conference Player of the Year winner, Custer's back for one final run after helping lead the Ramblers to the program's first Final Four appearance since 1963. Custer may not have the eye-popping stats that some of the other players on this list possess (Loyola ranking 307th in adjusted tempo had a lot to do with that) but don't let that fool you; the redshirt senior gets the job done in a variety of ways for Porter Moser's team. Last season Custer averaged 13.2 points and 4.1 assists per game, shooting 52.8 percent from the field, 45.1 percent from three and 77.0 percent from the foul line.
F NATHAN KNIGHT, William & Mary
While he didn't receive the attention nationally, Knight was one of college basketball's most improved players a season ago. The 6-foot-10, 235-pounder raised his scoring average more than ten points, accounting for 18.5 per game after averaging 8.2 points per night as a freshman. Add in his 7.3 rebounds, 2.2 assists and 2.0 blocks per game, and that was good enough to land Knight on the CAA's second team all-conference squad. Another step forward, and not only will Knight be a first team all-conference selection but he'll be on the short list of CAA Player of the Year candidates as well.
C/F JAMES THOMPSON IV, Eastern Michigan
Consistency would be a good word to use in describing the 6-foot-10 senior, as he averaged a double-double in each of his first three seasons at Eastern Michigan. Last season Thompson accounted for 14.5 points, 11.2 rebounds and 1.9 blocks per game, shooting 67.2 percent from the field, and his 20 double-doubles were the most in the MAC. In conference games Eastern Michigan was the best defensive team in the MAC with regards to efficiency, effective field goal percentage and two-point percentage defense, and having Thompson in the middle of Rob Murphy's zone was a key reason why.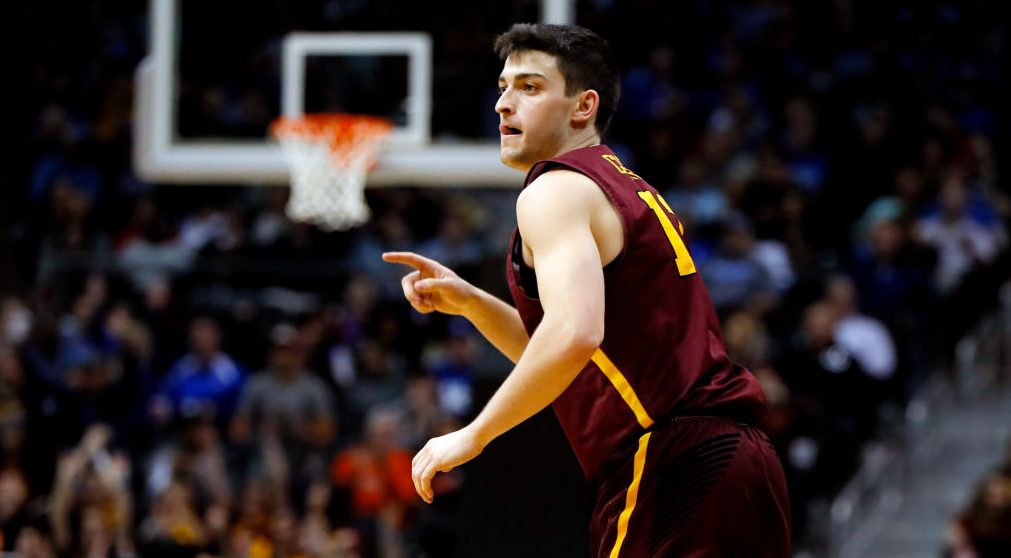 THIRD TEAM
G JERRICK HARDING, Weber State
After averaging 9.3 points per game in a reserve role as a freshman, Harding took a significant step forward in 2017-18. The 6-foot-1 guard averaged 22.0 points and 3.4 rebounds per game, shooting 53.0 percent from the field, 42.5 percent from three and 88.2 percent from the foul line. One of three unanimous first team All-Big Sky selections last season, Harding should be the choice for Big Sky preseason Player of the Year.
G MILIK YARBROUGH, Illinois State
Due to some offseason legal issues there were some questions regarding Yarbrough's status for the upcoming season. However Yarbrough, who was suspended indefinitely in mid-September, participated in the Redbirds' first practice of the season and based upon Dan Muller's post-practice comments the redshirt senior appears OK to play. In Yarbrough the Redbirds have the player best equipped to unseat Loyola's Clayton Custer as Larry Bird Missouri Valley Player of the Year, as he's coming off of a season in which he averaged 16.6 points, 6.6 rebounds and 2.9 assists per game.
G CJ MASSINBURG, Buffalo
Last season Buffalo won 27 games, the MAC tournament title and whipped Arizona in the first round of the NCAA tournament, and Massinburg was one of the biggest reasons why. The 6-foot-3 guard averaged 17.0 points, 7.3 rebounds and 2.4 assists per game as a junior, shooting 46.8 percent from the field, 40.5 percent from three and 74.3 percent from the foul line. Massinburg will once again be a key cog for a team that returns five of its top six scorers from a season ago.
F JARRELL BRANTLEY, College of Charleston
Thanks to a knee injury Brantley didn't make his 2017-18 debut until mid-December, and after working off the rust in the Cougars' first two games the 6-foot-7, 250-pound forward showed just how valuable he was. Brantley finished the season with averages of 17.3 points and 7.1 rebounds per game, shooting 50.0 percent from the field, 38.5 percent from three and 82.1 percent from the foul line. Brantley was one reason why Earl Grant's team made the program's first NCAA tournament appearance since 1999, and he's in line for a good senior season as well.
F DYLAN WINDLER, Belmont
The 2017-18 season was Windler's second as a starter, but his output was far better than what he produced the season prior. After averaging 9.2 points and 6.3 rebounds in 30.1 minutes per game in 2016-17, Windler averaged 17.3 points and 9.3 rebounds in 35.4 minutes per game last season. Windler's improved production helped Belmont account for the graduation of leading scorers Evan Bradds and Taylor Barnette, with the Bruins winning 24 games and reaching the OVC tournament final.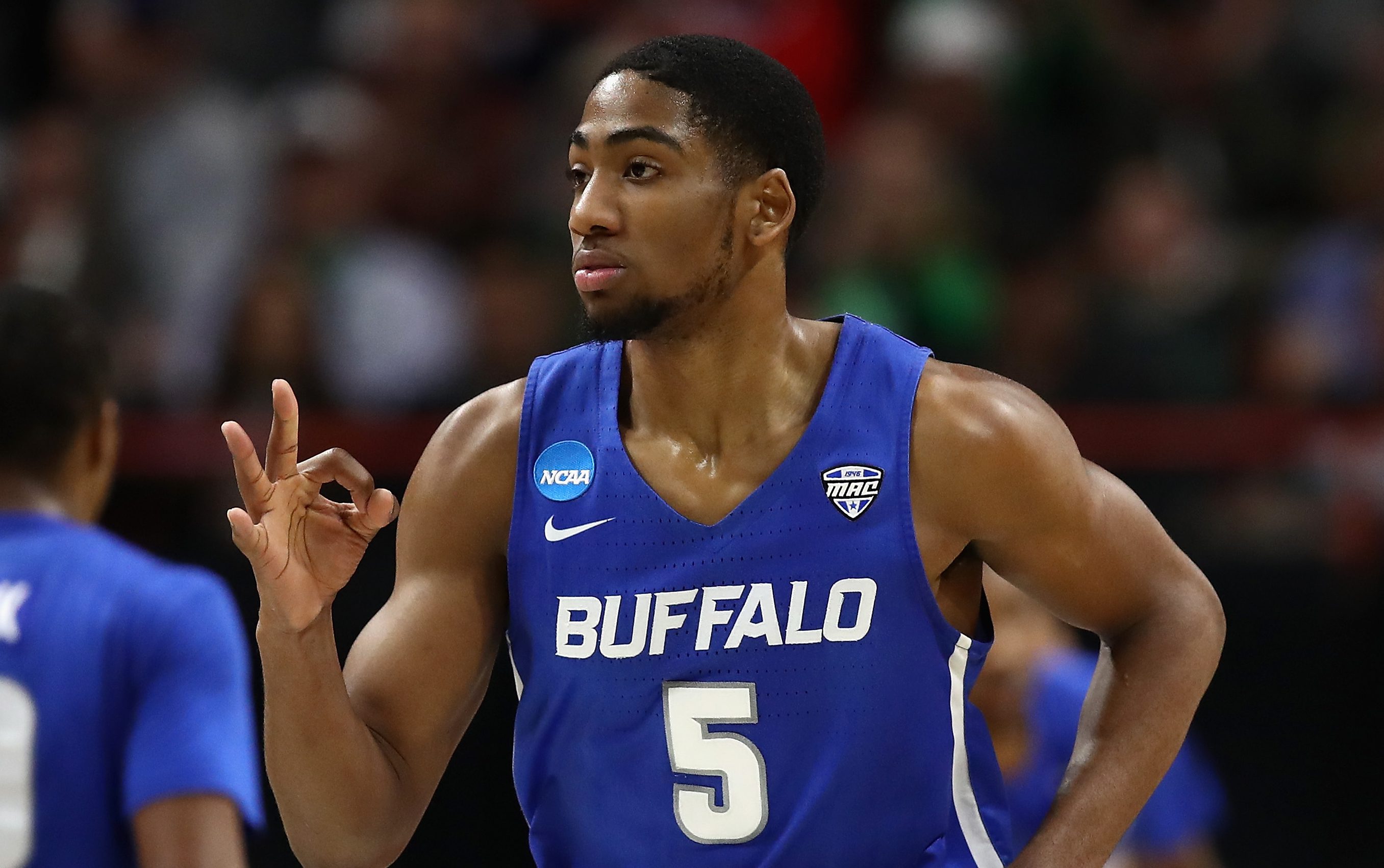 FOURTH TEAM
G GARRISON MATHEWS, Lipscomb
After averaging 20.4 points per game as a sophomore Mathews managed to improve his numbers across the board in 2017-18, averaging 21.7 points per game while shooting 46.5 percent from the field, 38.1 percent from beyond the arc and 79.9 percent from the charity stripe. In addition to his offensive numbers Mathews also accounted for 5.5 rebounds per night, and he'll once again lead the way for a Lipscomb squad that won 23 games and finished second in the Atlantic Sun.
G C.J. BURKS, Marshall
The aforementioned Jon Elmore wasn't the only Marshall guard good for at least 20 points per night. Last season Burks averaged 20.1 points, 4.1 rebounds and 3.1 assists per game, shooting 47.2 percent from the field, 36.4 percent from three and 88.9 percent from the foul line. And this all happened after the 6-foot-3 guard averaged 9.8 points per game in a reserve role as a sophomore. Look for another standout season from the senior guard in 2018-19.
G MAX HEIDEGGER, UCSB
Heidegger was a key contributor for the Gauchos in Joe Pasternak's first season as head coach, as he averaged 19.1 points, 2.5 rebounds and 2.5 assists per game in helping to lead UCSB to 23 wins and a second place finish in the Big West. And after struggling with his shot in a reserve role as a freshman the 6-foot-3 Heidegger made noticeable strides last season, raising his field goal (from 26.8 to 43.2 percent) and three-point field goal (20.5 to 40.4) percentages substantially.
F PHIL FAYNE, Illinois State
The aforementioned Yarbrough doesn't lack for help on an Illinois State squad that has the pieces needed to dethrone Loyola in the Missouri Valley, with Fayne being the Redbirds' top option in the front court. Last season the 6-foot-9, 220-pound forward averaged 15.6 points and 7.4 rebounds per game, shooting 59.5 percent from the field. A second team all-conference selection, Fayne merits serious consideration for preseason first team All-Valley.
F/C CHARLES BASSEY, Western Kentucky
Given the plethora of talented upperclassmen at the mid-major level, this pick may raise some eyebrows. But there's no denying the talent that the 6-foot-11 freshman from Nigeria possesses. Bassey was considered to be a Top 10 recruit in the Class of 2018, and his athleticism in the post gives WKU an option that last season's team did not have. And all that team did was win 27 games and reach the semifinals of the Postseason NIT.
HONORABLE MENTION
Francis Alonso, UNCG
James Batemon, Loyola Marymount
Keith Braxton, Saint Francis (PA)
Tookie Brown, Georgia Southern
John Carroll, Hartford
RJ Cole, Howard
Ernie Duncan, Vermont
KJ Feagin, Santa Clara
Armon Fletcher, Southern Illinois
JaKeenan Gant, Louisiana
Tyler Hall, Montana State
Scottie James, Liberty
John Konchar, IPFW
Anthony Lamb, Vermont
Ja Morant, Murray State
Nick Perkins, Buffalo
Isaiah Piniero, San Diego
Ed Polite Jr., Radford
Vasa Pusica, Northeastern
Isaiah Reese, Canisius
Grant Riller, College of Charleston
Ahmaad Rorie, Montana
Dimencio Vaughn, Rider