Beginning in September and running up until November 6th, the first day of the season, College Basketball Talk will be unveiling the 2018-2019 NBCSports.com college hoops preview package.
Today, we take a look at the best non-conference games this season.
Who's excited?
I'm excited.
---
---
1. KANSAS at KENTUCKY, January 26 (SEC/Big 12 Challenge)
While the season opener between Kentucky and Duke received a lot of the summertime attention, it isn't the best non-conference game of the 2018-19 season. That label goes to the Wildcats' home game against Kansas for three reasons. One, Kentucky and Kansas are considered by many to be top two teams in college basketball entering this season. The second reason: by late January both teams should have a much better idea of who they are. And lastly, nothing beats a true home environment.
2. DUKE vs. KENTUCKY, November 6 (Champions Classic)
This matchup in Indianapolis is the crown jewel of college basketball's opening night, and it has something for everyone. Two Hall of Fame head coaches, two storied programs and two rosters that don't lack for high-end talent. Given the players involved, most notably Duke boasting the top three recruits in the Class of 2018 (R.J. Barrett, Zion Williamson and Cam Reddish), there won't be a lack of NBA eyeballs on this game either. While these teams will have a better idea of who they are later in non-conference play, it's good to have a game of this caliber to use as a measuring stick right out of the gate.
3. MICHIGAN STATE vs. KANSAS, November 6 (Champions Classic)
The other half of the Champions Classic doubleheader isn't anything to scoff at either, as Kansas takes on preseason Big Ten favorite Michigan State. While both teams managed to win their respective regular season conference titles last season the postseason brought about different fortunes. Kansas managed to reach the Final Four, but Michigan State saw its season end in the second round. Both teams have some key personnel losses to address, but Kansas has reloaded thanks to the combination of transfers and highly-regarded freshman and there's optimism regarding Michigan State's freshman class as well.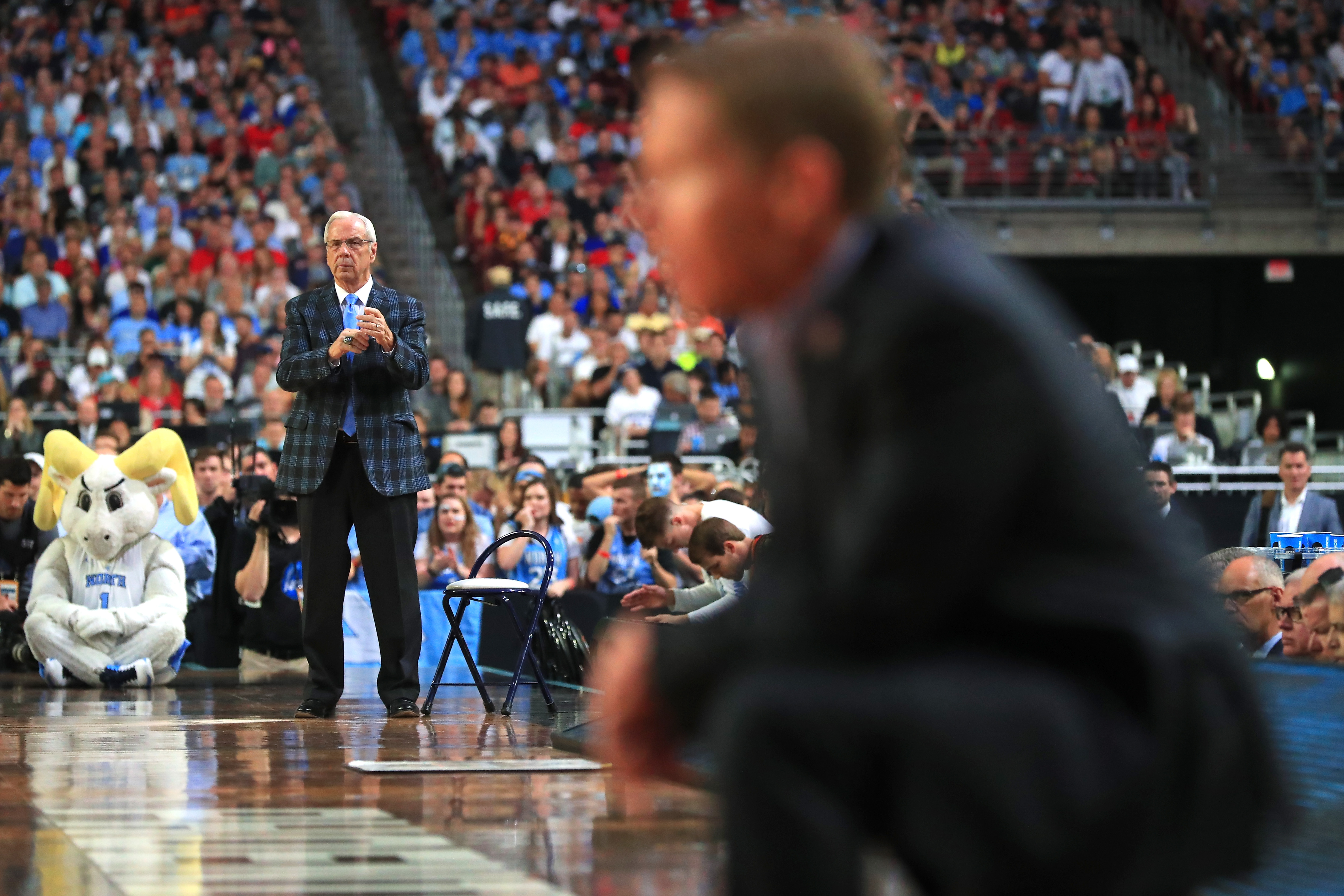 4. GONZAGA at NORTH CAROLINA, December 15
Two teams with Final Four aspirations will meet in Chapel Hill in mid-December, and the game will feature a couple of the nation's best front court players in Gonzaga's Rui Hachimura and North Carolina's Luke Maye. Both teams are deep, and in addition to the many veterans on display viewers will also get a look at two newcomers expected to have significant impacts on their respective squads in Gonzaga's Brandon Clarke (San Jose State transfer) and North Carolina freshman Nassir Little.
5. KENTUCKY at LOUISVILLE, November 29
One of college basketball's premier rivalries, the Wildcats and Cardinals renew acquaintances a week after Thanksgiving in Louisville. What also makes this season's edition important is the fact that this will be Chris Mack's first as Louisville head coach. And even though it's Kentucky that's receiving the preseason praise — and rightfully so — Louisville has to account for the loss of four of its top five scorers from a season ago. Kentucky will likely be favored, but don't sell the Cardinals short even with the roster turnover.
6. VILLANOVA at KANSAS, December 15
A rematch of last year's Final Four meeting, which Villanova won handily, it shouldn't take much to fire up the home folks for their team's shot at payback. Villanova bid farewell to four talented players after winning the program's second national title in three years, with all four being taken within the first 33 picks of the NBA draft, but the cupboard is nowhere near bare. As for Kansas, the Jayhawks are ranked either first or second depending upon which preseason poll you look at. This should be a good litmus test for two programs that are expected to reign supreme in their respective conferences.
7. GONZAGA vs. TENNESSEE, December 9 (in Phoenix)
Gonzaga has a tough four-game stretch between December 1 and December 15, with three being away from Spokane. While Mark Few's team has made a habit of landing in the Top 10 of the national polls the same cannot be said for Tennessee, which enters this season with high hopes after winning a share of the SEC regular season title in 2017-18. This should be a fun matchup, and for Tennessee it's an opportunity for Rick Barnes' veteran-laden squad to make a statement nationally.
8. NEVADA at LOYOLA-CHICAGO, November 27 (Missouri Valley/Mountain West Challenge Series)
The Wolf Pack and Ramblers produced one of the best games in last season's NCAA tournament, with Loyola winning the Sweet 16 matchup 69-68 on the way to the program's first Final Four appearance since 1963. The rematch will be staged in Chicago, and Nevada begins the season as not only the favorite to win the Mountain West but a trendy Final Four pick as well. As for Loyola, Clayton Custer and company are once again the favorites in the Missouri Valley, but the struggles in putting together their non-conference schedule makes this matchup a critical one should the Ramblers not win the automatic bid.
9. MICHIGAN at VILLANOVA, November 14 (Gavitt Games)
The Wolverines visit Villanova in a rematch of last season's national title game, and the environment at the newly renovated Finneran Pavilion should be frenzied. Jay Wright's program has made a habit of selling out (or coming very close to selling out) big games at Wells Fargo Arena in south Philadelphia, but the on-campus environment is something special. Both teams return key contributors from their last meeting, including Villanova's Eric Paschall and Phil Booth and Michigan's Charles Matthews and Zavier Simpson, and they've also got a lot of young talent to work into the mix as well. That should make for an entertaining early season matchup.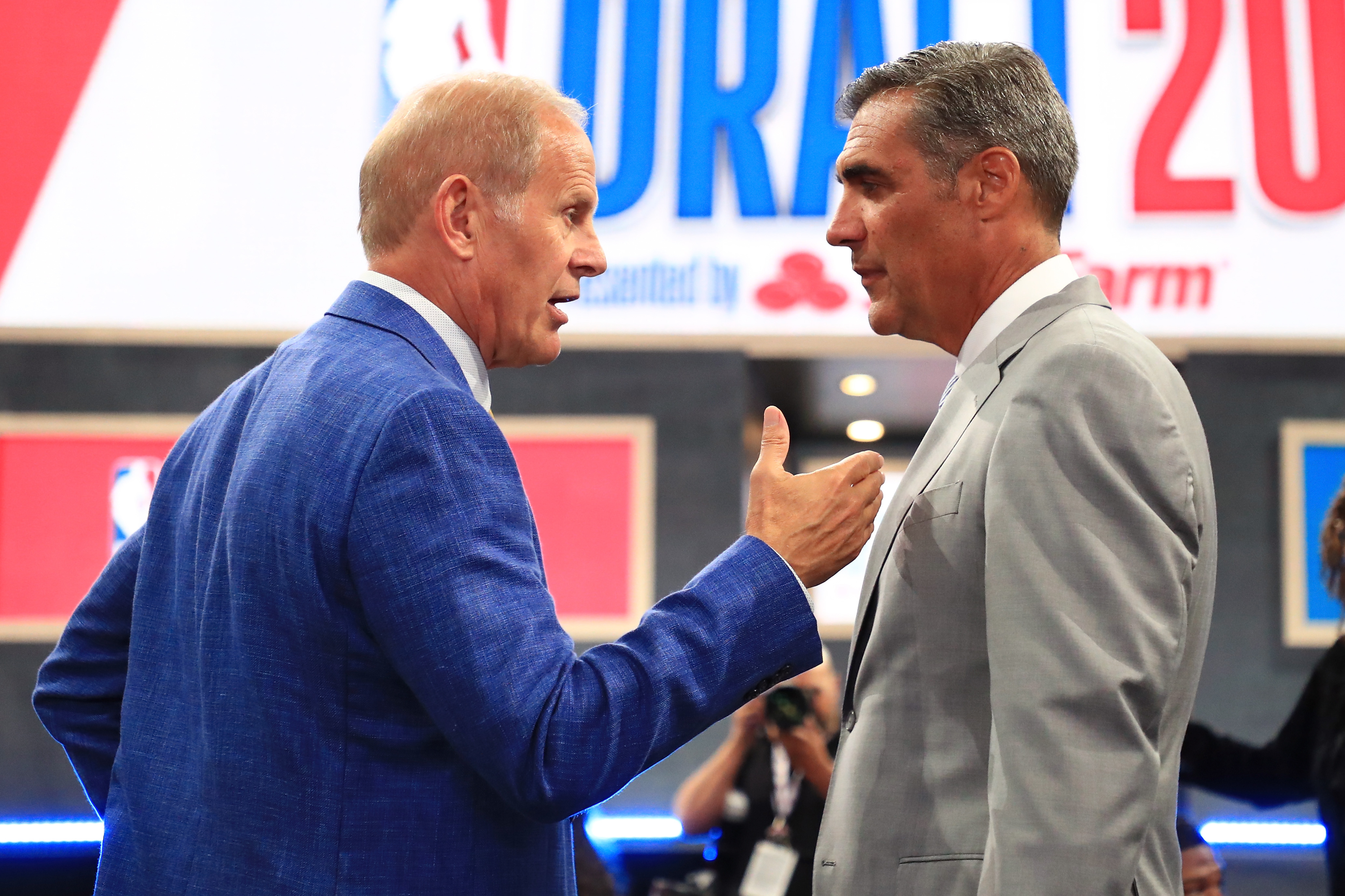 10. WASHINGTON at AUBURN, November 9
The second official game of Mike Hopkins' second season at Washington will be a tough one, as the Huskies invade The Plains to take on Auburn. Bruce Pearl's squad is coming off of a season in which it won a share of the SEC regular season title, and the Tigers should be really good again in 2018-19. Washington, which just missed out on the NCAA tournament, can say the same since it returns everyone including wing Jaylen Nowell and one of the nation's best defenders in Mathysse Thybulle. And Washington also boasts a talented big man in senior Noah Dickerson.
11. WEST VIRGINIA at TENNESSEE, January 26 (SEC/Big 12 Challenge)
Yes, the Mountaineers did lose two critical pieces in guards Jevon Carter and Daxter Miles. But much of the front court, led by Sagaba Konate, is back and the "Press Virginia" mindset remains in place as well. With Tennessee also being a tough squad, this late-January matchup in Knoxville should be a lot of fun. And Konate matching up with Grant Williams? Sign me up for that.
12. PURDUE at FLORIDA STATE, November 28 (ACC/Big Ten Challenge)
While Purdue has, in the eyes of many, the nation's best point guard in Carsen Edwards that position was a bit of a question mark for Florida State heading into the summer. Leonard Hamilton and company addressed that by landing Albany graduate transfer David Nichols, and the 2017 first team All-America East point guard is more than capable of leading the Seminoles. While Purdue has some major personnel losses to address the Boilermakers should still be a factor in the Big Ten, and Florida State is expected to be one of the better teams in the ACC.
13. MICHIGAN STATE vs. UCLA, November 22 (in Las Vegas)
This matchup is part of the Continental Tires Las Vegas Invitational, with North Carolina and Texas meeting in the other semifinal contest Thanksgiving night. And it's a game between two programs that are expected to, at minimum, be contenders in their respective conferences as Michigan State's favored to win the Big Ten and UCLA should be in the mix in the Pac-12. Both teams add quality recruiting classes, but the headliners will likely be returnees Cassius Winston and Nick Ward for Michigan State and Jaylen Hands and Kris Wilkes for UCLA.
14. VIRGINIA TECH vs. WASHINGTON, December 15 (in Atlantic City)
Both the Hokies and Huskies begin the 2018-19 season with expectations of, at the very least, reaching the NCAA tournament. Both teams could prove capable of doing even more than that, especially Washington in what appears to be a wide-open Pac-12, and this neutral site matchup is one to check out on what will be a busy day in college basketball.
15. NORTH CAROLINA at MICHIGAN, November 28 (ACC/Big Ten Challenge)
The Tar Heels and Wolverines met last season in Chapel Hill, with North Carolina picking up the 15-point victory. Michigan will look for revenge in Ann Arbor, and a win will also be the program's first over North Carolina since the 1992 Rainbow Classic (UNC leads the all-time series 4-2). This game will match two freshman wings that have been on the receiving end of praise this offseason, North Carolina's Nassir Little and Michigan's Ignas Brazdeikis.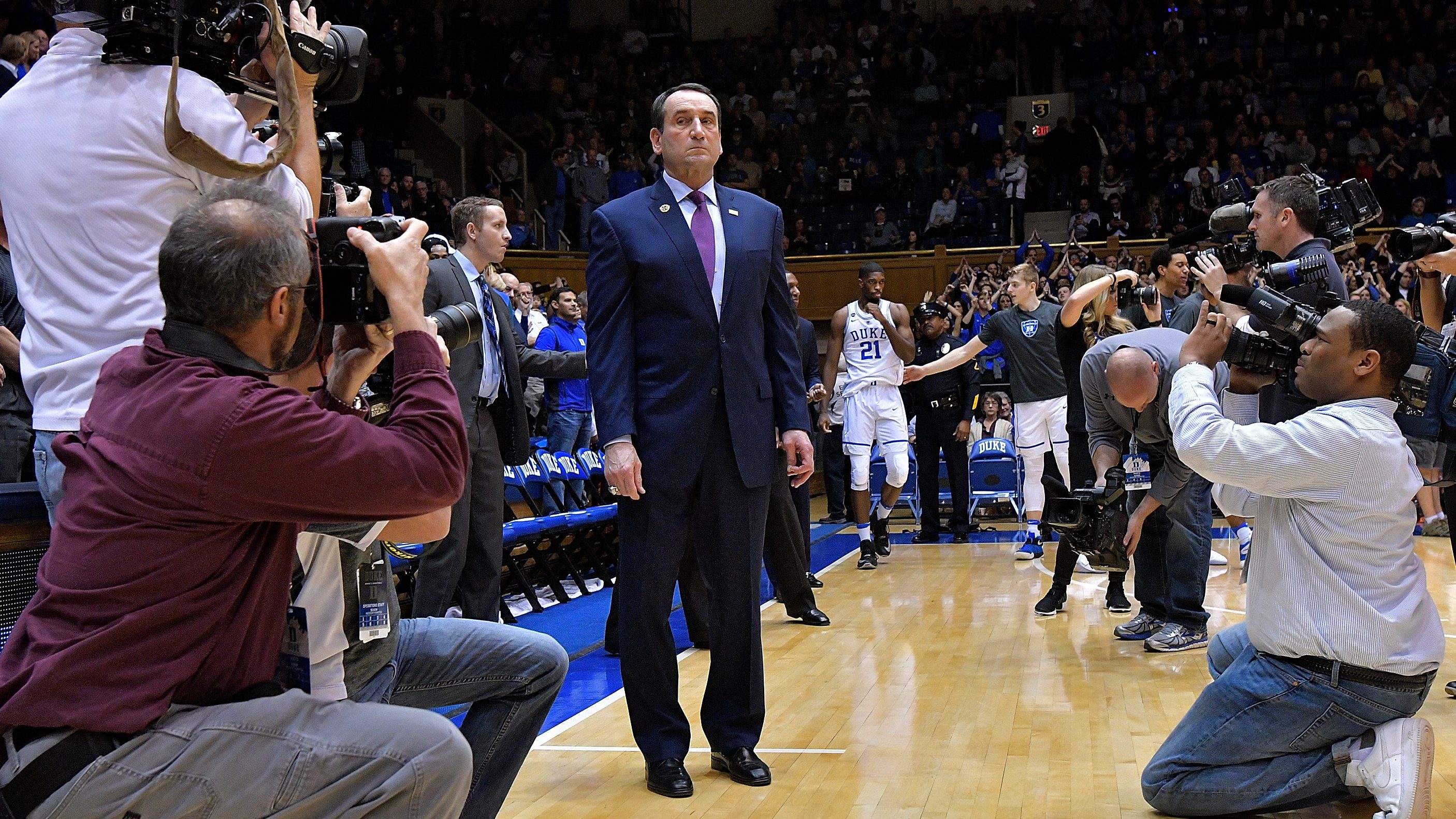 16. INDIANA at DUKE, November 27 (ACC/Big Ten Challenge)
While Duke is viewed as a consensus national title contender ahead of the 2018-19 season, Indiana is still working its way back to that level under second year head coach Archie Miller. With an outstanding forward in Juwan Morgan back for his senior season, and a talented freshman class led by five-star wing Romeo Langford, there's plenty of optimism in Bloomington. This matchup with the Blue Devils at Cameron sets up to be a really good test for the Hoosiers, a game that will show where the program is and how much work there is to be done.
17. AUBURN at NC STATE, December 19
Given the guards in this game, even with Auburn losing Mustapha Heron, the battle between the Tigers and Wolfpack should be fun to watch. Jared Harper and Bryce Brown return for Auburn, and that combo will be joined by VCU transfer Samir Doughty, JUCO transfer J'Von McCormick and Danjel Purifoy on the perimeter. They'll need to be at their best when it comes to taking care of the basketball, given the pressure that Kevin Keatts likes to throw at opponents. NC State doesn't lack for options on the perimeter either, with Markell Johnson, Torin Dorn and Braxton Beverly returning and three transfers (including C.J. Bryce) eligible, and they'll need to ramp things up pace-wise in order to limit the impact of Auburn's big men.
18. KANSAS at ARIZONA STATE, December 22
Three days before Christmas the Jayhawks head west for a rematch of one of last season's most surprising results. Arizona State went into Allen Fieldhouse and handed Kansas a 95-85 defeat, and the following day Bobby Hurley's team was ranked fifth in the nation. The trio of senior guards who led Arizona State to that win have all moved on to the professional ranks, leaving Remy Martin to run the show, but the Sun Devils don't lack for talent in the front court with Romello White, De'Quon Lake and San Diego State transfer Zylan Cheatham being three of the key contributors. Not much is expected of Arizona State, but this game offers the Sun Devils an opportunity to once again make a statement at Kansas' expense.
19. WISCONSIN at MARQUETTE, December 8
This season's edition should be an intriguing one, as Wisconsin looks to bounce back from an injury-riddled 2017-18 and Marquette is viewed by many as the team best equipped to challenge Villanova in the Big East. While that may be the case for a team led by guard Markus Howard and forward Sam Hauser, Marquette will need to make strides defensively in order to live up to the hype. Wisconsin's healthy, and with Ethan Happ leading the way Greg Gard's squad should be a factor in the Big Ten.
20. GEORGETOWN at SYRACUSE, December 8
The former Big East rivals meet at the Carrier Dome, with this being Georgetown head coach Patrick Ewing's first trip north since his days as a player. The rivalry angle is what brings the heat in this matchup, because while Syracuse enters this season with designs on a deep NCAA tournament run Georgetown hasn't been to the NCAA tournament since 2015.
TEN MORE TO MARK ON YOUR CALENDAR
Louisville vs. Tennessee, November 21 (in Brooklyn)
Nebraska at Clemson, November 26 (ACC/Big Ten Challenge)
Virginia at Maryland, November 28 (ACC/Big Ten Challenge)
Nevada at USC, December 1
UCF at Missouri, December 2
Xavier at Cincinnati, December 8
Arizona at Alabama, December 9
Oregon at Baylor, December 21
Saint Louis vs. Florida State, December 22 (in Sunrise, Florida)
Davidson at North Carolina, December 29