Beginning in September and running up until November 6th, the first day of the season, College Basketball Talk will be unveiling the 2018-2019 NBCSports.com college hoops preview package.
Every day at Noon ET, we will be releasing an in-depth preview of one member of our Preseason Top 25.
Today we dive into No. 24 N.C. State.
---
Kevin Keatts is in just his second season as the head coach of the Wolfpack but he's already managed to more or less completely turn over a roster that had developed a reputation for completely underachieving.
Just two of N.C. State's scholarship players were at N.C. State when Keatts was hired — point guard Markell Johnson and wing Torin Dorn. Of the 11 players that Keatts has landed, eight of them came via the transfer market, and Johnson is the only non-freshman on the roster that began his collegiate career in Raleigh.
Normally it takes three or four seasons before a new head coach is able to turn a roster over and get "his guys" into the program
With Keatts, it took him all of 18 months, and he already is coming off of a surprise trip to the 2018 NCAA tournament to boot.
The question that needs to be answered is this: Did Keatts simply find a way to get it done with the talent that Mark Gottfried let waste away on his roster last season?
Or is he just getting started?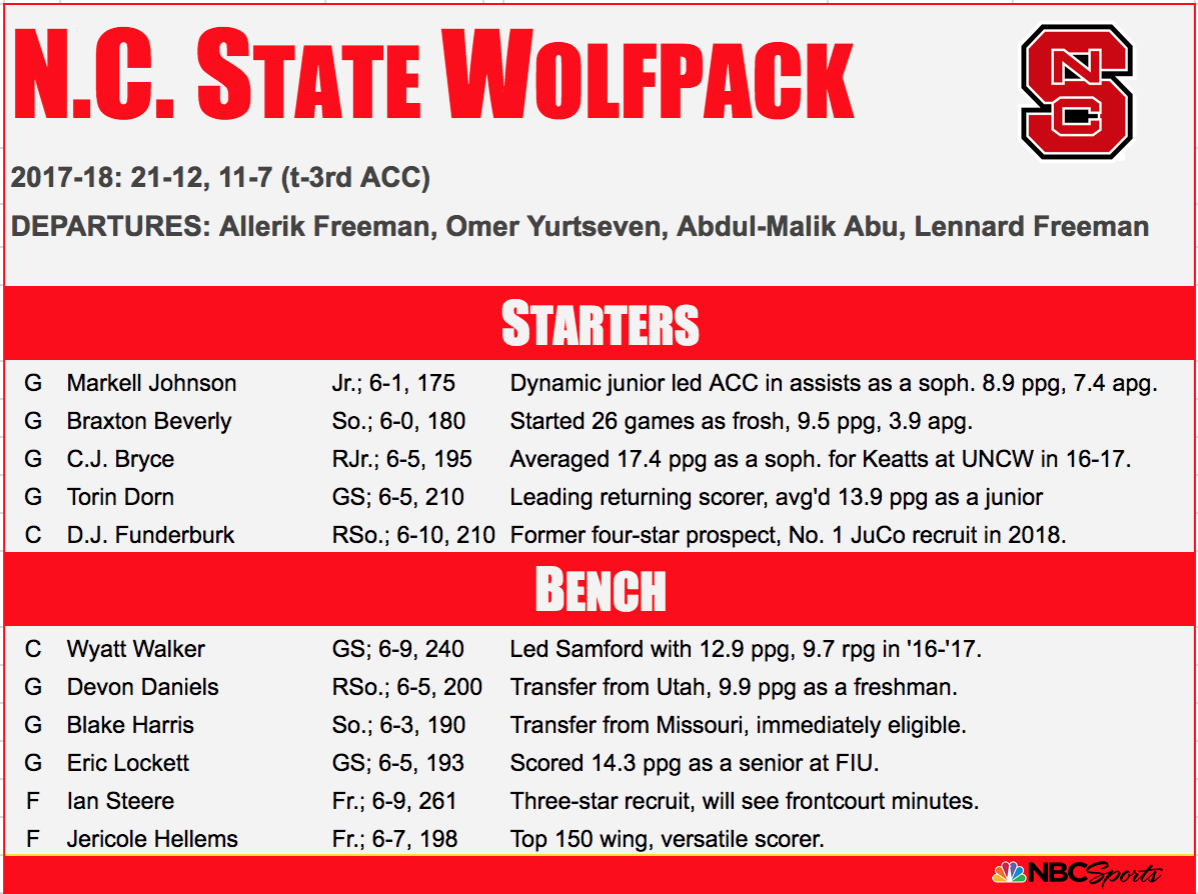 N.C. STATE WILL BE GOOD BECAUSE …
This team looks so much like the juggernauts that Keatts built at UNC Wilmington.
Prior to his move to Raleigh, Keatts spent three seasons with the Seahawks. He won at least a share of the CAA regular season title all three years, getting to the NCAA tournament twice where he lost by single-digits to ACC powerhouses Virginia and Duke.
Those UNCW teams were built around a certain style of play that isn't all that dissimilar from what Shaka Smart did during his VCU days. UNCW wasn't playing an all-out, gambling defense like Havoc, but they did defend full court and they did gamble for steals quite a bit and, most importantly, they were built around the idea that Keatts could play four guards at once, forcing enough turnovers with his pressure and creating enough mismatches on the offensive end that his team would win despite being outsized every time they stepped on the court.
Reading the tea leaves, it's not hard to envision the Wolfpack doing something very similar this season. Of the 11 players that are eligible to play this year after it was announced that freshman Immanuel Bates will redshirt following shoulder surgery, seven of them are guards and two of their forwards are decidedly perimeter-oriented.
And that depth on the perimeter isn't just bodies. They're talented. Let's start with Torin Dorn, the redshirt senior transfer from Charlotte that averaged 13.9 points last season. At 6-foot-5, I would not be surprised to see Dorn get quite a few minutes playing as a four for the Wolfpack; Keatts' best teams at UNCW used Chris Flemmings, a 6-foot-5, 175-pound Division II transfer as their de-facto power forward, and he won himself a CAA Player of the Year award in the process.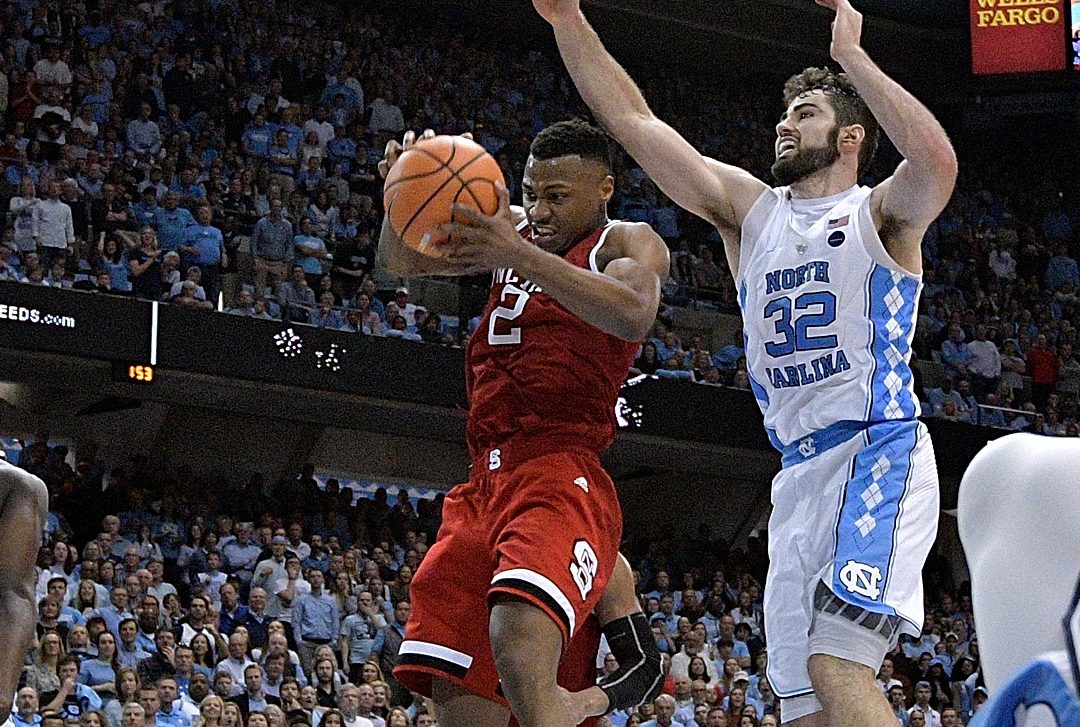 Along those same lines, I can see C.J. Bryce getting plenty of minutes alongside Dorn. Bryce, who also stands 6-foot-5, was a first-team all-CAA player as a sophomore at UNCW when he averaged 17.4 points. He followed Keatts to N.C. State and sat last season out as a redshirt.
Markell Johnson is in line for the starting point guard gig after leading the ACC in assists a season ago, and I would not be shocked to see him partnered with Braxton Beverly in the backcourt once again. Beverly started 26 games and averaged 9.5 points and 3.9 assists as a freshman after transferring into the program from Ohio State.
The reason I don't think it is a guarantee that Beverly starts is due to the pieces that Keatts is bringing in around him. Eric Lockett is a graduate transfer from FIU that averaged 14.3 points and 6.5 boards last season. Devon Daniels is a redshirt sophomore that sat out last season after averaging 9.9 points as a freshman at Utah. Blake Harris, a former top 100 recruit, will be eligible immediately after transferring into N.C. State from Missouri, where he averaged 3.8 points before leaving the team in January.
Beverly has the inside track to a starting spot, but he is going to have to earn it, and that's unequivocally a good thing if you are an N.C. State fan, because Beverly is a good player.
And that's really what this comes down to for the Wolfpack.
Their guards are really good, there are a lot of them and if Keatts has proven anything during his coaching career, it's that he can win with teams that have good guards.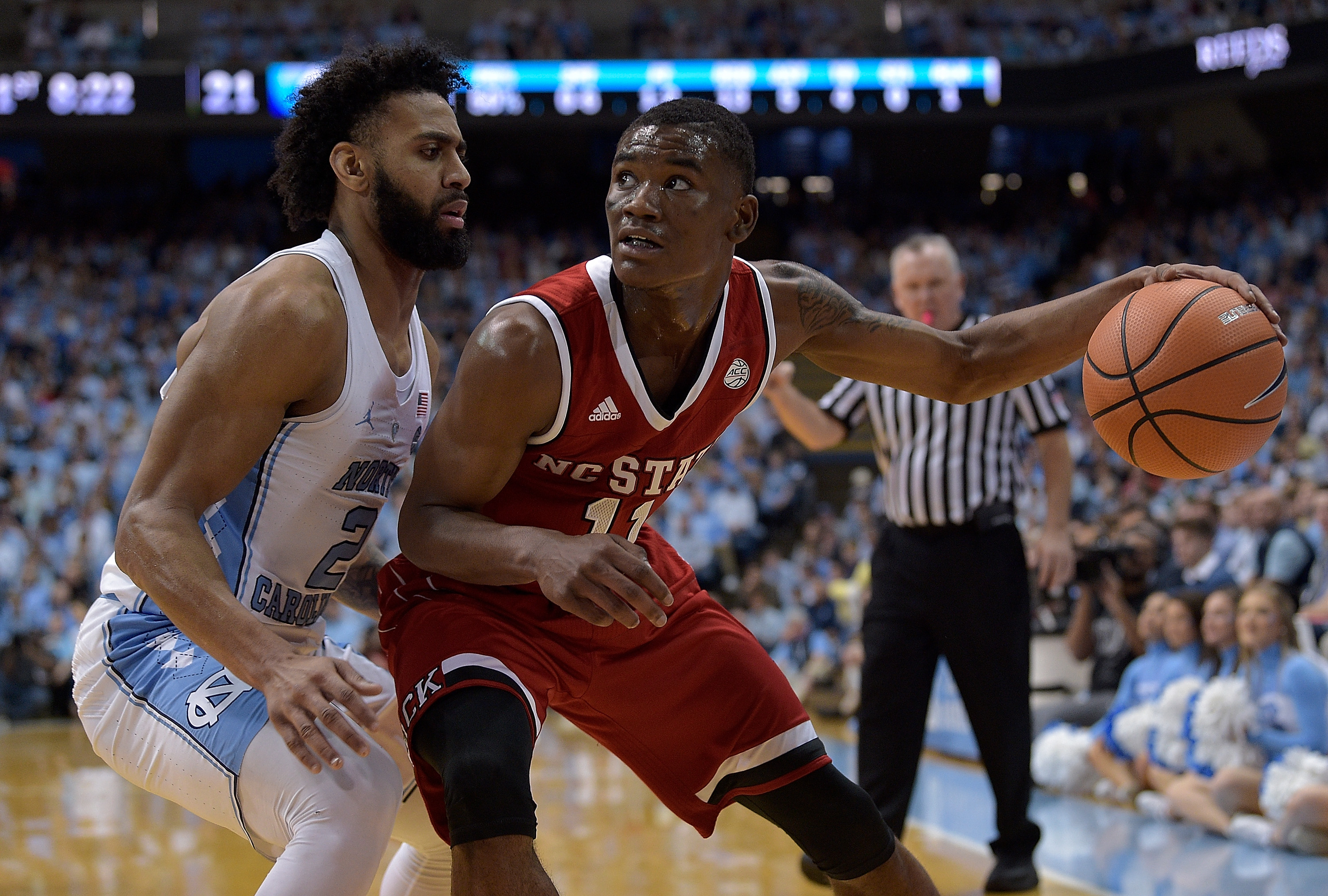 BUT N.C. STATE IS GOING TO STRUGGLE BECAUSE …
There really is no frontcourt depth to speak of.
And while the guards are the players that have gotten all of the attention for Keatts' best UNCW teams, the truth is that those teams had big men that were really good at doing what they needed to do to anchor that defense.
Neither C.J. Gettys nor Davontae Cacok put up stat lines that would 'wow' you, but they were really good at two things: Rebounding the ball and defending the rim.
I don't know if there is a guy on this roster that can do those things. Wyatt Walker averaged 12.9 points and 9.7 boards for Samford back in 2016-17, but he dealt with a knee injury last season that limited him to just two games, and even then, he's 6-foot-9 and had just 56 blocks in two-plus years. D.J. Funderburk is 6-foot-10, but he weighs just 210 pounds and is much more of a wing than he is a post. Put another way, he averaged just 4.4 boards in Junior College last season. Ian Steere is a good player but he's not exactly a game-changing recruit; you don't want him anchoring the frontcourt as a freshman.
The cruel irony is that Immanuel Bates might have been the guy that could help fill that void, but he's going to redshirt to recover from his shoulder surgery, and even when healthy, he, like Steere, is not necessarily someone you want to rely on for more than some minutes off the bench.
This is an issue for a couple of reasons:
When you play a gambling style of defense, having someone that can erase shots at the rim is so important. The offense is far more likely to be able to get to the rim, and making it just that much more difficult for those layups to be scored makes all the difference.
N.C. State is already going to be playing small, which inherently hinders them on the glass. Having a big man on the floor that can vacuum up caroms on the defensive end helps to end possessions. As the saying goes, forcing a miss only matters if you get rebound.
This is likely going to be an issue for this team all season long. The answer is less solving the problem and more finding a way to work around it.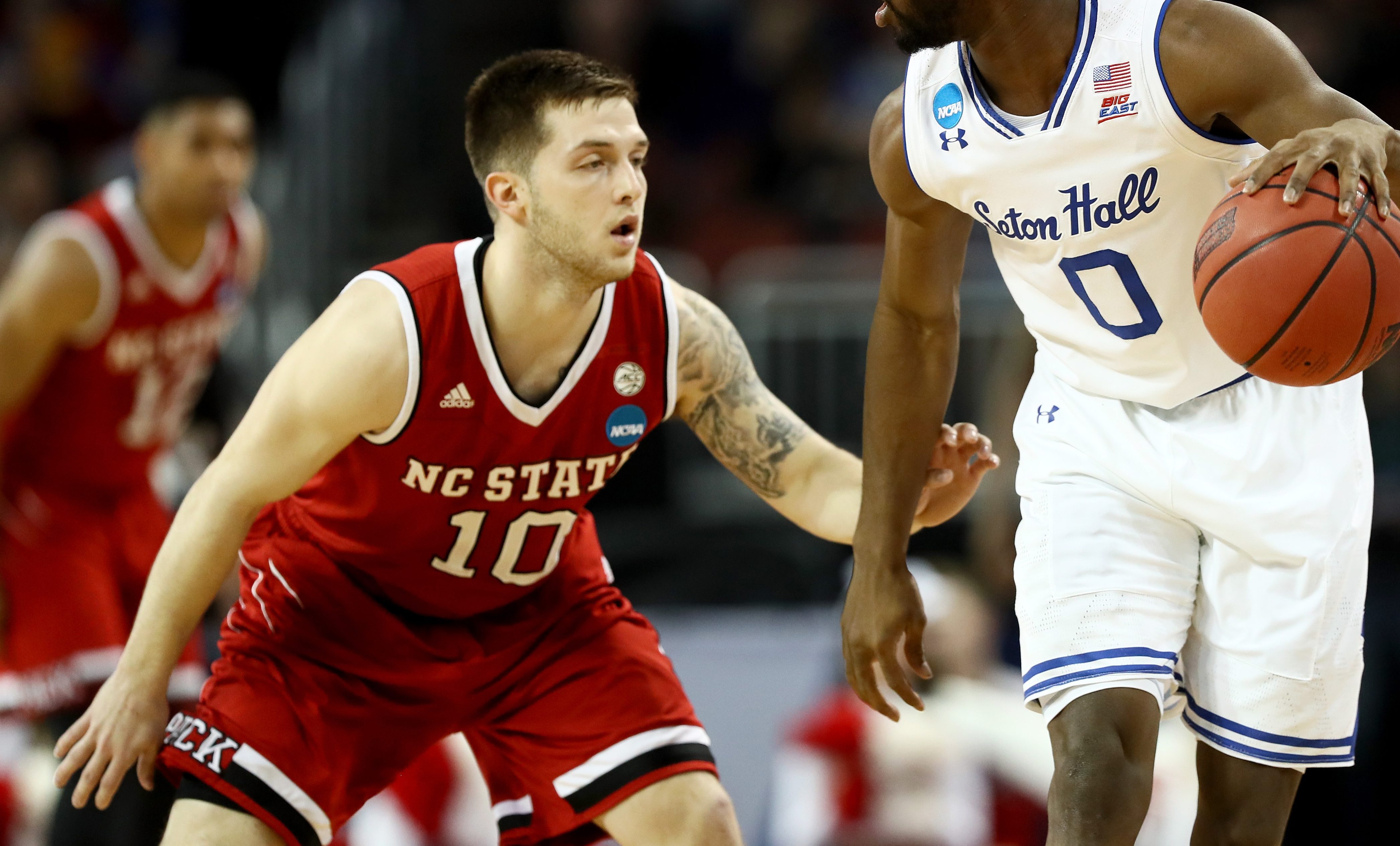 THE X-FACTOR
It really is incredible just how many new faces there are going to be on this roster.
Dorn and Johnson are the only players that have been in Raleigh for more than two years. Just five of the 13 players on scholarship have been on campus for one year, and three of those five transferred into the program and sat out last season as redshirts.
Put another way, there is a ton of experience on this roster, but they have very little experience actually playing with each other.
I'd love to be able to analyze this deeper, but it's really simple: We don't know how teams are going to come together until we see them, you know, come together.
Role allocation, role acceptance, understanding the plays, learning defensive assignments. These are the things that are going to determine if the Wolfpack hit their ceiling.
2018-19 OUTLOOK
And frankly, I think that ceiling is pretty high.
I am a believer in Kevin Keatts. I think he's a terrific basketball coach and a guy that will find a way to get the most out of the talent that is on his roster, and there is plenty of talent on this roster. It is also the kind of roster makeup that Keatts has had success with in the past.
That's enough to look at this team and see a group that should make a return trip to the NCAA tournament and make a run at finishing fourth — behind Duke, Virginia and North Carolina — in the ACC.
But it's hardly a guarantee.
Beyond the simple fact that we have no idea how this group is going to come together and the issues they have in the frontcourt, there are questions to be asked about whether or not this team has a go-to guy, or if the players that transferred into the program are anything more than role playing cast-offs from another program, or if the style that Keatts had success with in the CAA will work as well in the ACC.
N.C. State is going to be fun to follow this year precisely because of that fact.
We don't really know what they are going to do this season. Hell, we don't even really know what the starting lineup is going to be.
All we really know is they have talent on paper and one of the best young coaches in the league.
That's a good combination of things to have.
THE REST OF THE TOP 25
No. 25 Marquette