Just like Kentucky did two weeks ago, the Duke Blue Devils spent last week traveling abroad to play in exhibition games that were televised.
Kentucky went south, heading to the Bahamas.
Duke made the trip up north so that Canadian R.J. Barrett would have a chance to play in front of his home crowd.
And while it was a little bit easier to see what Kentucky will have a chance to be this season — we'll get into why that is later — we did get our first chance to see what Duke could look like.
Here are the four things that we learned: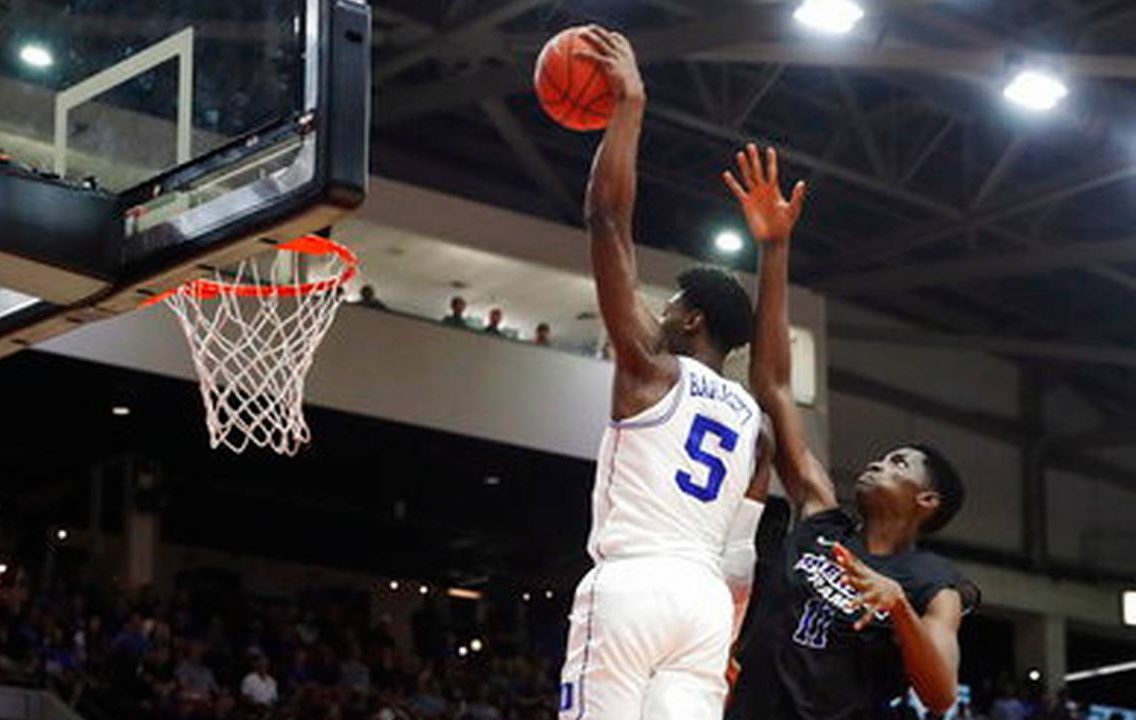 R.J. BARRETT IS THE TRUTH, BUT ZION WILLIAMSON SHOULD LIVE UP TO THE HYPE
At this point, everyone should know more or less what R.J. Barrett is.
He was the consensus No. 1 player in the Class of 2018 despite the fact that he reclassified last summer. (He turned 18 this summer, meaning that he is enrolling in college in what would be considered the normal year.) There is a long way to go still, but he is thought to be head and shoulders above the rest of the field when it comes to the race for the No. 1 pick in the 2019 NBA Draft. Last summer, he put 38 points, 13 boards and six assists on the USA team at the U-19 World Cup, which became first time since 2011 that USA Basketball was not the reigning champion at any age group in international competition.
Put another way, seeing Barrett steamroll a bunch of Canadian college basketball players should not be surprising if you know what he did against a team that included the likes of Carsen Edwards, Kevin Huerter, P.J. Washington and Romeo Langford, not to mention Barrett's current Duke teammate, Cam Reddish. In three games, he averaged 30.7 points, 8.0 boards and 5.0 assists.
What was more eye-opening was the way that Zion Williamson played.
Williamson is college basketball's first superstar of the internet age. His other-worldly athleticism has turned him into a social media machine. He has 1.7 million followers on Instagram. There are YouTube channels that have sprung to life simply because they were able to post his high school dunk. When he was a junior in high school, Drake wore his jersey. Every teenage basketball fan knows who he is.
The question about Williamson has long been whether or not he is more than just an athlete. He never left his local South Carolina high school, which is why those viral videos of him dunking often looked like he was playing against, well, me. He played on the Adidas circuit in high school, which is good but is not at the same level as the EYBL. I'm not sure there is a person on the planet that can match his explosiveness and quickness while checking in at 6-foot-7 and 285 pounds, as Duke lists him, but the question about his potential as a pro has always been what will happen when he is not longer on another planet athletically.
And at the risk of overreacting to three exhibition games against overmatched competition, I am much more bullish on him as a prospect today than I was a week ago.
There are three reasons for that:
Williamson has a higher basketball IQ and is a better passer than I realized. It's the little moments that give it away: finding a shooter after an offensive rebound, seeing a backdoor cut even if the pass he threw was not good enough to get the assist, the outlet passes he would throw to streaking guards before he even landed after grabbing a defensive rebound. He reads the game.
He's underrated as a ball-handler. He's also hardly a finished product there, but he has good enough handle that he can be a sensation as a grab-and-go big in transition and will be able to beat bigger (well, slower, he's pretty big) defenders off the bounce. That's key because his shooting still needs work.
He just plays so damn hard. When someone his size with his leaping ability decides that they want to go and get a rebound, how are you going to stop him? And while things like handle or shooting or defensive positioning can be taught, 'motor' cannot.
Williamson probably could stand to lose 20 or 25 pounds*, which will likely also help with him improving on his conditioning; he seemed to tire for stretches in these exhibitions, which is understandable considering the load he and Barrett carried and the fact that, you know, he is 285 pounds. And that jumper needs some consistency.
But those are fairly easy problems to fix, all things considered.
Which is why I think Williamson is going to come much closer to living up to the hype than I did before this trip.
*(The "Zion is fine at 285" crowd annoys me. Yes, he'll be just fine playing at 285 pounds or whatever he is. But if he's able to do all of this while carrying baby weight around, imagine what he'll do once he streamlines his body.)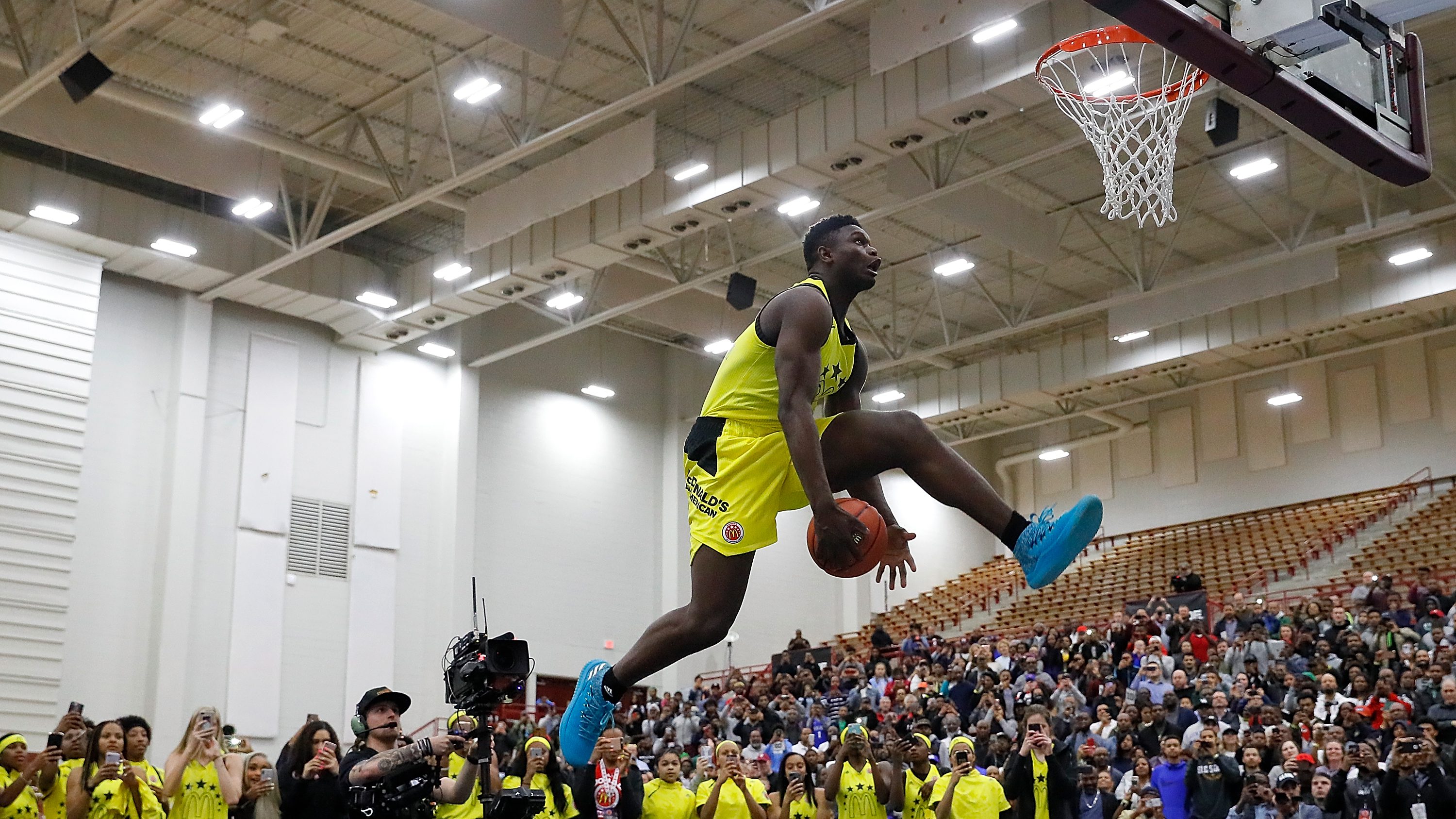 DUKE'S DEPTH IS GOING TO BE AN ISSUE
Duke had a bunch of injuries on this trip.
I know.
Cam Reddish didn't play. Tre Jones didn't play. Alex O'Connell lasted all of three minutes in the first game before fracturing a bone in his face. That's three of Duke's top six players heading into next season.
The problem?
Without those three, Duke was forced to start the likes of Jack White, Antonio Vrankovic and Jordan Goldwire in lineups that included both Javin DeLaurier and Marques Bolden. I expect White will play a larger role this season because, if nothing else, he's going to be one of the best shooters on the roster and can play a forward spot. Goldwire is fine as a point guard off the bench, I guess, and Vrankovic is big enough and serviceable enough to play emergency minutes.
Those guys are fine for the end of the bench, but the problem that will arise is that "the end of Duke's bench" looks like it is going to start with the eighth man.
And that's assuming that Marques Bolden becomes a trusted part of Coach K's rotation. In the three exhibitions in Canada, Bolden played a total of just 39 minutes, missing all three of his shot attempts without taking a single free throw while grabbing all of nine rebounds.
My guess?
Duke plays the majority of this season with a six-man rotation, using O'Connell off the bench to spell whoever needs a rest and allowing Williamson to play the five when Javin DeLaurier needs a blow.
Depth is something that I think is overrated in college basketball given how many TV timeouts there are during a game. Villanova has won two of the last three national titles despite using rotations that end at seven guys. Syracuse routinely makes runs in March with teams that have just five or six guys that see minutes. It's great to have 13 players on scholarship that can contribute, but only five of them can see the floor at a time. When your best players are going to get 30-35 minutes a night, having too many guys that deserve to play can lead to discontentment.
So I'm not sure this is going to cripple Duke's season.
But in a sport where titles are won in one-game knockout tournaments, a poorly-timed sprained ankle or some simple foul trouble can be a killer.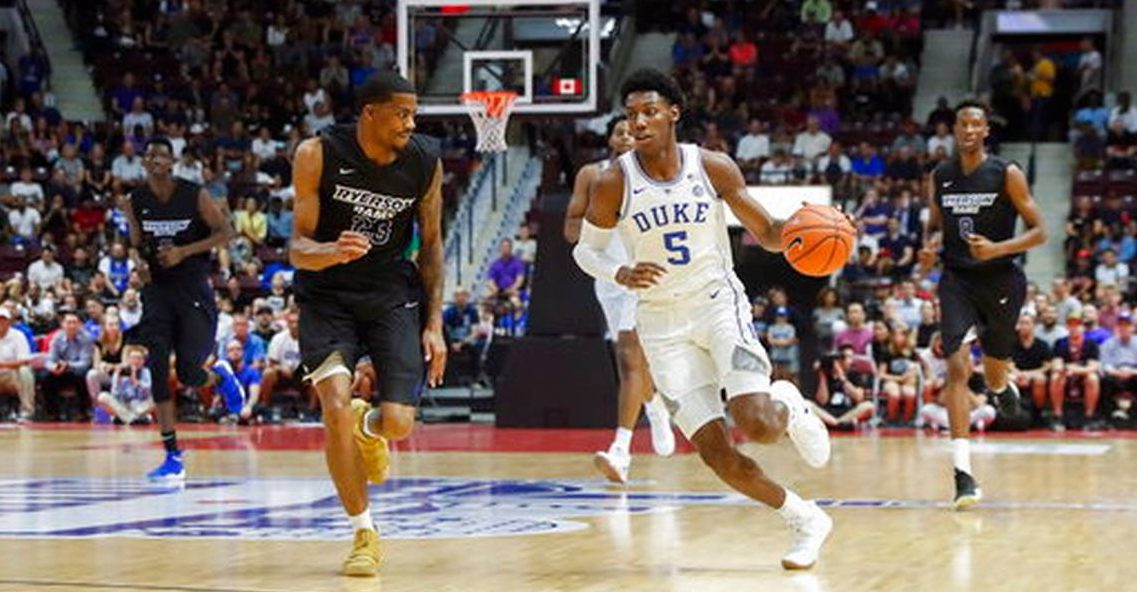 THIS TEAM IS GOING TO BE SO MUCH FUN TO WATCH
If there is one thing that we can learn from the way that Duke played in Canada, it's that this team is likely going to play fast, fast, fast.
I'm not sure there will be any player in the college basketball this year that can grab-and-go the way that Barrett and Williamson can, and that's before you even factor in that Reddish — a silky 6-foot-8 wing — will be able to do the same thing, and that Tre Jones will actually be the point guard on this roster.
Imagine being an opposing point guard and seeing Barrett or Williamson come at you with a full head of steam in transition. That's nightmare fuel.
This group is also switchable defensively, and I've been told that they have already been tinkering with lineups that allow Williamson to play the five, a la the 'Death Lineup' that the Golden State Warriors roll out with Draymond Green playing center.
There is a lot to like about this group, but that leads me to my single-biggest concern about this team …
… DUKE IS GOING TO HAVE TO FIND SHOOTING SOMEWHERE
Part of the reason I think Duke is going to be a transition-heavy team is that they have the players to thrive in that kind of a system.
But I also think that it will partly be by necessity, as Duke has a roster that is loaded with perimeter talent without having all that much perimeter shooting.
Put another way, Villanova made small-ball work for them last season because every single player in their top six was a lethal three-point shooter. Golden State makes it work because they have three of the greatest shooters in the history of the sport on the roster.
Barrett? The biggest knock on him as a prospect is that he is an inconsistent shooter, and that was backed up by a 6-for-21 (28%) performance in Canada. The same thing can be said about Williamson, who shot 3-for-9 (33%) from three on the trip, and one of his three makes was a ball that bricked off the back of the rim, hit the backboard and happened to drop in. Reddish and Jones are both guys that can make threes, but they are probably better described as scorers more than shooters.
Throw in someone like a DeLaurier or a Bolden, and suddenly the paint gets awfully clogged.
I currently have Duke sitting at No. 4 in the NBC Sports Preseason Top 25 — behind Kansas, Gonzaga and Kentucky — because of those question marks from beyond the arc.
This trip did nothing to alleviate those concerns.