July's live recruiting period, the last of its kind, just finished up, meaning that the Class of 2019 have fully had a chance to prove themselves to the recruiters and the recruitniks around the country.
Scholarships were earned and rankings were justified over the course of those three weekends, but scholarship offers and rankings don't always tell us who the best players in a given class will end up being.
Ask Steph Curry.
Over the course of the coming weeks, we will be re-ranking eight recruiting classes, from 2007-2014, based on what they have done throughout their post-high school career. 
Here are the 25 best players from the Class of 2013, with their final Rivals Top 150 ranking in parentheses: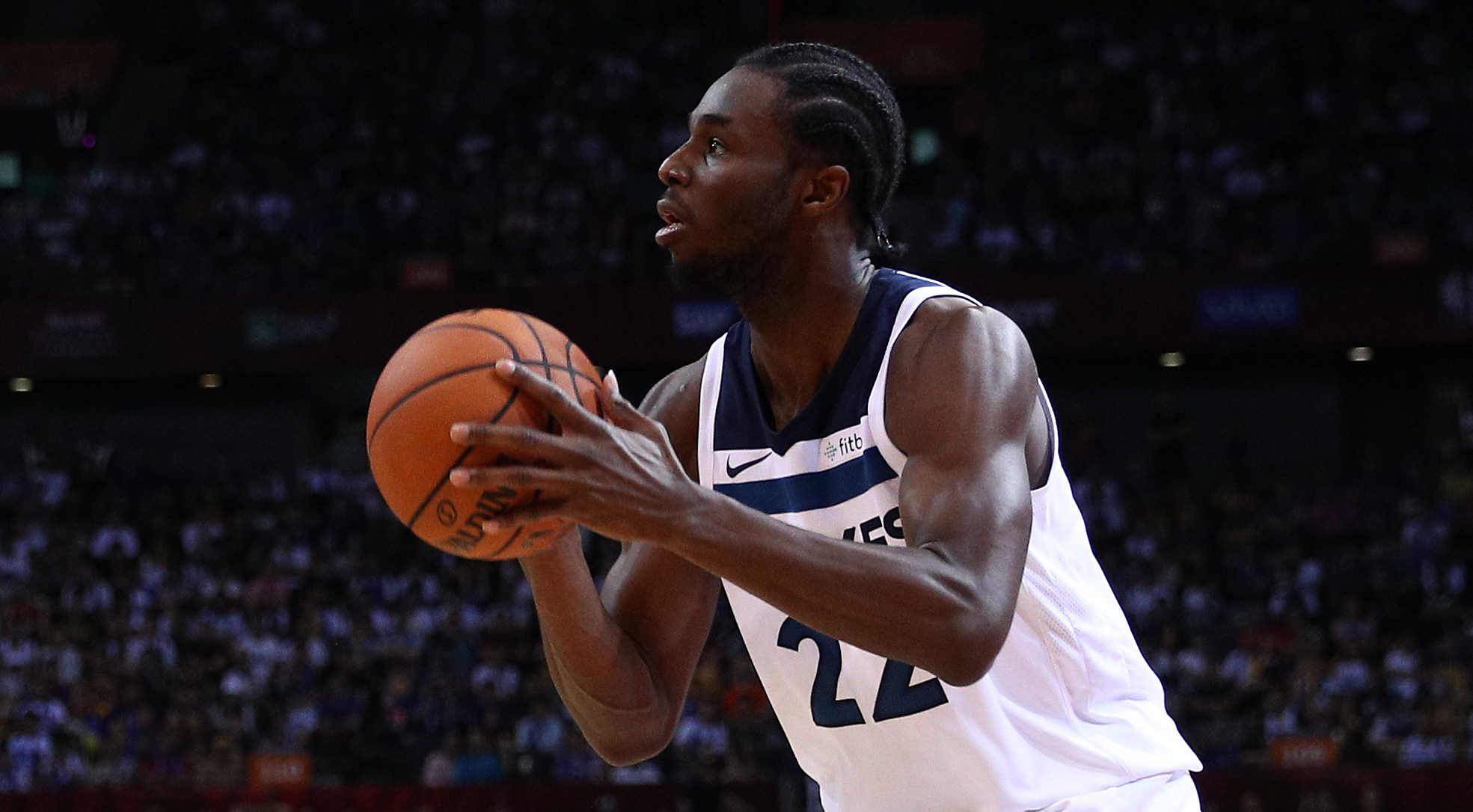 1.  Joel Embiid (25)
The meteoric rise of "The Process" has been fascinating to witness. Embiid didn't become a five-star caliber prospect until his senior season of high school. He parlayed that into one good season at Kansas before a stress fracture in his foot prevented him from suiting up in March. After missing his first two seasons of NBA ball with the Philadelphia 76ers due to injury, Embiid became one of the game's best players — and biggest personalities — over the last several years.
Embracing the role of franchise savior in Philly, Embiid became a second-team All-NBA player in his first full(ish) season in 2017-18. Injury concerns prevent Embiid from playing on back-to-back nights during the regular season, but the All-Star is a major force when he's healthy. Embiid signed a max extension to stay in Philadelphia after his rookie deal ended.
2. Andrew Wiggins (1)
One of the most hyped high school players of the past decade, Wiggins has been debated as much as any player on this list. Becoming the No. 1 overall pick in the 2014 NBA Draft after a good season at Kansas, Wiggins has been remarkably durable during his four-year NBA career with the Minnesota Timberwolves. Missing only one game during that four-year span, Wiggins has averaged 36.2 minutes per game for his career as he's grown into a functional scoring wing. During his third season, Wiggins averaged 23.6 points per game as his inconsistent perimeter jumper improved enough for him to make a leap. Polarizing among some in the NBA community, Wiggins has been criticized at times for not making enough of an impact outside of scoring.
3. Aaron Gordon (3)
A mega-athlete at forward, Gordon has become a successful NBA starter during his four seasons with the Orlando Magic. The former Pac-12 Freshman of the Year showed flashes of potential greatness during his one season at Arizona. Since the Magic surprisingly (at the time) selected Gordon with the No. 4 overall pick in the 2014 NBA Draft, he made some memorable appearances in the dunk contest while growing into one of the league's better young talents. During the 2017-18 season, Gordon averaged 17.6 points and 7.9 rebounds per game for the Magic as he looks like their centerpiece to build around the next few years.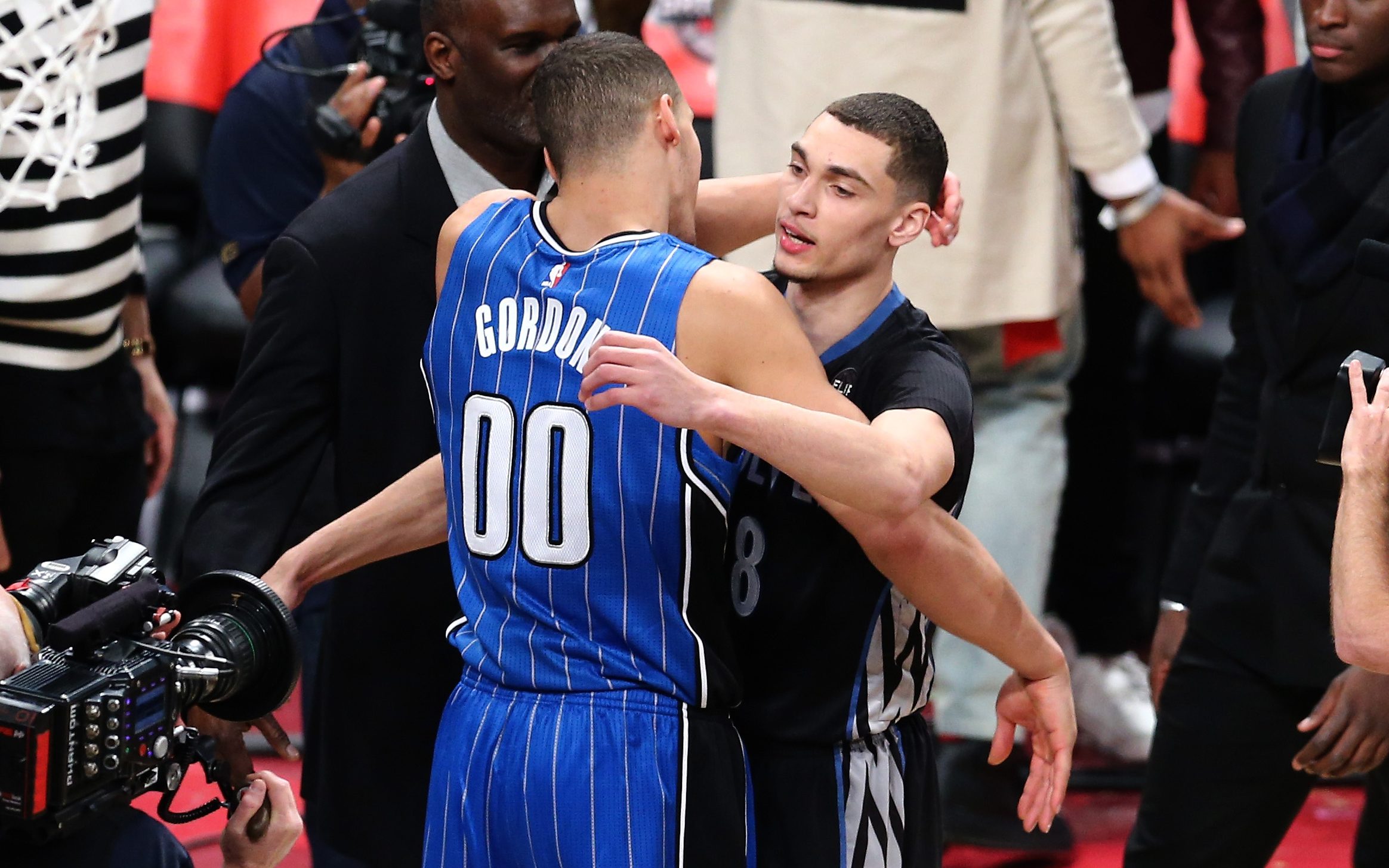 4. Zach LaVine (44)
A classic late-bloomer, LaVine has used his supreme athleticism to make a name for himself in the NBA the past few seasons. Coming off of the bench during his only season at UCLA, LaVine's dominant performance at the NBA Draft Combine vaulted him into a lottery pick in the 2014 NBA Draft. With the Minnesota Timberwolves, LaVine developed into a double-figure scorer while also becoming the fourth player in history to win back-to-back dunk contests. A torn ACL has limited LaVine's play the past two seasons, as he was the centerpiece of the Jimmy Butler trade that brought LaVine to the Chicago Bulls before the 2017-18 season. Despite a sluggish return from the ACL injury last season, the Bulls matched a lucrative offer sheet from the Sacramento Kings to retain LaVine this offseason.
5. Julius Randle (2)
After a decorated high school and college career that included a Final Four run with Kentucky, Randle has carved out a nice niche in the NBA. Playing the past four seasons with the Los Angeles Lakers, Randle started to figure things out during the past two years as he was especially effective coming off of the bench in small-ball situations. Putting up 16.1 points and 8.0 rebounds per game on 55 percent shooting this past season, Randle left the Lakers as a free agent this offseason as he signed to play with the New Orleans Pelicans.
6. Jabari Parker (4)
Another decorated high school player and one-and-done, Parker made an impact during his one season at Duke — particularly on the offensive end. Selected with the No. 2 overall pick in the 2014 NBA Draft, Parker showcased natural scoring ability during his four seasons with the Milwaukee Bucks — peaking at 20.1 points per game during the 2016-17 season. Parker's big issue has been health. He's suffered two torn ACLs during his four years in the The League. Showing flashes of former brilliance during his return late last season — including a 35-point game at Denver — Parker signed a two-year deal with the Chicago Bulls this offseason. He'll return to his hometown in the hopes of remaining healthy and revitalizing his career.
7. Bobby Portis (15)
The first player on this list to not be a one-and-done, Portis had a memorable sophomore season at Arkansas as he became SEC Player of the Year. Picked at No. 22 overall in the 2015 NBA Draft by the Chicago Bulls, Portis has exceeded expectations by becoming one of the game's better bench scorers. A shot-happy big man who can space the floor out to the three-point line, Portis put up 13.2 points and 6.8 rebounds per game in only 22.5 minutes per game for the Bulls last season. For as good as Portis has been on the floor, he's perhaps best known for a violent fight with Bulls teammate Nikola Mirotic before the 2017-18 season. The incident left Mirotic with a concussion and multiple facial fractures as Portis was suspended eight games.
8. Rondae Hollis-Jefferson (21)
The former Arizona product has started to come into his own as an NBA player. Following two good seasons with the Wildcats, where he was one of the best two-way forwards in the country, Hollis-Jefferson has carved out a starting role with the Brooklyn Nets. In his third season as a pro, Hollis-Jefferson developed into a double-figure scorer who could do a little bit of everything. Although Hollis-Jefferson still struggles to make perimeter jumpers, he averaged 13.9 points and 6.8 rebounds per game during the 2017-18 season, as he started in 59 games for the rebuilding Nets.
9. Josh Hart (84)
After a decorated four-year college career at Villanova, not surprisingly, Hart has found his way into an NBA rotation. With the Wildcats, Hart went from low-end four-star prospect, to National Player of the Year candidate as he was a first-team All-American during his senior season. Hart also won a national title at Villanova and helped turn the Wildcats into one of the most consistent programs in the nation. At the NBA level, Hart is coming off of a promising rookie season with the Los Angeles Lakers as he started 23 games and put up 7.9 points and 4.2 rebounds per game.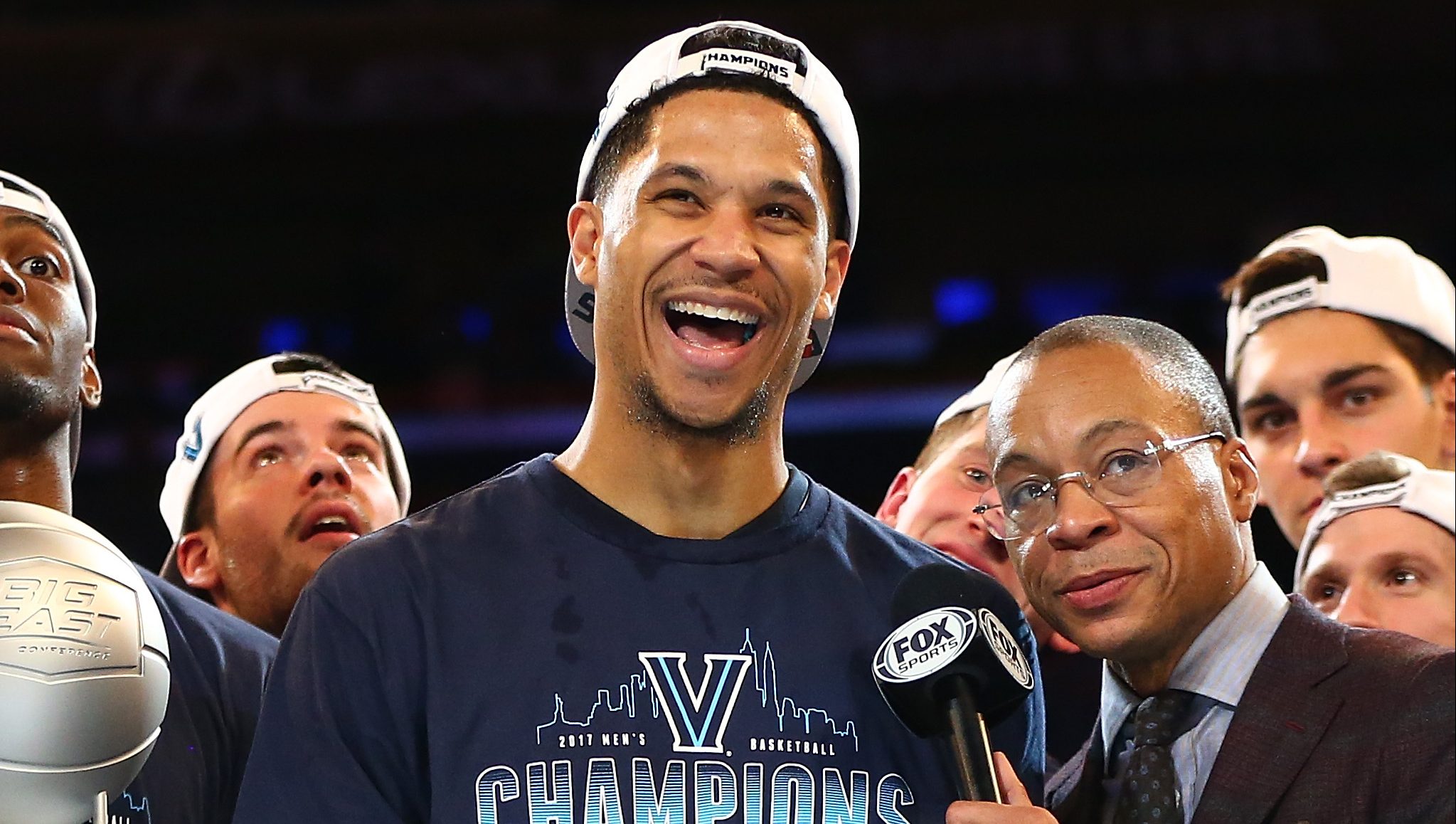 10. Andrew Harrison (5)
The former Kentucky star made two Final Four appearances during his college career. As a pro, Harrison has steadily gained traction the past few seasons with the Memphis Grizzlies. After beginning his career in the G League, Harrison has been a rotation player with the Grizzlies the past two seasons. Starting 46 games during the 2017-18 season, Harrison averaged 9.5 points and 2.3 rebounds per game as his campaign was cut short due to injury.
11. Pascal Siakam (UR)
A late-bloomer to come from the mid-major ranks, Siakam redshirted during his freshman season at New Mexico State due to injury. From there, Siakam has hit the ground running. He was named WAC Freshman of the Year his first season and WAC Player of the Year as a sophomore. Since getting drafted by the Toronto Raptors in the first round of the 2017 NBA Draft, Siakam has developed into a well-rounded backup big man. Last season, Siakam played 81 games and averaged 7.3 points, 4.5 rebounds and 2.0 assists per game.
12. Jordan Bell (68)
Bell has worked hard to make the NBA as he was a key role player for the Golden State Warriors during their 2017-18 championship run. Initially redshirted during his freshman season at Oregon, Bell eventually become a second-team All-Pac 12 player and the league's defensive Player of the Year in 2017 as he helped the Ducks to the Final Four. As a rookie, Bell earned a lot of buzz in the NBA community as a do-it-all backup forward as he received a healthy amount of minutes during the NBA Playoffs.
13. Noah Vonleh (8)
Averaging nearly a double-double as a freshman at Indiana, Vonleh became the No. 9 overall pick of the Charlotte Hornets in the 2014 NBA Draft. Although Vonleh has continued to clean the glass at a solid rate as a role player, he hasn't found the right fit during his four-year NBA career. Traded twice during his first four seasons, Vonleh has spent time in Charlotte, Portland and Chicago. The New York Knicks recently signed Vonleh for the 2018-19 season.
14. Jarell Martin (13)
Following two successful seasons at LSU, which included first-team All-SEC honors as a sophomore, Martin has found his way as an energy big man coming off of the bench. Spending the last three seasons with the Memphis Grizzlies, Martin started 36 games last season as he averaged 7.7 points and 4.4 rebounds per game. During the offseason, Martin was traded to the Orlando Magic in a deal involving Dakari Johnson.
15. Wayne Selden (12)
The former McDonald's All-American was a polarizing player at times during his three-year career at Kansas as he earned second-team All-Big 12 honors with the Jayhawks in 2016. Going undrafted in 2016, Selden defied expectations by going from the G League to earning NBA Playoff minutes as a rookie with the Memphis Grizzlies. Selden's second season with the Grizzlies was cut short to 35 games during the 2017-18 season as he battled a right quad injury. Selden averaged 9.3 points per game during his second season.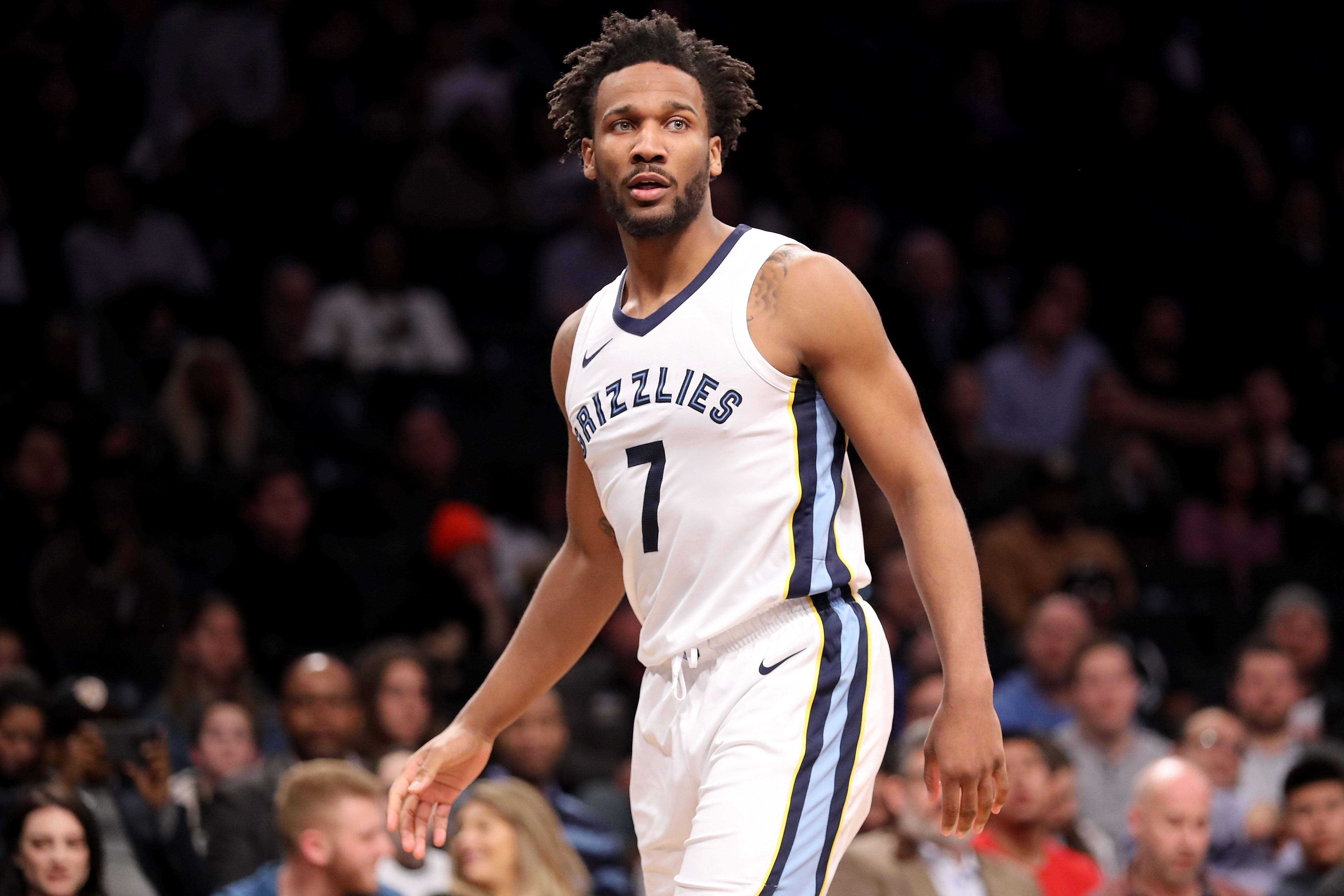 16. Cameron Payne (UR)
Payne went from unranked mid-major player into an NBA lottery pick after only two seasons of college at Murray State. The former Ohio Valley Conference Player of the Year, Payne drew some Damian Lillard comparisons coming out of college since both players had similar college trajectories. Payne has struggled with inconsistent play and injury during his three NBA seasons. Last season with the Chicago Bulls, Payne looked like a potential rotation guard as he averaged 8.8 points and 4.5 assists per game in 25 games and 14 starts.
17. James Young (11)
Helping Kentucky to the Final Four as a freshman, Young parlayed second-team All-SEC honors into the No. 17 pick in the first round of the 2014 NBA Draft. Spending his first three seasons with the Boston Celtics, Young was let go, as he eventually signed a two-way contract with the Philadelphia 76ers last season. Still only 22 years old, Young has appeared in 95 career NBA games.
18. Semi Ojeyele (31)
Starting his college career at Duke, Ojeyele eventually transferred and found a better fit at SMU. After winning AAC Player of the Year honors in 2017, Ojeyele kept his name in the 2017 NBA Draft, as the Boston Celtics scooped him up in the second round. Playing in 73 games and 17 playoff games as a rookie last season, Ojeyele looks like a potential steal for the Celtics — although he's stuck in a deep rotation of wings now that Gordon Hayward is returning from injury.
19. Frank Mason (76)
Exceeding all expectations during a memorable four-year career at Kansas, Mason evolved into a first-team All-American and one of the best two-way point guards in the country. Following his time with the Jayhawks, Mason was picked in the second round by the Sacramento Kings in the 2017 NBA Draft as he played in 52 games last season. Mason averaged 7.9 points and 2.8 assists per game.
20. Damian Jones (77)
The former two-time All-SEC first-team selection at Vanderbilt was selected in the first round of the NBA Draft in 2016 by the Golden State Warriors. Although Jones has spent most of his pro career playing in the G League, thanks to the Warriors' insane depth, he has played 25 games in the NBA the past two seasons. Most importantly, Jones has two rings in his first two seasons. It'll be interesting to see how Jones develops over time since he's been stuck on one of the deepest teams in basketball.
21. Sindarius Thornwell (43)
The former South Carolina star helped lead the Gamecocks to a Final Four appearance in 2017 as he was a first-team All-SEC selection that season. Picked in the second round of the 2017 NBA Draft, Thornwell's rights were traded to the Los Angeles Clippers before the season. Thornwell exceeded expectations by appearing in 73 games, and starting 17, for the Clipper as a rookie as he averaged a little over 15 minutes per game.
22. Tyler Ennis (22)
Jumping to the NBA after one season at Syracuse, Ennis was the No. 18 overall selection of the Phoenix Suns in the 2014 NBA Draft. Spending the past four seasons in the NBA, Ennis appeared in 186 total games and made 21 starts as he spent time with the Suns, Bucks, Rockets and Lakers. Although Ennis played in 54 games for the Lakers during 2017-18, averaging 12.6 minutes per game, he opted to sign a contract to play in Turkey for next season.
23. DeAndre Bembry (UR)
A former Atlantic 10 Player of the Year at Temple, Bembry was a first-round pick of the Atlanta Hawks in 2016. The G League is where Bembry spent most of his first pro season, and last season, Bembry was limited by injury. During two pro seasons, Bembry has only played in 64 NBA games. But he should have a chance to earn much more playing time on an Atlanta team that is currently in the midst of a rebuild.
24. Christian Wood (40)
The former UNLV product spent two productive seasons in Sin City before turning pro, as he went undrafted in 2015 after receiving first-round buzz during the season. Bouncing between the G League and the last spot of NBA rosters, Wood played in 30 NBA games with the 76ers and Hornets between 2015 and 2017. But, after spending all of last season in the G League, Wood might have finally figured things out. A monster Summer League led to the Milwaukee Bucks signing Wood to a contract for the 2018-19 season as he's expected to make the roster.
25. Wes Iwundu (UR)
One of six three-star prospects to enter Kansas State in the same recruiting class, Iwundu became one of the Big 12's best players during his final two years on campus — earning third-team All-Big 12 honors. Selected in the second round of the 2017 NBA Draft by the Orlando Magic, Iwundu played in 62 games and started 12 last season. Remarkably, Iwundu was considered by some to be the fifth-best prospect on his own Houston Defenders AAU team coming out of high school as he played with the Harrison twins, Johnathan Motley (Baylor) and Derrick Griffin (Texas Southern).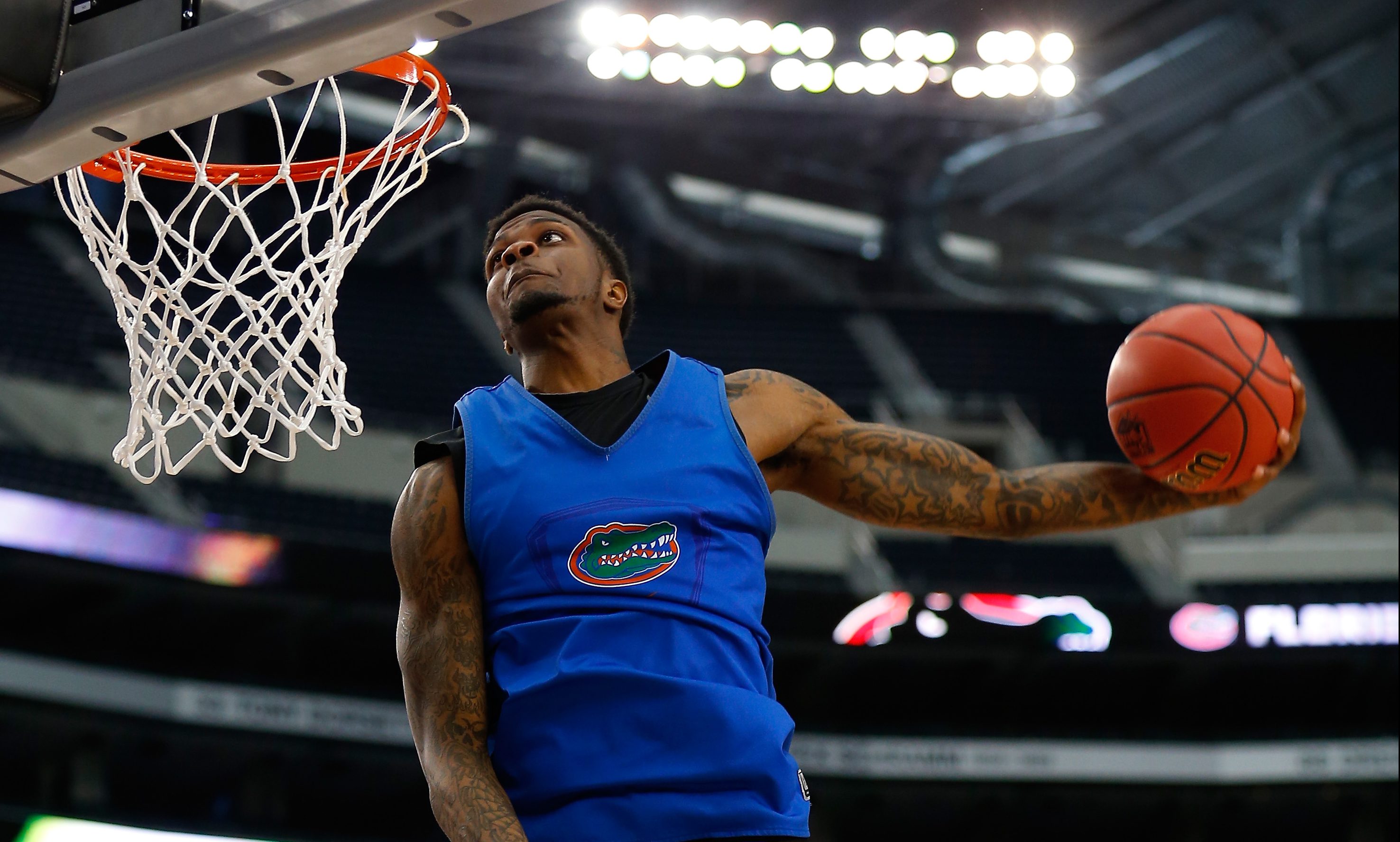 FIVE NOTABLES THAT DIDN'T MAKE THE TOP 25
Chris Walker (6)
The 6-foot-10 Walker never lived up to his immense hype as NCAA eligibility issues affected his freshman season at Florida. Even as a sophomore, Walker never found his footing with the Gators, as he left the program after two pedestrian seasons in the SEC. Going undrafted in the 2015 NBA Draft, Walker spent some time in the G League before eventually signing a deal to play in a Puerto Rican professional league in 2018. At one point in time, Joel Embiid, the No. 1 player in this class re-rank, was coming off of the bench in favor of Walker when the duo played together on the Florida Rams on the grassroots circuit.
Aaron Harrison (7)
While twin brother Andrew has been able to stick in the NBA the past few seasons, Aaron has had to grind in the G League. Playing in 35 career NBA games to this point, Harrison finished last season with the Dallas Mavericks after they opted to extend his 10-day contract for the rest of the season. The former McDonald's All-American and Kentucky star is still looking for a spot for next season.
Kasey Hill (10)
Although Hill never made the NBA's radar, he ended up as a solid four-year presence at Florida. Making a Final Four appearance as a freshman backup, Hill eventually became an All-SEC defender during his senior season as he was one of the league's better guards. After his college career finished out at Florida, Hill went on to sign pro deals in Hungary and Greece. Hill was also grassroots teammates with Joel Embiid and Chris Walker on the Florida Rams.
Isaac Hamilton (14)
The middle brother of the three Hamiltons (Jordan Hamilton is oldest, Daniel Hamilton is youngest), Isaac had a very successful three-year run at UCLA as one of the Pac-12's better scoring guards. Earning All-Pac-12 second-team honors in 2016, Hamilton went undrafted in the 2017 NBA Draft. Hamilton played with the Indiana Pacers during Summer League last year as he spent 2017-18 in the G League.
Nigel Hayes (UR)
From unranked to one of college basketball's best players, Hayes made two Final Fours and three all-Big Ten teams during his four seasons in Madison. Helping the Badgers to at least the Sweet 16 in all four of his seasons, Hayes is one of college basketball's most accomplished players of the past decade. Last season, Hayes spent most of his year in the G League, but he did appear in nine NBA games — playing for the Lakers, Raptors and Kings. Hayes is expected to play for Galatasaray in the Turkish league this upcoming season.