Big Blue Nation invaded the Bahamas last week, as the Kentucky Wildcats took another trip to the Atlantis Resort to play four exhibition games against professional competition.
And man, was their performance on the islands dominant.
Kentucky knocked off three professional teams as well as the Bahamian National Team by an average of 29 points in their four games.
Here are the five things that I learned while watching the Cats play: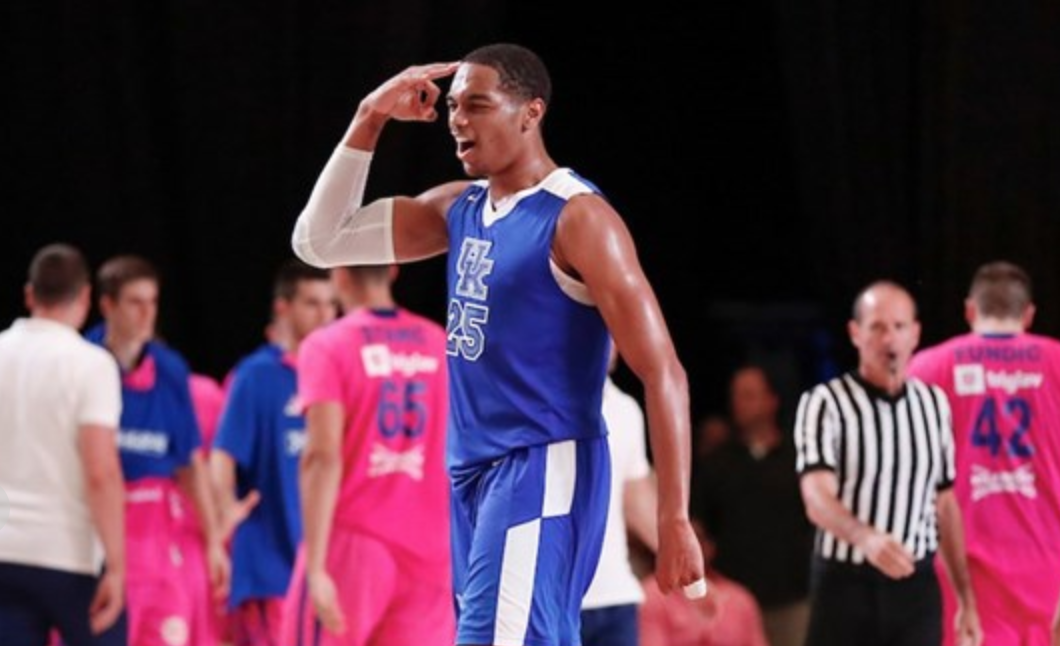 KENTUCKY IS GOING TO BE VERY, VERY GOOD
This isn't exactly breaking news.
Kentucky is, after all, currently sitting at No. 3 in the NBC Sports Preseason Top 25, and I am on record saying that the top three — Kansas, Gonzaga and Kentucky — is so close that any of them are justifiable as a preseason No. 1; Duke could be tossed in that mix as well.
And after watching 160 minutes of Wildcat basketball this weekend, that ranking is more than justified. Kentucky has it all. They haave size. They have depth. They have perimeter scoring. They have guards that can really, really pressure the ball. They are going to be able to get on the glass. Their sophomores look terrific. Their freshmen look ready, and have the luxury of not being asked to carry the load from the get go.
Perhaps most importantly, there is lineup versatility. They can play big; or small; or roll out a lineup that can press and force turnovers; or play a team that is going to be able to put up points in a hurry.
And we still haven't really gotten a chance to see E.J. Montogomery in action yet.
Suffice to say, Kentucky looks like they are going to be farther along early in the season than I expected,
I'm not quite ready to bump them up in my preseason top 25, but that's mostly because I don't want to overreact to only seeing them play without actually seeing how good Kansas or Gonzaga — or those Blue Devils — look as well.
That said, I still do have some of the same concerns that I had before, and that's because …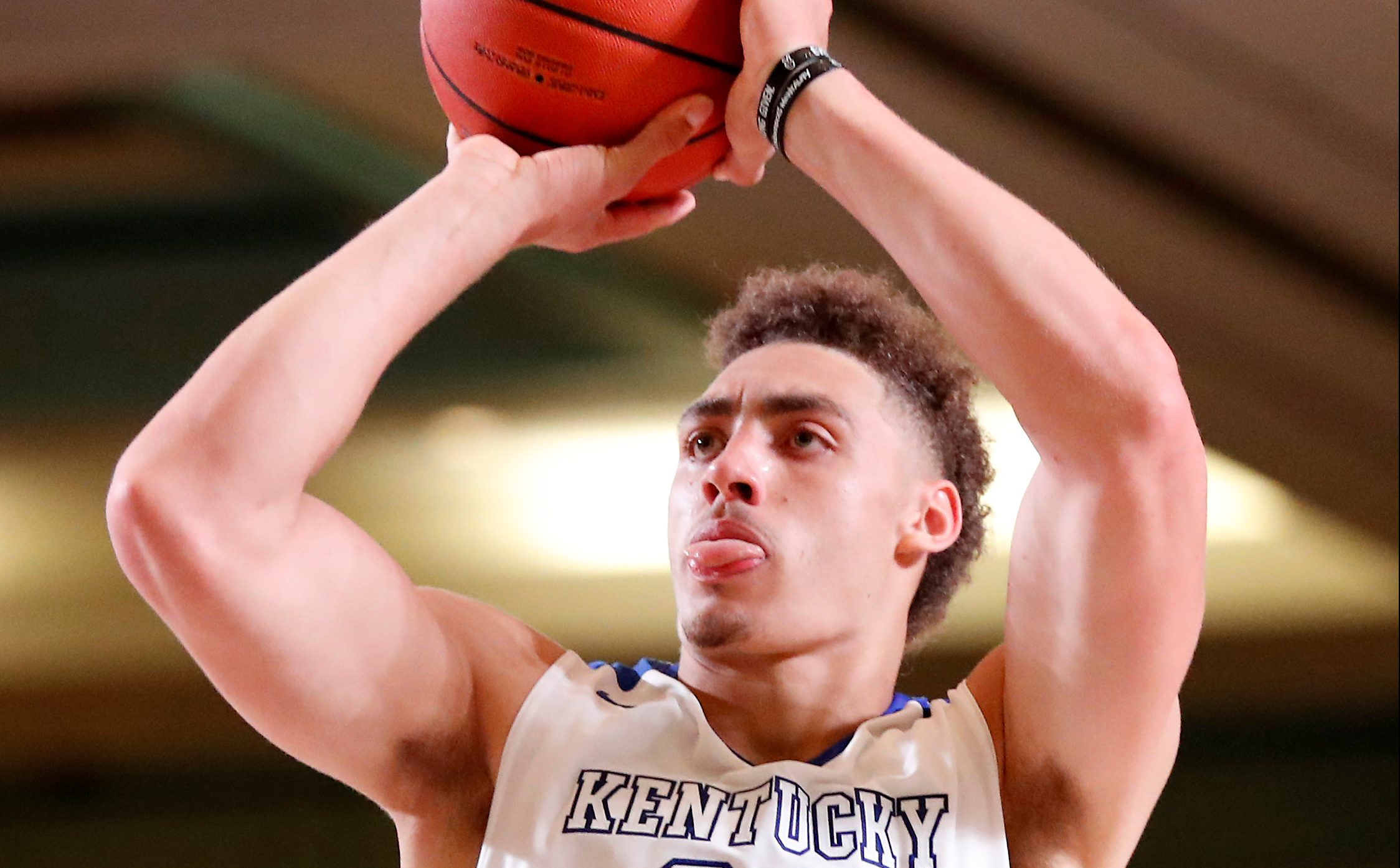 … THE KEY TO KENTUCKY'S SEASON IS GOING TO BE ROLE ACCEPTANCE
To a point, this is always the case with Kentucky, isn't it?
Their best teams are absolutely overloaded with talent — see: 2009-10, 2011-12, 2014-15, etc. — to the point that Anthony Davis is taking the fourth-most shots on the team or Karl-Anthony Towns and Devin Booker are averaging 21 minutes a night. The reasons those teams were as good as they were on the court, and not just on paper, was because lottery picks that eventually turned into NBA superstars were perfectly fine with seeing their minutes reduced or their shots limited for the sake of winning.
John Calipari is the best in the business at getting guys to buy-in for the good of the team.
It's incredible, really.
And he's going to have to do it again this season.
It starts at the point guard spot, where Cal brought back former five-star recruit Quade Green while bringing in top ten prospects Immanuel Quickley and Ashton Hagans, the latter of whom reclassified in order to enroll at UK a season early. Those are three of the top 20ish best point guards in the sport this season. At least one of them is going to be forced to come off of the bench, and in the event that Cal goes with a two-point guard look, they are all going to have to accept that they will be playing quite a few minutes off of the ball. (More on this in a minute.)
I think Reid Travis is going to be forced into a situation where he has to play a lesser role than anyone expected. Part of that is because both P.J. Washington and Nick Richards look like they've taken significant steps forward this offseason (again, more on this below), but it's also because he was somewhat exposed during this trip. Travis is an absolute hoss on the block. He might be the strongest player in the country, and he's undeniably a sensational rebounder, but he's also somewhat limited athletically and quite a bit of his production the last couple of seasons was a result of being Stanford's No. 1 option when there wasn't a No. 2 option.
That's not to say that he won't be effective. There will be a bit of a learning curve, but I think our expectations for Travis should be something closer to 11 points and seven boards than, say, 15 points and nine boards.
Hell, he might not even start, because the biggest question I have this Monday morning is …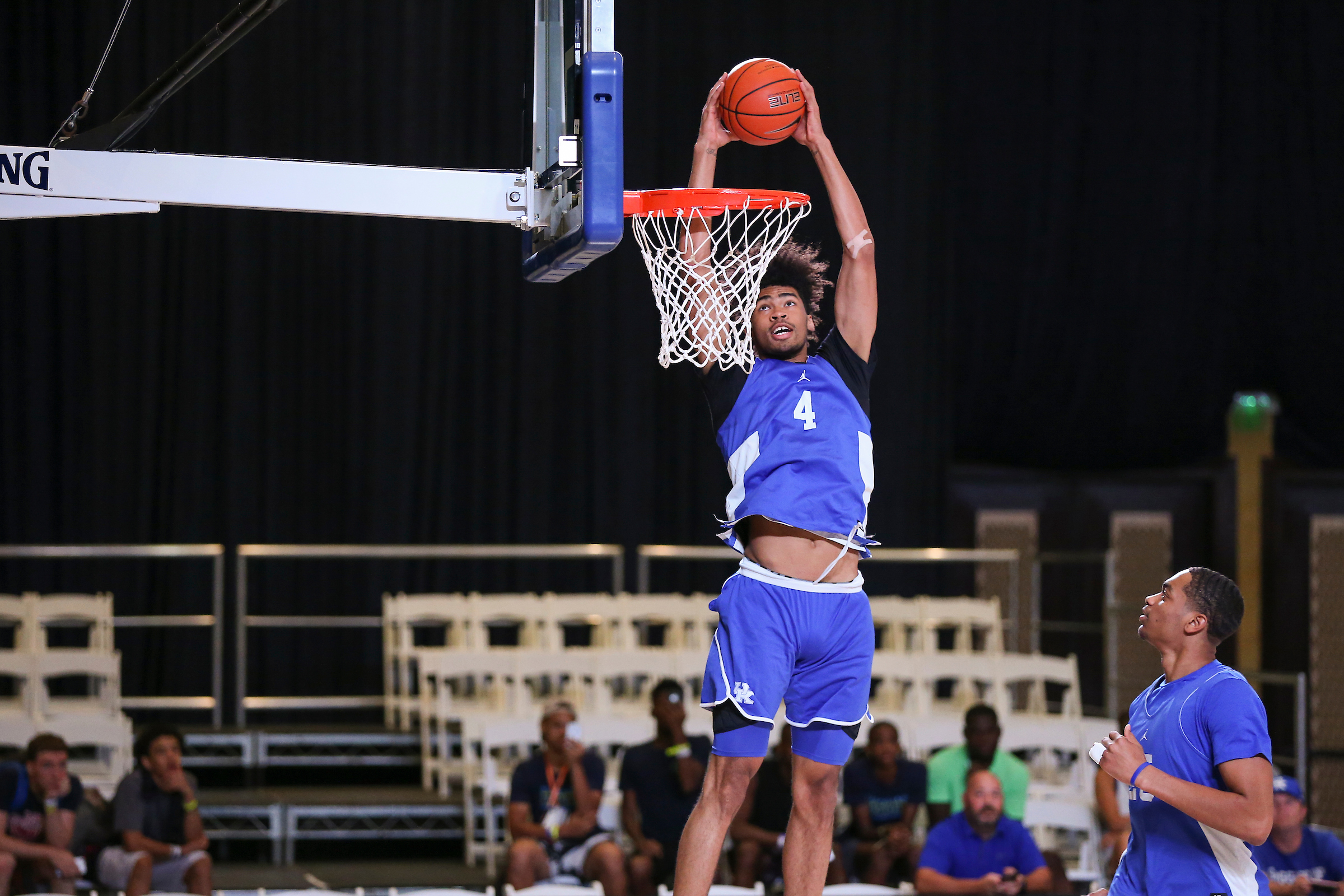 … WHO IS NO. 4 AND WHAT DID HE DO WITH NICK RICHARDS?
I was expecting both P.J. Washington and Quade Green to develop into critical pieces for Kentucky this season.
I was not expecting Nick Richards to looks like a player that could force first-team all-Pac-12 transfer Reid Travis to the bench, but that's exactly what Richards did during those four games in the Bahamas.
Richards fits the mold of the kind of center that Cal loves. He's a 7-footer with athleticism that can catch lobs at the top of the square. There's a reason that he started all 37 games for Kentucky last season despite the fact that he was, frankly, not very good. H
But he was awesome in the Bahamas, averaging 12.0 points while showing off an array of quick post moves and a soft touch that extended out to about 16-feet. He's not exactly an instinctual rebounder and, despite his size, I think Washington may be a better rim-protector, but Richards is very much going to be a player that will have a positive impact on this team.
And as good as he looked in the post and as a lob target, I think his shooting touch will be just as important to this group. Both Washington and Travis are question marks as shooters, and while mid-range jumpers are not great shots, Richards' ability to consistently make shots out to even just 12-feet will help to unclog the lane.
It's amazing what a little bit of confidence will do for a player.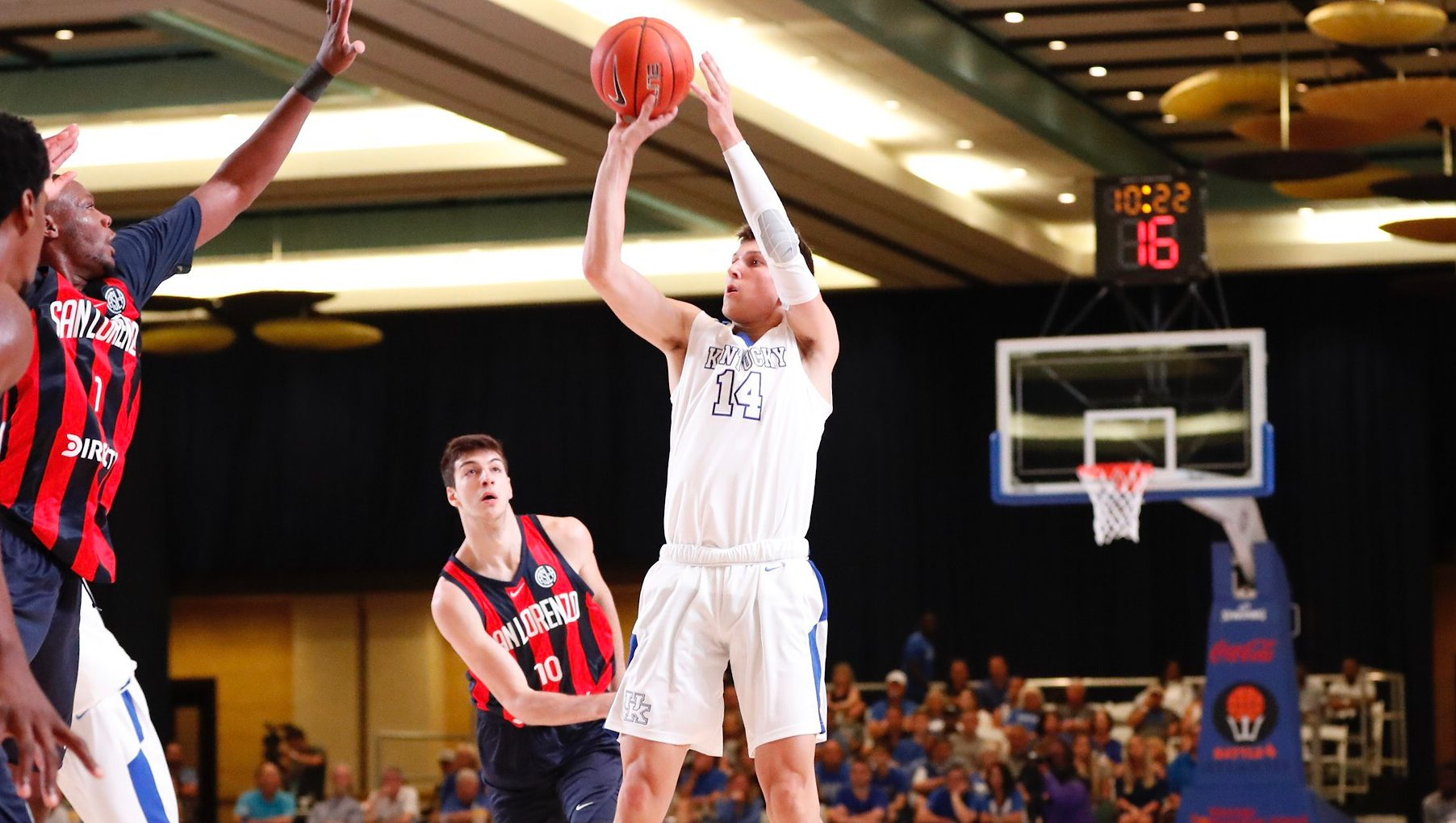 TYLER HERRO IS GOING TO FORCE COACH CAL TO PLAY HIM
The biggest question I have with this team right now is simple: Who their go-to guy?
Over the course of the last two seasons, Kentucky's offense has essentially centered about two things: Point guards making plays off the bounce and in ball-screen actions, and shooters/scorers getting run off of baseline screens. The former centered about De'Aaron Fox and Shai Gilgeous-Alexander, respectively. The latter involved Malik Monk (as a three-point shooter) and Kevin Knox (more in the mid-range).
That will change somewhat this season, as Washington is probably the odds-on favorite to lead Kentucky in scoring at this point, but I do think that it's fair to be worried about how trustworthy he will be as someone that you give the rock to and count on to make a play.
Enter Tyler Herro, who averaged a team-high 17.3 points while coming off of the bench during this trip. Not only is he clearly the best three-point shooter on the team, but he is the guy that is the best-suited to running off of those baseline-screens. He is going to get the shots — if not play the role — that Knox, Monk and even Devin Booker have gotten in past seasons, and while he had some issues on the defensive end during this trip, he has the size and athleticism to be at least an adequate defender in the SEC.
For a team that has questions about where they are going to get offense in the halfcourt and whether or not they can space the floor, Herro is a guy that is going to force Cal to play him a lot of minutes.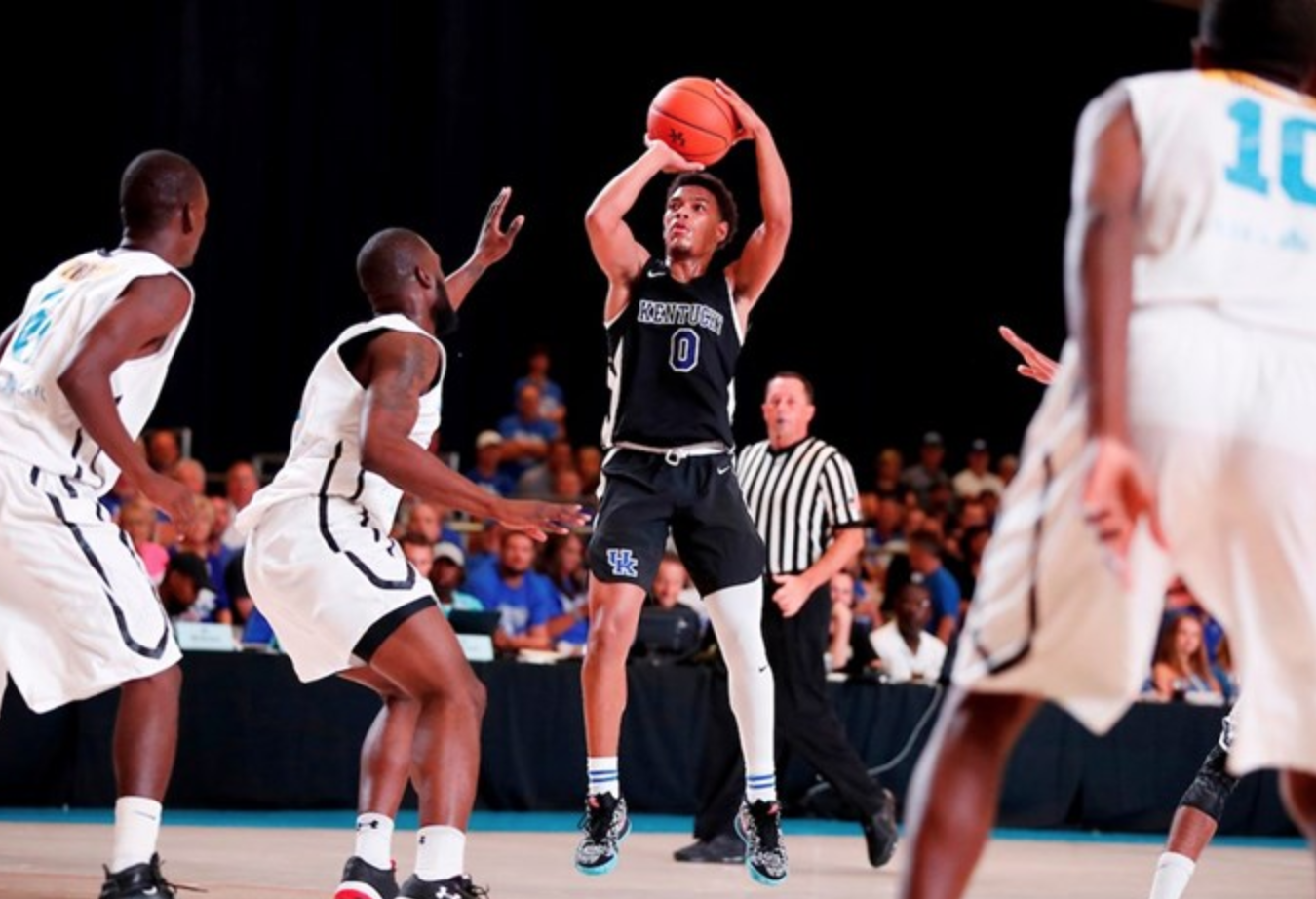 QUADE GREEN IS THIS TEAM'S QUINN COOK
I still, to this day, believe that the most important player in Duke's run to the 2015 national title was Quinn Cook for one, simple reason: A former McDonald's All-American and all-ACC point guard went into his senior year and gladly accepted a brand-new role playing off the ball. He embraced the idea that he would be the guy that chased around shooters defensively, that spaced the floor offensively and operated as a secondary ball-handler to Tyus Jones.
If Cook doesn't buy into that role, if he doesn't sacrifice his shots and the prestige of being "Duke's starting point guard!" then his leadership falls on deaf ears and the talent on that roster is irrelevant in the big picture.
The scenario here is slightly different — Green is a sophomore, not a senior, and he's never been an all-SEC point guard — but the impact will likely be the same. Kentucky absolutely needs Quade Green on the floor this year. His playmaking, his shooting, his decision-making. But they are likely going to need him playing off the ball, as the more dynamic Quickley and Hagans will get the first crack at that lead guard role.
He'll still get his chances — Cook averaged 15.3 points and 2.6 assists as a senior, parlaying that into an NBA career that included a ring as a floor-spacer with the Warriors, and no one thinks Chris Paul isn't a point guard playing next to James Harden — and as long as he's cool with those chances coming in a different role this season, he'll be the key that unlocks Kentucky's best lineup.