As we get ready for the Fourth of July holiday, we at College Basketball Talk will be rolling through the pressing questions for every team in the top 25.
Today, we take a look at the teams ranked in the top ten. 
On Monday, we dove into the teams ranked 11-25. 
What is the question that we will need answered for the best teams in college basketball next season?
1. KANSAS JAYHAWKS
DOES KANSAS HAVE TOO MANY PLAYERS?
The best news for Jayhawks fans heading into the 2018-19 season is that, for the first time in three years, they actually have a roster that will fit the way that Bill Self loves to play. They have players that can bully defenders at the rim. They have a power forward with the potential to be an all-american and the ability to score in the low- and mid-post. They have plenty and shooters and scorers on the wings, and they have two point guards that are going to be fighting for the right to be named starter.
The problem, however, is that of the 13 scholarship players on the roster, 12 of them deserve playing time. Is David McCormack going to be able to get minutes behind Udoka Azubuike and Silvio De Sousa (assuming De Sousa can actually play)? If Dedric Lawson is going to be an all-american, how many forward minutes are going to be available for Mitch Lightfoot and K.J. Lawson, especially with LaGerald Vick, Marcus Garrett and Sam Cunliffe back in the fold? If Quentin Grimes ends up being the best perimeter player on the roster, as some project him to be, who is going to have to sacrifice their minutes to get him on the floor? At least at the point, Charlie Moore and Devon Dotson splitting minutes should be easy math.
The most difficult part of Bill Self's job next season is probably going to be the massaging of egos.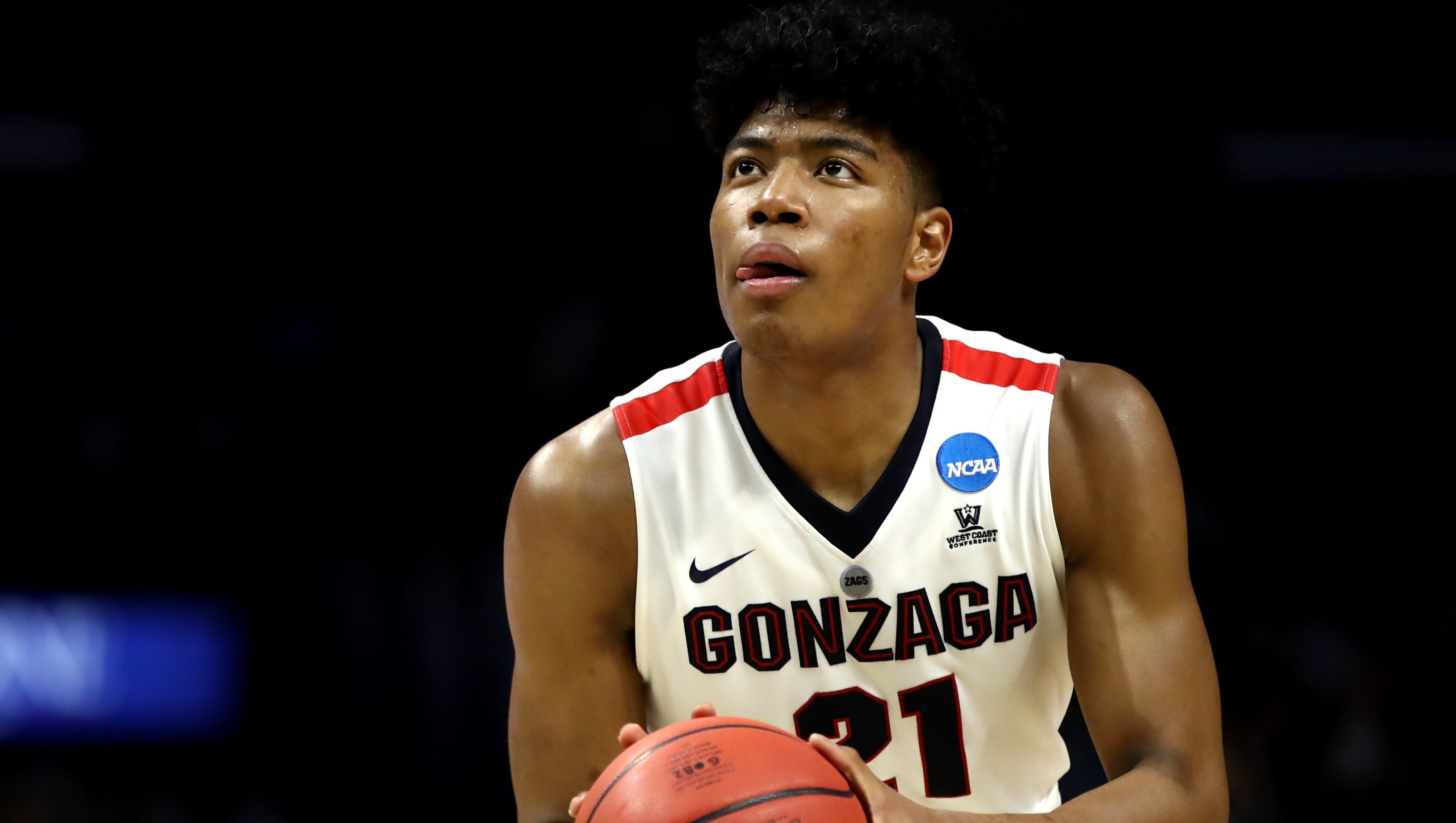 2. GONZAGA BULLDOGS
ARE WE READY TO TRUST JOSH PERKINS?
Gonzaga was perhaps the biggest winner of the early entry period, as the Zags brought back both Rui Hachimura and Killian Tillie who, along with transfer Brandon Clarke, make up what appears to be the best frontcourt in college basketball next season. Zach Norvell, who was dominant at times as a freshman, is back, as is Corey Kispert, who is ready to take a step forward even if it's as a player more than as a producer. The only position where there is a real concern with this Gonzaga team is at the point, which is the most important position on the floor in the college game.
That is where Perkins resides. At one point considered a top 25 prospect in the country, Perkins has had a good career with the Bulldogs. This past season, as a redshirt junior, he averaged 12.3 points and 5.1 assists. Going against defenses in the WCC, Perkins is better than fine; he's the best the conference has to offer. But we're not talking about the Zags winning their league. We're talking Final Fours and national titles here, and Perkins' effectiveness as a decision-maker and a creator against the best of the best is where the doubt lies. If Perkins plays like a fifth-year senior that already has national title game experience, the Zags look like a good bet to get back to their second Final Four in three years.
3. KENTUCKY WILDCATS
WILL KENTUCKY HAVE TO SACRIFICE TALENT TO GET SHOOTING ON THE FLOOR?
The more I look at this Kentucky roster, the more I like this group. For my money, there is a clear-cut top four next season with Kansas, Gonzaga and Kentucky all having an argument to be the preseason No. 1 team in the country. Adding Reid Travis, a bully and fifth-year senior that can score in the post and hit the glass, should help improve what is still a very young roster; only in Lexington is a team with five freshmen, four sophomores and one senior considered old.
My concern with this group as of now is spacing. For my money, Coach Cal's best five next season will include Ashton Hagans, Keldon Johnson, Travis, P.J. Washington and one of Immanuel Quickley, Quade Green and Tyler Herro. Travis attempted 62 threes in four seasons at Stanford, with 61 coming last year. He's a career 29 percent three-point shooter. Washington's issues with shooting is why Kentucky was knocked out of last year's tournament in the Sweet 16 and why Washington is still on campus and not an NBA roster. Hagans is an athlete, a defender and a competitor known for his ability to get to the rim, not his shooting. The same can be said for Johnson.
Quickley is a capable shooter, Green is probably slightly better and Herro is known for his stroke, but is one shooter on the floor going to be enough to create spacing? Maybe, but that doubt is why I have them a tick below Kansas and Gonzaga heading into the year.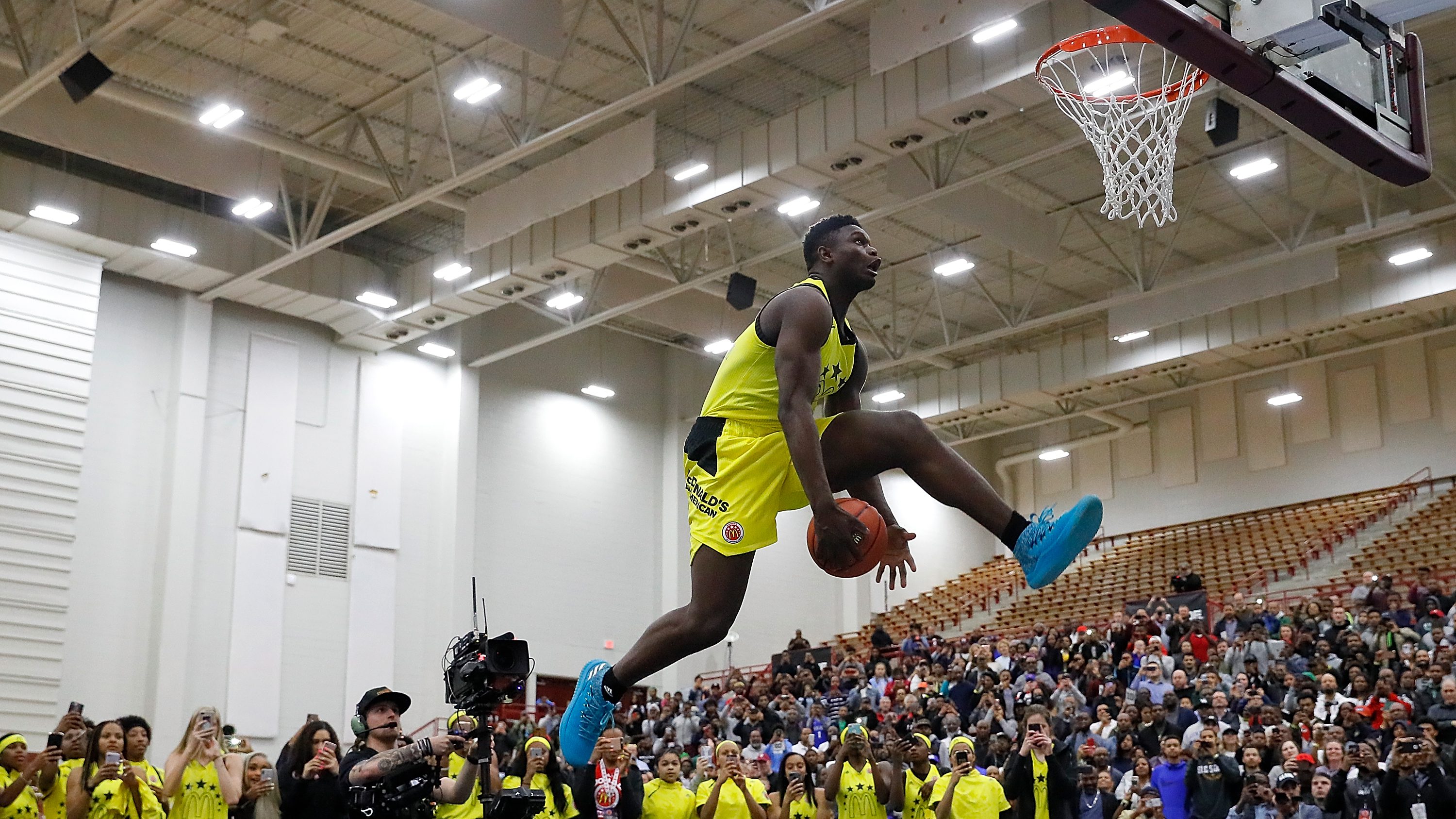 4. DUKE BLUE DEVILS
DOES DUKE HAVE THE SHOOTING TO GO FULL SMALL-BALL?
I am all the way here for college basketball moving more towards small-ball, position-less basketball built on playing with pace and space. Watching Villanova batter everyone in their path with a barrage of threes last season was amazing. Basketball at its best, and on paper, Duke looks like a team poised to follow in those footsteps. Tre Jones, Tyus' tougher little brother, will handle the point while Marques Bolden looks like he'll finally get a chance to be Duke's first-team center. But beyond that, the Blue Devils have wings on wings on wings.
R.J. Barrett, the nation's No. 1 recruit and the favorite to be the No. 1 pick in the 2019 NBA Draft. Cam Reddish, a potential top three pick. Zion Williamson, the viral superstar of the prep ranks that is tough and athletic enough to play some five for Duke despite standing just 6-foot-5. Even sophomore Alex O'Connell and junior Javin DeLaurier fit into that conversation. The problem, however, is that small-ball relies on the ability of those smaller players to be able to space the floor. Villanova was arguably the best three-point shooting team we've ever seen in the collegiate ranks. Golden State is so deadly because they have arguably the three best all-around shooters in the NBA on their roster.
This Duke team is not exactly known for their shooting. Zion is not a shooting threat. Neither is DeLaurier. Barrett is more of a slasher (although he's spent time this offseason working with Drew Hanlen) while Reddish is thought of as a scorer more than a shooter. Even Jones, who can shoot, is at his best when he can turn a corner and get downhill. I love what Duke is trying to do, but I wonder whether or not they have the shooting to make it all work flawlessly.
5. VILLANOVA WILDCATS
CAN 'THE VILLANOVA WAY' SURVIVE THE KIND OF TALENT EXODUS COLLEGE BASKETBALL'S ELITE DEAL WITH?
The narrative with this Villanova program the last three years is that they have built something out of nothing, growing players no one wanted into collegiate superstars. And while there is validity to their ability to develop players within their ranks, the truth is that the Wildcats landed a bunch of guys that a lot of very good teams wanted, made them better and built an absolute juggernaut, one that put three players in the first round of the 2018 NBA Draft, a list that doesn't include the 33rd pick, Jalen Brunson, last year's consensus National Player of the Year.
And now Nova will head into the 2018-19 season with a young roster that is missing two guys that would have been all-americans had they returned to school as we all thought they would in February. It begs the question: Can the Villanova machine keep running if their best players head to the league earlier than expected? I think that it will, but that is under the assumption that Villanova's freshmen — specifically Jahvon Quinerly and Cole Swider — come in and contribute major minutes immediately while their sophomore class — Jermaine Samuels and Collin Gillispie — take a step forward. I'll bet on Jay Wright finding a way to make it happen.
6. NEVADA WOLF PACK
HOW MANY BODIES IS TOO MANY BODIES?
Eric Musselman was going to have a difficult time trying to find a way to get every deserving player on his roster meaningful minutes before he found out that both Caleb and Cody Martin, the former an all-american candidate and the latter an all-MWC first-team player, were returning to school. Now, he's looking at a situation where he had to run off two players that would have had an impact — Ehab Amin, who is now at Oregon, and Josh Hall, who hit the shot that sent Nevada to the Sweet 16 — just to get down to 13 scholarship players.
The Martin twins are going to play 30-plus minutes again this season. Jordan Caroline probably will as well, and I can't imagine a scenario where Jordan Brown, a top 15 recruit, isn't playing heavy minutes. That doesn't leave much burn to go around. There are going to be players that sat out a season to transfer to Nevada that are going to spend this year glued to the bench. Nevada might be better off fielding two teams in the MWC this season.
7. TENNESSEE VOLUNTEERS
HOW WILL THE VOLS ADJUST TO BEING THE HUNTED?
Tennessee was one of the best stories in college basketball last season, and if it wasn't for the years that Tony Bennett and Bruce Pearl produced, Rick Barnes would have been the runaway favorite to win National Coach of the Year. Tennessee was picked 13th in the SEC Preseason poll. They won a share of the league's regular season title and they return essentially everyone from that team, including SEC Player of the Year Grant Williams.
No one expected that last year. No one will be caught unprepared this year, and that has tripped teams up in the past. Take Northwestern. One of the most under-discussed storylines from last season was Northwestern going from their first NCAA tournament to the preseason top 15 back to lovable loser in the span of about four weeks at the start of the season. They couldn't handle the target on their back. That will be the key for Tennessee as we head into next season.
8. VIRGINIA CAVALIERS
WILL DE'ANDRE HUNTER BE ABLE TO PLAY THE FOUR?
The wording here is the key. The question isn't whether or not Hunter is capable of playing the four at the college level. We know he is. The question is whether he will be able to given the way this Virginia roster is coming together. With Devon Hall and Nigel Johnson graduating, suddenly there is a complete lack of back court depth. Ty Jerome is still there, as is Kyle Guy, and they will be fine. Beyond that, the Wahoo back court consists of incoming freshman Kihei Clark and Kody Stattmann, neither of whom are thought of as immediate impact players, and sophomores Marco Anthony and Francesco Badocchi. Anthony played 13 games. Badocchi did not play.
That matters because Hunter's ideal position is as a four. He's 6-foot-7 with a 7-foot-2 wingspan. He has the strength to guard bigs and the quicks to defend on the perimeter. He can make threes and attack defenders in isolation. He's a prototype small-ball four, and that fact was never more evident than when UVA got torched by UMBC playing four guards. But if Bennett cannot trust one of those four young guards to play major minutes, Hunter is going to be slotted in at the three, and while the likes of Mamadi Diakite, Jay Huff and Jack Salt will be very good in the frontcourt, I'm just not sure that playing big is the optimal lineup for Virginia.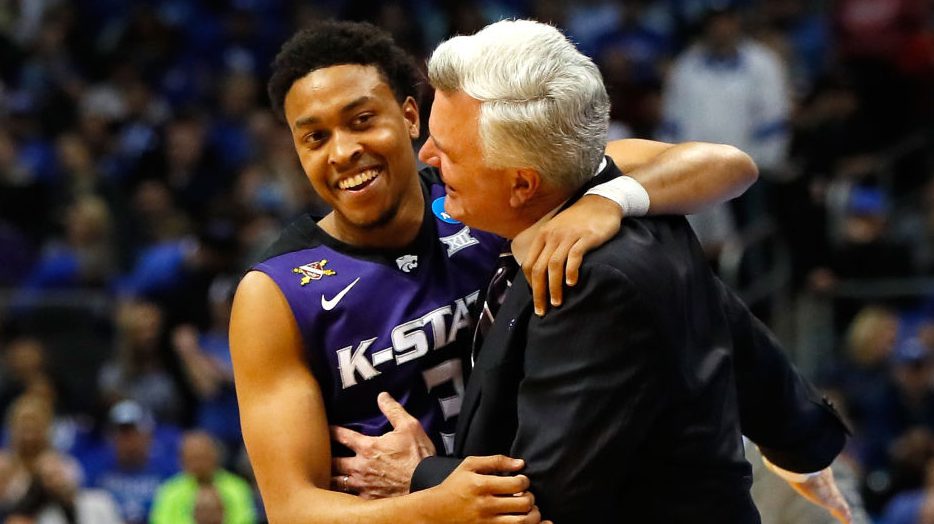 9. KANSAS STATE WILDCATS
WHICH KANSAS STATE IS THE REAL KANSAS STATE?
This may seem like a silly question for a team that came within one win of getting to the Final Four, but it is important to remember here that the Wildcats entered the NCAA tournament as a No. 9 seed, reached the Sweet 16 by becoming the only No. 9 seed to ever beat a No. 16 seed and lost to a team from the Missouri Valley by 16 points to go home.
But they also beat Kentucky and Creighton during that run, doing so despite the fact that their best player and a potential all-american, Dean Wade, was on the bench with an injury. So, again, I ask you: Which Kansas State is the real Kansas State? The one that struggled with their perimeter shooting, couldn't get a rebound if their life depended on it and finished the regular season with a 21-10 record? Or is it the one that played — and defended — with so much heart in the tournament, making a deep run despite the fact their their best player was on the bench?
Admittedly, I am smitten with this team, and I'm sure my ranking will be the highest that you see them this offseason. But that doesn't mean it's wrong, not if the Kansas State from last March shows back up again.
10. NORTH CAROLINA TAR HEELS
DOES ROY WILLIAMS HAVE THE POINT GUARD HE NEEDS?
Every one of Roy Williams' best teams have had elite point guard play. In 2005, it was Ray Felton. In 2009, it was Ty Lawson. In 2016 and 2017, it was Joel Berry II. Remember, the Tar Heels turned a corner in the 2015-16 season, winning the ACC, the ACC tournament and getting to the national title game, when Berry took over the reins as the program's point guard from Marcus Paige.
This year, point guard duties are going to fall to Seventh Woods, Rechon Black and Coby White, the latter of whom in a five-star prospect known more for his ability to score than anything else. The other pieces are there. Luke Maye is a National Player of the Year contender. Kenny Williams, Cam Johnson and Nassir Little are plenty good enough on the wings. UNC's three sophomore bigs will be able to handle the five. It's that point guard spot that will determine just how good these Heels are.