The NBA Draft's Early Entry Deadline has come and gone, and there are a dozen or so truly impactful decisions that are left to be made.
Just about every elite recruit has decided where they will be playing their college ball next season.
The coaching carousel has come to a close.
The transfer market is slowly winding down.
In other words, by now, we have a pretty good feel for what college basketball is going to look like during the 2018-19 season.
With that in mind, let's take a look at what has happened — and what will happen — in the Pac-12 over the next six months.
KEY OFFSEASON STORYLINES
THE LEAGUE LOOKS TO REBOUND FROM A BAD 2017-18 SEASON: When the 68-team field for the NCAA tournament was announced the Pac-12 received some bad news, with only three teams getting the call. Two of those three teams, UCLA and Arizona State, were sent to Dayton for the First Four while Arizona drew a Buffalo squad that may have been underestimated due to the way in which the Wildcats ran through the Pac-12 tournament in Las Vegas. All three teams lost their openers, giving the conference a total of three NCAA tournament units.
A season that appeared to have promise, as both Arizona and USC were in the national conversation, took a bad turn in late September thanks to the FBI investigation that saw two former Pac-12 assistants arrested (Tony Bland and Book Richardson) and a player in sophomore De'Anthony Melton declared ineligible. While that case didn't ensnare the entire Pac-12, there's no escaping the fact that this is a league that can really use a good run through non-conference play in 2018-19.
While there won't be a lack of teams that could win the Pac-12 next season, are there any teams that can become fixtures in the national title conversation?
OREGON, UCLA AND ARIZONA STATE BRING IN HIGHLY-REGARDED RECRUITING CLASSES: One way in which a conference can rebound from a bad season is to add quality talent, and that's what the Pac-12 has managed to do with three programs adding Top 10 recruiting classes (per 247Sports.com). Oregon (third), UCLA (sixth) and Arizona State (tenth) are all bringing in good recruiting classes, with the Ducks' haul including Bol Bol and Louis King, UCLA's crop being headlined by McDonald's All-American Moses Brown and Arizona State boasting a group led by former USC commit Taeshon Cherry.
USC and Arizona, programs impacted by the aforementioned FBI scandal, also bring in quality recruiting classes, and Stanford also did well for itself. In the case of Arizona, the Wildcats also hit the graduate transfer market hard with the additions of Justin Coleman and Ryan Luther. The question now: will the infusion of talent help the Pac-12 take a step forward nationally after falling back last season?
THE NBA DRAFT DEADLINE DELIVERS A SURPRISE: It's rare to see a player withdraw his name from the NBA draft and then make the decision to transfer, but that's exactly what former Stanford forward and first team all-conference selection Reid Travis decided to do on the day of the NCAA's withdrawal deadline. As a grad transfer, and a productive one at that, Travis won't lack for suitors as he looks for a place to play his final season of college basketball. As for Stanford, the loss of Travis is a tough blow to absorb for a team that doesn't lack for young talent especially on the perimeter and the wing.
Daejon Davis, Kezie Okpala and Oscar Da Silva are among the returnees who will lead the way for Jerod Haase's team, with an interior rotation that includes Josh Sharma, Trevor Stanback and freshman Lukas Kisunas needing to step forward. With competition for a spot in the top half of the conference expected to be fierce with there not being much to separate many of those teams, how much Stanford's front court improves in the aftermath of Travis' departure will have a big impact on whether or not the Cardinal can make a run at an NCAA tournament bid.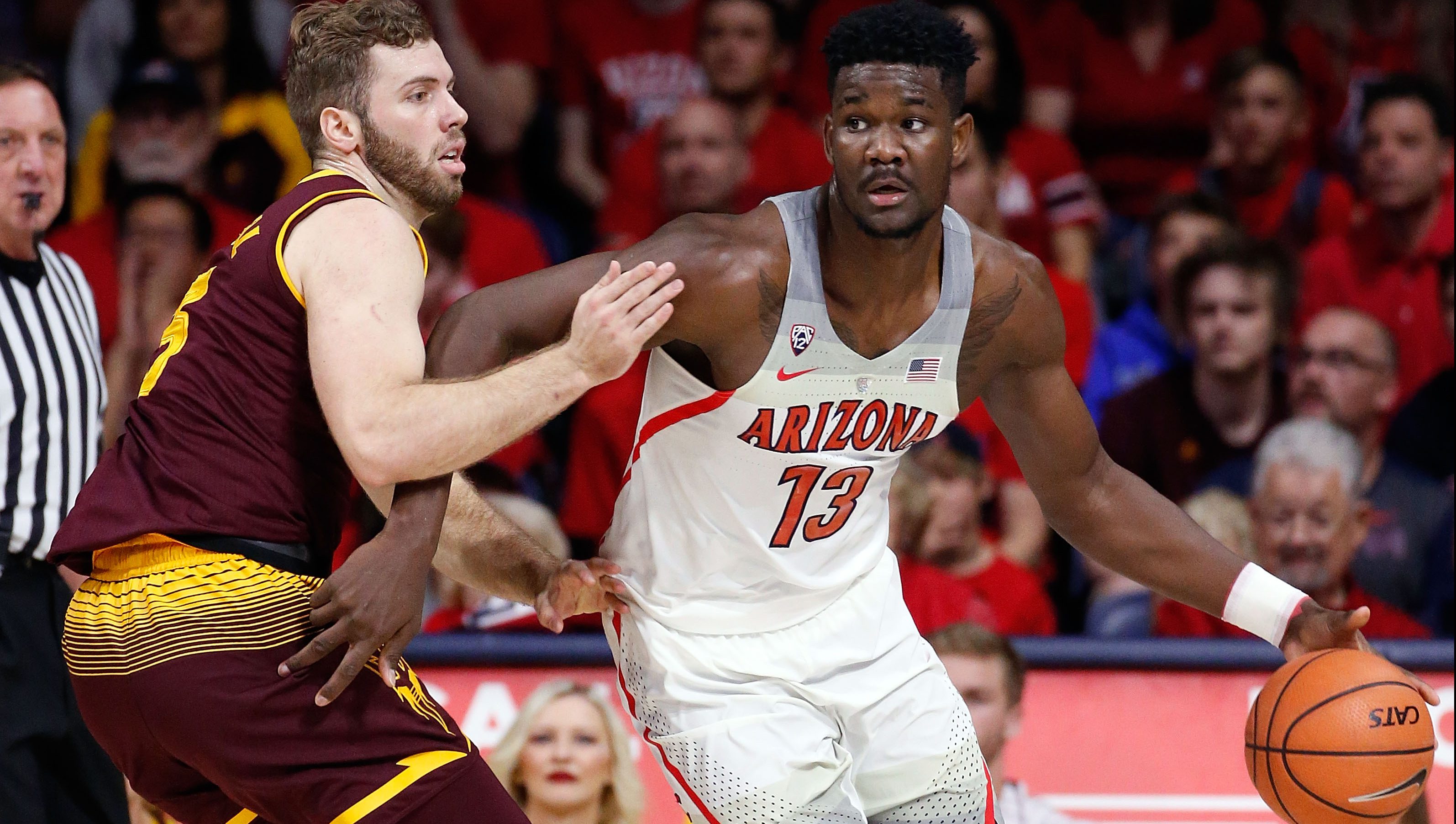 WHO'S GONE?
Deandre Ayton, Arizona: Ayton's departure, along with those of Allonzo Trier and Rawle Alkins, comes as no surprise at all. The Pac-12 Player of the Year, Ayton led Arizona in both scoring and rebounding and helped led the team to Pac-12 regular season and tournament titles. Ayton's got a very good chance of being the top overall pick in June's NBA draft, and whether his departure was expected or not "replacing" a player of Ayton's caliber is a difficult thing to do. The losses of Ayton and Dusan Ristic will put more pressure on Duke transfer Chase Jeter and rising sophomore Ira Lee to produce immediately inside, making for what should be an interesting season in Tucson.
Aaron Holiday, UCLA: Had Ayton not been the league player of the year it's likely that Holiday, who led UCLA in scoring, assists and steals, would have been the choice. After averaging 20.3 points, 5.8 assists and 1.3 steals per game, Holiday made the decision to forego his final season of eligibility. As is the case with Ayton this move wasn't a surprise, and it opens the door for rising sophomore Jaylen Hands to run the show for Steve Alford in 2018-19. Holiday is one of two significant personnel losses the Bruins will have to account for if they're to contend in the Pac-12, with big man Thomas Welsh being the other.
Jordan McLaughlin, USC: USC, which just missed out on an NCAA tournament berth last season, will have to account for the loss of three starters as they prepare for the 2018-19 season with one being McLaughlin. The four-year starter at the point was an incredibly important figure in Andy Enfield's program, running the show as USC transitioned from Pac-12 bottom feeder to a program expected to consistently earn postseason bids. Of course the losses of Chimezie Metu and Elijah Stewart hurt as well, but for all that McLaughlin did in his four seasons at USC this is the beginning of a new era at the Galen Center.
Tra Holder, Arizona State: Holder was a key cog in the senior class that led the Sun Devil program to its first NCAA tournament appearance in four years, and he — along with Shannon Evans and Kodi Justice — will be tough to replace. Holder had the look of a Pac-12 POY favorite during a non-conference run in which Arizona State played its way into the Top 5 of the national polls, and he would go on to earn first team all-conference honors at season's end. With Holder gone a lot of the responsibility at the point falls upon the shoulders of Remy Martin, who as a freshman was Pac-12 Co-Sixth Man of the Year.
Reid Travis, Stanford: While the top four players on this list are all off to pay for play, that isn't the case for Travis. After entering the NBA draft the first team all-conference forward made the decision to transfer, and he won't lack for choices as he looks for a new home as a grad transfer. Travis averaged 19.5 points and 8.7 rebounds per game last season, and without him the Cardinal will need Josh Sharma and Trevor Stanback to take a big step forward if they're to be an NCAA tournament team in 2019.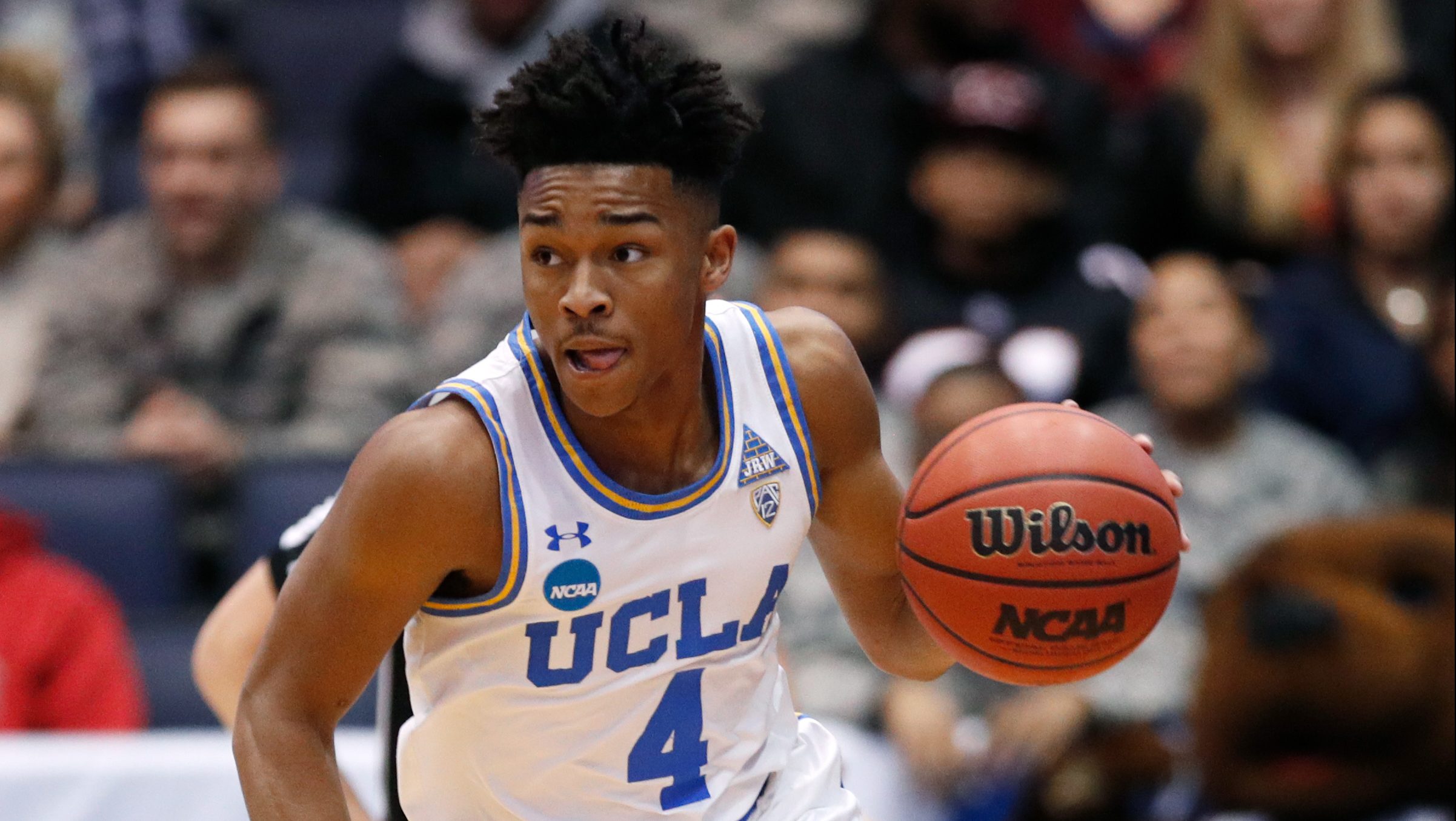 WHO'S BACK?
Tres Tinkle, Oregon State: After appearing in just six games during the 2016-17 season due to a broken wrist Tinkle appeared in all 32 games for the Beavers last season, averaging 17.6 points, 7.2 rebounds and 3.7 assists per game as he earned first team all-conference honors. Along with the Thompson brothers (Stevie and Ethan), Tinkle will lead the way for an Oregon State team looking to rebound from a season in which the Beavers finished tenth in the Pac-12.
McKinley Wright IV, Colorado: Wright was one of the conference's best freshmen a season ago, averaging 14.2 points, 4.7 rebounds and 5.5 assists per game. He'll begin the 2018-19 season as one of the best point guards in the Pac-12, and his development will be key for a Colorado team that will look to end the program's two-year NCAA tournament drought.
Matisse Thybulle, Washington: The reigning Pac-12 Defensive Player of the Year made the decision early in the offseason that he would be back for his senior year, not even looking to test the NBA draft waters. Thybulle's defensive abilities are well-known; can he take a step forward offensively on a team that should be a Pac-12 title contender in Mike Hopkins' second season in charge? If so, Thybulle could find himself in the mix for Pac-12 Player of the Year.
Kenny Wooten, Oregon: With Jordan Bell and Chris Boucher both having moved on, the question for the Ducks entering last season was who would serve as the team's rim protector? Enter Wooten, who as a freshman averaged 2.6 blocks per game despite averaging just under 20 minutes per night. The minutes will increase for Wooten, who will be joined in the front court by fellow returnee Paul White and two highly-regarded freshmen in Bol Bol and Miles Norris. If you're looking for someone to make a run at the Pac-12 Defensive Player of the Year award currently held by Thybulle, look no further than Wooten.
Jaylen Hands, UCLA: Hands was one of three UCLA freshmen to test the NBA draft waters, with he, Kris Wilkes and Cody Riley (who was suspended for all of last season) all deciding to return to Westwood. Hands' decision is a critical one, as with Aaron Holiday off to the NBA he'll be the one entrusted with running the show for Steve Alford's team. UCLA also adds Tyger Campbell to the mix, but Hands' development will be key if the Bruins are to make a run at the Pac-12 title.
WHO'S COMING?
Bol Bol and Louis King, Oregon: Dana Altman and his staff landed the Pac-12's best recruiting class, with the son of the late Manute Bol being the crown jewel. The 7-foot-2 Bol, who played at Findlay Prep last season, can be an impact addition on both ends of the floor and getting into a college strength and conditioning program will help him as well. As for the 6-foot-8 King, the Hudson Catholic (New Jersey) product is one of the best wings in the 2018 recruiting class and his arrival gives Oregon another versatile perimeter talent.
Moses Brown, UCLA: Right there with Oregon for the top recruiting class in the Pac-12 is UCLA, which landed a total of six freshmen. One of those players is the 7-foot-1 Brown, an Archbishop Malloy (Queens, New York) product considered to be one of the top centers in the 2018 class. Also in UCLA's recruiting class are point guard Tyger Campbell, wings Jules Bernard and David Singleton, power forward Shareef O'Neal (the son of Shaquille O'Neal) and center Kenny Nwaba. This group will have the opportunity to earn significant minutes immediately.
Kevin Porter Jr., USC: While USC did lose some key contributors on the perimeter as Jordan McLaughlin and Elijah Stewart both graduated, the Trojans will not lack for talent next season. Joining the mix is Seattle native Kevin Porter, a 6-foot-5 shooting guard with the size and skill needed to compete for minutes immediately. He and fellow 6-foot-5 frosh Elijah Weaver join a rotation that includes Derryck Thornton Jr., Shaqquan Aaron and Charles O'Bannon Jr. and this group is one reason why the Trojans should contend.
Brandon Williams, Arizona: Williams was one of Arizona's first commits in the 2018 class, and then he made the decision to reopen his recruitment in the aftermath of the FBI scandal. Williams ultimately decided that Tucson is the best place for him, and in Williams the Wildcats add an impact freshman who ranks among the top incoming freshman point guards in the country. Look for Williams and Samford grad transfer Justin Coleman to be key cogs in Arizona's perimeter attack.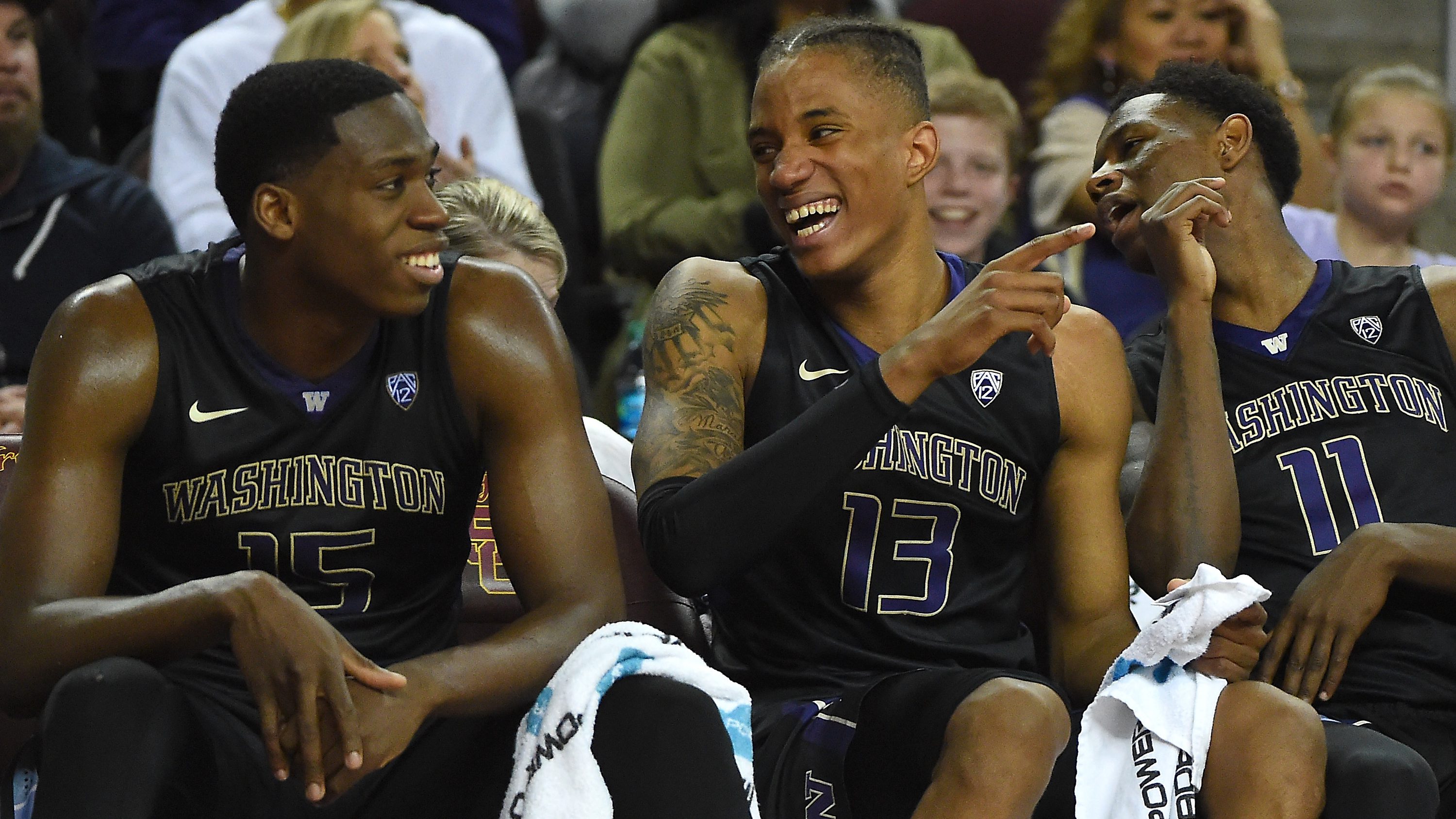 WAY-TOO-EARLY ALL PAC-12 TEAM
Matisse Thybulle, Washington (POY)
McKinley Wright IV, Colorado
Payton Pritchard, Oregon
Tres Tinkle, Oregon State
Noah Dickerson, Washington
WAY-TOO-EARLY POWER RANKINGS
1. Oregon: The Ducks did lose three double-figure scorers, but they welcome back last year's leading scorer in Payton Pritchard, and forwards Paul White and Kenny Wooten are back as well. Add in one of the nation's top recruiting classes, and Oregon has the look of the early favorite to win the Pac-12.
2. Washington: The Huskies have as good an argument as any team for the top spot, as the team's top seven scorers return from a team that nearly reached the NCAA tournament in Mike Hopkins' first season. Matisse Thybulle, Noah Dickerson and the rest of the gang is back in Seattle, and the additions of Bryan Penn-Johnson and Nate Roberts will add depth inside.
3. UCLA: Everyone who tested the NBA draft waters made the decision to return, and that combined with a highly regarded recruiting class gives the Bruins a good shot at both contending in the Pac-12 and playing more than just one game in the NCAA tournament. The key: how Jaylen Hands and Tyger Campbell fare in filling the hole left at the point by Aaron Holiday's departure.
4. USC: The Trojans lost some key pieces but the cupboard is anything but bare. Derryck Thornton Jr., Jordan McLaughlin's backup last season, moves into the starting point guard spot, and the additions of Kevin Porter Jr. and Elijah Weaver will add depth and talent on the perimeter. The Trojans will need Bennie Boatwright, whose season ended in mid February due to a knee injury, back at full strength if they're to be a title contender.
5. Colorado: Even with the graduation of George King, the Buffaloes return McKinley Wright IV and Namon Wright on the perimeter, and Tyler Bey and Lucas Siewert are among the contributors in the front court. Also, Colorado added a junior college All-America to the mix in guard Shane Gatling, and 4-star freshman guard Daylen Kountz should be in the mix for minutes as well.
6. Arizona: Arizona lost its entire starting five from a season ago, and while Sean Miller and his staff managed to put together a good recruiting class there are a lot of new pieces that will need time to jell together. Among those additions are two grad transfers in point guard Justin Coleman and power forward Ryan Luther (Pittsburgh), and Duke transfer Chase Jeter is eligible after sitting out last season.
7. Stanford: With Reid Travis' decision to transfer the Cardinal will have to account for the loss of three of the team's top five scorers from last season. That being said there's some good talent on the roster, including guard Daejon Davis and wings Kezie Okpala and Oscar Da Silva. Stanford's hopes may hinge on the progress made by Josh Sharma and Trevor Stanback in the front court, with both being on the outskirts of the Stanford rotation last season.
8. Arizona State: The Sun Devils lost some very important seniors at the end of last season, but the return of players such as guard Remy Martin and forwards Romello White, Kimani Lawrence and De'Quon Lake will help Bobby Hurley deal with those losses. San Diego State transfer Zylan Cheatham will be available, and ASU also adds a solid recruiting class headlined by forward Taeshon Cherry.
9. Utah: The Runnin' Utes lost three of the top four scorers from a team that won 23 games and reached the Postseason NIT title game last season. Sedrick Barefield, who tested the NBA draft waters, is back as are forward Donnie Tillman and center Jayce Johnson and a quality recruiting class enters the fold as well. Obviously there are questions to answer for this group, but keep in mind that Larry Krystkowiak has led the program to five straight 20-win seasons.
10. Oregon State: The Beavers had the appearance of a possible sleeper heading into last season but things did not work out that way, as the lack of a clear answer at the point had an impact on their effectiveness. Losing Drew Eubanks in the post hurts, but with Tres Tinkle and the Thompson brothers back there's talent at the other spots. The question, once again, is the point. Can either incoming freshman, Jordan Campbell or Antoine Vernon, step forward and be the answer? That will be the key for Wayne Tinkle's squad.
11. Washington State: The good news for Washington State is that leading scorer Robert Franks made the decision to return for his senior season. The bad news: Malachi Flynn transferred to San Diego State. Franks, Viont'e Daniels and Carter Skaggs are the leading returning scorers, with Ernie Kent adding multiple junior college transfers including point guard Jervae Robinson and forward Isaiah Wade.
12. California: While there were no head coaching moves in the Pac-12 this offseason, Wyking Jones' addition of David Grace to his coaching staff could be a big move for the Golden Bears. Don Coleman's decision to transfer left the Golden Bears without their leading scorer from a season ago, but in sophomores Justice Sueing and Darius McNeill they've got two promising young talents to build around. And keep an eye on freshmen Matt Bradley and Jacobi Gordon.