Katina Powell, the law and Louisville: All together again.
In a manner of speaking, at least.
Powell, who claimed to have provided women to dance for and have sex with Cardinals recruits recruits for years, was arrested Thursday after a court ordered her eviction for an unrelated incident, according to the Louisville Courier Journal.
She was detained while wearing, and you really can't make this up, a University of Louisville shirt. Her support of the Cardinals lives on, even if the parties in Minardi Hall don't, apparently.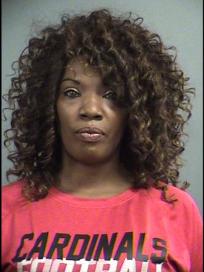 Beyond her choice of apparel, the entire ordeal is pretty bizarre and sad. Powell was at court for an eviction hearing because her daughter was arrested for allegedly pulling a handgun on a man outside their home, which led to a notification to vacate the premises as a violation of the lease contract, the Courier-Journal reports. She was ordered by a judge to vacate in seven days.
She was then subsequently arrested on charges of  criminal possession of a forged instrument and theft by deception. Here's the circumstances of that situation, per the Courier Journal:
She is accused of stealing checks from a victim on April 24 and then attempting to cash three of them at Vermont Liquors, according to an arrest citation. The checks totaled $2,900.

Thomas Tyre, a Louisville-area dentist, was listed as the victim on the arrest citation. Tyre told Courier Journal he and Powell were very close for several months. Despite filing charges, Tyre said he regrets how the incident played out.

"I want her in my life," Tyre told Courier Journal. "I'm sad about what happened."
With another Louisville-Powell story, 2018 continues to deliver some strange hoops headlines.