The deadline to declare for the NBA draft has come and gone, which means we're now waiting for the next deadline: When underclassmen have to pull their name out of the NBA draft if they are testing the waters.
That day is May 30th.
It is two weeks away, after the NBA draft combine and nearly three weeks before the draft itself.
So there is still a ways to go with this process.
But as things stand today, on the even of the combine, here are the players that will have the biggest impact on next season..
More than 150 players on declared for the draft.
To help you parse it all down, here are the most influential Should-I-Stay-Or-Should-I-Go decisions that are going to be made over the course of the next two weeks.
OMARI SPELLMAN and DONTE DIVINCENZO, Villanova
Villanova already lost a pair of juniors to the NBA draft as both Mikal Bridges, a potential top ten pick, and Jalen Brunson, last year's reigning National Player of the Year, declared for the draft and signed with an agent.
Eric Paschall and Phil Booth both opted to return to school for their redshirt senior seasons where, along with returnees Jermaine Samuels, Collin Gillispie and Dhamir Cosby-Rountree and a recruiting class that is as good as any that Jay Wright had landed in his time on the Main Line, has Villanova's program in a great place for the future.
And frankly, even with just that group of guys, the Wildcats are likely still going to enter the season as the favorite to win the Big East once again, although that might say more about the Big East than it does about Villanova.
But if they get Donte DiVincenzo and Omari Spellman back, we could be looking at a situation where this is once again the best team in college basketball.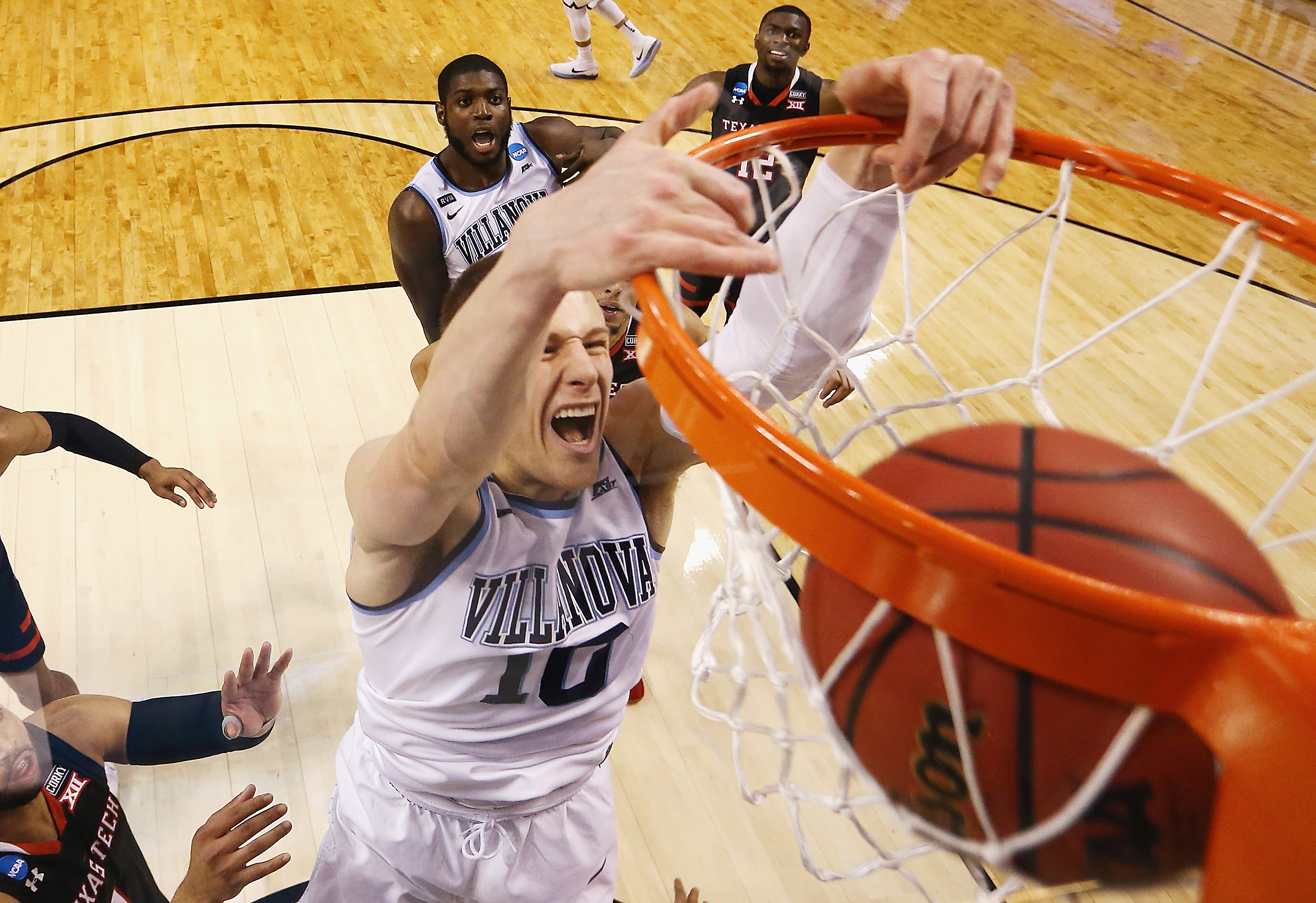 Let's start with DiVincenzo, since I think he's the more likely of the two to return. On the one hand, he might end up being a preseason first-team all-american if he makes the choice to play for Jay Wright for another season, and as such, he'll likely end up taking over the lion's share of Villanova's offense as a result. But more importantly, at least when it comes to the draft, is that DiVincenzo still has some things that he can improve on that would make him a more palatable first round pick. As dynamic as he was this season, Divincenzo has always been a streaky scorer, a mixed bag as a decision-maker and a questionable ball-handler. Those are things that can be improved upon and, with a weaker draft coming up in 2019, the kind of thing that might be able to sneak him into the lottery.
One concerning note: Villanova landed a commitment from grad transfer Joe Cremo. That's not exactly a promising sign for DiVincenzo, as Cremo more or less plays the same position as him, a spot that Villanova does have depth.
Spellman is a different story. He's something of a finished product in terms of an NBA prospect. There are things that he can improve on — his post game, for one, and his ability to drive left, another — but the weight loss that he went through in his two seasons as a part of the Villanova program is what turned him into an NBA player. Given his size, his ability to shoot from three, the way he attacks close-outs and the fact that he can protect the rim and rebound the ball now that he's shed 50 pounds, there is likely a spot for him in an NBA rotation somewhere. And while DiVincenzo can improve where he's picked by coming back, I think Spellman is always going to find himself in that range of being a late first rounder or an early second rounder.
The catch, however, is that I think Spellman's return might be more important to Villanova as a team. His skillset is what brings everything together and makes that Villanova offense so difficult to guard.
As it stands, Villanova is currently the No. 2 overall team in the NBC Sports preseason top 25. With both players officially back, I'll have to think long and hard about whether or not they should be No. 1.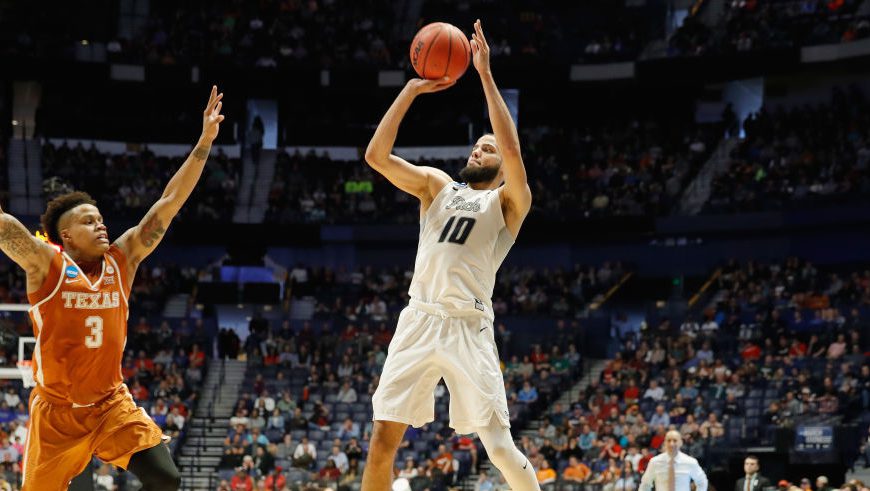 CALEB MARTIN, CODY MARTIN and JORDAN CAROLINE, Nevada
Should Nevada get all three of these guys back for another season, the Wolf Pack are going to enter the 2018-19 season as a preseason top ten team.
But are they going to get all three of these guys back?
That, at this point, is a major question mark for one, simple reason: After landing commitments from a pair of grad transfers and top 15 recruit Jordan Brown, Eric Musselman currently has a roster with 15 players set to receive scholarships. That's two over the limit.
All three of these guys are all staring down the barrel of a redshirt senior season, meaning that it will be the fifth year that the three — all of whom transferred into Nevada — will be in college. If they already have their degree, and they are all turning 23 years old in the next year, is a shot at making the Final Four enough incentive to return to school?
For Caroline it might be. As talented as he is, I'm not sure that he gets drafted if he turns pro. Both Martin twins have an actual chance to end up hearing their name called on draft night — Caleb as one of the best shot-makers in college basketball and Cody as a 3-and-D role player — but it would be as second round picks. As we noted last week, that's not a deterrent from landing a guaranteed deal, and for kids that are on the wrong side of the development curve, starting to earn money might be an attractive option.
If all three are gone, then I think we're talking about Nevada as a team that is going to be in the back end of the top 25. With all three, the Wolf Pack will probably be the best Mountain West team we've seen since Jimmer and Kawhi were tearing the conference up eight years ago.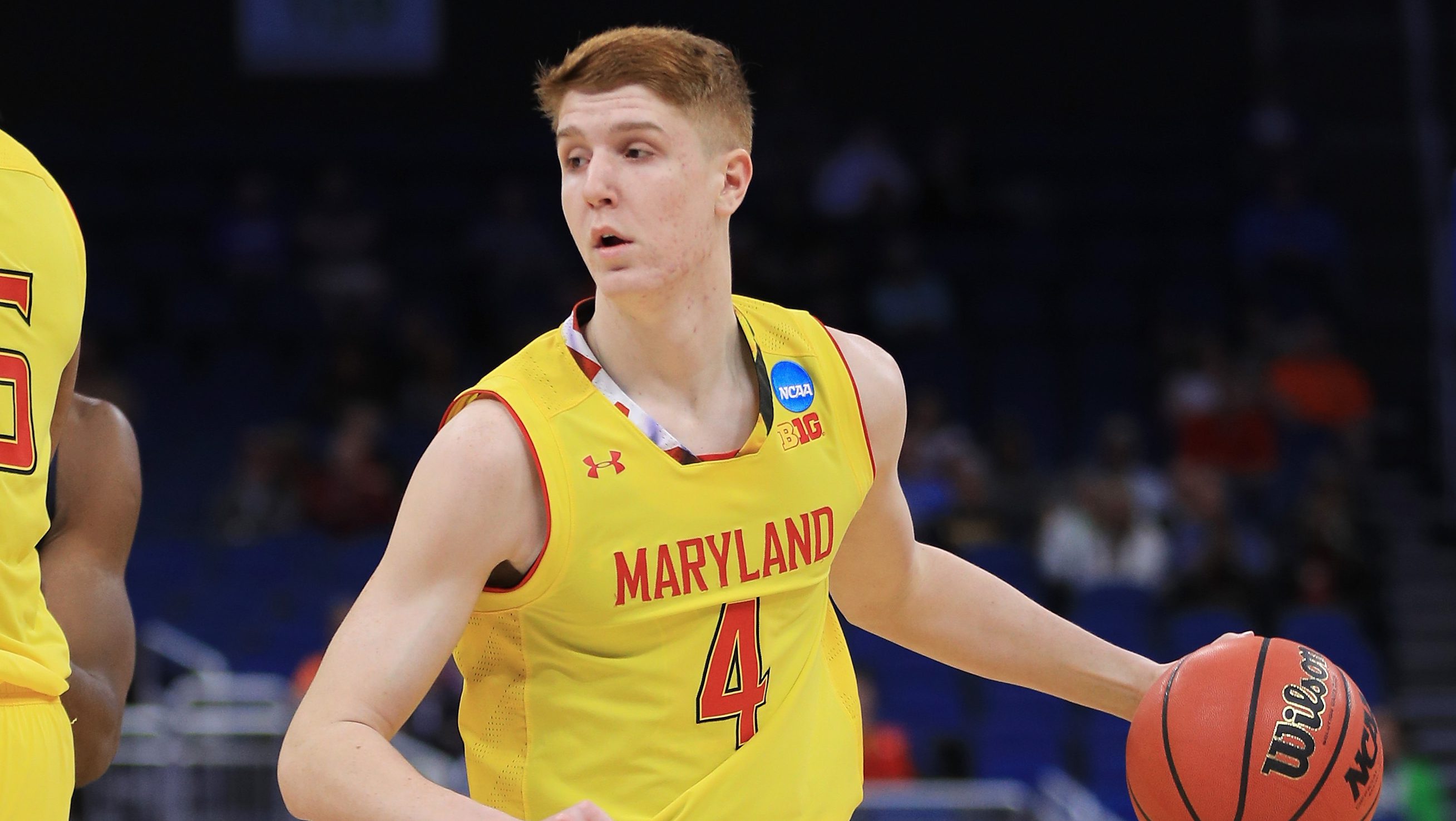 KEVIN HUERTER and BRUNO FERNANDO, Maryland
There are so many teams in the Big Ten with so much on the line over the course of the next five weeks, but I'm not sure anyone has more at stake than Maryland, who is still waiting to hear what Huerter and Fernando are going to do.
Let's pretend, for a second, that both return to school. Huerter — a 6-foot-7 wing that averaged 14.6 points and shot 42 percent from three — joins Anthony Cowan and Darryl Morsell to give the Terps one of the better backcourts in college basketball while Fernando, a native of Angola, would be in line for a breakout sophomore campaign. Throw in a recruiting class that includes transfer Schnider Herard and five-star Jalen Smith up front and promising four-star wings like Eric Ayala, Serrel Smith and Aaron Wiggins, and there is something here for Mark Turgeon to work with.
It's why Maryland is a top 20 team in our preseason rankings.
But Huerter has some second round appeal this season given his size, length and shooting ability while Fernando, who had some impressive moments as a freshman, is tangentially linked to the FBI investigation into college basketball corruption. Fernando and Kansas freshman Silvio De Sousa as childhood friends that both have the same American guardian. That guardian allegedly received a payout of at least $20,000 to get De Sousa out from under payments he already received from a rival apparel company when he committed to Kansas; De Sousa, who played for Under Armour sponsored high school and AAU teams, was considered a near-lock to head to Maryland, who is Under Armour's flagship program.
Without those two, Anthony Cowan will take on the role of Melo Trimble, trying to carry the load for the Terps, and I'm not sure he's cut out for it the way that Trimble was.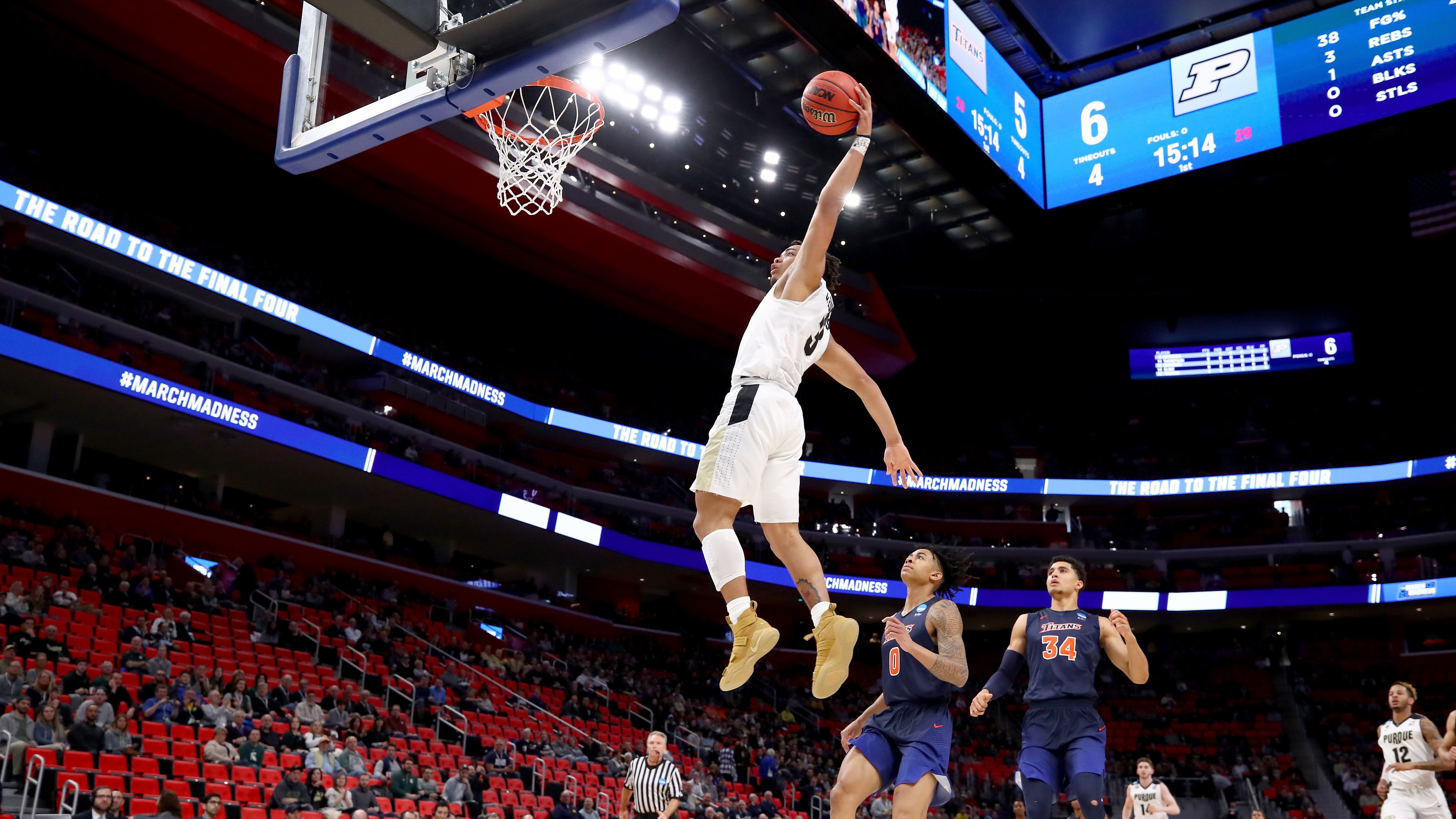 CARSEN EDWARDS, Purdue
Edwards might end up being the best lead guard in college basketball next season. I would not be surprised to see him end up as a consensus preseason first-team all-american should he end up coming back to school, and if he does, I think Purdue is a borderline top 25 team that will be back in the NCAA tournament. Without him, however, and the Boilermakers will have to replace five starters on a team that really didn't have much in the way of quality depth. Edwards is the difference between Purdue being a good team and Purdue being in a total rebuild.
ETHAN HAPP, Wisconsin
Wisconsin just finished the worst season the program has had in two decades, snapping a 19-year NCAA tournament streak and a 16-year run of top four finishes in the Big Ten. And yet, I feel good about where this team is headed. Much of that, as I noted in this column, has to do with the promising crop of youngsters and the way that they finished last season despite being injured and, you know, young. But much more of it had to do with the idea that Happ, an all-american in 2016-17 and a preseason all-american heading into last season, would be back for his senior year. He is the anchor for this group on both ends of the floor.
JAMES PALMER JR. and ISAAC COPELAND, Nebraska
Palmer was one of the best players in the Big Ten last season, quietly putting together an incredible year that not enough people paid attention to. Copeland had his best season as a collegian last year, and the two of them, the two leading scorers for a team that tied for fourth in the Big Ten last year, are the reason why Nebraska looks like they have a shot to be even better next year. They are a borderline top 25 team that should get Tim Miles back to the NCAA tournament. They are also both transfers that might opt to turn professional with a degree in hand, and if that were to happen, the Cornhuskers are going to be heading back into rebuilding mode.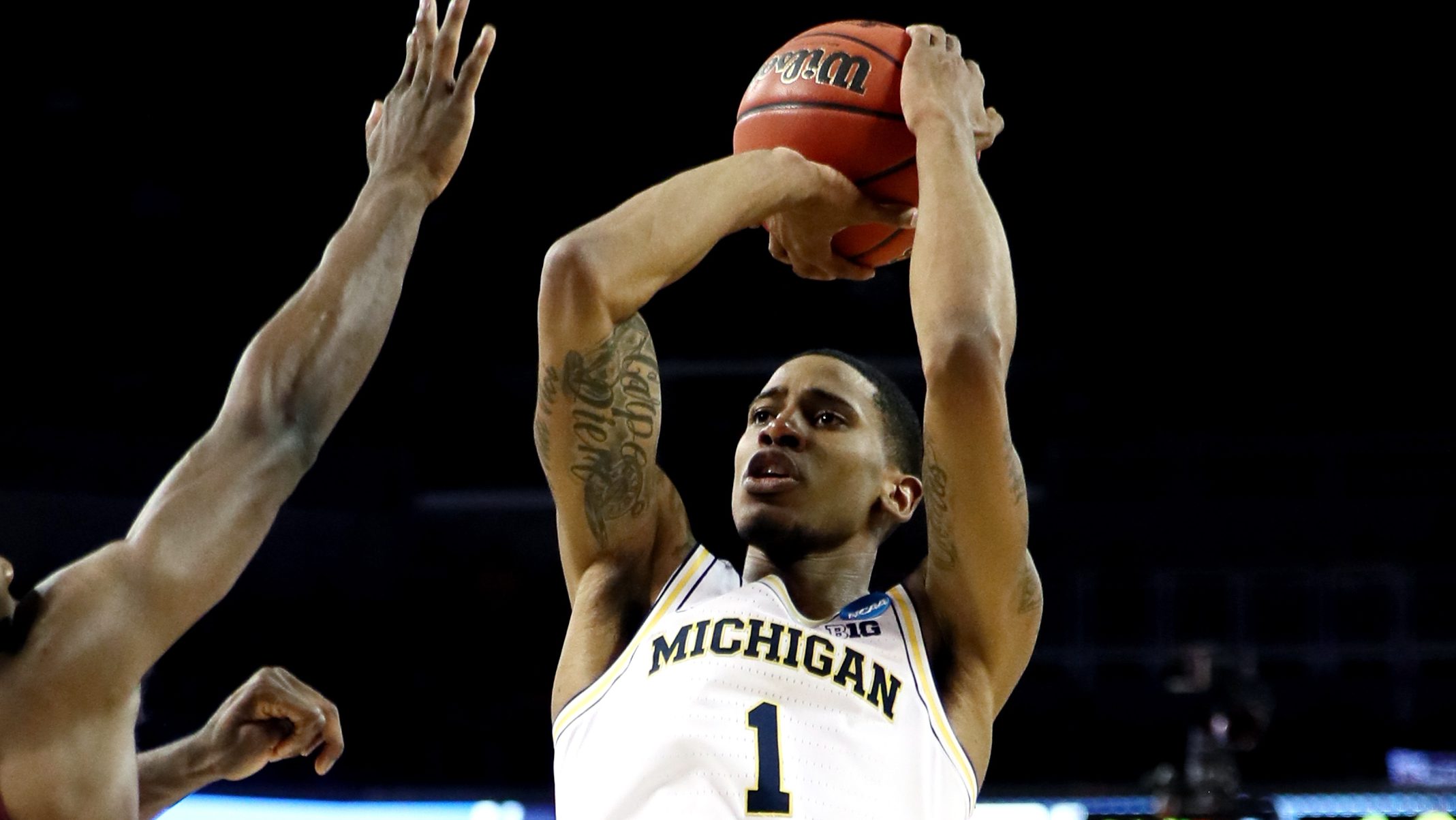 CHARLES MATTHEWS, Michigan
Michigan is the team that I've gotten the most pushback on for leaving out of the NBC Sports preseason top 25. I have them out right now because I'm not convinced that Matthews returns to school and, when combined with losing their two best offensive weapons — Mo Wagner and Muhammad-Ali Abdur-Rahkman — to graduation, would leave Michigan very young and without the kind of offensive firepower that they had this year. Matthews coming back would change that outlook and make the Wolverines more of a finished product than they are without him. Matthews, individually, would be a potential all-american — and top 20 picks — if he were to return and show off an ability to shoot more consistently from three.
MUSTAPHA HERON, BRYCE BROWN, JARED HARPER, and AUSTIN WILEY, Auburn
I'm honestly not sure what to do with Auburn here. It appeared initially that Mustapha Heron would be signing with an agent, but he has told reporters recently that he has not yet signed those papers and is considering returning to school. Without him, it is hard for me to justify to myself ranking the Tigers in the top 15 of the NBC Sports Preseason Top 25 even with the success they had last season. When it's all said and done, they'll probably be there so long as they get the other three guys back. But if Heron does come back? There would be a case to make for him as a top ten player in the sport next, and the Tigers could legitimately be a preseason top five team and the favorite in an SEC that will include a pair of other top ten teams — Kentucky and Tennessee. And I haven't even mentioned anything about the FBI yet. There is a lot going on down in Auburn this offseason.
UDOKA AZUBUIKE, Kansas
Azubuike is on this list now because of the fact that Kansas will, more likely than not, be without the services of Silvio De Sousa following the latest reveal in the FBI's investigation into college basketball corruption. If Azubuike opts to remain in the draft, that means that the five-spot in the Kansas lineup will be manned by Mitch Lightfoot and freshman David McCormack. The reason that Azubuike is so low on this list is that, without him, I would fully expect Kansas to play a smaller, more versatile lineup, and that might actually make them more difficult to matchup with. Put another way, losing Azubuike would have a bigger impact on how Kansas plays instead of how good they actually end up being.
TYUS BATTLE, Syracuse
Battle is a borderline first round pick, a guy that could go anywhere between the 20s and the 40s, depending on which NBA organizations fall in love with him. If he's back, Syracuse has to be thought of as a potential tournament team because, you know, they were this year without all that much around him. If he's gone, things could get ugly.